Healthcare applications of single camera markerless motion capture: a scoping review
1
School of Medicine, Medical Sciences and Nutrition, University of Aberdeen

,

Aberdeen

,

United Kingdom
2
School of Engineering, University of Aberdeen

,

Aberdeen

,

United Kingdom
3
School of Health Sciences, University of Liverpool

,

Liverpool

,

United Kingdom
Published

Accepted

Received
Academic Editor
Subject Areas

Keywords

Markerless motion capture

,

Markerless

,

Single camera markerless motion capture

,

Scoping review

,

Single camera human motion analysis

,

Single camera movement analysis of humans

,

Clinical motion capture

,

Neurological injuries

,

Telerehabilitation

,

Musculoskeletal
Copyright

©

2022

Scott et al.

Licence

This is an open access article distributed under the terms of the Creative Commons Attribution License, which permits unrestricted use, distribution, reproduction and adaptation in any medium and for any purpose provided that it is properly attributed. For attribution, the original author(s), title, publication source (PeerJ) and either DOI or URL of the article must be cited.
Cite this article

2022

.

Healthcare applications of single camera markerless motion capture: a scoping review

.

PeerJ

10

:

e13517

https://doi.org/10.7717/peerj.13517
Abstract
Background
Single camera markerless motion capture has the potential to facilitate at home movement assessment due to the ease of setup, portability, and affordable cost of the technology. However, it is not clear what the current healthcare applications of single camera markerless motion capture are and what information is being collected that may be used to inform clinical decision making. This review aims to map the available literature to highlight potential use cases and identify the limitations of the technology for clinicians and researchers interested in the collection of movement data.
Survey Methodology
Studies were collected up to 14 January 2022 using Pubmed, CINAHL and SPORTDiscus using a systematic search. Data recorded included the description of the markerless system, clinical outcome measures, and biomechanical data mapped to the International Classification of Functioning, Disability and Health Framework (ICF). Studies were grouped by patient population.
Results
A total of 50 studies were included for data collection. Use cases for single camera markerless motion capture technology were identified for Neurological Injury in Children and Adults; Hereditary/Genetic Neuromuscular Disorders; Frailty; and Orthopaedic or Musculoskeletal groups. Single camera markerless systems were found to perform well in studies involving single plane measurements, such as in the analysis of infant general movements or spatiotemporal parameters of gait, when evaluated against 3D marker-based systems and a variety of clinical outcome measures. However, they were less capable than marker-based systems in studies requiring the tracking of detailed 3D kinematics or fine movements such as finger tracking.
Conclusions
Single camera markerless motion capture offers great potential for extending the scope of movement analysis outside of laboratory settings in a practical way, but currently suffers from a lack of accuracy where detailed 3D kinematics are required for clinical decision making. Future work should therefore focus on improving tracking accuracy of movements that are out of plane relative to the camera orientation or affected by occlusion, such as supination and pronation of the forearm.
Introduction
Three-dimensional motion capture using multiple camera systems has been used to inform biomechanical analysis for several decades now (Topka, Konczak & Dichgans, 1998; Corazza et al., 2006; Van den Noort et al., 2016), allowing the quantification and identification of complex movement patterns and impairments. The biomechanical information can be used to inform clinical decision making, provided there is a clear link to an appropriate intervention e.g., surgery for hamstring lengthening in children with cerebral palsy (Arnold et al., 2006; Laracca et al., 2014). Systems used in clinical analysis are predominantly marker-based; that is, they rely on tracking the trajectories of reflective markers attached directly to the body of the person under investigation. They are reliant on the availability of substantial infrastructure such as well-defined and validated marker sets and models, multiple cameras in a large capture volume, complex processes for capturing and processing data and technically experienced laboratory staff. Despite the ability of this technology to provide further information and the identified benefits for patient outcomes as a result of improved decision making (Salami et al., 2019; Osborne et al., 2019), these systems are not widely used across multiple health conditions and tend to be focused on a few specific patient populations such as children with cerebral palsy.
Whilst significant demonstrable benefits, such as decreasing unnecessary surgery or reducing cost to the service or a patient, may be the main driver for the adoption of this technology, it is also likely that the logistical and operational challenges associated with using this technology limit its overall clinical applicability for some patient groups (Philp et al., 2021). Camera-based, 3D analysis is reliant on specialist technical skills and processes regarding capture, reporting and interpretation of data which are time consuming and resource intensive. Furthermore, services which provide 3D movement analysis are typically housed in specialist centres which cover large geographical areas.
Markerless motion capture has been growing in interest over recent years, and may offer advantages over the gold-standard 3D marker-based motion capture approach, but it is recognised that there's a trade off in some cases between usability and accuracy (Kanko et al., 2021). The benefit to patients is that it is less intrusive, as it eliminates marker setup, which requires palpation and removal of clothing for exposure of bony anatomical landmarks. For the clinician, a reduction in the requirement to complete additional processes such as marker placement or manually input user data, e.g., anthropometric measurements, more easily integrates these methods into the patient pathway (Jaspers et al., 2011). However, state-of-the-art markerless systems with comparable accuracy to marker-based optoelectronic systems, such as Theia3D (Theia Markerless Inc., Kingston, ON, Canada), still require multiple cameras as well as complex software and calibration, and come at a high cost.
Single camera markerless motion capture systems (SCMoCap) offer increasingly promising alternatives as the camera technology improves. Here we refer to both specialised devices such as the Kinect that include pose-estimating software, and standard cameras that require separate software like OpenPose. SCMoCap systems have the potential to facilitate remote, at home, or community movement assessments by reducing restrictions around setup with multiple cameras. For the patient this makes for a more comfortable assessment and reduces travel to the clinic, which may already be difficult because of limited mobility. For the clinician this allows for a more natural observation of movement and may facilitate more frequent assessment.
Integration of technology into care pathways is a priority for healthcare services and the importance of this has been highlighted by the COVID-19 pandemic (Royal College of Physicians, 2020; UK Government, 2021; World Health Organization, 2021). SCMoCap technology may be an important tool for helping to deliver digitally integrated healthcare services. However, it is not clear what the current healthcare applications of SCMoCap are and what information is being collected that may be used to inform clinical decision making. Recent improvements to portable and affordable motion capture technology such as the Microsoft Kinect and Leap Motion, which include depth sensors in addition to conventional RGB video cameras, as well as the increased availability of high-resolution smartphone cameras, has inspired an increase in the investigation of SCMoCap for healthcare. Recent reviews of markerless motion capture have been conducted on gait (Wade et al., 2022) and 3D pose estimation (Desmarais et al., 2021). However, they focus mainly on the processing methods and accuracy evaluation of multi-camera motion capture systems with limited discussion on SCMoCap and clinical applications. The current state of research in this area thus welcomes a systematic approach to map the available literature to describe current practice. This review provides insight into the healthcare applications of SCMoCap to inform clinicians who are interested in implementing this technology into their practice, or researchers who are aiming to collect movement data with a single camera approach.
A scoping review was therefore conducted with the aims of investigating: which SCMoCap systems have been used for healthcare applications and for which target populations; what these systems measure; how their performance is evaluated; and the limitations of current systems and what must be improved so they are more widely used in the clinic.
Survey Methodology
Review protocol
This review was conducted and reported according to the PRISMA Extension for Scoping Reviews (PRISMA-ScR) (Tricco et al., 2018).
Search strategy
A search was conducted in Pubmed, CINAHL and SPORTDiscus. Figure 1 summarises the stages of article identification, screening, eligibility, and inclusion.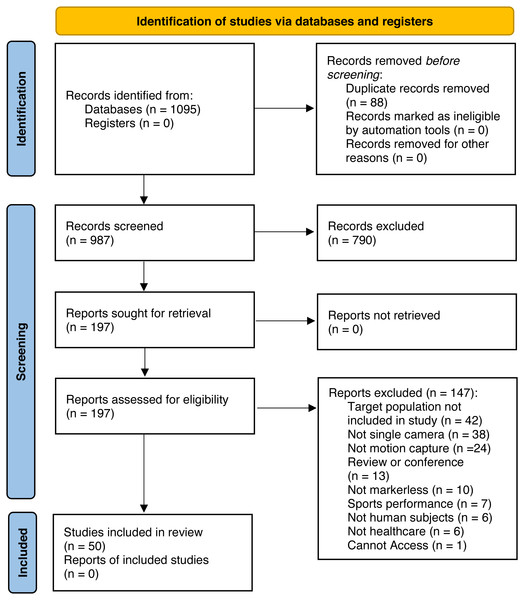 Studies were collected up to 14 January 2022. The following medical Subject headings (Mesh) and key words were used: (application[Title/Abstract] OR software[MeSH] OR system[Title/Abstract] OR deeplabcut[Title/Abstract] OR openpose[Title/Abstract] OR neural network*[title/abstract]) AND (capture[Title/Abstract] OR camera[Title/Abstract] OR mls[Title/Abstract] OR kinect[Title/Abstract] OR 2d[Title/Abstract] OR 3d[Title/Abstract] OR rgb-d camera[Title/Abstract] OR pose estimation[Title/Abstract] OR movement[MeSH] OR motion[MeSH] OR marker*[Title/Abstract]) AND (markerless[Title/Abstract] OR marker-less[Title/Abstract] OR "single-camera"[Title/Abstract] OR "single camera"[Title/Abstract]).
Inclusion criteria
Healthcare applications of SCMoCap was the focus of this study. Articles were included that involved the design, development, evaluation or use of SCMoCap systems for an explicitly identified patient group. All quantitative study designs were included in this review. Only studies published in English were considered.
Exclusion criteria
Articles that focussed on animals, involved more than one camera, did not have an explicit stated use for healthcare or did not use markerless motion capture were excluded from this study. Articles that did not include the intended target population in the study were also excluded.
Screening and article inclusion
Two authors (BS and MS) performed screening of title and abstract, and full text before data extraction. Disagreements in inclusion were resolved through discussion with a third author (FP).
Data extraction
A total of 987 articles were identified after duplicate exclusion for the evaluation of title and abstract. A total of 197 articles were selected for full text examination. The final number of articles used in the data extraction was 50.
Table S1 details movement parameters collected in detail.
To address the scoping review aims, data was grouped according to the patient populations evaluated. A description of the single camera system, sample size and patient demographics was included. Any clinical outcome measures used and biomechanical data extracted from the SCMoCap systems was mapped according to The International Classification of Functioning, Disability and Health Framework (ICF) (World Health Organization, 2001). Additionally, any reported limitations, methods of evaluation and measurement errors were evaluated.
Conclusions
SCMoCap helps to facilitate motion analysis in situations where it would otherwise not be possible, such as at-home rehabilitation for persons with Parkinson's (Palacios-Navarro, García-Magariño & Ramos-Lorente, 2015; Oña et al., 2018; Grunert, Krause & Feig, 2019), where rehabilitation feedback could be personalised to the individual. Given that limited accuracy as a result of camera occlusion or difficulties with recognising movement characteristics was reported by many studies (n = 10) (Adde et al., 2010; Galna et al., 2014; Vernon, Paterson & Bower, 2015; Chen et al., 2016; Butt et al., 2017; Støen et al., 2017; Latorre et al., 2018; Lee, Sinclair & Jones, 2019; Nakamura et al., 2019; Tsuji, Nakashima & Hayashi, 2020), it would be inappropriate to use a SCMoCap approach instead of a marker-based approach in situations where detailed 3D kinematics or the granularity of kinematic measurements is paramount, such as surgical planning.
This technology could also be considered when a marker-based setup would cause distress to a patient, for example, in the analysis of seizures (Rémi et al., 2011; Pereira Choupina et al., 2018) or can be difficult or inconvenient, for example in young children with cerebral palsy. Clinical spatiotemporal gait parameters measured in this group presented high agreement with Gross Motor Function Classification System (GMFCS) and Gait Deviation Index (GDI) scores (Kidziński et al., 2020) evaluated by clinicians—introducing the possibility for a markerless cerebral palsy gait assessment. High agreement between General Movement Assessment (GMA) and a SCMoCap approach in the early identification of cerebral palsy was demonstrated across multiple studies (Adde et al., 2010; Orlandi et al., 2015; Orlandi et al., 2018; Støen et al., 2017; Marchi, Hakala & Knight, 2019; Schroeder, Hesse & Weinberger, 2020; Tsuji, Nakashima & Hayashi, 2020; Reich et al., 2021; Groos et al., 2022); this leads to the possibility of GMA being performed by parents or guardians entirely at home, or as a precursor to a clinical GMA.
Generally, measured movements were linked to easily identifiable events, or were indicative of disease conditions, e.g., seizures in epilepsy, falls in frailty, or tremor in Parkinson's. The most promising results involved infants with neurological injury—this possibly stems from the fact that all movements of interest can be captured in a single position (supine) and so overcomes challenges associated with multi-planar movements where landmark identification is occluded by other body parts as a result of using a single camera approach.
In most studies, repeatability was assessed using correlation coefficients and other statistical measures, from which the ability to derive absolute error of measurement is not possible. Few studies (n = 5) compared against a marker-based approach or other unit appropriate baseline and reported error of measurement in units consistent with the measurement e.g., degrees for joint angles (Galna et al., 2014; Scano et al., 2014; Carmo Vilas-Boas et al., 2019; Vilas-Boas et al., 2019; Kidziński et al., 2020). Furthermore, only five studies (Stone & Skubic, 2015; Rahmati et al., 2016; Nakamura et al., 2019; Kidziński et al., 2020; Tsuji, Nakashima & Hayashi, 2020) shared an algorithm and datasets, and only one study shared code (Kidziński et al., 2020). This makes the repeatability of methods onerous and hinders clinical implementation. The sensitive nature of the data used in most studies explains the necessity for privacy; however, a more abstract approach to data sharing such as the sharing of key point data would still be invaluable and aid in maintaining the privacy of patients. There is significant variability in the way in which SCMoCap studies are reported, in terms of the features measured, and methods selected to evaluate the systems. As a result, there is no universal metric or outcome that can be used for comparison between studies. If SCMoCap technology is to be implemented in clinical practice, future work should look to develop a reference framework which would facilitate comparison of studies in this field.
The portability of SCMoCap systems compared to multi-camera is irrefutable, however, within SCMoCap systems some methods allow for more freedom in data acquisition than others. Devices such as the Kinect and Leap Motion require a computer nearby for data collection. On the other hand, software-based solutions such as OpenPose or DeepLabCut can utilise input that has been collected earlier from any single camera system, meaning data collection is less restricted and may be more feasible outdoors. It is worth noting that most software solutions investigated such as OpenPose and DeepLabCut, are still computationally expensive to run and would most likely not run in real time on most home computers. MediaPipe (Bazarevsky et al., 2020) aims to alleviate this issue by making pose estimation accessible in a web browser. No studies in this review were found to use MediaPipe with patient populations. In addition to portability considerations, most software solutions used require a level of programming expertise to run, involving tasks such as preparing input data and evaluating the model.
Depth sensors, while being able to provide useful 3D data inherently without 2D to 3D projection (Zhang, Zhan & Chang, 2021), suffer from lower framerates, light interference and are limited to a smaller capture space (Clark et al., 2019) than standard video cameras. This limits their potential in large areas and outdoors; however, for telerehabilitation purposes they remain a viable solution for indoor home use in most cases. Furthermore, many modern smartphones are equipped with depth sensors so the issue of depth sensors only being available to specialised devices that require a connection to a computer for data collection and processing may be mitigated with time.
Limitations involving accuracy due to the device, such as field of view, resolution, and frame rate, will be naturally ameliorated with time as these improvements become more available and affordable in consumer devices. Other limitations such as occlusion (Lee, Sinclair & Jones, 2019) and quantifying the quality of movements and gestures (Orlandi et al., 2015; Tsuji, Nakashima & Hayashi, 2020) invite more research as they require a deeper understanding of the movement performed than just the kinematic measurements detectable by the camera—these issues transcend even the gold standard multi-camera 3D marker-based approach for this reason.
Overall, clinical implementation of this technology in most groups, aside from neurological injuries in children, is hindered by limitations both in study design and technology. Most studies are proof of concepts with small sample sizes. Errors of measurement are also not reported appropriately, such as reporting error of joint angles in degrees, so we cannot know how the errors of measurement will influence clinical decision making—which will be required for clinical implementation. Furthermore, the tolerance for the errors of measurement is likely to be a consequence of the granularity required by the clinical intervention. Nevertheless, SCMoCap is a promising technology that has the potential to be an invaluable tool in the patient pathway for movement disorders, taking motion capture outside of the laboratory and into patients' homes. Further research should focus on improving tracking accuracy of movements that are out of plane relative to the camera orientation or affected by occlusion, such as measuring supination and pronation of the forearm with a camera oriented in the frontal plane. A hypothetical approach to solving this problem may be to understand physiologically what is out of sight of the sensor through inverse kinematics by using musculoskeletal models (Chadwick et al., 2014) in tandem with high accuracy machine learning skeletal tracking models (Cao et al., 2019).
Supplemental Information
Healthcare Applications