Use of video surveillance to measure the influences of habitat management and landscape composition on pollinator visitation and pollen deposition in pumpkin (Cucurbita pepo) agroecosystems
Department of Entomology, The Ohio State University—Ohio Agricultural Research and Development Center

,

Wooster, OH

,

United States
1
Michigan State University

,

Saginaw, MI

,

United States
Published

Accepted

Received
Academic Editor
Subject Areas

Keywords

Pollination services

,

Landscape

,

Pumpkin

, Peponapis pruinosa ,

Bumble bee

, Apis mellifera ,

Habitat managment

,

Floral strips
Copyright

©

2015

Phillips and Gardiner

Licence

This is an open access article distributed under the terms of the Creative Commons Attribution License, which permits unrestricted use, distribution, reproduction and adaptation in any medium and for any purpose provided that it is properly attributed. For attribution, the original author(s), title, publication source (PeerJ) and either DOI or URL of the article must be cited.
Cite this article

2015

. Use of video surveillance to measure the influences of habitat management and landscape composition on pollinator visitation and pollen deposition in pumpkin (Cucurbita pepo) agroecosystems.

PeerJ

3

:

e1342

https://doi.org/10.7717/peerj.1342
Abstract
Pumpkin (Cucurbita pepo) production relies on insect-mediated pollination, which is provided by managed and wild pollinators. The goals of this study were to measure the visitation frequency, longevity and temporal activity patterns of pumpkin pollinators and to determine if local habitat management and landscape composition affected this pollination service. We used video surveillance to monitor bee acitivty within male and female pumpkin flowers in 2011 and 2012 across a pollination window of 0600–1200 h. We also quantified the amount of pollen deposited in female flowers across this time period. In 2011, A. mellifera made significantly more floral visits than other bees, and in 2012 Bombus spp. was the dominant pumpkin pollinator. We found variation in visitation among male and female pumpkin flowers, with A. mellifera visiting female flowers more often and spending longer per visit within them than male flowers in both 2011 and 2012. The squash bee P. pruinosa visited male flowers more frequently in 2012, but individuals spent equal time in both flower sexes. We did not find variation in the timing of flower visitation among species across the observed pollination window. In both 2011 and 2012 we found that the majority of pollen deposition occurred within the first two hours (0600–0800 h) of observation; there was no difference between the pollen deposited during this two-hour period and full pollination window (0600–1200 h). Local additions of sweet alyssum floral strips or a field buffer strip of native wildflowers did not have an effect on the foraging activity of bees or pollen deposition. However, semi-natural and urban habitats in the surrounding landscape were positively correlated with the frequency of flower visitation by wild pollinators and the amount of pollen deposited within female flowers.
Introduction
Worldwide, 35% of the global food supply is highly reliant on animal-mediated pollination services (Klein et al., 2007; Nicholls & Altieri, 2013). In the United States alone, pollinators account for 40 billion USD per year in fruit, fiber, vegetable and legume crops (Pimentel et al., 1997), with an estimated 1.6–14.8 billion USD of that attributed to the honey bee, Apis mellifera L. (Hymenoptera: Apidae) (Southwick & Southwick, 1992; Morse & Calderone, 2000; Losey & Vaughan, 2006). Across the United States and Europe, severe declines in the supply of honey bees for crop pollination have occurred as a result of colony collapse disorder (Allen-Wardell et al., 1998; Aizen & Harder, 2009; Potts et al., 2010a; Potts et al., 2010b). Wild bee species also contribute significantly to pollination within many cropping systems (Stanghellini, Ambrose & Schultheis, 1998; Kremen, Williams & Thorp, 2002; Winfree et al., 2007; Garibaldi et al., 2013; Garibaldi et al., 2014). Unfortunately, several wild pollinator taxa—such as some bumble bee species—have also exhibited significant declines in richness and abundance, further threatening the continued supply of pollination services to agroecosystems (Goulson, Lye & Darvill, 2008; Cameron et al., 2011).
Habitat management to support pollinators
Several potential drivers of population decline among pollinators have been identified, including pesticide use (Sanchez-Bayo & Goka, 2014; Rundlof et al., 2015), pathogen and parasite infection (Meeus et al., 2011; Blaker et al., 2014; Fuerst et al., 2014; Goulson et al., 2015; McMahon et al., 2015), exposure to heavy metals (Moran et al., 2012), climate change, land use change and fragmentation of pollinator habitat, or a combination of several factors (Potts et al., 2010a; Gonzalez-Varo et al., 2013; Rader et al., 2013; Vanbergen et al., 2013; Rands, 2014; Scheper et al., 2014; Goulson et al., 2015; Rollin et al., 2015). To address the impacts agricultural intensification may have on wild and managed bee populations, agri-environmental schemes have been designed to reestablish pollinator resources within agricultural landscapes (Haaland, Naisbit & Bersier, 2011; Rollin et al., 2015). Enhancing farmscape-scale heterogeneity through this form of habitat management has been demonstrated to increase pollinator richness by providing resources across time and space (Klein, 2011; Kennedy et al., 2013; Shackelford et al., 2013; Blaauw & Isaacs, 2014; Garibaldi et al., 2014). The flowering plants established in these plantings have been shown to be highly attractive to a diversity of beneficial insects, increasing fecundity, longevity, and the ecosystem services provided such as pollination and biological control (Baggen & Gurr, 1998; Johanowicz & Mitchell, 2000; Landis, Wratten & Gurr, 2000; Pontin et al., 2005; Lee, Andow & Heimpel, 2006; Pywell et al., 2006; Tuell et al., 2008). However, the addition of floral resources could in theory result in competition for pollinators with the target crop (Zhang et al., 2007). Thus, evaluation of the impacts of these strategies on foraging efficiency within specific agroecosystems is a necessary step towards incorporation of this conservation practice.
Landscape context can influence the outcome of habitat management
When habitat management practices are incorporated into a farmscape, larger scale landscape composition and heterogeneity can influence the pool of beneficial species supplied to an established planting and the arthropod mediated ecosystem services they are able to support in nearby farm fields (Isaacs et al., 2009; Batáry et al., 2011; Concepción et al., 2012; Rodriguez-Saona, Blaauw & Isaacs, 2012; Tscharntke et al., 2012). In synthesis papers, Ricketts et al. (2008) and Garibaldi et al. (2011) found decreased stability and levels of pollination services provided by pollinator communities with increasing distance from natural areas. Kennedy et al. (2013) analyzed data from 39 studies focusing on 23 cropping systems and found that organically-managed cropping systems supported a greater abundance and richness of wild bees. Similar to previous reviews, they also documented that at landscape scales the proportion of high-quality natural habitat was positively related to bee abundance and richness. Further, landscape factors have been shown to mediate the impact of some agricultural inputs. For example, Park et al. (2015) found that pesticide impacts on wild bees in apple orchards were reduced in landscapes with high proprotions of natural habitat.
Habitat management in cucurbit agroecosystems
As agricultural intensification threatens both natural pest control and pollination, habitat management strategies often target multiple key insect guilds (Campbell et al., 2012). The sustainability of pumpkin, Cucurbita pepo L. (Cucurbitales, Cucurbitaceae), production relies in part on biological control to suppress key pests. Being a monoecious crop, pumpkin is also dependent on insect-mediated pollination (Wien, 1997). Furthermore, pumpkin provides a unique study system to evaluate habitat management in sustaining pollination services because they are visited by managed (A. mellifera) and wild (Bombus spp.) social bees as well as a wild solitary specialist pollinator, Peponapis pruinosa (Say) (Hymenoptera: Apidae) (Hurd, Linsley & Whitaker, 1971; Hurd, Linsley & Michelbacher, 1974). Due to differences in foraging traits, greater pollinator richness within this system may lead to functional complementarity or synergy, thereby improving pollination efficiency (Bluthgen & Klein, 2011).
In a network of pumpkin farms across central and southern Ohio, we completed the following research objectives: (1) Use video surveillance to measure the relative contribution of pumpkin pollinator taxa to pollination services; (2) Determine if pollinators varied in their visitation frequency and visit longevity in male and female flowers; (3) Examine if temporal complementarity exists among flower visitation by pumpkin pollinators; and (4) Determine how habitat management and landscape composition influence pollination visitation and pollen deposition. This study was completed during the growing seasons of 2011 and 2012. In 2011, we measured how landscape composition influenced pollinator activity and pollination services within pumpkin crops. In 2012, we added habitat management as a variable and evaluated how the addition of floral strips of sweet alyssum Lobularia maritima (L.) (Brassicales: Brassicaceae) or a buffer strip of native perennial wildflowers and grasses—as well as the surrounding landscape—influenced pollinators and their function.
Methods
Study sites
Ohio is the 2nd largest pumpkin-producing state in the United States, and two regions within Ohio were selected that represent major production areas (USDA-NASS, 2013). In 2011, 12 farms were included in our study; six in Wayne, Stark, and Medina counties in northern Ohio, and six in Jackson, Pike, Highland, and Warren counties in southern Ohio (Table 1, Fig. 1A). In 2012, 15 farms were included, with eight farms in northern Ohio and seven in southern Ohio (Table 1, Fig. 1B). The distance between the two closest farms was 4.25 km within a given year. Farms were chosen based on grower interest in participating and by assessment of the composition of habitats in the surrounding landscape. One to four Apis mellifera hives were located within each farm.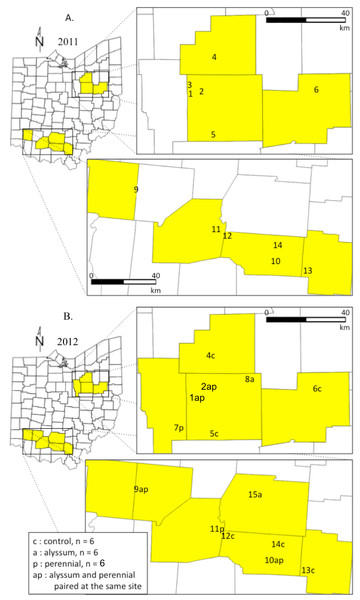 2011
2012
Farm
Latitude
Longitude
Habitat treatment
Latitude
Longitude
1
40°54′37.94″N
82°6′35.06″W
Alyssum
40°54′9.69″N
82°6′44.11″W
1
–
–
Perennial
40°54′38.1″N
82°6′35.5″W
2
40°55′6.92″N
82°2′57.66″W
Perennial
40°54′58.95″N
82°2′48.14″W
2
–
–
Alyssum
40°55′5.27″N
82°2′38.15″W
3
40°56′25.06″N
82°6′58.21″W
–
–
–
4
41°5′2.65″N
81°57′1.51″W
Control
41°5′3.28″N
81°57′8.13″W
5
40°42′37.87″N
81°58′16.31″W
Control
40°42′23.5″N
81°57′56.45″W
6
40°55′17.93″N
81°18′33.26″W
Control
40°55′17.29″N
81°18′31.78″W
8
–
–
Alyssum
40°58′13.68″N
81°44′25.37″W
7
–
–
Perennial
40°44′12.27″N
82°11′48.86″W
9
39°26′5.63″N
83°59′26.59″W
Perennial
39°26′4.39″N
83°59′1.35″W
9
–
–
Alyssum
39°26′4.01″N
83°59′25.23″W
10
39°2′50.88″N
82°59′37.4″W
Perennial
39°2′49.35″N
82°59′38.15″W
10
–
–
Alyssum
39°2′50.88″N
82°59′37.4″W
11
39°13′13.41″N
83°25′36.81″W
Perennial
39°13′13.41″N
83°25′36.81″W
12
39°10′58.65″N
83°21′3.09″W
Control
39°10′55″N
83°21′11.37″W
13
38°59′29.9″N
82°46′4.54″W
Control
38°59′37.44″N
82°45′51.76″W
14
39°8′16.65″N
82°58′58.47″W
Control
39°8′11.46″N
82°58′59.39″W
15
–
–
Alyssum
39°24′41.94″N
83°9′27.33″W
In both years, data was collected from four 60 m rows of jack-o-lantern pumpkins (var. Gladiator), which were established between 10 June and 8 July. No insecticides were applied to the pumpkin plants throughout the study. We refer to each planting as a site. Each site was divided into four 15 m plots that each contained four rows of pumpkin, and all data were collected within these plots. In 2011, one pumpkin site was located per farm (n = 12). In 2012, a total of 18 pumpkin sites were established. Each farm had one site except for farms 1, 2, 9, and 10 where two sites were established (Fig. 1). This was the result of difficulty finding growers willing to host habitat management plantings. Farms 1, 2, 9, and 10 included both an ANNUAL and PERENNIAL treatment pumpkin site (see 'Habitat management'). The distances between these sites ranged from 51 m at farm 10, to 570 m at farm 9.
Habitat management
In 2012, pumpkin plots within the northern and southern regions were randomly assigned to one of three treatments: (1) GRASS CONTROL: four rows of pumpkin planted adjacent to a 6 × 60 m grass area, mowed approximately once per month; (2) ALYSSUM: four rows of pumpkin planted between two 60 m rows of L. maritima; and (3) PERENNIAL: pumpkin plots planted adjacent to a 6 × 60 m buffer of native perennials (Table 2).
Establishing non-native annual floral insectaries
In 2012, we planted two rows of L. maritima adjacent to pumpkins at six sites in northern and southern Ohio. For this treatment, one row of L. maritima was established on either side of each four-row pumpkin planting. The L. maritima was started from seed in 72-cell plug trays in a greenhouse in early May and fertilized twice per week for two weeks. The plants were hardened off outside for an additional two weeks before being transplanted with a pottiputki planter (Stand 'n Plant, Saltsburg, Pennsylvania, USA) between 7–14 June 2012. Plants were watered and Preen Garden Weed Preventer (Lebanon Seaboard Corp., Lebanon, Pennsylvania, USA) was applied. The transplants were watered via drip irrigation and hand containers (∼190 L) twice per week in the field through July.
Establishing native perennial floral insectaries
The perennial insectary was established in fall of 2010 to allow the plants time to establish prior to their evaluation in summer 2012. In October 2010, six farms were selected to establish a 6 × 60 m perennial floral insectary treatment of 23 native forbs and two grasses (Table 2). Each grower cleared the area with field cultivators and herbicide, and rolled the soil flat. We mixed the perennial seeds with sawdust at a ratio of 1:2 and spread 1.3 kg of that mixture at each site to overwinter (Landis, Wratten & Gurr, 2000; Fiedler & Landis, 2007a; Fiedler & Landis, 2007b). The perennial floral insectaries were mowed by the growers once per month to enhance establishment during the 2011 growing season.
Quantifying pollinator assemblages and activity using video surveillance
A modified 4-channel security camera system (Q-see, model no. QSC26404, Anaheim, CA) was used to monitor pollinator activity within two female pumpkin flowers and two male pumpkin flowers within each pumpkin plot (total of 8 female and 8 male flowers observed per site) (Grieshop et al., 2012). Cameras recorded pollinator activity between 0600 h and 1200 h, at 16 frames per second with a playback pixel resolution of 352 × 240 (aspect ratio ∼1.222:1).
In both 2011–12, video surveillance was conducted once during peak bloom in late-July through August. We then omitted pumpkin sites 5, 10, and 13 in 2011 (n = 9 pumpkin plots sampled) due to a wet spring that resulted in an uncommonly late planting, and peak bloom period in September, which we felt was too late to accurately represent the pollinator community that focuses on the pumpkin flower resource pulse. In 2012, pumpkin sites 3p and 7p (n = 16 pumpkin sites sampled) could not be sampled due to heavy weed pressures that drastically reduced pumpkin bloom availability.
After collection, the video footage was transferred to portable hard-drives and stored until viewed on a computer. When a pollinator was observed crossing the plane made by the open corolla, the time of arrival and departure was recorded as a measure of the amount of time spent inside the flower. All pollinators were identified to the lowest taxonomic level possible given the resolution of the video.
Measuring pollen deposition
In 2011 and 2012, we quantified the pollination service provided to each pumpkin site using pollen counts. In 2011 we examined cumulative pollen deposition across three lengths of the pollination window: 2 h (0600–0800 h), 4 h (0600–1000 h) and what we considered the full pollination window of 6 h (0600–1200 h). In 2012 we modified how we measured pollen deposition, collecting data for three individual subsets throughout the pollination window (0600–0800 h, 0800–1000 h, and 1000–1200 h), as well as across the entire period 0600–1200 h. One day prior to the collection of data, mature female flower buds that were at least 5 cm in length and turning deep yellow were located within each site, fitted with a mesh paint strainer bag (Reaves and Co. Durham, North Carolina, USA) as a pollinator excluder, and marked with a step-in poly post (Gempler's, Madison, Wisconsin, USA). Three (2011) or six (2012) flowers were randomly assigned to each pollen deposition time treatment per pumpkin plot. Bags were left on flowers until the beginning of the treatment time upon which they were removed and pollinators were allowed to access flowers. If the number of flowers needed could not be found for each treatment on the morning of the experiment, we returned within seven days of the first attempt, and in comparable weather conditions to collect additional replicates.
Pollen collection
We designed a simple and inexpensive procedure to collect pollen from stigmas in the field directly after cutting the flower from the pumpkin plant, based in part on the shake and rinse approach of Stanghellini, Schultheis & Ambrose (2002). We used an Aeropress espresso maker and the stock filter discs marked with a 1 × 1 cm grid (Aerobie, Inc., Palo Alto, California, USA) to sieve pollen grains from each collected stigma. Stigmas were placed individually in a 120 mL urine specimen cup with ∼44 mL of a dish soap and water solution (4 drops of dish soap per 2 L of water) and shook vigorously for 20 s. The solution was decanted into a separate cup and the stigma was washed a second time with 70% ethanol. The pollen solution was then poured into the Aeropress, and expunged. The inside of the Aeropress was washed with ethanol so that any pollen that was sticking to the sides was collected on the filter. The filter disc containing the pollen was allowed to dry, packaged individually in labeled petri dishes, and frozen until they were counted under a microscope. Pollen grains from six randomly selected full grid squares, and six partial grid squares were counted and the total pollen load on each filter disc was extrapolated.
Quantifying landscape composition
We obtained aerial image mosaics of each county that contained a research site from the year 2010 (OGRIP, 2010) and uploaded them into ArcMap (version 9.3; ESRI, 2011) and QGIS (version 1.8.0; Quantum GIS Development Team, 2012) to digitize all land cover elements. We determined the area of each distinct landscape feature within 500, 1,000, and 1,500 m radius buffers around the geographic center of each site and ground verified them with a classification system including 22 habitat types. The 22 fine-grain cover types were combined into 7 coarse-grain habitat categories, and the percentages of each habitat type were aggregated as predictor variables within each landscape buffer for analysis (FIELD = percentage of annual field crops; GRASSLAND = percentage of perennial grassland, fallow fields, and pastureland; FORAGE = perennial alfalfa and oats; FRUITVEG = fruit and vegetable cropland; FOREST = woodlands and hedgerows; URBAN = impervious surfaces and buildings; TURF = mowed turfgrass). Total semi-natural habitat (FOREST and GRASSLAND) in each landscape ranged from 10.7–57.7% within a 1,500 m buffer.
Statistical analyses
Visitation frequency
The frequency of total flower visits (fixed factor = bee species), male and female flower visitation (fixed factors = bee species and flower sex), and visitation length (fixed factors = bee species and flower sex) were examined for the three most abundant taxa visiting pumpkin flowers (A. mellifera, Bombus spp., and P. pruinosa) using generalized linear mixed models (glmmadmb function in the glmmADMB package version 0.7.4 in R version 3.0.0) with a Laplace maximum likelihood approximation that allowed for specification of a logistic link function, a negative binomial error distribution for visit frequency data, and a gamma distribution for visit duration data (R Development Core Team, 2013). We also examined how bee visitation to flowers varied by hour of the pollination window using a generalized linear mixed model with the fixed factors flower sex (male or female), bee species (A. mellifera, Bombus spp., or P. pruinosa) and time period (0600–0700, 0701–0800, 0801–0900, 0901–1000, 1001–1100, and 1101–1200 h) and site as a random factor. We used multiple comparisons procedures to contrast the fixed covariates within each model.
Pollen deposition
We modeled the number of pollen grains collected from stigmas of female flowers from three (2011: 2 h (0600–0800 h), 4 h (0600–1000 h) and 6 h (0600–1200 h) or four (2012, 0600–0800 h, 0800–1000 h, and 1000–1200 and 0600–1200 h) time periods using the glmmadmb mixed model function with a negative binomial distribution, and the general linear hypothesis test (glht) function from the multcomp package in R to test for significant differences between time periods.
Habitat management and landscape
To assess whether local habitat management or surrounding landscape composition influenced bee visitation frequency or pollination services we used partial least squares regression analysis (PLS). PLS allows for analysis of models with: (1) multiple response variables, (2) a large number of predictors which may be collinear, and (3) small samples sizes relative the number of possible predictor variables (Carrascal, Galvan & Gordo, 2009). As our landscape variables were proportions of buffer circles, many categories were highly correlated (Appendix S1). PLS reduces sets of predictor and response variables into a smaller set of latent factors.
For 2011, we examined the influence of 21 landscape variables (FOREST, GRASSLAND, FORAGE, FIELD, FRUITVEG, URBAN, AND TURF at 500 m, 1,000 m and 1,500 m radii surrounding each sampling site) on bee visitation frequency and pollen deposition (600–1200 h). In 2012, the influence of the three habitat management treatments (GRASS CONTROL, ALYSSUM and PERENNIAL) was also included in PLS models that examined bee visitation frequency (flower visitation by A. mellifera, Bombus spp., and P. pruinosa), flower visitation by Bombus spp. only (examined as Bombus spp. represented 76.2% of flower visits in 2012), and pollen deposition (600–1200 h). In both years, visitation and pollen deposition were considered separately due to different timing of the experiments.
All predictor variables were centered to a mean of zero and scaled to a standard deviation of one, to give all variables equal weight. The number of factors to be extracted was determined by cross validation using a minimum predicted residual sum of squares (PRESS) as the stop condition. Explanatory variables with a Variable Importance in Projection (VIP) score of >0.8 for a given component were considered significant predictors for that component (SAS Institute Inc, 2011). For each analysis we interpreted up to the first two components (t1 and t2) and only those with a positive Q2 score. Correlation loading plots were used to explore the relationship between the predictor and response variables. These analyses were conducted using the PLS Module of XLSTAT (Addinsoft, Paris, France).
Results
A total of 1,427 A. mellifera (47.7%), 606 Bombus spp. (20.2%), 898 P. pruinosa (30.0%), and 61 other pollinators (2%) were observed in male and female pumpkin flowers in 2011. In 2012 we observed 826 A. mellifera (10.5%), 6,023 Bombus spp. (76.2%), 964 P. pruinosa (12.2%), and 87 other pollinators (1.0%) visiting to pumpkin flowers. Taxa in the other pollinators category included Melissodes bimaculata, Halictidae, Andrenidae and Syrphidae. The number of flower visits by A. mellifera was significantly greater in 2011 than Bombus spp. (z = − 6.23, P < 0.001) or P. pruinosa (z = − 5.85, P < 0.001). The frequency of Bombus spp. and P. pruinosa visitation did not differ (z = 0.65, P = 0.783). In 2012, Bombus spp. were the most frequent visitor, compared to A. mellifera (z = 7.42, P < 0.001) and P. pruinosa (z = − 6.31, P < 0.001). There was no difference in the number of visits by A. mellifera and P. pruinosa (z = − 1.3, P = 0.382).
Discussion
Large seed set, successful maturation, and fruit weight are highly correlated with the number of pollinator visits to cucurbit flowers (Stanghellini, Ambrose & Schultheis, 1998; Garibaldi et al., 2013) and the amount of pollen transferred to female flowers per visit (Canto-Aguilar & Parra-Tabla, 2000; Winfree et al., 2007; Graças Vidal et al., 2010; Artz & Nault, 2011). Because of this close relationship, research on pollinators of cucurbits has often focused on the abundance of pollinators found inside flowers and the duration of their visitation (Tepedino, 1981; Cane, Minckley & Kervin, 2000; Shuler, Roulston & Farris, 2005; Julier & Roulston, 2009; Nicodemo, Nogueira Couto & De Jong, 2009; Barber, Adler & Bernardo, 2011; Artz, Hsu & Nault, 2011). Our work builds upon these studies using video surveillance to observe pollinator activity throughout the entire 6 h pumpkin pollination window, allowing for documentation of the composition of pollinator fauna visiting male and female flowers as well as their visitation frequency and duration. Further, we were able to measure how the local addition of habitat management as well as larger-scale landscape composition might influence the relationship between pollinator visitation and pollination service within this cropping system.