Residency, movement patterns, behavior and demographics of reef manta rays in Komodo National Park
Published

Accepted

Received
Academic Editor
Subject Areas

Aquaculture, Fisheries and Fish Science, Conservation Biology, Ecology, Marine Biology, Population Biology

Keywords

Elasmobranch

,

Photo-ID

,

Population structure

,

Movement

,

Site use

,

Tourism

,

Fisheries

,

Citizen science

,

Coral Triangle Region

,

MPA
Copyright

©

2022

Germanov et al.

Licence

This is an open access article distributed under the terms of the Creative Commons Attribution License, which permits unrestricted use, distribution, reproduction and adaptation in any medium and for any purpose provided that it is properly attributed. For attribution, the original author(s), title, publication source (PeerJ) and either DOI or URL of the article must be cited.
Cite this article

2022

.

Residency, movement patterns, behavior and demographics of reef manta rays in Komodo National Park

.

PeerJ

10

:

e13302

https://doi.org/10.7717/peerj.13302
Abstract
Background
The reef manta ray (Mobula alfredi) is a globally threatened species and an iconic tourist attraction for visitors to Indonesia's Komodo National Park (NP). In 2013, manta ray fishing was banned in Komodo NP and its surroundings, preceding the nationwide manta ray protection in 2014. Over a decade ago, a previous acoustic telemetry study demonstrated that reef manta rays had high fidelity to sites within the park, while more recent photo-identification data indicated that some individuals move up to 450 km elsewhere. Characterization of manta ray demographics, behavior, and a focused assessment on site use of popular tourism locations within the park is vital to assist the Komodo NP Management Authority formulate appropriate manta ray conservation and management policies.
Methods
This study uses a long-term library (MantaMatcher.org) of photo-identification data collected by researchers and citizen scientists to investigate manta ray demographics and habitat use within the park at four sites frequented by tour operators: Cauldron, Karang Makassar, Mawan, and Manta Alley. Residency and movements of manta rays were investigated with maximum likelihood analyses and Markov movement models.
Results
A total of 1,085 individual manta rays were identified from photographs dating from 2013 to 2018. In general, individual manta rays displayed a higher affinity to specific sites than others. The highest re-sighting probabilities came from the remote southern site, Manta Alley. Karang Makassar and Mawan are only ~5 km apart; however, manta rays displayed distinct site affinities. Exchange of individuals between Manta Alley and the two central sites (~35.5 km apart) occurred, particularly seasonally. More manta rays were recorded traveling from the south to the central area than vice versa. Female manta rays were more mobile than males. Similar demographic groups used Karang Makassar, Mawan, and Manta Alley for foraging, cleaning, cruising, or courtship activities. Conversely, a higher proportion of immature manta rays used the northern site, Cauldron, where foraging was commonly observed. Fishing gear-related injuries were noted on 56 individuals (~5%), and predatory injuries were present on 32 individuals (~3%). Tourism within the park increased from 2014 to 2017, with 34% more dive boats per survey at Karang Makassar and Mawan.
Discussion
The Komodo NP contains several distinct critical habitats for manta rays that encompass all demographics and accommodate seasonal manta ray movements. While the present study has not examined population trends, it does provide foundational data for such work. Continued research into manta ray abundance, long-range movements, and identifying and protecting other critical aggregation areas within the region is integral to securing the species' recovery. We provide management recommendations to limit undue pressure on manta rays and their critical habitats from tourism.
Introduction
Even highly mobile marine megafauna species often spend a disproportionate amount of time in and return to specific sites within their broad range (e.g., Baird et al., 2008; Bowen & Karl, 2007; Dewar et al., 2008; Graham et al., 2016; Rooker et al., 2008). Identifying and protecting these habitats should be prioritized to maximize population recovery for threatened species (Chapman et al., 2015; Heupel, Carlson & Simpfendorfer, 2007; Hueter et al., 2005; Martins et al., 2018; Norse, 2005; Speed et al., 2010), particularly ecologically sensitive areas like nursery grounds, adult reproductive areas, and feeding grounds. It is also important to maintain protected movement corridors between such sites (Hooker et al., 2011).
Manta rays (Mobula alfredi–Krefft, 1868; M. birostris–Walbaum, 1792) are long-lived, to at an estimated 45 years (Marshall et al., 2019, 2020), with low fecundity of approximately one offspring every 2 years (Deakos, 2012; Marshall & Bennett, 2010), resulting in low population growth rates, estimated as maximum intrinsic rate of population increase (rmax), of 0.166 or less per year (Dulvy et al., 2014; Rambahiniarison et al., 2018). Both species are threatened with extinction (Marshall et al., 2019, 2020) due to declining population trends (Dulvy et al., 2014; Ward-Paige, Davis & Worm, 2013), and consequently are listed in Appendix II of the Convention on the International Trade of Endangered Species (CITES) and Appendices I and II of the Convention on the Conservation of Migratory Species (CMS). The demand for Mobula spp. branchial gill plates, used in Chinese non-traditional medicinal markets primarily located in Guangzhou, Macau, Hong Kong, and Singapore (Heinrichs et al., 2011), incentivizes fishers to target manta rays; this trade has become the most significant contributor to manta ray population declines globally (Marshall et al., 2019, 2020; O'Malley et al., 2017; Stewart et al., 2018a).
In the 1990s and early 2000s, manta rays were heavily fished in Indonesia, which ranked within the top five mobulid fisheries nations (Heinrichs et al., 2011). Manta landings declined substantially in the 2010s, suggesting that overexploitation was occurring, and potentially damaging the growing manta ray tourism industry (Booth, 2016; Lewis et al., 2015; O'Malley, Lee-Brooks & Medd, 2013). The Komodo National Park (NP), formally established in 1980, primarily for the conservation and management of the endemic Komodo dragon (Varanus komodoensis), was extended in 1984 to include surrounding marine habitats (Pet & Yeager, 2000). Coincidentally, the marine realm included habitats now known to be critical to Mobula alfredi (hereafter referred to as manta rays, as only this species is considered in this work). The first study on M. alfredi within Komodo NP (Dewar et al., 2008) predated the taxonomic split from M. birostris (Marshall, Compagno & Bennett, 2009) and investigated their movements within the area. Passive acoustic telemetry employed between October 2000 and June 2003 identified regular use of specific areas and the connectivity of manta ray sites within the park. These were welcome findings at a time when manta ray fisheries were active through the Lesser Sundas (Heinrichs et al., 2011; Lewis et al., 2015; White et al., 2006), as the ban on shark and ray catches, prohibition of the most detrimental and indiscriminate fishing gear (e.g. gillnets) within most of the park (Pet & Yeager, 2000) would afford the resident manta ray population an increased level of protection from fishers. The Komodo NP has subsequently been touted as a successful example of a beneficial Marine Protected Area (MPA) for manta rays (Rigby, Simpfendorfer & Cornish, 2019).
Following a sequence of manta ray conservation milestones (Setyawan et al., 2022), including Indonesian regional shark and manta fishing bans in Raja Ampat, West Papua (Raja Ampat Local Government, 2012) and West Manggarai, Flores and Komodo NP (West Manggarai Local Government, 2013), in 2014, both manta ray species were formally protected throughout the entire exclusive economic zone of Indonesia (an area of over 6 million km2; Dharmadi, Fahmi & Satria, 2015; Ministry of Marine Affairs & Fisheries, 2014). The nation-wide legislative protection of manta rays was adopted after these species were listed on the aforementioned conservation conventions, but the Indonesian government was also incentivized to protect the valuable manta ray tourism industry in the country, estimated to be worth over US$10.6 million per year (Mustika, Ichsan & Booth, 2020; O'Malley, Lee-Brooks & Medd, 2013). However, the species is still subject to bycatch and illegal directed fisheries (Booth et al., 2020; Croll et al., 2016), particularly in movement corridors to the south of Bali, Lombok, and Sumbawa islands (Conservation International, 2016; Germanov & Marshall, 2014; Lewis et al., 2015). Designated conservation areas, such as the Komodo NP and the Nusa Penida Marine Protected Area (MPA) can, at least in theory, offer an additional layer of protection due to fishing gear restrictions in marine protection and marine core zones and increased levels of compliance monitoring including from the tourism sector (Erdmann, 2004a; Komodo National Park Office, 2020a; IUCN World Heritage Outlook, 2020).
In the current study, we expand on earlier research in the Komodo NP (Dewar et al., 2008; Germanov & Marshall, 2014) by creating and analyzing a long-term photo-identification library compiled mostly during 5 years of extensive surveys to investigate habitat use of 1,104 identified manta rays. Our study goals are to assess: (1) site affinity and movement, (2) population structure, (3) behavior, and (4) persistent threats to manta rays using the surveyed sites within the Komodo NP and to identify specific recommendations to help mitigate these threats.
Materials and Methods
Study area
The Komodo National Park (Komodo NP; Fig. 1) covers 1,817 km2 of land and sea (Pet & Yeager, 2000; Erdmann, 2004b). This area lies east of Bali, south of Kalimantan and west of Papua, contains high levels of endemic terrestrial species and is on the southern side of the Flores Sea "Marine Wallace line" (Barber et al., 2000). This is a complex oceanographic region (Komodo NP marine area = 1,214 km2) characterized by three large islands (Komodo, Rinca, and Padar) and additional smaller islands within the park boundary totaling 603 km2 of terrestrial habitat (Erdmann, 2004b). The three large islands create the large shallow (≤100 m) Lintah Strait, through the park's center. The park boundaries are flanked by Sape Strait, another large, slightly deeper (~100–200 m) strait to the west of Komodo Island, a narrow passage to the east of Rinca Island (Molo Strait), and deep water (>800 m) basins to the north and south (Fig. 1). Water exchange through the park is driven by strong tidal flow currents (up to ~15 km/h in the Lintah Strait), with water from the Indian Ocean flowing north through the straits on the incoming tide and water from the Pacific Ocean flowing south on the outgoing tide (Erdmann, 2004c) via the Indonesian Throughflow (ITF). Upwelling to the south of the Lesser Sundas is strongest from June through October, coinciding with the south-east monsoon, active May–October, and serves to enrich the waters in southern Komodo NP during this time of year (Ningsih, Rakhmaputeri & Harto, 2013). Nutrient-rich waters flow throughout the straits, particularly with spring tides. This trend is reversed during the inverse north-west monsoon period (November–April), with nutrient-rich water flowing through Komodo NP from the Flores Sea located to the north.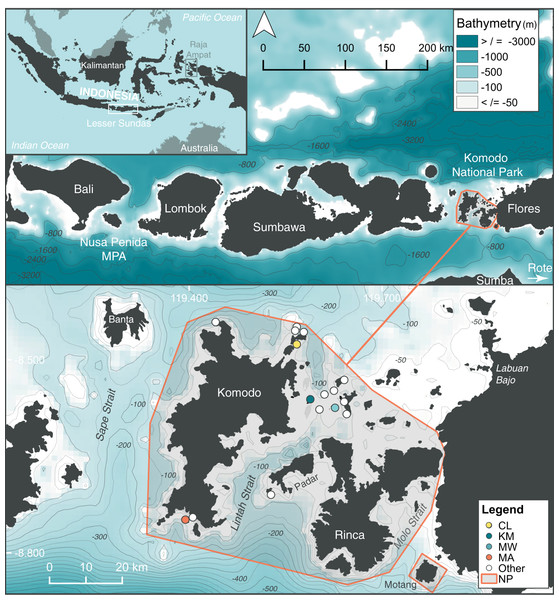 We focused our analyses on four sites within the Komodo NP (from north to south: Cauldron–CL, Karang Makassar–KM, Mawan–MW, Manta Alley–MA) based on the consistent manta ray sightings at these locations and, hence, regular visitation by tourism operators, which facilitated both research and citizen science contributions. Three of these sites, KM, MW, and MA, were included in a previous acoustic telemetry study of manta ray movements within the park (Dewar et al., 2008). Cauldron, the previously undescribed site, located in the north area of the park, is a shallow channel (<25 m) between two islands with complex bathymetric structure and strongly affected by tidal currents. Located in the 'central' area of the park, adjacent to a sandy island with a fringing reef, KM refers to a gently sloping shallow (<18 m deep) rubble field that runs ~1.5 km north to south, with patchy reef and coral heads where manta rays clean (i.e., cleaning stations). The island MW, ~5 km to the east of KM, has a shallow 'cleaning station' at 5 m on a sandy slope from three down to 20 m on its south-eastern tip. Shallow rubble reefs also serve as cleaning stations to the north and south of MW's sandy slope, covering an overall distance of ~0.7 km. Strong tidal currents affect both these central sites (i.e., KM and MW). In south-west Komodo NP, MA is approximately 35.5 km in a straight-line distance from KM. This site encompasses several rocky islands in a large bay lined with steep cliff walls and rocky shorelines. Several channel formations are exposed to surge and strong tidal current flows on the islands' northernmost side, where manta rays clean and cruise. To the east and west of the islands are sloping reefs (to ~35 m), with several manta ray cleaning stations.
Data collection and processing
Data collection, including citizen science contributed data, validation, and processing, followed the procedures described in Germanov et al. (2019a). Data on manta ray sightings (date, time, location, and identifying ventral photographs of manta rays) logged by observers and the public were accessed from the online database MantaMatcher.org (Fig. S1). Approximately 20 local dive operator staff were trained by the authors as observers and contributed manta ray data from 2012–2018. Briefly, the training included providing trainees with details of how to take manta ray identification photographs, identify sex, maturity and behavior, estimate size, and to record injuries and entanglements with fishing gear, along with other data collection relevant to effective manta ray management in the region, such as the maximum number of dive boats present on-site throughout surveys (Germanov et al., 2019a). Photo contributions from the public were encouraged through educational presentations, informative dive briefings, and awareness materials about 'Manta Matcher' (i.e., posters and infographics) displayed at local dive centers and within 'liveaboard' dive boats.
All identifying photographs were manually matched to an ID catalog, with the assistance of an automated pattern matching algorithm (Germanov & Marshall, 2014; Town, Marshall & Sethasathien, 2013) or external software ('MantaUtil,' Winstanley, 2016). The lead author independently validated the sighting records included in the study. Manta ray sex was assigned based on the absence (female) or presence (male) of claspers, and maturity status was assigned based on clasper size in males, with those extending past the pelvic fins considered as mature, or the presence of a pregnancy bulge or pectoral fin mating scars in females (Marshall & Bennett, 2010). This methodology avoids a default of classifying females as immature in the absence of maturity indicators and accurate size estimates; instead, their maturity status was classed as "unknown" (Marshall & Bennett, 2010; Marshall, Dudgeon & Bennett, 2011). Behavior was classified into four mutually exclusive categories: foraging, cleaning, cruising, and courtship. Two additional non-exclusive behavior categories, foraging/cleaning, and courtship/cleaning were used when more than one behavior was observed for an individual manta ray within a single dive. Further details on behavioral categorization are provided in Germanov et al. (2019a).
The use of Manta Matcher also facilitated the identification of manta ray movements between geographical regions, namely re-sightings between Komodo NP and the Nusa Penida MPA. Sightings of all individuals are publicly available at MantaMatcher.org. Identification numbers for the most re-sighted individuals, those making long-range movements, and others with noteworthy observations are provided in the results section and the supplementary data. These identification numbers can be input into the online database's search function to reveal full sighting histories for the individual manta rays.
Statistical analyses
The core sightings records used for statistical analyses (outlined below) were collected between January 2013 and April 2018. Annual logged sightings records exceeded 400 across those years, with near year-round coverage for the three of the four sites considered here. Data from 2018 were excluded from seasonal analyses, as year-round survey effort was not available, and from CL (all years) as there were relatively few records. The number of logged trained observer dives were used as a proxy for survey effort, assigned as per dive, as dive time was not recorded before 2016 (Fig. S2). However, dive times set by dive operators are a maximum of 60 min and the means of available dive times (post-2016) across sites were relatively consistent (58.3 ± 7.1 min). Since most dive operators complete two or more dives per day at the remote site MA (i.e., effectively doubling daily effort compared to other sites, E. Germanov, 2016, personal observation), we have presented total mean monthly sightings as a more appropriate comparison between MA and KM/MW as the number of hours and daily dives logged was not regularly available from public data.
Pearson's product-moment correlations, using the cor.test function of the R statistical software (R Core Team, 2018), were used to investigate the relationship between the annual number of survey days and the number of sightings. The chisq.test function (R Core Team, 2018) was used to test whether the numbers of individuals and sightings differed between males and females at KM, MW, MA, and CL. Sex ratio data for each site were compared using chi-squared (χ2) goodness of fit tests (one-dimensional contingency table), while sex ratios and behavior frequencies between the sites were compared using a multiple-dimensional contingency table (VassarStats, 1998). To facilitate χ2 testing for behavior, where counts were less than five per site, the data were condensed into four categories (i.e., foraging/cleaning was reclassified to foraging, and courtship/cleaning was reclassified to courtship). Data from CL were excluded from χ2 testing for behavior, and data from both CL and MW were excluded from χ2 testing for seasonality in foraging, as the counts were less than five for several categories. A Fisher's Exact Probability Test was used for 2 × 2 contingency tables if counts were less than five. The Yates' continuity correction was applied to tests where there was one degree of freedom.
Residency and movement analyses
Following the habitat use definitions of Chapman et al. (2015), we use 'residency' to refer to the generally uninterrupted occupation of a limited area by an individual for a defined length of time, and 'site fidelity' as the return of an individual to a site after a periodic absence of greater or equal duration to the residency period. Presence-only sightings data precludes discerning whether these same site visitations are true site fidelity or, at least for some individuals, movements within a large home range. In this case, the term 'site affinity' is more appropriate for describing the same site re-sightings (Couturier et al., 2011). This term is also more appropriate in instances where there is high variability in site use between individuals and at least some individuals use several sites to a similar extent (see Germanov et al., 2019a).
We compared daily manta ray re-sighting data against residency models to investigate residency patterns using a modified maximum likelihood approach, following Germanov et al. (2019a). We excluded CL data from analyses, as sighting records at this site were sparse compared to those at KM, MW, and MA (Table 1). Lagged Identification Rate (LIR), defined as the probability of re-identifying an individual after a given time lag (Whitehead, 2001), was calculated using the 'Movement Analyses' module of the program SOCPROG 2.8 (Whitehead, 2009). Empirical results were compared to model closed and open populations scenarios to estimate movement parameters (Table 2 and Table S1). We evaluated emigration, immigration, re-immigration, and mortality in the various open population models. The lowest quasi-Akaike information criterion (QAIC) value, accounting for the over-dispersion of the data, determined the model that best fit the residency characteristics for each site (Whitehead, 2007). We estimated the probability of re-sightings at other sites using 'within/between' LIR analysis to test for population-level mixing between sites. Model fits were bootstrapped 1,000 times to generate standard errors (SE).
The annual transition probabilities between sites, i.e., the likelihood of an individual manta ray moving from one area to another within a year, were calculated using a parameterized Markov movement model (Tables 3 and 4; Whitehead, 2009). This model includes a hypothetical 'outside' area (i.e., leaving the study site/s). Movements between the three core sites (KM, MW, MA) were investigated by grouping KM and MW as a collective 'central' site and investigating movements to and from MA in the south. Optimized values of transition probabilities were bootstrapped 1,000 times to generate SEs, and the maximum number of evaluations was set to 10,000. Mortality, including permanent emigration from all core sites, was considered in the model.
Ethics statement
This study was conducted under permits issued by the Indonesian Ministry of Research and Technology (Permit #458/SIP/FRP/E5/Dit. KI/XII/2015; Permit Extension#11/TKPIPA/E5/Dit. KI/XI/2016 and #86/EXT/SIP/FRP/E5/Dit.KI/XI/2017) and the Komodo National Park (#SI.1432/BTNK-1/2016 and 2017). This study was carried out in accordance with the approval of the Animal Ethics Committee, Murdoch University (R2781/15). Photographic and sighting data were collected opportunistically by the public and contributed to a public online repository (MantaMatcher.org) developed explicitly to facilitate citizen science contributions to manta ray research.
Results
Sightings and survey effort
We identified a total of 1,104 individual manta rays from 4,163 sightings (after excluding 765 daily re-sightings of the same individuals) across 791 unique dates (from 7 July 2004 to 31 March 2018) within the Komodo NP (Table 1). Sighting records for four sites within the park, Cauldron (CL), Karang Makassar (KM), Mawan (MW), and Manta Alley (MA), and within core survey years (2013–2018) represented ~94.7% (n = 3,941) of all sightings (Table 1). Sightings records prior to 2013 (n = 177) included 139 individuals. Annual manta ray sightings varied across study years (Table 1) and were positively correlated with the number of survey days (r = 0.94, p = 0.002). More than 400 sightings were logged on Manta Matcher in each of the core years of this study (Table 1), with citizen science contributions representing 95% of all data logged. Data submissions to Manta Matcher gradually increased over the study period with increased awareness of the citizen science program within the dive community, surpassing data collected solely by trained observers in the second year of intensive surveys (i.e. 2014; Fig. S1).
A total of 1,085 individual manta rays were identified from data collected during the core study years (January 2013 to April 2018) from 14 sites within the Komodo NP. Data collected from the three core study sites KM, MW, MA, yielded 1,061 individual manta rays. Of these individuals, 749 were sighted in KM, 535 in MW, and 376 in MA. Data collected from CL yielded 48 individuals, of which 22 were not sighted elsewhere, and two were sighted at all of the other three sites. A further 45 individual manta rays also had sighting records in sites other than the above four sites, of which two had no other records elsewhere. Considering KM, MW, and MA sites combined (i.e., the three sites with 97.8% of all individual records from 2013–2018), the discovery curves of newly discovered individuals and the days elapsed showed a steep rise until approximately 685 individuals after 860 d (Fig. 2). The curve continued to increase at a slightly lower rate until the end of the study period (1,061 individuals after 1,913 d) (Fig. 2). Neither the combined discovery curve nor any of the site-specific discovery curves approached an asymptote. Gaps in the discovery curves indicate periods in which no new individuals were identified due to survey gaps.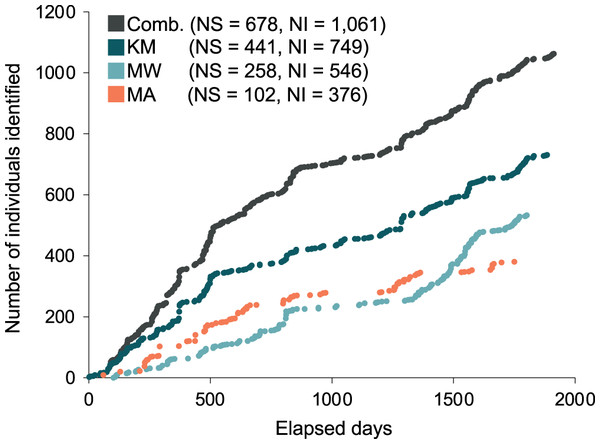 Sightings across seasons and years
Sightings rates averaged (mean ± 1SE) 760 ± 130 sightings/year from 2013–2017, and January–March of 2018 had 188 sighting records. The highest number of sighting records was recorded in 2017 (n = 1,198), with the second-highest number in 2014 (n = 838; Table 1). However, survey effort by trained observers was lower in 2015 and 2016 (Fig. S1). Monthly mean sightings varied among years (Fig. 3A). There was an overall increase in sightings from 2013 to 2017 across the sites, with the largest increase observed at MW. Sightings per dive recorded solely by trained observers varied modestly for sites among years, except for KM, where there was a ~two-fold increase in sightings per dive during 2015 and 2016 (Fig. S2A). Sightings per dive by trained observers also varied across months and sites (Fig. S2B), following similar trends to the sightings overall, with fewer sightings for the central sites (MW and KM) in August and September (Fig. 3B). While trained observers recorded higher sighting rates for MA mid-year, data were not available for December–February and in June, prohibiting us from commenting on seasonality trends based on these data alone.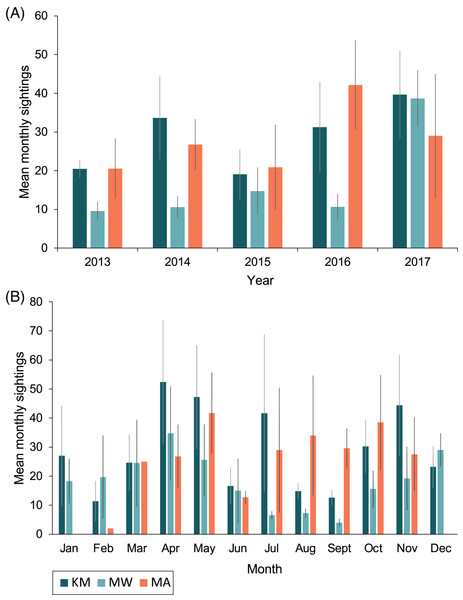 Population structure
Of 1,061 individuals recorded at the core sites (KM, MW, MA), the overall sex ratio of males (507) to females (498) of 1.02:1 did not differ significantly from 1:1 (χ21 = 0.1, p = 0.777), with the sex of 56 individuals remaining unknown during the core study years. Likewise, the sex ratio did not differ significantly from 1:1 at any of the three core sites: KM (0.92:1, χ21 = 1.4, p = 0.234), MW (0.97:1, χ21 = 0.2, p = 0.692) or MA (0.9:1, χ21 = 1.0, p = 0.319) (Fig. 4). While there were more males than females (23 vs. 16, with nine unknown individuals) identified at CL, this difference was not significant (χ21 = 1.3, p = 0.262). There was no significant association between site and sex for individuals (χ22 = 0.3, p = 0.851) at the three core sites.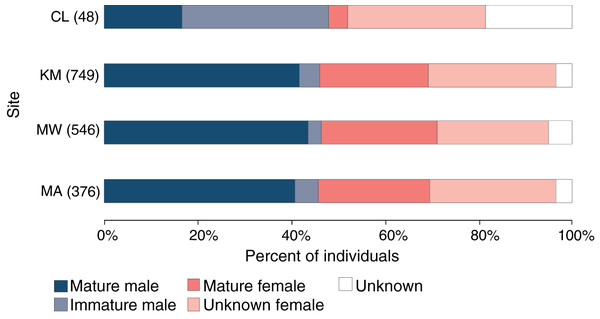 Approximately 90% (454) of the males at the core study sites were sexually mature, with ~11% (50) of males remaining immature during the five core study years. An additional 11 immature males were identified at CL and not sighted at other sites. Altogether, 96 (19%) males were immature at some point throughout the study, with 39 reaching maturity over this period. Females are more difficult to assign a maturity status without accurate size estimates, which the study lacked, and for 290 females representing ~27% of individuals, the maturity status was unknown. Considering KM, MW and MA combined (n = 498 females), at least 43% (212) of the females were sexually mature, and 18% (92) were pregnant during the study period. Overall, the maturity status of males and females was comparable among all sites for individuals (Fig. 4; χ23 = 1.2, p = 0.742).
However, looking at maturity status alone (i.e., excluding sex), there was a relationship between the site and maturity status of individuals (χ23 = 78.7, p < 0.0001), with relatively higher composition of immature males (31%) and lower composition of mature females (4%) at CL compared to the other three sites (Fig. 4). Notably, of the manta rays identified at CL sighted more than once (4.29 ± 0.59; range: 2–11 sightings), seven out of 17 individuals (41%) were immature males, with two maturing during the study (INKNP0598A and INKNP0292A; Fig. S3). The maturity status of the remaining eight manta rays encountered more than once at CL was unknown (six females and two where the sex was unknown). In contrast, all manta rays (females = 6 and males = 5; Fig. S4) with recorded long-range movements between Komodo NP and Nusa Penida MPA were deemed mature.
Residency and movement
From 2013–2018, the majority (768; 72%) of manta rays were encountered more than once within KM, MW, and MA (Fig. S5). Of these individuals, 48 (5%) were sighted >10 times, with up to a maximum of 21 sightings per individual. The mean re-sightings per individual were 3.6 ± 0.1, and 598 manta rays (56%) were re-sighted across multiple years (Fig. 5). Considering all available data (2004–2018), the longest time between the initial and most current re-sighting for an individual (INKNP0154A) was 13.4 years. Further, using all available data (2004–2018) on long-range movements to Nusa Penida MPA, the days between recaptures in the different regions for the 11 individuals varied widely (range: 33–1,550 d), averaging 373.4 ± 77.4 (SE) d. In addition to sightings within the Komodo NP, 11 (1%) individual manta rays sighted within the Komodo NP were also sighted within the Nusa Penida MPA on 89 separate days (including pre-2013 data; Fig. S4).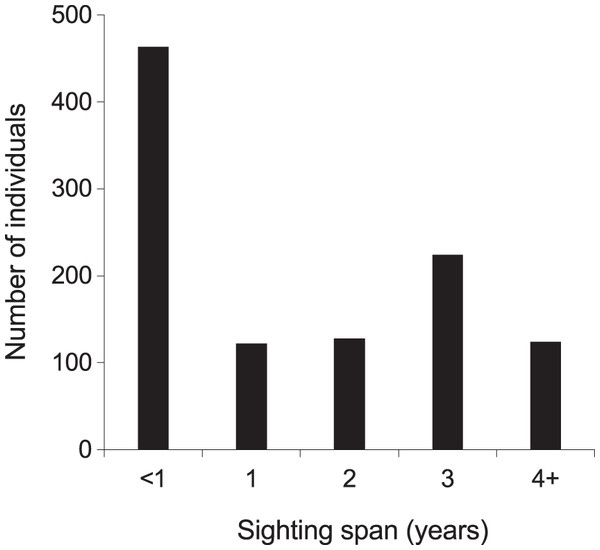 Interchange between sites
We recorded 104 (9.8%) individuals in all three core sites, and 275 (25.9%) in two sites, one being a central site (either KM or MW) and the other MA in the south. We recorded 961 (91%) individuals in the park's central sites and an additional 100 (9%) individuals exclusively at MA. The Markov movement model showed that each individual's re-sighting probability was highest within rather than between sites (0.39 at KM, 0.59 at MW, and 0.58 at MA; Table 3A). However, there was a relatively high probability of movement from KM to MW (0.37 ± 0.16) or vice versa (0.29 ± 0.17), indicating a sizeable interchange between the two adjacent central sites (~5 km apart). When these two central sites were grouped for analysis (Table 3B), the probability of re-sighting within the central area was very high (0.87), with less, yet considerable re-sightings (0.53) at MA. Further, the movement between central sites and MA was asymmetric, with far less movement from central sites to MA (0.11 ± 0.04) than vice versa (0.47 ± 0.11). More movement to the central sites from other 'outside' sites was modeled (0.11 ± 0.20) than from 'outside' sites to MA (0.000 ± 0.02). Notably, the model's maximum number of iterations was exceeded for these analyses, suggesting that the estimated SEs are inaccurate and larger than expected (H. Whitehead, Dalhousie University, 2019, personal communication). While excluded from movement analyses due to the smaller sample size, 40% of individuals sighted at CL were also sighted at central sites, and 13% at MA.
We tested for full interchange between sites using LIR analysis (Fig. 6). The curves for re-sightings within the same or different sites did not converge during the study period, indicating that some level of site affinity exists. A 'within/ between' analysis between just KM and MW also did not support full interchange within the central region (Fig. S6). Thus we ran LIRs for each site independently.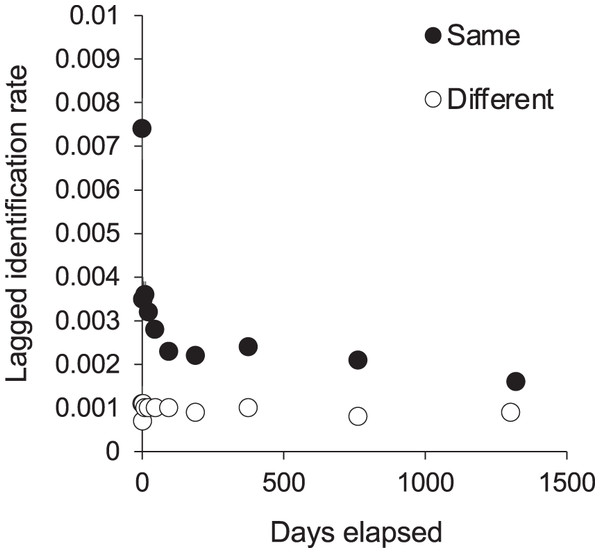 Site-specific analyses
The best-fit re-sighting model for all three sites was Model H (Table 2), a model which includes emigration and re-immigration with mortality. Mortality (which includes permanent emigration) was considered negligible for all sites and analyses (≤0.045). The LIRs within the two central sites were similar and much lower (~half) than those at MA, indicating that individuals have a higher probability of re-sightings at MA than either KM or MW (Fig. 7). Model H scenarios provide estimates (mean ± SE) for the time individuals spend within (residence time in) and out (residence time out) of an area. Individuals stayed approximately twice as long at MA (1.6 ± 12.9 d) than at MW (0.8 ± 0.3 d), although there was high variability in residence time among individuals. The estimated time that individuals spent outside of these three sites ranged between 5.8–6.9 d. Overall, the results for MA indicated more variability between individuals' residence time than at MW and KM (Table S2).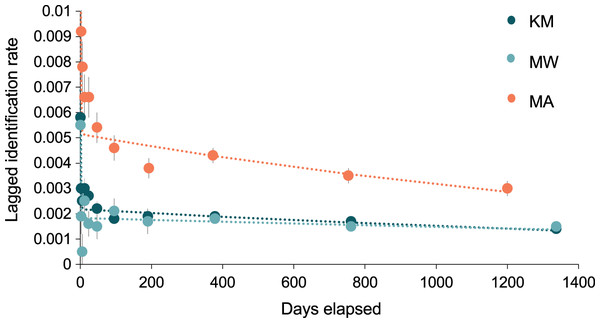 Sex-linked analyses
There were significantly more sightings of females (2,016) than males (1,672) (χ21 = 32.1, p < 0.0001). This was the trend observed at KM, MW, and MA, with KM having the highest female sightings (57%) compared to males (43%) (χ21 = 35.1, p < 0.0001). In contrast, the comparatively fewer (103) sightings at CL were biased towards males (66% vs. 34% females, χ21 = 9.8, p = 0.002). Likewise to the population structural differences outlined above, there was no significant association between site and sex for sightings (χ22 = 4.9, p = 0.087) at the three core sites. However, when CL was included in the analysis, an association was detected (χ23 = 21.5, p < 0.0001). Exploration into potential sex-linked differences in site use showed no substantial differences in LIRs between the sexes for KM, MW, or MA (Fig. S7, Table S1). Movement analyses indicated that females tended to move more from central sites to MA, and from 'outside' to the central sites, than males (Table 4), suggesting that there might be some sex-linked differences in site use. Adequate data was not available to perform LIR or movement analyses with sightings at CL.
Behavior
Manta rays were observed foraging, cleaning, cruising, and engaging in courtship at KM, MW, and MA (n = 2,306, Fig. 8A). There was a significant association between behavior and site (χ26 = 202.1, p < 0.001), with MW having the highest proportion of cleaning behavior (74%), while CL had the lowest (6%). More cleaning was observed at KM (53%) than MA (39%). Overall, few observations of mixed behaviors (i.e., cleaning and courtship = 20; cleaning and foraging = 1) were made for individuals within a single survey dive. Courtship behavior was observed at all sites except CL. Courtship activity took place throughout the year, although the number of recorded events and individuals engaged in courtship varied (Fig. 8B). Cruising behavior was frequently observed at CL (74%) and, to a lesser extent, MA (45%). Both locations have strong currents flowing through narrow channels where manta rays are commonly observed swimming into the current, but not necessarily foraging or cleaning. Foraging observations differed between the study sites. There were fewer foraging records for individuals at MW (1%) than at other sites, especially CL, where foraging records were higher than elsewhere (20%). The highest number of individuals foraging at one time (up to 30 individual identifications in 1 day) were recorded at KM during the NW monsoon.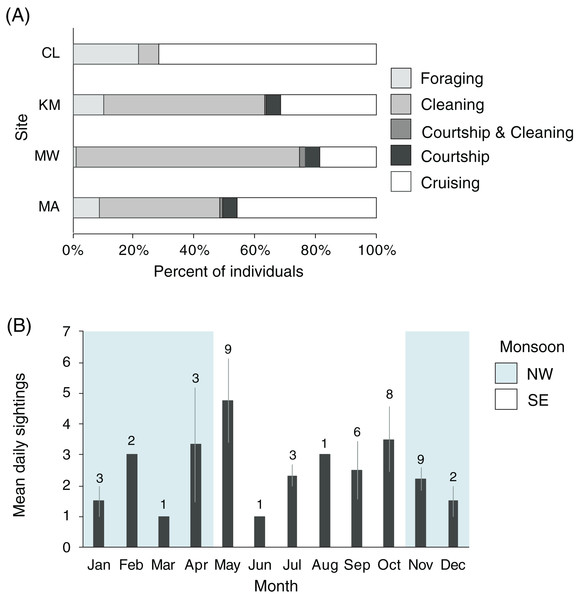 Boating activity
The two central sites, KM and MW, are the closest to the population center at Labuan Bajo on Flores Island (Fig. 1), from where most diving/snorkeling tours operate. Based on observer logs, these sites saw a combined 34% increase in the number of tour boats per survey recorded from 2014 to 2017. This increase was proportionally greater at MW than at KM, with the survey average of boats at MW increasing from 1.8 in 2014 to 3.4 in 2017 (81% increase), while at KM, boats increased from 5.8 in 2014 to 7.7 in 2017 (33% increase; Fig. 9A). The number of boats on-site during July or August surveys were 102% (12.3 boats) and 50% higher (4.1 boats) than the September–June average for KM and MW, respectively (Fig. 9B). Records for CL and MA were sparse and were not available year-round. However, for comparative purposes, and to establish a baseline, from 2014–2017 inclusive, the survey mean and median numbers of boats at CL were 2.6 ± 0.3 and 2 (range: 1–14), respectively (n = 57). While the number of boats is much lower than those of the central sites, the daily numbers in August 2017 were well above average (i.e., 10 and 14 boats), suggesting that a significant increase in tourism is also occurring at this site. Based on limited records (n = 27), it appears that the per survey mean (1.9 ± 0.2) and median (2; range: 1–4) boat numbers at MA have remained relatively stable over time.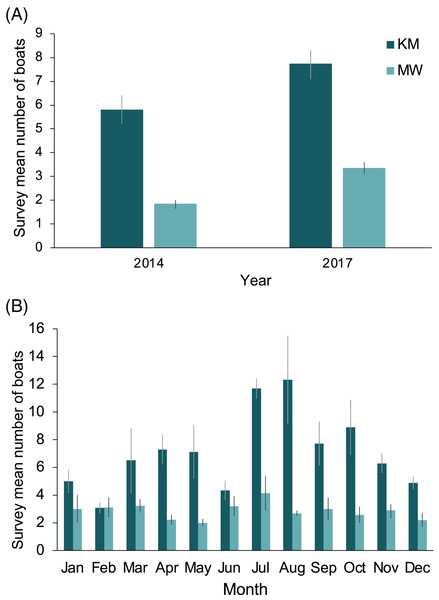 Injury rates
Predatory injuries, i.e., bite marks, were present on 32 (~3%) individuals. Fifty-six individuals (~5%) had cephalic fin, pectoral fin, or fishing line injuries. Nine individuals had more than one injury. The breakdown of injuries was: 13 individuals with hook and line entanglements and 30 and 26 truncations or disfigurements to the cephalic fins and pectoral fins, respectively. We noted six injured pregnant individuals during the study period.
Discussion
A substantial number of manta rays display site affinity to the Komodo National Park (NP), noteworthy relative to other well-studied manta ray habitats globally (compiled in Germanov et al., 2019a; Setyawan et al., 2020; Stevens, 2016). New manta ray identifications were common throughout the study, with a steadily increasing discovery curve of ~1,100 individuals, that will likely increase with continued survey effort. The present study is the most comprehensive study on manta rays residing in Komodo NP and characterizes site affinity, demographics, and behaviors in aggregation sites popular with tourism. While individual manta rays are highly mobile (Germanov & Marshall, 2014) and 1% of individuals (n = 11) have been re-sighted ~450 km away at the Nusa Penida MPA, they show distinct site affinity within the Komodo NP. Manta rays were commonly sighted at four sites in the park: Karang Makassar (KM), Mawan (MW), Manta Alley (MA), and Cauldron (CL). Site use differed between demographic groups, with mature individuals frequenting the reefs for cleaning and the initiation of courtship activity and immature males frequenting sites where foraging activity commonly occurs. The heterogeneity of site use indicates management requirements need to be tailored to prevent disruption to manta ray behaviors.
Conclusions
This long-term study confirms that: (1) Komodo NP is an essential habitat for manta rays with several documented high-affinity aggregation sites that individuals show an individual preference for but move within. (2) Surveyed aggregation areas are used differently by adults and immature individuals. (3) A combination of cleaning, reproductive and foraging behaviors occurred at sites demographically dominated by adults, whereas immature individuals were the dominant demographic where foraging was more common than cleaning. (4) Manta ray injuries from fisheries and, to a lesser extent, predation were readily observed, and by-catch in movement corridors outside of MPAs will continue to pressure these depleted populations. Further, tourism use of manta aggregation sites increased during the study and this creates an urgency for developing and implementing a science-based management strategy, monitoring, and adapting the strategy to maintain these essential habitats from undue anthropogenic disturbance. To be sustainable, national conservation strategies for manta rays need to account for the uneven financial benefits that manta tourism provides, as benefits need to reach the communities that still rely on fisheries (Jaiteh et al., 2016; Jaiteh, Loneragan & Warren, 2017; Mustika, Ichsan & Booth, 2020). Nevertheless, it appears that after decades of fishing in surrounding areas, Komodo NP still retains large manta ray aggregations that with careful ongoing management and threat mitigation might allow for regional species recovery in Indonesia. Thus, Komodo NP highlights the benefits of MPAs as a conservation tool for manta rays and underscores the importance of MPAs to be large enough to encompass key aggregation sites and home ranges (Kessel et al., 2017; Peñaherrera-Palma et al., 2020; Setyawan et al., 2020).