Microplastic ingestion by commercial marine fish from the seawater of Northwest Peninsular Malaysia
Published

Accepted

Received
Academic Editor
Subject Areas

Aquaculture, Fisheries and Fish Science, Marine Biology, Ecotoxicology, Environmental Contamination and Remediation, Environmental Impacts

Keywords

Microplastic ingestion

,

Commercial marine fish

,

Northwest Peninsular Malaysia seawater
Copyright

©

2022

Foo et al.

Licence

This is an open access article distributed under the terms of the Creative Commons Attribution License, which permits unrestricted use, distribution, reproduction and adaptation in any medium and for any purpose provided that it is properly attributed. For attribution, the original author(s), title, publication source (PeerJ) and either DOI or URL of the article must be cited.
Cite this article

2022

.

Microplastic ingestion by commercial marine fish from the seawater of Northwest Peninsular Malaysia

.

PeerJ

10

:

e13181

https://doi.org/10.7717/peerj.13181
Abstract
Over the past decade, concerns over microplastic pollution in the marine ecosystem has increasingly gained more attention, but research investigating the ingestion of microplastics by marine fish in Malaysia is still regrettably lacking. This study investigated the microplastic presence, abundance, and morphological types within the guts of four species of commercial marine fish (Atule mate, Crenimugil seheli, Sardinella fimbriata and Rastrelliger brachysoma) caught in seawater off the coast of Malaysia's Northwest Peninsular. A total of 72 individual commercial marine fish guts from four species (fish per species n = 18) were examined. Remarkably, this study found that 100% of the samples contained microplastics. A total number of 432 microplastics (size < 5 mm) from the four species were found in the excised marine fish guts. The most common type of microplastic discovered was fragment, which accounted for 49.5% of all microplastics present. The gut microplastic content differed between species. Sardinella fimbriata recorded the greatest amount of microplastic ingestion, with an average microplastic count of 6.5 (±4.3) items per individual fish. However, there were no statistically significant differences found when comparing study species and different locations. SEM-EDX analysis confirmed the presence of microplastic particles by identifying the chemical elements found in the samples. Since the four studied species of commercial marine fish are popular protein sources in Malaysians' daily diet, this study suggests potential microplastic exposure to humans via contaminated fish consumption in Malaysia, which was previously unknown. Based on previous scientific evidence, this study also demonstrates the high probability of microplastic ingestion in marine fish in the Malaysian seawater, which could have an adverse effect on fish health as well as marine biota.
Introduction
Plastic pollution in the marine ecosystem has sparked increasing interest and research over the past decades, emphasizing the ecological and biological consequences for marine biota (Andrady, 2011). Global plastic production has surged since the early 1950s, reaching 360 million tonnes by 2018. Substantial demand from various sectors is driving this trend, among which domestic usage is an important source (Cole et al., 2011). Plastic is mass-produced on a large scale due to its high durability, resistance to degradation, relative ease of production and low production cost. Plastics are extremely resistant to biodegradation. They do, however, degrade into smaller particles over time when exposed to several natural factors, such as sunlight and wave action (Wang et al., 2016). The increased use of plastics in society has led to an exponential growth in plastic production, which is expected to continue. Plastics will increasingly reach all areas of the environment due to this increase in production and associated mismanagement during production, distribution, use and final disposal (Azoulay et al., 2019; Lusher et al., 2017). Eriksen et al. (2014), based on 24 expeditions, estimated that at least 5.25 trillion buoyant particles, weighing around 268.940 tons, are in the Earth's oceans.
The National Oceanic and Atmospheric Administration (NOAA) has defined microplastics as tiny plastic fragments smaller than five mm in diameter (Barboza & Gimenez, 2015). This means that most microplastics are difficult to identify with the naked eye, requiring microscopic observation. According to Li, Liu & Paulchen (2018), microplastics can be divided into two major types—primary and secondary microplastics. Primary types of microplastics include moulded plastic powders, 'scrubbers' for surface blast cleaning, industrial plastic nanoparticles, and microbeads found in cosmetic products. Also, spherical or cylindrical virgin resin pellets that are usually five mm in diameter are widely used before and during the plastic manufacturing processes (Koehler et al., 2015). Secondary microplastics are formed after the degradation or fragmentation of larger plastic debris (Fok & Cheung, 2015).
Primary and secondary microplastics have the potential to be ingested among a wide range of marine ecosystem taxa, such as benthic organisms, corals, plankton, fish and large marine mammals (Sharma & Chatterjee, 2017). The extremely small size of microplastics (between 0.1 µm and 5 mm in diameter) makes them highly bioavailable. Due to their buoyancy and appealing colours, they can be easily ingested by fish (Jovanović, 2017). Marine fish might mistakenly ingest microplastics, with detrimental effects, as they look like natural prey. Marine fish play a vital role in the marine ecosystem, linking both lower and higher trophic levels, acting as both prey and predator. Ultimately, trophic transfers can occur from lower to higher levels within a food chain, potentially causing relatively greater exposure to microplastics among apex predators (Santillo, Miller & Johnston, 2017).
A recent study by Karami et al. (2017a) in which packets of dried fish (C. subviridis, J. belangerii, R. kanagurta and S. waitei) were purchased from local markets in Malaysia, found that microplastics were present in the edible flesh of these four commercial marine fish species. The authors estimated that 246 microplastic particles from these dried fish sources are consumed annually by humans. Fish is an important natural protein source in the daily diet of many nations, including the majority of Malaysians (Teh, 2012). Although microplastic ingestion by fish has previously been reported worldwide, there is relatively limited information on Malaysia's commercial coastal species. Based on statistics from 2000, annual per capita fish consumption in Malaysia was 58 kg per person (Nurnadia, Azrina & Amin, 2011). The 2008 Malaysian Adult Nutrition Survey (MANS) found that the daily consumption prevalence of marine fish in Malaysia was 51% for rural adults and 34% for urban adults (Norimahak et al., 2008). Thus, the hypotheses for this study were that plastic ingestion rates do not differ between species of fish and the habitats in which the fish were caught. Therefore, this research is crucial in highlighting the significant consumption of commercial marine fish as a potentially important source of microplastics exposure in Malaysia.
Materials and Methods
Sample Collection
In this study, four commercial marine fish species, Atule mate (Yellowtail scad), Crenimugil seheli (Bluespot mullet), Sardinella fimbriata (Fringescale sardinella) and Rastrelliger brachysoma (Short mackerel) with a total number of 72 fish [fish per species n =18] were attained from the fishermen at Teluk Bahang and Penaga fish market, Penang. The GPS coordinates of the fishing locations were obtained from the fishermen. Crenimugil seheli were collected on November 27th, 2019 at the Teluk Bahang fish market from fishing site GPS coordinates 5°25′38.33″N 100°8′54.23″E (Fig. 1). Atule mate, Sardinella fimbriata and Rastrelliger brachysoma were collected on December 3rd, 2019 at Penaga fish market from fishing location 5°35′30.3″N 100°15′38.0″E. Both fishing sites are located in Northwest Peninsular Malaysia seawater. The animals were kept on ice during transportation to the laboratory at the Centre for Marine and Coastal Studies (CEMACS), Universiti Sains Malaysia.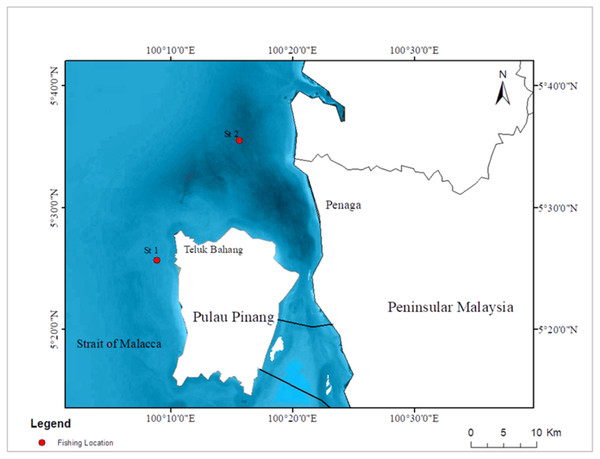 Laboratory Procedures
Laboratory procedures were carried out at the microplastic laboratory, Centre for Marine and Coastal Studies (CEMACS), Universiti Sains Malaysia. Several laboratory steps were conducted in processing the samples before further microplastic observation and identification, including (1) measurement of biometric parameters of each fish sample, (2) isolating, which included steps of (i) depuration, (ii) dissection and (iii) digestion, (3) digestant filtering and (4) density separation and filtering.
Measurement of Biometric Parameters
Biometric parameters of the samples were obtained by measuring their standard lengths, total lengths and total wet weight. The standard length was measured from the fish mouth until tail muscle while the total length was measured from mouth to tail.
Isolating
The isolation process was done by the extraction of microplastics from biotic materials. The process included depuration, dissection and digestion of biological tissues with chemical processes (Lusher et al., 2017).
Depuration
To ensure that the study focused primarily on fish ingestion of microplastics, external adhering (micro)plastics were removed by washing with filtered distilled water. This process was to ensure that only microplastics retained within the tissues or collected in the intestinal tract were included, and findings were not confounded by other adhering microplastics (Lusher et al., 2017).
Dissection
All dissection equipment such as scalpel, dissecting scissors and tweezer were rinsed with filtered distilled water to prevent contamination. A total of 72 fish samples were dissected with a scalpel and dissecting scissors from the anus to the upper part near the gills to obtain the fish guts. The guts were then excised using tweezers. The excised guts were weighed on an electronic balance, recorded and kept in 200 mL clean covered glass jars.
Digestion
Microplastics might be masked as they can be disguised by biological materials through encapsulation by the mucosae. Thus, digestion was done using 10% potassium hydroxide (KOH) as a base to denature protein and hydrolyse chemical bonds. KOH pellet (100 g) was dissolved in distilled filtered water (1,000 mL) to get a 10% KOH solution (Karami et al., 2017a). A total of 5,000 mL of KOH was prepared to digest the four species of fish guts. Upon usage, KOH was filtered through Whatman GF/C glass microfibre filter membrane (pore size: 1.2 µm) to prevent plastic and other debris contamination. 30% volume of 10% KOH (1:3 v/v) was then added to each glass jar containing extracted fish gut (Karami et al., 2017a). One blank sample was prepared and processed simultaneously for each fish species (total four blanks). All the glass jars with covers containing extracted fish guts in 10% KOH solution were left in the incubator at 60 °C for 24 h until the gut digestion was completed (Dehaut et al., 2016).
Digestant filtering
The gut specimens were taken out from the incubator after 24 h of digestion. The presence of a clear digestant showed that the digestion process had been completed. Only guts from Crenimugil seheli obtained clear digestant and proceeded with the direct vacuum filtration process using Whatman GF/C glass microfibre filter membrane (pore size: 1.2 µm). Each filter was kept individually in a clean petri dish for further processing.
For Atule mate, Sardinella fimbriata and Rastrelliger brachysoma, a little digestion-resistance was found where some particles sank at the bottom of the glass jar. A density separation process was performed on these guts for further processing.
Density separation and filtering
Indigestible particles from the guts of Atule mate, Sardinella fimbriata and Rastrelliger brachysoma samples were density separated using potassium iodide (KI) solution. A 1:1 ratio of distilled water to KI was used to obtain a solution density of 1.52 g/mL (adaptation of Karami et al., 2017a). KI was used due to its non-hazardous and high-density properties and to allow less dense microplastic particles to separate from denser inorganic large particles such as fish bones and sand (Bergmann, Gutow & Klages, 2015). A density separator consisting of 200 mL filter funnels, 100–125 mL conical flasks, retort stands, rubber tubes, hinged and binder clips was set up. Filter funnels and conical flasks were covered with aluminium foil to prevent airborne contamination. KI was filtered through Whatman GF/C glass microfibre filter membrane (pore size: 1.2 µm) to prevent contamination. 100 mL of KI was added to each gut sample of Atule mate, Sardinella fimbriata and Rastrelliger brachysoma containing indigestible particles in KOH, which were then poured into the filter funnels. Samples were then allowed to settle for one hour. After the denser materials settled, the rubber tubes were unclipped slowly to discharge settled and unwanted particles. The remaining supernatant was collected in a clean conical flask and unwanted particles were discarded. Supernatant in the conical flasks was filtered through Whatman GF/C, and each filter was kept individually in glass petri dishes for further observation processing.
Microplastic analysis
Visual identification of microplastics on filter membranes was carried out by using an MDSI-40X dissecting stereomicroscope and a DM4 (1000x) USB digital electronic microscope. Microplastics were analysed and classified into different types based on their morphological characteristics, i.e., fibre, pellet, film and fragment (Crawford & Quinn, 2016; Karami et al., 2017a). Significant microplastics found from filters were photographed. The number of microplastics on the filter membranes was then recorded and expressed as items per individual fish. Due to the high susceptibility of error with visual identification, additional physical and characterization on microplastics using SEM-EDX technique was performed to reduce the risk of incorrect interpretation.
SEM-EDX analysis
A Scanning Electron Microscope (SEM) was used to examine the characterization of the surface composition of the microplastic particles. Ten pieces of microplastic samples with different morphology were randomly selected and analyzed using SEM. Several shapes of microplastics were found, including regular sphere, flat fragments, film and fibre. The quality of the microstructure element (chemical characteristics) was assessed using the Energy-Dispersive Spectroscopy (EDX) analysis.
Statistical analysis
All statistical analyses were performed using SPPS (v23). The number of microplastics was log-transformed for analysis. All data were back-transformed for presentation. The total plastic ingestion rates across different species and habitat were determined by analysis of variance (ANOVA) when assumptions for normality and homoscedasticity were met (Shapiro–Wilk and Levene test, respectively). The significance level was set at α = 0.05. Later, the Tukey's post hoc test was used to identify the differences among species. Data that did not meet normality and homoscedasticity were subjected to non-parametric Kruskal- Wallis tests followed by a Wilcoxon-Mann–Whitney post hoc test. Lastly, to investigate the differences in ingestion rate in two habitats, an independent samples T-test was conducted.
Results
Biometric parameters of fish samples
Table 1 shows the mean biometric parameters (±SD) of the 72 individual fish for four species (n = 18 per species) investigated. Crenimugil seheli had the highest mean total length and standard length, at 16.99(±0.68) cm and 14.32(±0.52) cm respectively. Sardinella fimbriata had the lowest mean total length and standard length at 14.74(±0.91) cm and 12.09(±0.78) cm respectively. Crenimugil seheli was ranked the highest mean wet weight (whole fish) with 45.67(±4.03) g while the lowest mean wet weight species was Sardinella fimbriata with 29.17(± 6.26) g. For extracted fish gut weight, the highest mean weight was attributed to Rastrelliger brachysoma with 2.95(±0.55) g while Sardinella fimbriata was ranked with the lowest mean of 1.28(±0.31) g.
| Species | Commonname | Total length (cm) | Standard length (cm) | Wetweight (g) | Gut weight (g) |
| --- | --- | --- | --- | --- | --- |
| Atule mate | Yellowtail scad/Pelata | 16.68 (±0.47) | 13.02 (±0.55) | 40.17 (±5.24) | 1.58 (±0.43) |
| Crenimugil seheli | Bluespot mullet/Kedera | 16.99 (±0.68) | 14.32 (±0.52) | 45.67 (±4.03) | 2.60 (±0.64) |
| Sardinella fimbriata | Fringescale sardinella/Tamban | 14.74 (±0.91) | 12.09 (±0.78) | 29.17 (±6.26) | 1.28 (±0.31) |
| Rastrelliger brachysoma | Short mackerel/ Kembung | 16.30 (±0.55) | 13.33 (±0.33) | 43.61 (±2.93) | 2.95 (±0.55) |
Presence, abundance and morphological types of microplastics found
A total of 432 pieces of microplastic (size <5 mm) were observed in 72 excised marine fish guts of four commercial species (n = 18 per species) (Table 2). Among the samples of fish guts examined, microplastics were present in 100% of the samples (FO = 100%, Table 2). Sardinella fimbriata had the highest average microplastic number (abundance), at 6.5(±4.3) items per individual fish. Crenemugil seheli had the lowest average microplastic number, at 5.0(±3.7) items per individual fish.
| Fish species | FO (%) | Average MPs/individual fish (±SD) | Total number of MPs found |
| --- | --- | --- | --- |
| Atule Mate | 100 | 6.3 (±4.9) | 114 |
| Crenemugil seheli | 100 | 5.0 (±3.7) | 90 |
| Sardinella fimbriata | 100 | 6.5 (±4.3) | 117 |
| Rastrelliger brachysoma | 100 | 6.2 (±3.3) | 111 |
| Total | | | 432 |
There were four morphological types of microplastics found: fragment, fibre, pellet and film. Figure 2 shows that fragment was the most frequent type of microplastic found in this study (49.5%), followed by fibre (41.9%) and pellet (7.6%). The film was the least frequent type of microplastic found (0.9%) overall.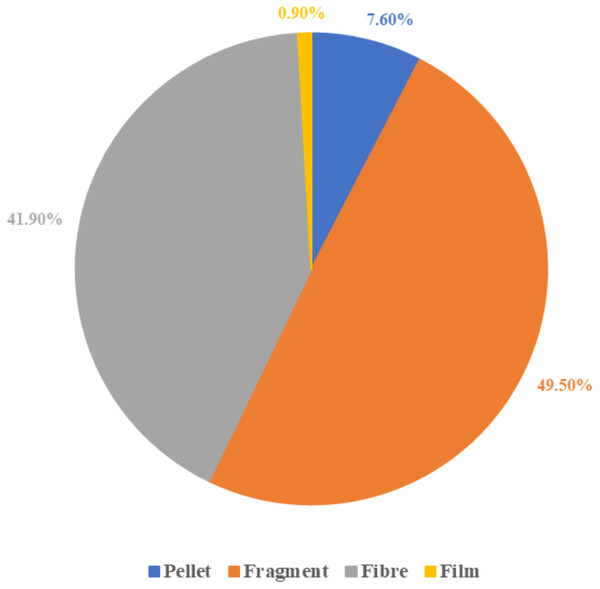 Comparison of the abundance and morphological types of microplastics in four selected commercial marine fish guts
The microplastic abundance in the excised marine fish guts of Crenimugil seheli, Atule mate, Sardinella fimbriata and Rastrelliger brachysoma are shown in Fig. 3. ANOVA indicated no significant difference when all species were considered (F = 0.408, p = 0.748). Figure 4 shows the average microplastic abundance per individual fish according to two different locations. In our study population, Crenimugil seheli caught at location 1 showed fewer microplastic concentrations in the gut content compared to the other species caught at location 2. However, independent sample T-test found no significant different between these two locations (t = 0.804, p = 0.424).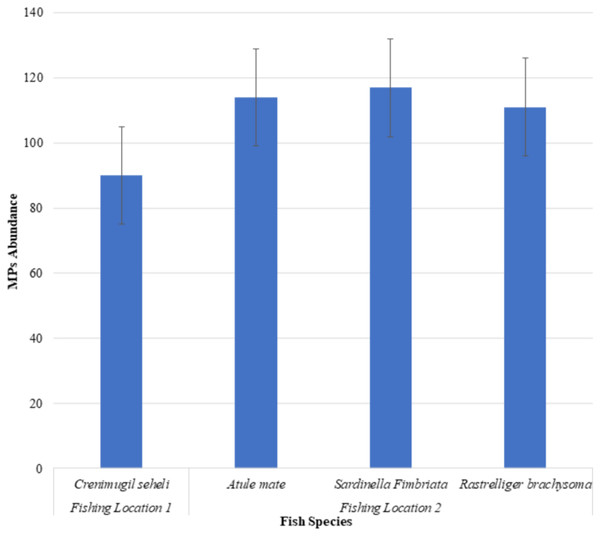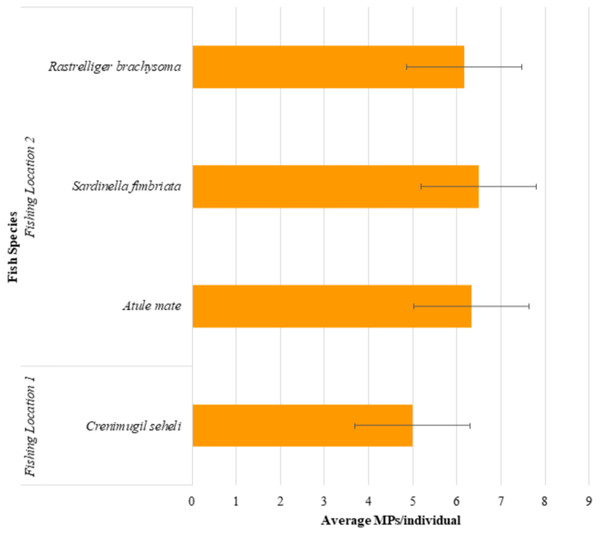 Crenimugil seheli was observed with the lowest numbers of microplastics in the gut samples among the 4 commercial marine fish species, which were 90 pieces of microplastics in total (n = 18) or 5.0(±3.7) items per individual on average. Relatively similar abundances were found among the three species collected from location 2, although amounts were slightly greater in Sardinella in which there were 117 pieces of microplastics in total (n = 18) or an average of 6.5(±4.3) items per individual fish. By comparison, there were a total of 111 pieces of microplastic found in Atule mate gut samples (n = 18) or 6.3(±4.9) items per individual fish and 114 pieces of microplastics found in guts of Rastrelliger brachysoma (n = 18) with an average of 6.2(±3.3) items per individual fish.
Figure 5 shows that fragments were the most abundant microplastics found in Sardinella fimbriata and Rastrelliger brachysoma with an average number of 4.3(±3.5) items and 3.9(±2.2) items per individual fish, respectively. For Atule mate and Crenimugil seheli, there were an average of 3.5(±2.5) and 3.0(±2.2) fibres per individual sample fish gut respectively, which was the most abundant morphological type of microplastics found in the two species. For all four fish species, film was the least frequent microplastic type present with maximum average numbers of 0.1(±0.3) items per individual fish found in Crenimugil seheli. Figures 6 and 7 shows the images of microplastic particles found using two different types of microscopes.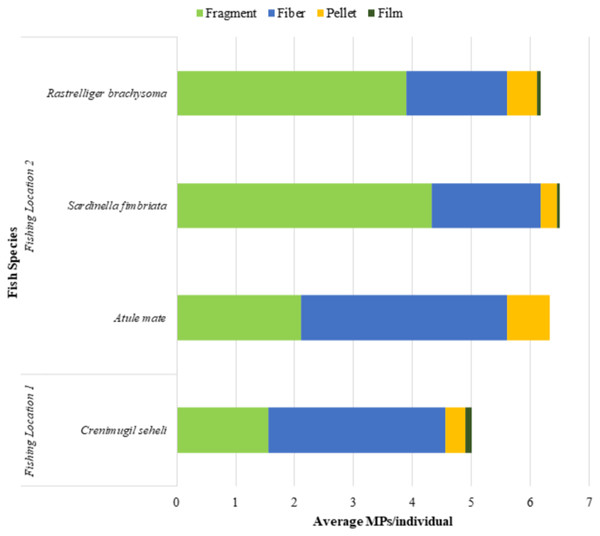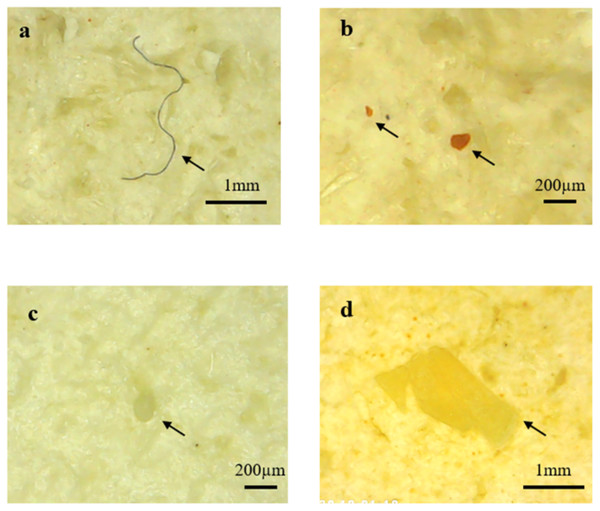 The SEM-EDX image (Fig. 8) shows the morphology of the microplastics isolated from the fish guts. EDX analysis showed the presence of carbon, chlorine, iron, sodium, aluminium, calcium, silicon and oxygen in the sample particles. The elements found on the surface of the samples support the identification of the samples as microplastics.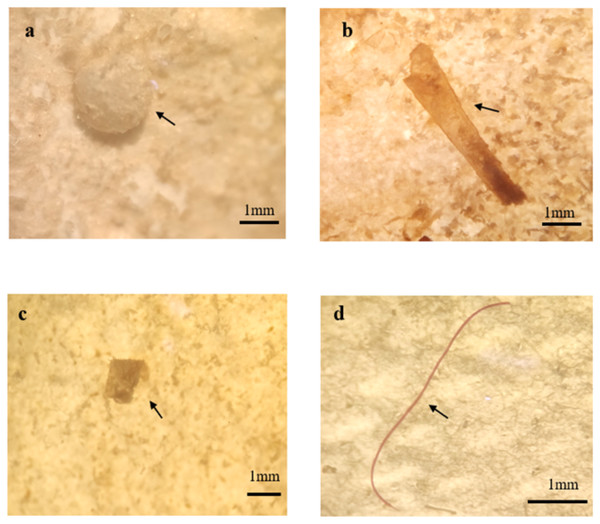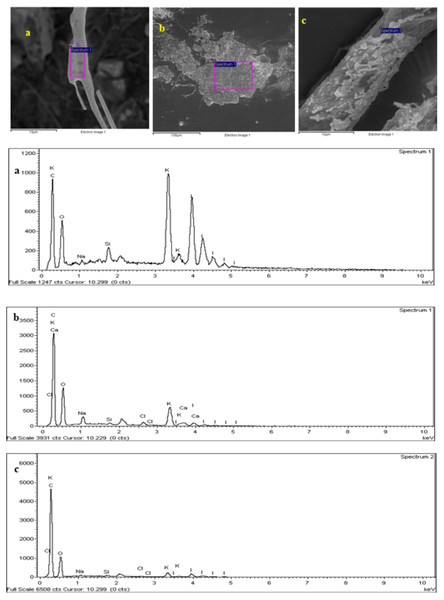 Conclusions
In conclusion, the results of this study indicate that microplastic ingestion by commercial fish from the Northwest Peninsular Malaysia seawater does occur, suggesting a potential route of microplastic exposure to humans. The most abundant microplastics found in this study were fragments and fibres, with chemical microplastic composition was confirmed by SEM-EDX. The fish gut are often discarded before human consumption, thus further investigation of microplastic contamination of edible and commercial fish tissue is recommended to assess potential microplastic pollution in human food. Thus, further research is needed for a deeper understanding and risk assessment of marine food safety and security in Malaysia.
Supplemental Information
Biometrics parameter for fish
Result of microplastic found in fish gut
SEM EDX analysis