The shadow model: how and why small choices in spatially explicit species distribution models affect predictions
Published

Accepted

Received
Academic Editor
Subject Areas

Aquaculture, Fisheries and Fish Science, Ecology, Ecosystem Science, Marine Biology, Natural Resource Management

Keywords

Species distribution model

,

Spatiotemporal model

,

Distribution shift

,

Range shift

,

Time series

,

Abundance estimation
Copyright

©

2022

Commander et al.

Licence

This is an open access article distributed under the terms of the Creative Commons Attribution License, which permits unrestricted use, distribution, reproduction and adaptation in any medium and for any purpose provided that it is properly attributed. For attribution, the original author(s), title, publication source (PeerJ) and either DOI or URL of the article must be cited.
Cite this article

2022

.

The shadow model: how and why small choices in spatially explicit species distribution models affect predictions

.

PeerJ

10

:

e12783

https://doi.org/10.7717/peerj.12783
Abstract
The use of species distribution models (SDMs) has rapidly increased over the last decade, driven largely by increasing observational evidence of distributional shifts of terrestrial and aquatic populations. These models permit, for example, the quantification of range shifts, the estimation of species co-occurrence, and the association of habitat to species distribution and abundance. The increasing complexity of contemporary SDMs presents new challenges—as the choices among modeling options increase, it is essential to understand how these choices affect model outcomes. Using a combination of original analysis and literature review, we synthesize the effects of three common model choices in semi-parametric predictive process species distribution modeling: model structure, spatial extent of the data, and spatial scale of predictions. To illustrate the effects of these choices, we develop a case study centered around sablefish (Anoplopoma fimbria) distribution on the west coast of the USA. The three modeling choices represent decisions necessary in virtually all ecological applications of these methods, and are important because the consequences of these choices impact derived quantities of interest (e.g., estimates of population size and their management implications). Truncating the spatial extent of data near the observed range edge, or using a model that is misspecified in terms of covariates and spatial and spatiotemporal fields, led to bias in population biomass trends and mean distribution compared to estimates from models using the full dataset and appropriate model structure. In some cases, these suboptimal modeling decisions may be unavoidable, but understanding the tradeoffs of these choices and impacts on predictions is critical. We illustrate how seemingly small model choices, often made out of necessity or simplicity, can affect scientific advice informing management decisions—potentially leading to erroneous conclusions about changes in abundance or distribution and the precision of such estimates. For example, we show how incorrect decisions could cause overestimation of abundance, which could result in management advice resulting in overfishing. Based on these findings and literature gaps, we outline important frontiers in SDM development.
Introduction
Human-induced global climate change and other anthropogenic activities are transforming ecosystems (Foley et al., 2005; Walther, 2010; Doney et al., 2012). Species are altering their phenology (Cotton, 2003; Edwards & Richardson, 2004; Poloczanska et al., 2016), and many are shifting their distributions (Perry et al., 2005; Parmesan, 2006). Indeed, range shifts have been observed broadly across taxonomic groups (Hickling et al., 2006; Chen et al., 2011; Poloczanska et al., 2016), and these distribution shifts present many challenges for monitoring and management (Burrows et al., 2011). For example, transboundary exchange across political boundaries (e.g., Oremus et al., 2020) necessitates increased monitoring and coordination, and phenology shifts may require adjusting seasonal timing and geographic location of surveys, particularly if they drive distribution shifts (Chuine, 2010). Management and conservation decisions necessitate effective tools to estimate species distribution shifts in space or time and predict future responses.
Species distribution models (hereafter SDMs, but also known by their special cases as ecological niche models, occupancy models, or climate envelope models) in conjunction with climate and ocean models are the primary tools for describing past and current species distributions, determining the drivers of these patterns, and forecasting distribution shifts. There are a wide range of SDM approaches, including maximum entropy (e.g., Elith et al., 2011; Merow, Smith & Silander, 2013), generalized linear and additive models (e.g., Guisan, Edwards & Hastie, 2002) with or without hierarchical mixed effects (e.g., Thorson et al., 2015; Anderson & Ward, 2019), boosted regression trees (Elith, Leathwick & Hastie, 2008), and random forests (e.g., Barnett et al., 2019; Stock et al., 2020). Species distribution models often combine spatially-referenced data on species occupancy or abundance with environmental data to make inferences about habitat suitability and predicted distribution (Elith & Leathwick, 2009). Although SDMs have broad applications (see Elith & Leathwick, 2009; Guillera-Arroita et al., 2015; Robinson et al., 2017 for comprehensive reviews), recent literature has focused on their use for assessing potential shifts in species distributions in response to climate change (Distler et al., 2015; Thorson, Pinsky & Ward, 2016; Morley et al., 2018). Species distribution models have been used to examine shifts in distribution under climate change scenarios for hundreds of commercially important fish and invertebrates (Cheung et al., 2009), terrestrial mammals (Levinsky et al., 2007), plants (Kelly & Goulden, 2008), birds (Matthews et al., 2011), invasive species (Jarnevich & Stohlgren, 2009), and entire food webs (Leidenberger et al., 2015).
The use of SDMs in scientific literature has greatly increased in the past few decades (Guisan et al., 2013), particularly in the marine realm (Robinson et al., 2017), but this increasing wealth of information and approaches also brings common challenges. Robinson et al. (2017) provide an excellent framework and road map for guiding the SDM process in general. However, general issues remain that need to be addressed—including deciding the type of response to be modeled (presence-only, presence-absence, or abundance), selecting covariates, and specifying scale (extent and resolution; both spatially and temporally; Araújo et al., 2005; Connor et al., 2019). Moreover, it is unclear how trade-offs among different model choices should be navigated to select the best model for any particular application (e.g., generating unbiased estimates of density, estimating area occupied, forecasting changes in range edges).
While a number of papers have explored key challenges relating to the SDM process (including Briscoe et al., 2019; Norberg et al., 2019; Brodie et al., 2020; Muscatello, Elith & Kujala, 2021), here, we focus our efforts on spatially explicit SDMs that have become widely used in the marine sciences and ecology. These methods can be broadly differentiated from other correlative modeling approaches described above in that in addition to predicting observed data, they estimate a spatial process (spatial processes may consist of parameters controlling the spatial autocorrelation, for instance). Projecting the spatial process across the domain of the observed data allows one to construct spatial fields; because these fields are often estimated as random effects, they can be described as Gaussian random fields (Abrahamsen, 1997). In a regression setting, the spatial field can be incorporated alongside a design matrix of covariates, . The estimated field is assumed to be where the covariance matrix represents the spatial covariance among points. These models are often described as semi-parametric models because rather than estimating all elements of , flexible covariance functions are used to model the relationship (e.g., Gaussian, Matérn), thereby reducing the number of estimated parameters (Shelton et al., 2014). Alternative options for reducing the dimensionality of spatial processes exist, including Conditional Autoregressive (CAR) and Simultaneous Autoregressive (SAR) models for areal or lattice data (Ver Hoef, Hanks & Hooten, 2018), but interpreting spatial correlation with these methods can be difficult because correlation is based on neighboring cells rather than continuous distance (Wall, 2004). For high dimensional georeferenced datasets with hundreds of observations per time step, estimation of may still be computationally challenging. An approximation exists for these cases—rather than estimate the exact values of the spatial field at the locations of observations, predictive process models allow the spatial field to be approximated by a lower dimensional spatial representation at a smaller set of locations (knots). The estimated field at this subset may then be projected to the finer scale locations (Latimer et al., 2009).
For very large datasets, the Gaussian predictive process model may still lead to undesirable results, because while using a smaller number of knots may be computationally efficient, reducing the dimensionality too much will over smooth predictions of the spatial field. An alternative framework for high dimensional spatiotemporal models includes the Integrated Nested Laplace Approximation (INLA, Rue, Martino & Chopin, 2009) combined with Stochastic Partial Differential Equations (SPDE, Lindgren, Rue & Lindström, 2011; Miller, Glennie & Seaton, 2020). INLA is available in R (R Core Team, 2020) and allows for relatively fast estimation of spatial and non-spatial parameters in a Bayesian framework (Bakka et al., 2018). The SPDE approach requires constructing a spatial mesh as an approximation to the GMRF (Gaussian Markov random field) spatial field (Fig. S1; Rue, Martino & Chopin, 2009; Lindgren, Rue & Lindström, 2011; Righetto et al., 2018), which has a sparse precision matrix. Predictions at the knots of the triangulated mesh are used to interpolate predictions to other locations (Lindgren & Rue, 2015). Inference about spatial processes and trends in SDMs may be influenced by both the number and location of these knot values (Righetto et al., 2018); too few knots will not accurately approximate the spatial field (Righetto et al., 2018; Anderson & Ward, 2019) and may result in estimates that are biased (Thorson et al., 2021).
Given the rise of spatially explicit predictive process models in marine sciences and ecology over the last decade, there is a great need to understand how specific model choices affect inference. In addition to inference about parameters used to describe the spatial field, inference about derived quantities can be important for natural resource management. Within the context of fisheries for example, generating abundance indices that are accurate and precise is critical because these are a key fishery-independent data source for population assessment models used to determine conservation status and set exploitation rates (Hilborn & Walters, 1992).
The objective of this paper is to quantify the impact of three common decision points in these types of models (Fig. 1). The decision points we chose to highlight are seemingly small model choices that can greatly impact results, and thus, can lead to erroneous conclusions about population status or affect scientific advice to management decisions. These include (1) identifying the appropriate model structure, (2) choosing whether to filter data a priori based on spatial extent of occurrence (e.g., whether or not to include observed 0's at the domain edge), and (3) selecting a spatial resolution for prediction. We outline and discuss these key decision points to guide SDM users by weaving together lessons from the literature and a real-world case study on the distribution of sablefish (Anoplopoma fimbria), a commercially valuable species found throughout the North Pacific Ocean. Though a marine application, this type of georeferenced survey data is common and has parallels in other terrestrial and aquatic systems. While the decision points chosen are specific to spatially explicit SDMs, these issues are also generally relevant to other SDM approaches (including generalized additive models). Our aim is to provide high-level advice regarding model structure and spatial scale considerations, and how to evaluate the consequences of these choices.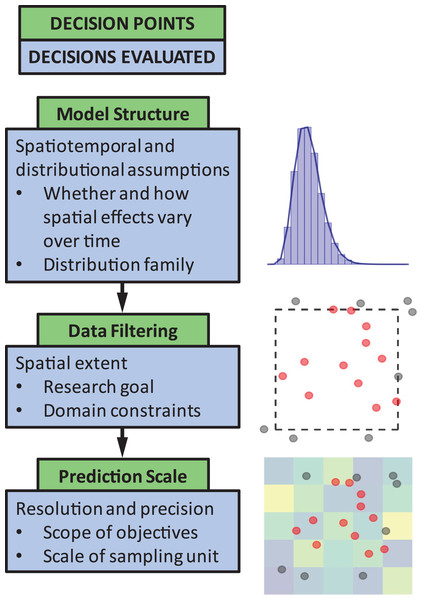 Results
Model structure
Our evaluation of whether spatiotemporal effects are supported for modeling sablefish, and what form they should take if included, demonstrated that the model with the depth covariate and without any spatiotemporal components (model 1) had the highest predictive ability (Table 1). Therefore, we used model 1 as the base case for subsequent case-study analyses. All candidate models demonstrated slight overdispersion in the highest and lowest values (Fig. S2). The Matérn range parameter, controlling the distance at which two points are approximately independent, ranged from 22.83 to 67.00 across the folds in the model without spatiotemporal fields. Of the models with spatiotemporal components included, there was greatest support for the AR(1) model. Across folds, point estimates of the autocorrelation parameter ( ) varied from 0.22 to 0.41 and the Matérn range parameter varied from 20.66 to 41.58.
| Model | Spatiotemporal effects | Covariates | Log density |
| --- | --- | --- | --- |
| 1 | – | depth, year | −68,301.36 |
| 2 | IID | depth, year | −76,008.62 |
| 3 | AR(1) | depth, year | −76,061.14 |
| 4 | – | year | −82,156.34 |
Estimates of total population biomass and mean distribution (measured as the center of gravity or COG) differed between models with the best and worst out-of-sample predictive skill. Biomass estimates from the best model (model 1, including a spatial field and fixed effects of year and depth) were generally lower than estimates from the worst model (model 4, with the same structure as model 1 but without the depth covariate), with the exception of the first year of the time series where they were approximately equal (Fig. 2). Precision of biomass estimates was similar between models. Estimates of COG from the best model were further northwest than estimates from the worst model and precision was similar between models (Fig. 3). The above differences in outputs among models were low to moderate, and confidence limits on both biomass and COG estimates did overlap between models.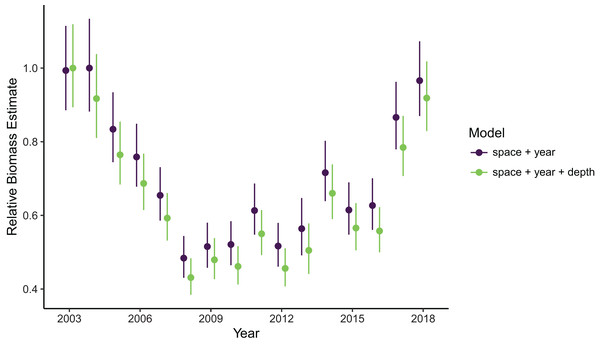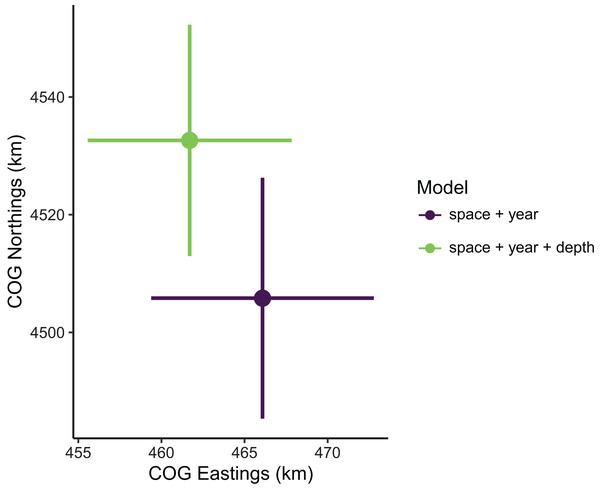 Spatial extent of data
Biomass estimates were somewhat sensitive to the spatial extent of the data included in the model fit, with the greatest contrast in estimates being between model fits using data from the full domain as opposed to any level of truncation at the northern and southern domain limits (Fig. 4). Estimates made with the full dataset (i.e., no filtering at the domain edge) were generally lower than those made with the filtered data, except in the first and last year of the time series which were higher than filtered estimates. However, the range of confidence intervals on these estimates did overlap across all cases. Among estimates produced by the filtered datasets, removing more data from the domain edges generally produced higher estimates, with exception of the first and last years. The precision of biomass estimates decreased with increasing amount of data filtering, which is expected but possibly more pronounced than if it was being driven by changes in sample size alone.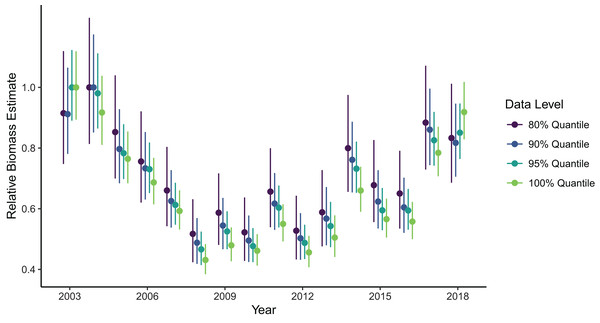 Estimates of the mean spatial distribution (indicated by the COG) were more sensitive to the spatial extent of data included than were biomass estimates. Greater extents of data filtering at the domain edge led to COG estimates that were much less precise and located further southeast compared to those with lesser extents of filtering (Fig. 5). In summary, the decision to limit the range extent should be well supported as this process can impact model estimates qualitatively. For the remaining examples in our SDM case study, we used the full data set without any filtering.
Spatial resolution of predictions
The scale of the prediction surface produced nuanced effects on predicted population densities in space. Comparing the SDM predictions in each grid cell from the fine scale prediction surface resolution (made at the same resolution as observed data) and coarse prediction surface (4× resolution) in space revealed the largest sensitivity to prediction scale occurred along the continental shelf and shelf break (~50–200 m depth), whereas deeper locations along the continental slope were less sensitive to prediction resolution (Fig. 6). This pattern of discrepancy between population density predictions by depth is because sablefish are most abundant in deep habitats, thus averaging our covariate of depth across a steep gradient such as the shelf break or canyon edge results in greater differences in depth observations at those locations, and these differences in depth drive the discrepancy in population density predictions (Fig. 7).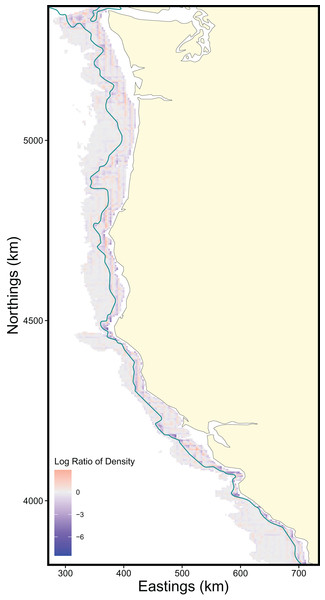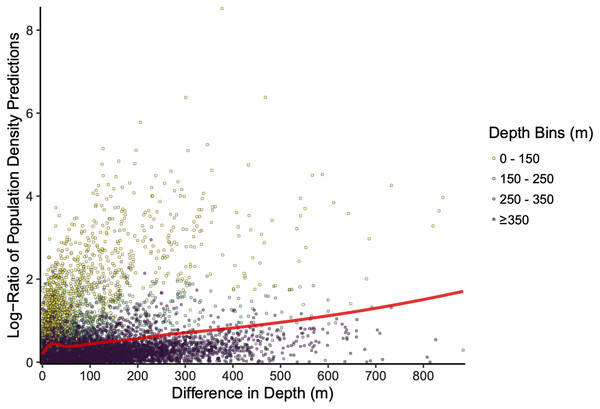 Despite the apparent differences in local population densities, estimates of biomass and COG derived from these predictions had low sensitivity to the choice of prediction scale. Biomass estimates were not sensitive to the choice of prediction scale, as relative biomass estimates and their uncertainty were similar among prediction resolutions (Table S1; Fig. S3). However, COG estimates were somewhat sensitive to the choice of prediction scale (Table S2; Fig. 8). The center of gravity estimates from the coarse resolution (i.e., 4× the sampling resolution) were shifted slightly towards the southeast compared to estimates from the fine resolution, albeit with overlapping 95% confidence intervals (Fine: [4,513–4,552] Northings, [456–468] Eastings; Coarse: [4,490–4,541] Northings, [458–474] Eastings; all units in km; Table S2). Furthermore, the center of gravity was estimated with lower precision when using the coarse resolution (SE = 10.0 Northings, 3.1 Eastings) than fine resolution (SE = 13.0 Northings, 4.2 Eastings).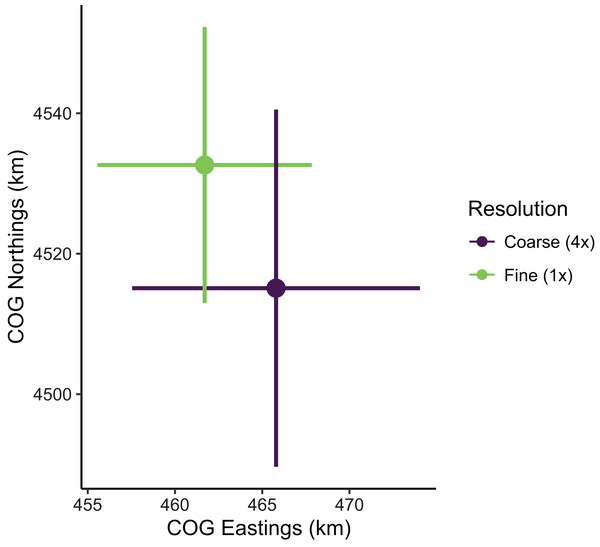 Discussion
Synthesis of recommendations for best practices for guiding modeling choices
In light of theoretical considerations, lessons learned from the literature, and illustrations through a worked example, we show how certain steps in the SDM process are key decision points influencing results and interpretation of SDMs. Though our focus is on spatial semi-parametric models, these choices are applicable to a variety of other SDM models:
Model family and structure: It is important to choose the appropriate model family and structure to be well-suited for the study species and the hypothesized underlying mechanisms that explain the species' spatiotemporal patterns. Appropriate model structure need not involve throwing everything at the problem (e.g., using all potential covariates) and seeing what works, but rather using due diligence to select the appropriate predictors, and spatial and spatiotemporal structure.

Spatial extent of data and predictions: The spatial extent of data and predictions is highly dependent on the application of the SDM, but it is important to be mindful of the potential impact of data filtering and extrapolation of predictions on model outputs.

Spatial resolution of predictions: The spatial resolution of predictions should align with the research objective, but also typically be no finer than the scale of the sampling unit of the survey design.
Our case study application to sablefish illustrates that two of the three sensitivities (model structure and spatial domain of data used for the estimation) impact estimates of biomass trends and mean spatial distribution. While other studies have noted that the choice of prediction surface resolution is a critical decision that can affect precision and accuracy of predictions (Scales et al., 2017; Connor et al., 2019), we find that this did not carry over to predictions of total population size (here summarized by total annual biomass). Thus, we recommend researchers test sensitivity to prediction resolution within their own application, starting with a prediction surface resolution similar to that of the sampling unit that generated the input data. If non-local effects are expected (e.g., there are strong linkages to climate conditions at broader scales), models with coarser prediction resolution should be compared to this base case.
Management implications of modeling choices
Seemingly minor decisions in the development of SDMs can influence the interpretation of model outputs used to inform conservation and management of fish and wildlife. From our sablefish example, filtering the observations in the model based on their spatial extent or use of an incorrect model structure could lead to the conclusion that the stock is more abundant than it truly is in many years, which could lead to catch recommendations that are too high. In addition, such oversights could lead to the inference that the population is distributed further southeast than it actually is. The potential influence of such deviations on expected management performance depends on the type of natural resource decision. For example, while fisheries management is becoming more spatial over time, spatial information or shifts are still rarely incorporated into stock assessment models (Goethel, Quinn & Cadrin, 2011; Berger et al., 2017). Conversely, in fish and wildlife conservation, management often considers distribution shifts in policy decisions—managers are sometimes interested in changes in distribution of habitat suitability for the purposes of managed relocation, or simply to prioritize locations for protected areas or habitat restoration (Guisan et al., 2013). Due to these differences, we will outline the potential major consequences of SDM decisions on these two fields by separately addressing the topics of abundance indices and distribution shifts.
Species distribution modeling decisions affecting abundance index scale (i.e., consistent bias over time) are less likely to influence management performance in this context than decisions affecting the trends, relative magnitude of temporal variability, or uncertainty in abundance estimates because abundance indices are typically treated as relative rather than absolute. However, in fisheries assessments where the index is the primary source of information, abundance indices are often treated as absolute, and in these cases the correct choice of spatial extent of the data and model structure becomes critical as biases resulting from model choices (this study; Thorson et al., 2021) can lead to poor catch recommendations and subsequent under- or over-fishing (the latter of which would be possible if biomass estimates were based on the worst performing model in the sablefish case study and the stock was close to limit reference points). In addition to the scale of the abundance index, we found that abundance was estimated with greater uncertainty as more data was filtered out at the extremes of the spatial domain. This increase in uncertainty can be problematic because it becomes more difficult to detect changes in abundance over time. For fisheries assessments that integrate multiple data sources, the coefficient of variation of abundance estimates is often used to weight data across years and data types (e.g., Francis, 2011). Thus, model choices similar to those in our sablefish case study may have the result of downweighting the abundance index relative to other data sources (each with their own biases, e.g., fishery-dependent data).
In the context of wildlife management and conservation, the reliability of predicted species distributions is perhaps just as critical to management performance as abundance estimates, thus modeling choices affecting indicators of change in core and limits of distributions can be highly influential. For example, erroneous estimates of the distribution of habitat suitability or population density could lead to failure by misrepresenting the benefits of habitat restoration or managed relocation by overestimating the carrying capacity of restored areas relative to current population densities (Guisan et al., 2013). Moreover, as species distributions shift rapidly, there is increasing application of dynamic spatially explicit management to mitigate habitat loss and fragmentation, bycatch (unintentionally caught non-target species), human-wildlife interactions, and so forth (Oestreich, Chapman & Crowder, 2020, and references therein). For such dynamic management of features like protected areas, the potential consequences of species distribution modeling choices are similar to those of habitat restoration, but with perhaps greater sensitivity to errors in the location of the core of species distributions. For example, to lower bycatch rates one may attempt to close an area to fishing where the probability of occurrence is highest at any given time, yet sub-optimal location choices could result in costs of greater bycatch and reduced fishing opportunities. As others have demonstrated (e.g., Araújo et al., 2005), when the decision of prediction surface resolution does significantly bias predictions, it is likely to have the greatest influence on management success in these two conservation contexts as it influences estimates of local population density at fine scales and coarse-scale summary metrics of distribution (such as the center of gravity in our case) derived from these. While we did not observe this effect of prediction surface resolution on predictions carrying over to estimates of biomass, we did see a slight effect of prediction resolution on center of gravity. Meanwhile, we demonstrated stronger effects of how model structure and data filtering can bias the center of gravity, and how data filtering can increase uncertainty in estimates of this distribution metric. Thus, making the wrong choices within these two decision points could lead to the inference that sablefish are becoming more (less) available to fishing ports in the southern (northern) end of the domain.
Frontiers in SDM development and exploration
There are a number of frontiers in SDM development and exploration that warrant further examination:
Supplemental Information
Supplemental Figures and Tables.