Preclinical models of acute liver failure: a comprehensive review
Published

Accepted

Received
Academic Editor
Subject Areas

Keywords

Acute liver failure

,

Preclinical models

,

Surgical models

,

Toxicity models
Copyright

©

2021

Hefler et al.

Licence

This is an open access article distributed under the terms of the Creative Commons Attribution License, which permits unrestricted use, distribution, reproduction and adaptation in any medium and for any purpose provided that it is properly attributed. For attribution, the original author(s), title, publication source (PeerJ) and either DOI or URL of the article must be cited.
Cite this article

2021

.

Preclinical models of acute liver failure: a comprehensive review

.

PeerJ

9

:

e12579

https://doi.org/10.7717/peerj.12579
Abstract
Acute liver failure is marked by the rapid deterioration of liver function in a previously well patient over period of days to weeks. Though relatively rare, it is associated with high morbidity and mortality. This makes it a challenging disease to study clinically, necessitating reliance on preclinical models as means to explore pathophysiology and novel therapies. Preclinical models of acute liver failure are artificial by nature, and generally fall into one of three categories: surgical, pharmacologic or immunogenic. This article reviews preclinical models of acute liver failure and considers their relevance in modeling clinical disease.
Introduction
Acute liver failure (ALF) refers to the rapid deterioration of liver function in an individual without pre-existing liver disease within 26 weeks (O'Grady, Schalm & Williams, 1993). ALF is a challenging disease to study clinically due to its relative rarity and high mortality. Annual cases in the US are estimated to be in the range of 2,000 to 3,000 (Stravitz & Lee, 2019). A report of 1,147 cases by the US ALF study group found an overall mortality of 30% (Lee et al., 2008). Animal models are important for the study of such rare diseases, both for understanding pathophysiology and for development of potential treatments, as the lack of access to patients and severity of their illness makes clinical studies challenging.
The main considerations with using laboratory animals to model human disease are their appropriateness and generalizability. Animals that are closer to humans evolutionarily are considered more generalizable. However, rodent models, though less comparable to humans than some large animal models (e.g., pigs and non-human primates) are more prevalent for economic, ethical and logistic reasons.
Broadly, artificially-induced preclinical ALF models can be grouped into surgical, pharmacological or immunogenic approaches (Table 1). Common techniques used in surgical models include total hepatectomy, major liver resection, temporary hepatic ischemia, and a combination of portacaval shunting with hepatic artery ligation (Argibay et al., 1996; Groot et al., 1987; Makino et al., 2005; Yamaguchi et al., 1989). A range of pharmacological models have also been studied. Among the most widely used are acetaminophen (APAP), d-galactosamine (d-Gal), and carbon tetrachloride (CCl4) (Apte, 2014; Frank et al., 2020; Mossanen & Tacke, 2015) (Table 2). Immunogenic models refer to models of viral hepatitis, as well as means of inducing hepatitis by activating cell death pathways, such as with anti-Fas antibodies (Bajt et al., 2000; Belz, 2004). There are additional models for specific etiologies of ALF that fall outside of these categories, such as the Long Evans Cinnamon rat, which models ALF in the context of abnormal copper metabolism, similar to Wilson's disease seen in humans (Siaj et al., 2012).
Features
Advantages
Disadvantages
Surgical
Anhepatic

Complete removal of liver

Single or multi-stage procedure

Highly reproducible

Useful for testing liver support devices

Irreversible

Lacks inflammatory response

Technically challenging in small animals

Partial hepatectomy

Resection of 70–97% of liver mass

Direct clinical correlate

Useful for studies of hepatic regeneration

Does not typically produce HE

Specific to post-hepatectomy liver failure

Hepatic artery ligation & portocaval anastomosis

One- or two-stage procedure

Reliably produces progressive HE & coma

Irreversible

No direct clinical correlate

Pharmacological
Acetaminophen

Injury result of toxic metabolite (i.e. NAPQI)

Direct clinical correlate

Dose dependent effect

May require cytochrome P450 induction or glutathione depletion

Ineffective in rats

Complicated by methemoglobinemia in large animal models

D-galactosamine

Depletes uridine, interfering with RNA synthesis

Given with or without lipopolysaccharide

Demonstrated efficacy in variety of small & large animal models

No direct clinical correlate

Different histological pattern of injury from most hepatotoxins

Carbon tetrachloride

Produces highly reactive carbon-chloride radicals

Also used in chronic liver injury models

Representative of generalized hepatotoxic injury

Specific chemical not encountered clinically

Poor model for HE

Between species variability

Immunogenic
Concanavalin A

Immunogenic lectin derived from jack bean

Representative of T cell mediated hepatitis, relevant to autoimmune hepatitis clinically

Batch-to-batch variability

Species & strain differences in susceptibility

Fas antibody

Binds & activates Fas cell death receptor

Specifically induces cell death by apoptosis, an important mechanism in a variety of causes of ALF

Also affects extra-hepatic tissues (e.g. spleen, thymus)

Limited experience outside of murine models

Strain specific differences in mice

Viral

Includes endemic, species-specific viruses & genetically modified viruses &/or viruses applied to genetically modified hosts

Important cause of ALF clinically

Use of endemic murine or leporine viruses limits risk of transmission to research personnel

Difficult to reliably induce ALF using human viruses

Other
Long-Evans cinnamon rat

Defect in gene encoding copper-transporting P-type ATPase, homologous to defect seen in Wilson's disease

Closely representative of Wilson's disease

ALF occurs spontaneously

Not relevant to other causes of ALF
ALF, acute liver failure; HE, hepatic encephalopathy; NAPQI, N-acetyl-p-benzoquinone imine; RNA, ribonucleic acid.
| | Structure | Mechanism | Route of administration | Animal models | Dosage |
| --- | --- | --- | --- | --- | --- |
| Acetaminophen | | Alternative metabolism by cytochrome P450 leads to production of toxic metabolite NAPQI | PO, SC, IP, IV | Mouse, rat*, rabbit, dog, pig | 200–900 mg/kg (mouse)† |
| d-Galactosamine | | Depletion of intracellular uridine stores necessary for RNA synthesis | IP, IV | Mouse, rat, rabbit, dog, pig, primate | 400–1,000 mg/kg or 300–700 mg/kg with 0.1 mg/kg LPS |
| Carbon Tetrachloride | | Cytochrome P450 metabolism produces highly reactive trichloromethyl & trichloromethylperoxy radicals | PO, IP, IV | Mouse, rat, rabbit, pig | 0.5–2.5 mL/kg |
| Thioacetamide | | Metabolism by cytochrome P450 or FAD-containing monooxygenase into hepatotoxins TASO & TASO2, which forms acetylimidolysine causing their denaturation | IP‡ | Mouse, rat | 200–1,600 mg/kg (bolus) or 200–600 mg/kg daily x2-4d |
| Azoxymethane | | Causes DNA alkylation leading to tumour formation in models of colorectal cancer, but mechanism not well characterized in hepatotoxic models | IP | Mouse | 50 or 100 mg/kg |
| A-Amanitin | | Inhibitor of RNA polymerase II, disproportionately affecting cells with high metabolism | IP | Mouse, pig, primate | 0.6 mg/kg or 0.1 mg/kg with 0.1 µg/kg LPS |
| A. Naphthyl Isothiocyanate | | Cholestatic injury caused by accumulation in cholangiocytes leads to impaired bile flow & eventually hepatocyte necrosis | PO | Mouse, rat | 25–100 mg/kg |
PO: per os, IP: intraperitoneally, SC: subcutaneously, IV: intravenously, LPS: lipopolysaccharide.
*
Relatively resistant, effective only at high doses.
†
Repeated or continuous administration often required for large animal models.
‡
Can be administered PO, but not typically done with acute models.
This review provides an overview and summary of animal models of ALF reported in the literature to date, including a discussion of technical aspects. Our aim is to bring together these divergent approaches and expertise into a single resource. We hope that it will be useful to researchers new to the field, as well as those more experienced seeking to explore alternative approaches.
Survey Methodology
A literature search was conducted of PubMed, MedLine and Web of Science using the search terms "acute liver failure" and "fulminant liver failure". Clinical studies were excluded from the search results. There was no restriction based on language. Models categorized by their method of inducing liver failure and representative articles were chosen for inclusion. Older literature reviews on the same topic were consulted to ensure key topics were not missed (Rahman & Hodgson, 2000; Filipponi & Mosca, 2001; Bélanger & Butterworth, 2005).
Defining ALF
ALF is defined clinically as severe liver injury (evidenced by dramatically increased liver transaminases) with acute onset of hepatic encephalopathy (HE) and synthetic liver dysfunction, marked by elevated international normalized ratio (INR; typically ≥1.5), in a previously well individual without pre-existing liver disease (Stravitz & Lee, 2019). The timeline for the development of ALF is less than 26 weeks (Stravitz & Lee, 2019). However, ALF may be subdivided into hyperacute (<7 days), acute (7 to 21 days), and subacute (21 days to 26 weeks) (Stravitz & Lee, 2019).
Definitions of ALF in animal models are less precise (Fig. 1). The main criterion is often simply elevation of transaminases. Coagulopathy is not often assessed, especially in small animals, where blood volume is prohibitive and other pathophysiological aspects are usually being investigated concomitantly. There are scoring systems for HE, even in small animals, but these are often only reported when HE is the focus of the study (Butterworth et al., 2009). In contrast to the clinical presentation, where tissue biopsies are not routinely taken, histology takes greater emphasis in animal studies, as it can demonstrate the expected findings of hepatic necrosis (Mitchell et al., 1973a). Lethality is also often reported as evidence of sufficient injury, though current animal ethical guidelines counsel strongly against survivability or death as a primary study endpoint (Wang et al., 2000).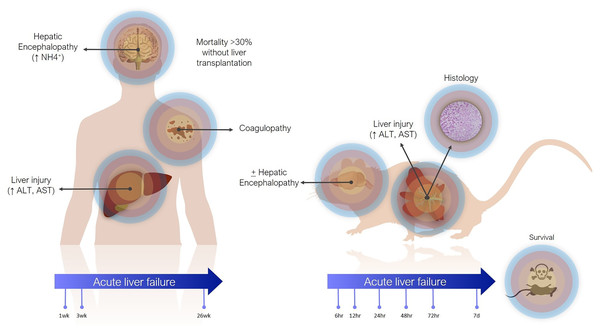 The timeline for ALF in animal models is shorter than in humans. Generally, in studies reporting models of ALF, liver failure develops over hours to days after a single inciting event. This can be justified as the inciting event is known, whereas clinically (except in cases of acute overdose) patients may present with progressive worsening over days and weeks. Laboratory animals also have shorter lifespans. For instance, the median lifespan of laboratory mice is 28 months, so applying the clinical definition of 26 weeks would represent over 20% of the animal's life. Additionally, most aspects of rodent biology, including metabolic rate, and RNA and protein turnover, are several times that of humans (Agoston, 2017). This is especially true for more complex biological processes. For instance, in rodent models of chronic liver injury, fibrosis develops in as little as 4 weeks, whereas cirrhosis in humans takes years (Schuppan & Afdhal, 2008; Yanguas et al., 2016).
In actuality, the majority of animal models purported to represent ALF may correspond more closely with acute liver injury (ALI) (Koch et al., 2017). Clinically, ALI is a less precisely defined term, generally referring to elevated transaminases, possibly with synthetic dysfunction, but without acute HE. Still, both exist on the same spectrum of injury, with ALF at the more severe end, and it is reasonable to expect that treatments effective against ALI would also work against ALF by the same cause (though perhaps to a lesser degree).
Animal selection
Animal models of ALF are uniformly mammalian. Though other liver diseases have been studied in lower vertebrates, they are less suitable to model complex clinical syndromes, such as ALF. The most common animals used are mice and rats, which have obvious economic and logistic advantages. However, rodents can differ from animals with closer evolutionary relationships to humans, particularly with regards to inflammatory and metabolic responses (Seok et al., 2013). For instance, hepatic metabolism by cytochrome P450 (CYP450) in humans has been shown to more closely resembles dogs than rats (Nishimuta et al., 2013). This concern is not unique to animal models of ALF. There are many examples of therapies that work well in rodents, but failed to be translatable to humans. A systematic review including 76 highly-cited (>500 citations) animal studies found that only 37% were replicated in clinical trials (Hackam & Redelmeier, 2006).
Pigs have emerged as the large animal model of choice for liver disease. They share anatomical and physiologic similarities to humans and are a more socially acceptable alternative to dogs or non-human primates, as well as being more accessible than primates. Rabbits have a specific role for the study of viral hepatitis, as there exists a viral disease specific to rabbits (i.e., rabbit haemorrhagic disease) that is characterized by acute necrotizing hepatitis and is typically fatal within 72 h (Abrantes et al., 2012). Small primate models, such as mouse lemurs, are being considered by some as a way to maximize the ratio between fidelity and cost, but have not yet been adapted to the study of ALF (Ezran et al., 2017).
Humanized models, in which immunodeficient mice are engrafted with human cells or tissues, are being used increasingly, particularly in pharmacologic and immunologic studies (Allen et al., 2019). In the case of mice with humanized liver, human hepatocytes are transplanted into immunodeficient mice, resulting in the replacement of over 70% of the native mouse liver (Strom, Davila & Grompe, 2010). There are reports of these mice being used to study ALF. Torres et al. (2019) described a model of APAP-induced ALF in mice with humanized livers, but found that the mice were less susceptible to hepatotoxicity than their wildtype counterparts. This may reflect the importance of other factors, such as an appropriate immune response, in producing the full syndrome of ALF.
In addition to species considerations, several criteria have been proposed for ideal animal models of ALF. The first and most recognized were put forth by Terblanche & Hickman (1991). Among these, they emphasized the importance of reversibility (i.e., that a treatment intervention could lead to survival), reproducibility (often judged by the following criteria), consequent death (from liver failure and not secondary causes), and a therapeutic window for intervention (necessitated by the first criteria). Consciousness has also been suggested to be important for assessment of HE, but may not be possible for ethical reasons (Bélanger & Butterworth, 2005).
Surgical models of ALF
Some surgical models, such as portacaval anastomosis (PCA) with hepatic artery ligation and partial hepatectomy with ischemia or portacaval shunt, seek to create a generalized model of ALF, whereas other surgical models are aimed at specific causes of ALF (e.g., post-hepatectomy or ischemia).
Anhepatic models
Anhepatic models have been described in rats, rabbits, dogs, and pigs (Joyeux et al., 1977; Yamaguchi et al., 1989; Nyberg et al., 1993; Frühauf et al., 2004). Both single and multi-stage procedures have been reported. With the former, it is necessary to reconstitute flow between the infrahepatic inferior vena cava (IVC) and the portal vein, caudally, and the suprahepatic IVC cranially. This can be done using a simple shunt or anastomosis with a prosthetic graft (e.g., polyethylene terephthalate or polytetrafluoroethylene) (Arkadopoulos et al., 1998; Filipponi et al., 1999; Frühauf et al., 2004). Multi-stage procedures were developed specifically for use in rats. A two-stage procedure was described by Rozga et al. (1992). In the first stage, atrophy of the posterior lobes (right and caudate lobes) is induced by ligation of posterior portal branches. After 2 weeks, in the second stage, the hypertrophied anterior lobes (median and left lobes) are resected, a portacaval anastomosis is created, and the hepatic artery is ligated (fully devascularizing the atrophied posterior lobes). The atrophy of the posterior lobes, which are normally adherent to the IVC, obviates the need for vena cavo-caval anastomosis. This reduces technical complexity and associated mortality, which can be significant in small animal models. Three-stage techniques have also been described earlier in the literature, in which ligation of the IVC above the renal veins is carried out in the first stage (Holmin, Alinder & Herlin, 1982). Two months later, after adequate collateral circulation has developed, a portacaval anastomosis and total hepatectomy are carried out in separate operations.
While anhepatic models produce the purest form of liver failure in some sense, they lack a direct clinical correlate. The only time a patient is without a liver is in the anhepatic phase between hepatectomy and graft implantation during a liver transplantation, which typically lasts for little over an hour (IJtsma et al., 2009). While absence in the liver's synthetic function is readily apparent in such models, they lack features of systemic dysfunction (e.g., acidemia, elevated lactate) that accompany clinical cases of ALF, caused by hepatocyte death.
Anhepatic models also lack reversibility. They have been used in metabolic studies, as well as studies of HE. They are unsuitable for most therapeutic studies, though may provide an advantage in studies of extracorporeal liver support (e.g., bioartificial livers [BALs]) due to the consistency of absolute hepatic insufficiency. Because of the lack of systemic dysfunction, they do have a longer survival time. In a direct comparison between models, Frühauf et al. (2004) found an average survival time of 17.1 h in an anhepatic porcine model, compared to 9.8 h in a devascularized model.
Partial hepatectomy
An alternative to total hepatectomy are major liver resection models, which generally range from 70% to 95% resection of the liver mass. The lower end corresponds to the 20–30% recommended to avoid post-operative liver failure after hepatic resection of an otherwise healthy liver (Guglielmi et al., 2012). This has been reported in mice, rats, rabbits, pigs, and baboons.
The rodent liver has four lobes: right, median, left, and caudate (Rogers & Dintzis, 2018). Nomenclature is expectedly imprecise, particularly in older literature. Both the right and caudate lobes have two distinct segments, which are nearly bisected by a transverse septum. The two segments of the right lobe may be labeled superior and inferior or anterior and posterior. The caudate lobe has also been referred to as the omental lobe. In some studies, the inferior segment of the right lobe is referred to as the caudate lobe, while what is otherwise known as the caudate lobe is referred to as the quadrate lobe and papillary process (Longo et al., 2005; Abe et al., 2009). The median lobe of the rat is reliably bilobed and may be referred to separately as right and left median lobes (usually with the descriptor 'lateral' added to the right and left lobes) (Rogers & Dintzis, 2018). Notable differences between the mouse and rat livers are the relatively larger size of the left lobe in the former and the lack of a gallbladder in the latter (Fig. 2).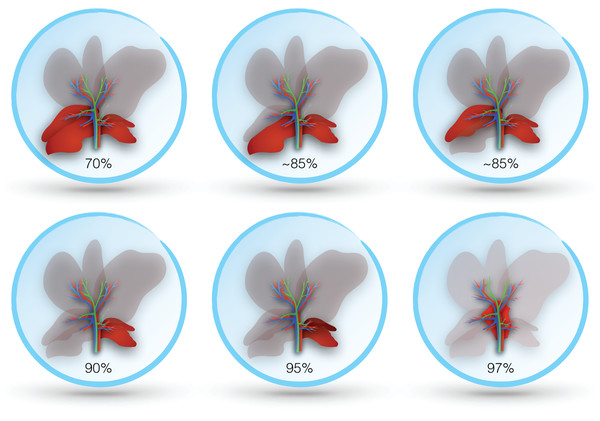 Livers of other commonly used experimental animals are similarly lobulated (Vons et al., 2009; Nykonenko, Vávra & Zonča, 2017; Stan, 2018). Nomenclature used is also similar to rodents. The livers of rabbits, dogs, and pigs are generally described as having six lobes (Budras et al., 2007; Swindle, 2016; Stan, 2018). In these animals, the equivalent of the median lobe is divided into distinct right and left lobes and a small quadrate lobe is found inferior to them, to which the gallbladder is partially attached. Right and left lateral and caudate lobes appear in a similar position as rodents. Studies on the surgical anatomy of the liver in non-human primates is limited. A detailed study in the cynomolgus monkey (Macaca fasciularis) described four lobes as in rodents (Vons et al., 2009). Despite differences in external appearance, the same internal segmentation is consistent between species (Kogure et al., 1999; Nykonenko, Vávra & Zonča, 2017).
In both the mouse and rat, resection of the median and left lobes is generally referred to as 70% hepatectomy (sometimes 2/3), while 90% hepatectomy adds resection of the right lobe (Bustos et al., 2003; Makino et al., 2005). Some studies report more precise percentages based on measured volumes, which may vary slightly between species and strains (Inderbitzin et al., 2006; Lehmann et al., 2012). Alternative approaches describe sparing only the superior or inferior segment of the right lobe (variably reported as 80–87% hepatectomy) (Ogata et al., 2008; Ohashi et al., 2013). A 95% hepatectomy has also been described, which includes resection of all lobes except the inferior segment of the caudate, and even a 97% hepatectomy where all lobes are resected and the only pericaval hepatic tissue (at the base of the resected lobes) remains (Madrahimov et al., 2006). Resection in rodents is best achieved by ligating portal structures separately, rather than together with hepatic parenchyma, as this avoids venous outflow obstruction (Makino et al., 2005). Figure 3 illustrates the different degrees of hepatic resection employed in models of ALF following partial hepatectomy.
Though 70% hepatectomy has been described by some studies as a model of ALF, it may be more suitable for regenerative studies of partial hepatectomy. A study in mice found 100% survival at one week following 70% hepatectomy, whereas 90% hepatectomized mice all died within 24 h (Makino et al., 2005). Evidence of regeneration was also seen by 10 h in the 70% group, but not in the 90% group. A similar study in rats likewise found improved hepatocyte regeneration in rats with 70% compared to 90% hepatectomy (Meier et al., 2016). A total of 90% hepatectomized rats also showed evidence of coagulopathy and higher elevation in transaminases more consistent with ALF.
Pagano et al. (2012) found that more extensive hepatic resection was required to produce liver failure in pigs. Even with resection of left lateral, left and right median, and half of the right lateral lobe (~80% hepatectomy), only 65% of the animals in their study developed liver failure, whereas none of the animals with lesser resections did. A total of 90% hepatectomy models have also been reported in rabbits, pigs and baboons (Berlinger et al., 1987; Asencio et al., 2017; Navarro-Alvarez et al., 2018). As in rodents, these models are based on resection of all lobes except for the caudate.
Variations of major liver resection models have also been described. These can be used to emphasize a particular aspect of ALF that may be lacking or at least less apparent in models of partial hepatectomy alone. A model of 70% hepatectomy plus ischemia to remnant or right lobe only has been described in rats, rabbits, pigs, and baboons (Eguchi et al., 1996; Hung et al., 2007; Arkadopoulos et al., 2011; Machaidze et al., 2017). The addition of ischemia induces liver necrosis in the remnant lobes, which is otherwise lacking from models of partial hepatectomy alone. This adds a systemic inflammatory response that more closely parallels many clinical cases of ALF. The addition of common bile duct (CBD) ligation to partial hepatectomy has been also described as a means of reliably inducing jaundice, though this is obstructive and not hepatocellular in nature (Moharib et al., 2014). Likewise, PCA has been added to reliably induce HE, which may be absent or at least not readily apparent in animal models of partial hepatectomy, especially given the briefer course of disease in comparison to clinical cases (Filipponi et al., 1991). A less commonly used model, reported by Baimakhanov et al. (2016), employed a combination of partial hepatectomy and radiation-induced liver damage (50 Gy) to the remaining lobes. The addition of radiation inhibits proliferation of remaining hepatocytes.
Portocaval anastomosis & hepatic artery ligation
Another commonly used surgical model involved PCA plus hepatic artery ligation. This has been described in rats, rabbits, dogs, and pigs, though not in mice, presumably because it is made more impracticable by their size (Fick, Schalm & de Vlieger, 1987; Bonato et al., 1989; Ash et al., 1993; Argibay et al., 1996). PCA may be done at the same time as arterial ligation or separately. The two-stage procedure is used to reduce mortality and typically consists of the portacaval anastomosis, followed by hepatic artery ligation 48 to 72 h later. The second stage may alternatively be done by placing slings around the hepatic artery and bile duct at the first operation, which are then exteriorized and later tied off to induce global liver ischemia (Khalili et al., 2001). Portacaval shunting alone (sometimes referred to as an Eck fistula) has been used to study HE, but is insufficient to fully model ALF (Starzl, Porter & Francavilla, 1983). As with total hepatectomy models, PCA and hepatic artery ligation result in irreversible loss of entire liver function. However, leaving the liver in situ adds physiological effect of hepatic necrosis seen clinically. As with total hepatectomy models, these models of complete devascularization are not reversible, but have utility in the study of HE or assessment of BALs.
To add reversibility, models of temporary ischemia have been described in dogs, and pigs (Horák, Horký & Ruzbarský, 1980; Groot et al., 1987). In pigs, temporary ischemia of 4 to 14 h in duration by occlusion of the hepatic artery has been reported, with or without occlusion of the CBD, following PCA. Groot et al. (1987) reported 50% mortality and 15–67% hepatic necrosis with 4-h occlusion compared to 85% mortality and 49–75% necrosis with 6 h of ischemia. Fourneau (2000) tested increasing ischemic times from 6 to 14 h and found 100% mortality in five animals subjected to 10 h of ischemia, with occlusion of the CBD. Animals without CBD occlusion, however, were able to survive up to 14 h of ischemia.
Pharmacological models of ALF
Immunogenic models of ALF
The immune response, both the activation of resident immune cells and infiltration of peripheral lymphocytes, features prominently in many of the models previously described. However, we reserve this section for methods of inducing ALF primarily by direct immune-mediated damage. The one exception is LPS, which would otherwise fit in this category, but was described in conjunction with d-Gal because of their close association in ALF models. We will describe the most well-established models, though the addition of knockout mice and genetically modified viruses introduces complexity and variation that cannot fully be covered here.
Other models
The final model of ALF that will be discussed is the Long Evans Cinnamon (LEC) rat, which is distinct from the other categories of preclinical models and serves as a specific model of Wilson's disease, an autosomal recessive disease of abnormal copper metabolism that can lead to both acute and chronic liver failure in humans (Członkowska et al., 2018). LEC rats have a genetic defect in the gene encoding a copper transporting P-type ATPase, homologous to the ATP7B gene that is known to be responsible for Wilson's disease in humans (Terada & Sugiyama, 1999). As in their human counterparts, they demonstrate excessive deposition of copper in the liver, decreased serum copper and its transporter, ceruloplasmin, as well as decreased biliary excretion. Hepatitis and ALF occurs spontaneously in these animals between 80 and 120 days old (Li et al., 1991).
ALF can be more reliably induced in these animals by dietary copper supplementation or acute administration of copper. Siaj et al. (2012) demonstrated that LEC rats receiving water supplemented with 20 mg of copper per litre over 3 months resulted in ALF by 80 days, compared to animals receiving reduced copper diets, which could prevent hepatitis and ensure almost disease-free survival. Interestingly, rats transitioned to high copper diet after 5 months on a regular diet had more rapid elevation of serum transaminases and showed decreased mean lifespan compared to rats receiving the high copper diet for 3 months beginning as pups. Still, both groups developed elevated serum transaminases, peaking at ~1,000 U/L, and had histology showed extensive inflammation, enlarged nuclei, and, to a lesser extent, necrosis. IP injection of 3 mg/kg of copper daily for 3 days has been shown to rapidly induced ALF in LEC rats, with death occurring in 50% of animals by 48 h (Sugawara et al., 1991).
Concluding remarks
Acute liver failure in patients presents two distinct opportunities for effective intervention aimed at improving outcomes. The first is at initial presentation to mitigate acute hepatic necrosis. The second is in the days that follow to enhance liver regeneration. Preclinical models of ALF largely represent models of acute hepatocyte death and their role in the study of pathophysiology and potential therapeutic interventions applies mostly to the former aspect. As opposed to clinical cases, the focus is on markers of hepatocyte death, chiefly serum transaminases and histology, rather than liver function. Particularly, with their brief time course and the lack of reversibility of some models, they are best used to investigate factors that play a role in this phase, as well as opportunities for intervention.
As with any animal model of clinical disease, the goal should be to identify essential elements and eliminate extraneous details to enhance reproducibility, both within the same study and for others trying to replicate it. To paraphrase Albert Einstein, animal models should be "as simple as possible, but no simpler" (Robinson, 2018). Some have sought a generalized model of ALF, while others aim to reproduce a specific cause of ALF seen clinically. Still, other models represent a particular type of ALF, whose specific causes are not easily reproduced in the preclinical setting, such as ConA for immune causes of ALF. Generalized models may be appropriate for evaluating treatments meant to be broadly applicable and may prove to be more reproducible in some instances. However, given complexities of ALF and its multiple etiologies, it is difficult to know how well insights gained from any single model will apply to the clinical setting. It is likely that judicious use of a variety of animal models will continue to be required to enhance our understanding of and explore effective treatment options for ALF.