Isthminia panamensis, a new fossil inioid (Mammalia, Cetacea) from the Chagres Formation of Panama and the evolution of 'river dolphins' in the Americas
Published

Accepted

Received
Academic Editor
Subject Areas

Keywords

River dolphins

,

Cetacea

,

Panama

,

Fossil record

,

Evolution

,

Neogene

,

Inioidea

,

Amazonia
Copyright

©

2015

Pyenson et al.

Licence

This is an open access article distributed under the terms of the Creative Commons Attribution License, which permits unrestricted use, distribution, reproduction and adaptation in any medium and for any purpose provided that it is properly attributed. For attribution, the original author(s), title, publication source (PeerJ) and either DOI or URL of the article must be cited.
Cite this article

2015

. Isthminia panamensis, a new fossil inioid (Mammalia, Cetacea) from the Chagres Formation of Panama and the evolution of 'river dolphins' in the Americas.

PeerJ

3

:

e1227

https://doi.org/10.7717/peerj.1227
Abstract
In contrast to dominant mode of ecological transition in the evolution of marine mammals, different lineages of toothed whales (Odontoceti) have repeatedly invaded freshwater ecosystems during the Cenozoic era. The so-called 'river dolphins' are now recognized as independent lineages that converged on similar morphological specializations (e.g., longirostry). In South America, the two endemic 'river dolphin' lineages form a clade (Inioidea), with closely related fossil inioids from marine rock units in the South Pacific and North Atlantic oceans. Here we describe a new genus and species of fossil inioid, Isthminia panamensis, gen. et sp. nov. from the late Miocene of Panama. The type and only known specimen consists of a partial skull, mandibles, isolated teeth, a right scapula, and carpal elements recovered from the Piña Facies of the Chagres Formation, along the Caribbean coast of Panama. Sedimentological and associated fauna from the Piña Facies point to fully marine conditions with high planktonic productivity about 6.1–5.8 million years ago (Messinian), pre-dating the final closure of the Isthmus of Panama. Along with ecomorphological data, we propose that Isthminia was primarily a marine inhabitant, similar to modern oceanic delphinoids. Phylogenetic analysis of fossil and living inioids, including new codings for Ischyrorhynchus, an enigmatic taxon from the late Miocene of Argentina, places Isthminia as the sister taxon to Inia, in a broader clade that includes Ischyrorhynchus and Meherrinia, a North American fossil inioid. This phylogenetic hypothesis complicates the possible scenarios for the freshwater invasion of the Amazon River system by stem relatives of Inia, but it remains consistent with a broader marine ancestry for Inioidea. Based on the fossil record of this group, along with Isthminia, we propose that a marine ancestor of Inia invaded Amazonia during late Miocene eustatic sea-level highs.
Introduction
In the evolution of marine mammals, the dominant mode of their ecological transitions (sensu Vermeij & Dudley, 2000) is the iterative adaptation to marine life from terrestrial ancestry (Thewissen & Williams, 2002; Gingerich, 2005; Kelley & Pyenson, 2015). However, the direction of this ecological transition is not exclusively from land to sea: throughout the late Cenozoic, several lineages of cetaceans and pinnipeds have evolved exclusively freshwater lifestyles from a marine ancestry (Hamilton et al., 2001; Pyenson, Kelley & Parham, 2014). Among cetaceans, the group of extant 'river dolphins' are the best exemplars of this ecological mode. This non-monophyletic (i.e., paraphyletic or possibly polyphyletic) group traditionally includes four different living species: Platanista gangetica (Lebeck, 1801); Lipotes vexillifer Miller, 1918, Inia geoffrensis (Blainville, 1817), and Pontoporia blainvillei (Gervais & d'Orbigny, 1844). These species all show broad morphological similarities, including longirostral skulls and jaws, reduced orbits, flexible necks, and broad, paddle-shaped flippers (Geisler et al., 2011). Notably, this assemblage of broadly convergent taxa has a biogeographic distribution across different freshwater river systems of South Asia and South America, and in estuarine and coastal waters of the latter as well.
While work for most of 20th century implied or proposed that the 'river dolphins' were all most closely related to one another (e.g., Simpson, 1945), the advent of molecular phylogenies clarified that these lineages are not all directly related to one another (see Geisler et al., 2011 for a useful summary), although both molecular and morphological analyses consistently group the two South American genera, Inia and Pontoporia, as sister taxa (Inioidea sensu Muizon, 1988a). Lipotes, which was endemic to the Yangtze River of China and is likely extinct (Turvey et al., 2010), may be the sister taxon to Inioidea (see Geisler et al., 2011), although all molecular studies (e.g., Messenger & McGuire, 1998; Hamilton et al., 2001; Nikaido et al., 2001; Geisler & Sanders, 2003; Arnason, Gullberg & Janke, 2004; May-Collado & Agnarsson, 2006; McGowen, Spaulding & Gatesy, 2009; Steeman et al., 2009; Geisler et al., 2011) and combined molecular and morphological analyses (Geisler et al., 2011; Gatesy et al., 2013) place Lipotes within Delphinida (i.e., Inioidea + Delphinoidea sensu Muizon, 1988a), and furthermore place Platanista outside of Delphinida. Lipotes and Platanista have only been grouped together in analyses using purely morphological datasets (e.g., Geisler & Sanders, 2003).
With restricted distributions, serious conservation threats, and relatively low taxonomic richness compared with other odontocete clades, the evolutionary history of 'river dolphins' remains a topic of perennial interest (Cassens et al., 2000; Hamilton et al., 2001; Nikaido et al., 2001; Pyenson, 2009; Ruiz-Garcia & Shostell, 2010; Turvey et al., 2010; Geisler et al., 2011). The fossil record of South Asian 'river dolphins' is poor, with no taxa reported from undisputable remains (e.g., Prolipotes yujiangensis Zhou, Zhou & Zhao, 1984 is known only from an isolated mandible that cannot be clearly diagnosed). By contrast, fossil South American 'river dolphins' have been reported from Neogene rocks of the continent since the 1850s (Cozzuol, 1996). The majority of these fossil taxa have been assigned to the traditional taxonomic groups of either Iniidae or Pontoporiidae, based on diagnostic features of the face and vertex (Muizon, 1988a), and include taxa (e.g., Pontistes rectifrons Burmeister, 1885, Pliopontos littoralis Muizon, 1983, Brachydelphis mazeasi Muizon, 1988b) known from marine rocks units of middle Miocene through Early Pliocene age in Argentina, Peru, Chile, and elsewhere (Muizon, 1984; Muizon, 1988b; Cozzuol, 1996; Gutstein et al., 2009; Lambert & de Muizon, 2013; Gutstein et al., 2014a). Recently, Bianucci et al. (2013) reported an isolated periotic with diagnostic features of Platanistinae (today limited to South Asia) from the Peruvian Amazon Basin of Laventan South American Land Mammal Age. This finding is striking for its disjunct biogeographic occurrence, relative to living Platanista in South Asia, but it is consistent with the widespread distribution of fossil platanistoids reported elsewhere in the world from late Paleogene through Neogene rocks along the coasts of the South and North Pacific and the North Atlantic oceans (Fordyce, 2009).
Similarly, the fossil record of inioids extends well beyond South America (Fig. 1). Fossil pontoporiids have been described from shallow marine and estuarine strata of early late Miocene to Early Pliocene age from the Atlantic coast of North America, including Maryland, Virginia, North Carolina and Florida (Morgan, 1994; Whitmore, 1994; Godfrey & Barnes, 2008; Gibson & Geisler, 2009; Geisler, Godfrey & Lambert, 2012). Along the Atlantic coast of Europe, Protophocaena minima Abel, 1905 from shallow marine Miocene of the Netherlands, is now recognized as a pontoporiid (Lambert & Post, 2005) based on additional cranial and periotic material from the Miocene of Belgium and the Netherlands. Pyenson & Hoch (2007) reported pontoporiids (cf. Pontistes sp. and indeterminate Pontoporiidae) from the marine Gram Formation in Denmark, which is early late Miocene age. To date, no fossil pontoporiids have been described from the North Pacific Ocean. The two species of Parapontoporia Barnes, 1984, which are well known from abundant Mio-Pliocene localities in northern and southern California (Boessenecker & Poust, 2015), are not pontoporiids, but belong in a clade with Lipotes (Geisler, Godfrey & Lambert, 2012), although Parapontoporia is sometimes also grouped with Platanista, Lipotes and Ischyrorhynchus vanbenedeni Ameghino, 1891 (see Aguirre-Fernández & Fordyce, 2014). Historically, fossils referred to Iniidae include a variety of taxa (e.g., Goniodelphis hudsoni Allen, 1941; Ischyrorhynchus), supplementing the existing data showing a much broader geographic extent for inioids in the fossil record than today (Fig. 1). These fossil occurrences thus raise the question of how Inioidea evolved, and the evolutionary scenarios that led to their current distribution. Our description herein of a new genus and new species of Inioidea from the late Miocene of Panama, based on substantially more osteological material than most fossil inioids, provides new insight into the evolutionary scenarios under which this group evolved in South America, including the timing and mode of major ecological transitions.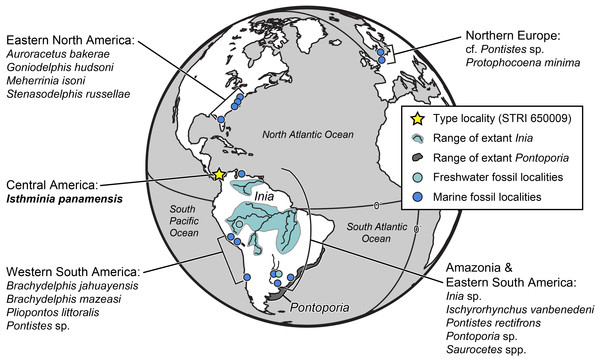 Methods
Excavation at the type locality
The type specimen of this new taxon was initially discovered in an intertidal zone outcrop of the Chagres Formation, near the town of Piña, along the Caribbean coastline of Panama, in early 2011 (Fig. 2 and Fig. S1). The infrequency of low tides at the type locality created a narrow time window for excavating the specimen, which several co-authors (NDP, JVJ, DV, and AO) undertook on 18 June 2011 with the assistance of staff from Smithsonian Tropical Research Institute (STRI). After exporting the specimen under permits from Panama's Ministerio de Comercio e Industrias (MICI number DNRM-MC-074-11) to the Smithsonian's National Museum of Natural History (NMNH) in Washington, D.C., USA, the specimen was prepared using mechanical tools and consolidated using standard fossil vertebrate preparation techniques by DV, S Jabo, and P Kroehler in the Vertebrate Paleontology Preparation Laboratory in the Department of Paleobiology at NMNH.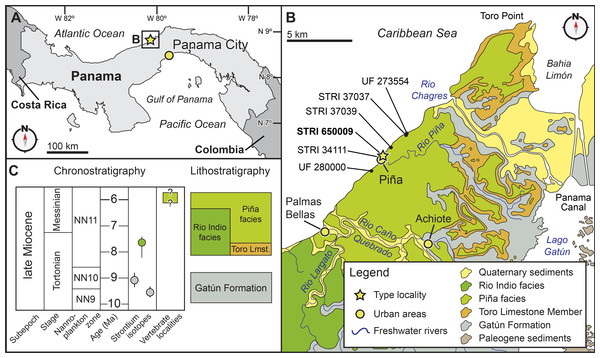 Digital methods
During excavation at the type locality (Fig. S1), we documented in situ skeletal remains using a Flip camera (Cisco Systems Inc., San Jose, California, USA) on time-lapse settings. Later, subsequent to the specimen's preparation in the Department of Paleobiology, we used computed tomography (CT) to scan the type specimen USNM 546125 in the Department of Anthropology with a Siemens Somatom Emotion 6 at slice thickness of 0.63 mm (which results in a three-dimensional reconstruction increment of 0.30 mm). The resultant DICOM files were processed by loading image files in Mimics (Materialise NV, Leuven, Belgium), and a mask was created based on the threshold of bone, relative to the nominal density of air. We then created a three-dimensional (3D) object from this mask, and exported the resultant file as an ASCII STL, which was opened in Geomagic (ver. 2012) for final imaging edits. We also attempted to use laser surface scanning (i.e., laser arm scanner) to capture 3D data, but line of sight issues with overhanging morphological features and the geometric complexity of the type specimen prevented a full capture of the surface geometry. As a result, we elected to use the 3D models of the skull, mandibles, and scapula generated from CT data because this method provided complete capture of the external and internal morphology. After converting the CT files into 3D data, the watertight model was then processed in Autodesk Maya (ver. 2013) by Pixeldust Studios (Bethesda, Maryland, USA), decimating the models to 100,000 triangles and creating diffuse, normal, and occlusion texture maps. The resultant 3D surface model datasets, processed from the computed tomography scans, provided sub-millimeter accuracy, and full resolution files can be downloaded at the open-access Smithsonian X 3D browser (http://3d.si.edu). These files, along with supplemental ones, are also archived at Zenodo (http://zenodo.org) at the following DOI: 10.5281/zenodo.27214.
Phylogenetic analysis
Recent work on the systematics of living and extinct odontocetes has recently provided several phylogenetic frameworks to use in this study. Geisler et al. (2011) used a combined morphological and molecular analysis to clarify the relationships among extant and fossil lineages of cetaceans, with mostly a focus on odontocetes, including some important fossil taxa, but taxon sampling within Inioidea was relatively sparse compared to Geisler, Godfrey & Lambert (2012). This latter work, which described Meherinnia isoni Geisler, Godfrey & Lambert, 2012, a late Miocene inioid from marine rocks of North Carolina, USA, also included other fossil inioids such as Auroracetus bakerae Gibson & Geisler, 2009, Ischyrorhynchus vanbenedeni Ameghino, 1891, Protophocaena minima, and Stenasodelphis russellae Godfrey & Barnes, 2008, some of which were not included in subsequent phylogenetic analyses of odontocetes, such as the one by Murakami et al. (2014). The starting point for our analysis was the matrix provided by Aguirre-Fernández & Fordyce (2014) in their description of the early Miocene stem odontocete Papahu taitapu Aguirre-Fernández & Fordyce, 2014, which used the morphological partition of Geisler, Godfrey & Lambert (2012) in their description of Meherrinia, along with some important modifications (e.g., the removal of Mysticeti and unpublished specimens, and coding revisions for select stem odontocetes) that enhanced its utility for resolving fossil and living odontocete relationships.
We added Isthminia as an operational taxonomic unit to the Aguirre-Fernández & Fordyce (2014) matrix of 311 characters, and updated the character scoring for Ischyrorhynchus, which was the only inioid taxon not coded from direct observation in any previous study. The codings for Ischyrorhynchus herein were made by one of the authors of this study (CSG), who reviewed all the specimens in Argentina (e.g., MLP 5–16, MACN 15135), which resulted in modifications for 20 character codings (see File S1). The cladistic search was performed in PAUP* (Swofford, 2002) using all characters as unordered. We first performed a heuristic search using the tree bisection-reconnection (TBR) algorithm. In addition, we conducted statistical support analyses by searching for successively longer trees to calculate decay indices and 1,000 bootstrap replicates. The complete matrix is available in the Supplemental Information (see File S1).
Phylogenetic nomenclature
We followed the recommendations of Joyce, Parham & Gauthier (2004) for the conversion of select ranked taxonomic cetaceans names to phylogenetically defined ones in this study. The taxonomy of marine mammals includes several extant monospecific forms in their own familial rank, such as Eschrichtius robustus (Lilljeborg, 1861), Physeter macrocephalus Linnaeus, 1758, Pontoporia blainvillei, or Lipotes vexillifer. In many of these latter cases, the conceptual basis for the higher taxonomic rank includes many fossil taxa that connect the monospecific taxon to their nearest living relatives, especially with stem lineages that range into geologic times that remain poorly sampled and known (e.g., the Oligocene; see Uhen & Pyenson, 2007). While it would be ideal to create stem-based clade names for these single species, there remains no pathway to define pan-stems based on single species, even more than 10 years after Joyce, Parham & Gauthier (2004)'s recommendations. Here we follow Joyce, Parham & Gauthier (2004)'s logic in the specific case of the pan-stem for the lineage leading to extant Inia, by forming a new pan-stem name by combining the current Linnaean generic name with the prefix 'pan,' and then referred traditional family names to a more inclusive clade whose composition closely resembles our current name application. For these purposes, we used abbreviations NCN for New Clade Name and CCN for Converted Clade Name. Below, we clarify our precise definitions for these clades (see PhyloCode, 2014, Article 9.3; Cantino & de Queiroz, 2014), and we also provide full citations for the names of specifier species.
Specimens observed
Auroracetus bakerae (USNM 534002), Inia geoffrensis (USNM 395415, 49582, 239667), Ischyrorhynchus vanbenedeni (MACN 15135, MLP 5–16), Lipotes vexillifer (USNM 218293, AMNH 57333), Meherrinia isoni (CMM-V-4051, USNM 559343, identified by JA Geisler), Pontoporia blainvillei (USNM 482727, 482771, 482707), Stenasodelphis russellae (CMM-V-2234).
Nomenclatural acts
The electronic version of this article in Portable Document Format (PDF) will represent a published work according to the International Commission on Zoological Nomenclature (ICZN), and hence the new names contained in the electronic version are effectively published under that Code from the electronic edition alone. This published work and the nomenclatural acts it contains have been registered in ZooBank, the online registration system for the ICZN. The ZooBank LSIDs (Life Science Identifiers) can be resolved and the associated information viewed through any standard web browser by appending the LSID to the prefix http://zoobank.org/. The LSID for this publication is: urn:lsid:zoobank.org:pub:4763A625-883D-4263-B376-33B9F9AD56A4. The online version of this work is archived and available from the following digital repositories: PeerJ, PubMed Central and CLOCKSS.