A histological survey of avian post-natal skeletal ontogeny
1
Graduate College of Biomedical Sciences, Western University of Health Sciences

,

Pomona, California

,

United States
2
Department of Integrative Biology, University of California

,

Berkeley, California

,

United States
3
Department of Anatomy and Cell Biology, Oklahoma State University Center for Health Sciences

,

Tulsa, Oklahoma

,

United States
Published

Accepted

Received
Academic Editor
Subject Areas

Keywords

Post-natal development

,

Aves

,

Osteohistology

,

Altricial-precocial spectrum

,

Bone growth
Copyright

©

2021

Atterholt and Woodward

Licence

This is an open access article distributed under the terms of the Creative Commons Attribution License, which permits unrestricted use, distribution, reproduction and adaptation in any medium and for any purpose provided that it is properly attributed. For attribution, the original author(s), title, publication source (PeerJ) and either DOI or URL of the article must be cited.
Cite this article

2021

.

A histological survey of avian post-natal skeletal ontogeny

.

PeerJ

9

:

e12160

https://doi.org/10.7717/peerj.12160
Abstract
Bone histology of crown-group birds is a research topic of great interest, permitting insight into the evolution of remarkably high growth rates in this clade and variation across the altricial-precocial spectrum. In this study, we describe microanatomical characteristics of the humerus and femur in partial growth series from 14 crown group birds representing ten major clades (Struthioniformes, Galliformes, Apodiformes, Columbiformes, Charadriiformes, Accipitriformes, Strigiformes, Psittaciformes, Falconiformes, and Passeriformes). Our goals were to: (1) describe the microanatomy of each individual; (2) make inter-and intra-taxonomic comparisons; (3) assess patterns that correspond with developmental mode; and (4) to further parse out phylogenetic, developmental, and functional constraints on avian osteological development. Across taxa, the femoral and humeral tissue of neonates can be broadly characterized as highly-vascularized, disorganized woven bone with great variation in cortical thickness (inter-and intrataxonomically, within an individual specimen, and within a single section). The tissue of precocial chicks is relatively more mature at hatching than in altricial, but other categories along the developmental spectrum were less easy to distinguish, thus we were unable to identify a definitive histological proxy for developmental mode. We did not find evidence to support hypotheses that precocial chicks exclusively have thicker cortices and more mature bone in the femur than the humerus at time of hatching; instead, this is a characteristic of nearly all taxa (regardless of developmental mode), suggesting deep evolutionary origins and the effects of developmental channeling. Bone tissue in adults exhibited unexpected variation, corresponding to differences in body size. Large-bodied birds have cortices of fibrolamellar bone, but organization of tissue increases and vascularity decreases with diminishing body size. The outer circumferential layer (OCL) also appears at earlier growth stages in small-bodied taxa. Thus, while the OCL is indicative of a cessation of appositional growth it is not always indicative of cortical maturity (that is, maximum organization of bony tissue for a given taxon). Small size is achieved by truncating the period of fast growth; manipulation of the timing of offset of bone growth is therefore an important factor in changing growth trajectories to alter adult body size.
Introduction
The description and evolution of osteohistological structures and characteristics of avian adult bone have been a subject of scientific investigation for decades, particularly following the discovery of the dinosaurian ancestry of birds. Modern birds are extremely fast-growing animals (de Ricqlès et al., 1991; Starck & Ricklefs, 1998; Erickson et al., 2009; Wilson & Chin, 2014), as were many non-avialan dinosaurs. However, many initial studies of bone histology in Mesozoic avialans concluded that stem-group birds were either moderately more slow-growing (as in ornithuromorphs (Chinsamy, Chiappe & Dodson, 1995; Bell et al., 2010)), or drastically slower (as in the case of enantiornithines and Archaeopteryx (Chinsamy, Chiappe & Dodson, 1994; Cambra-Moo et al., 2006; Erickson et al., 2009; O'Connor et al., 2014)). Subsequent work has begun to reveal a greater diversity and complexity of life history strategies among these Mesozoic clades than previously understood. In Archaeopteryx, Voeten et al. (2018) demonstrated that immature ontogenetic stages of this taxon have vascular areas comparable to some extant taxa, and therefore likely a higher rate of bone growth than previously known (at least at certain growth stages). O'Connor et al. (2015) show evidence of a growth strategy similar to modern birds in the derived ornithuromorph Iteravis huchzermeyeri. Wang et al. (2019) conclude the same for the ornithuromorph Yanornis. In an ontogenetic study of Confuciusornis, Chinsamy et al. (2020b) report that this taxon likely experienced rates of growth comparable to some modern birds for a time in early-to mid-ontogeny, and furthermore present evidence that Confuciusornis retained a degree of developmental plasticity that allowed this taxon to phenotypically respond to environmental cues. Atterholt et al. (2021) report on fibrolamellar and incipient fibrolamellar bone in at least some skeletal elements of a Late Cretaceous skeletally-mature enantiornithine. A growing body of evidence supports the idea that fast, yet intermittent growth is the plesiomorphic condition for Avialae, and that a complex evolutionary pattern of both losses and amplifications of these features appears in Mesozoic and extant members of this clade (Prondvai et al., 2018; Wang et al., 2019; Chinsamy et al., 2020b; Wang et al., 2020).
Amid an increasing abundance of paleohistological studies on avialan and nonavialan dinosaurs, still relatively little is known about how bone develops in Aves, their closest living relatives. Bird bones are very thin-walled because resorption is a highly active process in avian bone growth, erasing most 'history' of development, so adult osteohistological features reveal very little about earlier growth stages. We instead must rely on ontogenetic studies of bone histology, which fortunately are increasingly common. Post-natal histology of bird bone has been examined in several taxa, however, the vast majority of studies focus on paleognathous birds or galloanseriforms (Castanet et al., 1996; Rath et al., 1999; Castanet et al., 2000; de Margerie, Cubo & Castanet, 2002; Skedros & Hunt, 2004; Turvey & Holdaway, 2005; Kuehn et al., 2019). The former are of particular interest likely because they are the early-branching clade of Aves, and thus are often perceived as being more representative of dinosaurian growth. Galloanseriforms understandably draw the attention of researchers because of their importance in the poultry industry, and because specimens are readily available since they are domestically bred and farmed. Comparatively few studies have investigated histological characteristics outside of these early-diverging clades (de Margerie et al., 2004; Watanabe, 2018; McGuire et al., 2020).
Here, we present a histological description of post-natal skeletal development of the humerus and femur in 14 taxa representing a phylogenetically diverse sampling of ten major clades: Struthioniformes, Galliformes, Apodiformes, Columbiformes, Charadriiformes, Accipitriformes, Strigiformes, Psittaciformes, Falconiformes, and Passeriformes (Fig. 1; Table S1). Specifically, we describe periosteal growth that occurs after a chick hatches, assessing patterns qualitatively and quantitatively, and making inter-and intrataxonomic comparisons. Bone is a highly complex tissue, and its growth and development are influenced by a variety of complicated functional and phylogenetic factors. In the case of birds, this includes the challenge of adapting a skeleton simultaneously to aerial locomotion and terrestrial locomotion (or at least the demands of weight-bearing when perched). This is further complicated by shifting demands on bones throughout ontogeny, as degree of locomotion and locomotion type generally shift dramatically through development as chicks fledge and take to flight. Previous studies began identifying the specific ways in which phylogeny and function influence bone histology (Cubo et al., 2005; Montes, Castanet & Cubo, 2007; Cubo et al., 2008; Montes, Castanet & Cubo, 2010; Legendre et al., 2013; Padian & Lamm, 2013; Legendre et al., 2014; Padian & de Ricqlès, 2020). A major goal of this study is to further identify aspects of bone microstructure affected by these two channeling mechanisms, as well as by developmental constraint.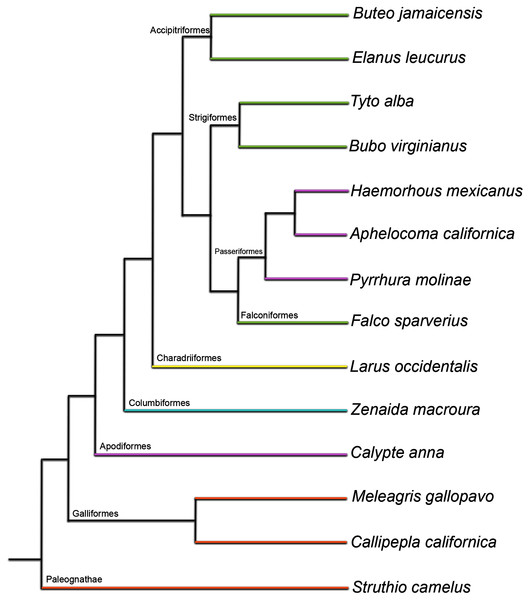 | | Neonate | Downy | Pin-feathered | Pre-fledgling | Fledgling | Sub-adult | Adult |
| --- | --- | --- | --- | --- | --- | --- | --- |
| California1 Quail | 8 | — | 2 | — | — | — | 2 |
| Wild Turkey1 | 1 | — | — | 1 | — | — | 1 |
| Western Gull2 | 2 | — | — | — | — | — | 2 |
| American Kestrel3 | 2 | — | — | — | 1 | — | 2 |
| Red-tailed Hawk3 | — | 1 | — | 1 | — | — | 2 |
| White-tailed Kite3 | — | — | 1 | 2 | 3 | — | 1 |
| Barn Owl3 | — | 1 | 2 | 2 | 1 | 1 | 2 |
| Great-horned Owl3 | — | — | 1 | 1 | 1 | — | 1 |
| Mourning Dove4 | — | — | 1 | 2 | 2 | 2 | 1 |
| Anna's Hummingbird5 | — | — | 1 | — | 1 | 3 | 1 |
| Green-cheeked conure5 | 1 | 1 | 1 | 1 | 1 | — | 1 |
| Western Scrub-Jay5 | 1 | — | 1 | 3 | 2 | 1 | — |
| House Finch5 | 1 | — | 1 | 2 | 1 | — | 1 |
This indicates the first appearance of this structure in each taxon over all, either in the humerus and/or the femur. Developmental mode is indicated by color number superscript: orange1, precocial; yellow2, semi-precocial; green3, semi-altricial 1; blue4, semi-altricial 2; purple5, altricial. Six ostrich chicks also comprise part of the dataset, but are not included here because (beyond neonate an adult) they do not fit into the growth stages used for other taxa.
The final major objective of this investigation is to study ontogenetic histological patterns across the altricial-precocial spectrum. Birds, like mammals, are notable for the range of morphologies and behaviors they display at hatching (or birth), described as the altricial-precocial spectrum (Starck & Ricklefs, 1998). Neonatal chicks and their parents exhibit a full range of intermediate behavioral and morphological characteristics. At the precocial extreme of the spectrum, neonates are independent of their parents at hatching and even possess contour feathers and flight capabilities; here, there is no parental care after the eggs hatch. At the opposite end of the spectrum, the most altricial chicks hatch naked and with closed eyes. They remain nest-bound for the first few weeks of life, and are entirely dependent upon their parents for food, protection, etc. Various discretizations of the spectrum exist, with minor differences in the names and number of groups used to break it down into various developmental modes (e.g., Portmann, 1935; Nice, 1962; Skutch, 1976; Starck, 1993), but all rely on traits such as whether neonate eyes are open or closed, if chicks hatch naked or with feathers (and, in the latter case, what type of feathers), locomotor activity of the chick, and degree of parental care (e.g., showing to food, direct feeding, brooding, etc.) Here, we adopt the categories of developmental mode outlined by Starck & Ricklefs (1998), summarized in Table S2.
Of particular relevance to this investigation is evidence from previous studies showing that precocial chicks have growth rates much lower than those observed in altricial chicks (Ricklefs, 1968; Ricklefs, 1973; Starck, 1989; Starck, 1993; Starck & Ricklefs, 1998). Because growth rates, along with functional and physiological demands, vary so greatly across this spectrum, it is reasonable to expect substantial osteohistological variation in neonates of different developmental modes. Furthermore, identification of histological features that correlate with different developmental modes could be used as proxies for developmental mode in extinct taxa.
In studies of bone growth in the chicks of California gulls Carrier & Leon (1990) provided evidence that weak skeletal tissue (which they define to include a woven matrix) in very young individuals can be partially compensated for by increasing cortical thickness. Therefore, relative to other birds, gull chicks have very thick cortical walls in the femur because they begin locomoting terrestrially very soon after hatching, but the humerus has a thinner cortical wall until fledging, when the wing is finally used in flight. These data suggest certain predictions about cortical wall thickness of the two major limb elements in chicks at hatching, given information on developmental mode (whether or not the chicks are active at hatching) and primary locomotor module (whether they will ultimately use primarily their wings, legs, or both to locomote), and the correlation between the two. Dial (2003) identified the primary locomotor module of adults of more altricial taxa as the pectoral limb, and of precocial taxa as the pelvic limb. Additionally, chicks on the altricial end of the spectrum do not locomote at all until weeks after hatching, while precocial chicks can generally walk independently very soon post-hatching. Therefore, altricial and semi-altricial chicks should have thin-walled bones in both the humerus and the femur or a slightly thicker-walled humerus (if investment in the elements of their primary locomotor module begins very early), and precocial and semi-precocial chicks (such as the gull) should have a thicker-walled femur.
Similarly, a difference in bone maturity between pelvic and pectoral limbs was reported by Dial & Carrier (2010) in Mallard ducks, who found that the functional maturity of the hindlimb was much greater than that of the forelimb through most of post-natal ontogeny, up until the time of fledging. Prondvai et al. (2020) also report a difference in cortical apposition rates related to developmental timing of the bone of limb elements in ducks. Evidence from such studies suggests that a difference in bone maturity is linked to the precocial and semi-precocial developmental mode of these taxa; such chicks locomote using the pelvic limb from the time of hatching, but do not require the pectoral limb for flight until much later. It follows, therefore, that these earlier functional demands on the pelvic limb have led to selection for this locomotor module maturing at an earlier time.
Therefore, we have a clear hypothesis regarding a histological signal of developmental mode: more precocial chicks should have more mature femoral bone, defined here as possessing a mosaic of various features indicating relatively more growth has occurred (a thicker cortex, more organized tissue, smaller vascular openings, and/or thicker woven bone trabeculae). In contrast, chicks closer to the altricial end of the spectrum should have more mature humeral bone than femoral (or at least of equal maturity and thickness, if delayed locomotion is not enough to select for a functional difference in neonate limb bones). The range of developmental modes covered by the taxa in this dataset present an excellent opportunity for testing this hypothesis.
Materials & methods
Acquisition of specimens
Taxa for which complete or partial post-natal growth series were collected were included in the study. A post-natal growth series was defined as ranging from neonate chick to somatically mature adult (i.e., final size, after which little or no morphological change takes place); in some instances, individuals of intermediate ages were also available. Ultimately, 14 taxa from 10 avian families were used (Fig. 1; Table 1; Table S1), comprising 89 specimens and generating 356 histological thin sections. Because a major goal of this study was to acquire specimens representing a phylogenetically broad sampling of Aves, specimen acquisition was opportunistic and dependent upon donations from the OK Corral Ostrich Farm in Oro Grande, CA, USA (the source of the ostriches); Avian Resources in San Dimas, CA, USA (the source of the green-cheeked conures); the Lindsay Wildlife Museum in Walnut Creek, CA and the Society for Prevention of Animal Abuse in Monterey Co., CA, USA for all other taxa. Beyond the broad phylogenetic sampling that this method of specimen acquisition allows, another strong benefit is that most of the birds in the dataset (the native Californian taxa accumulated from local wildlife hospitals) were all wild birds that hatched and lived in their natural habitat and conditions, where they would have been subject to normal behavioral and biomechanical impacts on the growing skeleton; only the two taxa not endemic to California (ostriches and green-cheeked conures) were hatched and raised by the breeder/farmer.
All specimens were dissected and skeletonized at the Museum of Vertebrate Zoology (MVZ) at the University of California, Berkeley. Skeletons, histological slides (plus residual tissue blocks), and frozen soft-tissue samples all are housed in the MVZ.
Tissue processing and osteohistological slide preparation
This study examines bone as a mineralized tissue and is not an investigation of the process of ossification. Therefore, tissue samples were harvested from the youngest individuals with ossified diaphyses; in some cases, neonate bone was suitable, but in several altricial taxa neonate chicks were too small and had bones still too cartilaginous to be appropriate for the methods employed. By the time of hatching, most neonates have fully ossified bony diaphyses of the femur and humerus with cartilaginous proximal and distal ends, so tissue samples were taken at the mid-shaft portion of each element.
The humerus and femur were obtained from skeletonized individuals, and the mid-shaft regions harvested. Whenever possible, the left elements were used, though breakage or missing bones sometimes necessitated use of right elements. This investigation limited focus to the humerus and femur because these are two bones that, at their midshafts, undergo minimal secondary growth and remodeling, and therefore preserve a clear ontogenetic record (Padian & Lamm, 2013).
Tissue samples were fixed in 10% neutral buffered formalin for 48 h (with one change of solution after the first 24), then transferred to a solution of 70% ethyl alcohol for 48 h (with one change of solution after the first 24), subsequently placed in a solution of 85% ethyl alcohol for 48 h (with one change of solution after the first 24), and finally cleared in Histo-Clear (National Diagnostics) for 4–8 h, contingent upon the size of the tissue sample. Bone samples were then embedded in Epothin and sectioned to one mm wafers using a diamond-embedded saw. Wafers were mounted on glass slides and ground to approximately 100 µm thickness using a lap grinder and grit paper. Two sections from each bone were retained, and one of these mounted sections was stained in a 0.7% solution of toluidine blue. Finally, coverslips were applied using Permount (Fisher Chemical, Waltham, MA, USA). Slides were photographed using a Nikon digital sight camera and petrographic microscope (DS-U3 and DS-Fi2), and captured using the computer program NIS-Elements (F4.00.00). Sections were visualized under regular light and with cross-polarized light (XPL). Measurements were taken using ImageJ (1.48v).
Experimental design & terminology
Precise ages of most individuals at time of death are unknown due to the method of specimen collection. Therefore, in cases where exact numerical age was missing, growth series were divided into the following qualitative growth stages, modified from identifications made by the wildlife hospitals and based on body size and general external morphology (primarily the condition of the feathers): neonate, downy chick, pin-feathered chick, pre-fledgling chick, fledgling chick, sub-adult, and adult. These categories were used to describe all taxa except for the ostrich, because these birds do not neatly fit into these categories. We note that, though these are artificial categories that fall along a spectrum, they roughly approximate the stages of feather development described by Prum & Brush (2002). Comparisons among intermediate growth stages are generally limited, and intertaxonomic comparisons are focused on adults and neonates (the two most 'equal' growth stages).
Due to decomposition and/or immaturity of specimens, sex was indeterminable by dissection for many specimens in the dataset. However, this is not considered a serious impediment to the study. The only major recorded histological difference in bone between male and female birds is medullary bone, variably present in adult females (Bonucci & Gherardi, 1975; Miller & Bowman, 1981; Van de Velde, Vermeiden & Bloot, 1985; Dacke et al., 1993).
This project is primarily descriptive. Each growth stage is described qualitatively in terms of general bone type, cross-sectional shape, variability of cortical thickness, density and orientation of blood vessels, density and shape of osteocyte lacunae, and presence of primary and secondary osteons. Osteocyte lacunal volume and density is known to be extremely variable intrataxonomically, among skeletal elements, and even regionally within a single bone, and is most accurately estimated when using multiple thin sections (D'Emic & Benson, 2013); therefore while a qualitative description of osteocyte lacunae is included in this study, we do not quantify this feature or infer relative rates of growth and metabolism.
The terminology used to qualitatively classify and describe bone tissues follows the precedent of Francillon-Vieillot et al. (1990) and de Ricqlès (1975), as updated by Huttenlocker, Woodward & Hall (2013). Bone is described both in terms of matrix classification (based on fiber organization), and vascular classification (based on type and orientation of vascular channels).
The altricial-precocial spectrum has been divided into a number of categories based on morphological and behavioral features by multiple authors (see Starck & Ricklefs, 1998); here, we used the Starck & Ricklefs (1998) reorganization of Nice's (Nice, 1962) developmental classes. Starck and Ricklefs' categories are summarized in Table S2.
Bone histology was also analyzed quantitatively; all statistical tests were run using the program R (v4.0.3). For each section, average cortical thickness and average total cross-sectional diameter were measured in µm. The cortical thickness was an average of eight measurements evenly distributed across the cortex (midpoints of the cranial, caudal, medial, and lateral regions, and positions equidistant between these). Average total diameter of each sample was taken as an average of four measurements of the total diameter of the cortex, along the craniocaudal and mediolateral axes. and the two axes at the mid points between these. These data were used to calculate ratios for comparisons of relative cortical thickness as 2 (cortical thickness)/total diameter.
Cortical thickness is analyzed and discussed in two ways: absolute cortical thickness (ACT) and relative cortical thickness (RCT). These ratios together with average measures of cortical thickness and cortical diameter can be found in Table S1. A log10 transformation was applied to measures of absolute cortical thickness (to correct for strong allometry as associated with body size) and to relative cortical thickness (to normalize the data, which had an exponential distribution). General patterns of variation and changes in cortical width (by growth stage and intertaxonomically) are visualized and described using boxplots. Phylogenetic signal was tested for in ACT and RCT of the humerus and femur of adults and neonates, as well as in developmental mode, using Blomberg's K test statistic (Blomberg, Garland & Ives, 2003). The phylogenetic topology used for this test is based on the tree in Prum et al. (2015), using the same calibrations as the original published phylogeny. Finally, regression tests were implemented to assess intertaxonomic relationships (with relevant metrics from all individuals pooled into a common dataset) between cortical thickness of the adult humerus and femur, cortical thickness of the neonate humerus and femur, and developmental mode with cortical thickness of each element for neonates. Specific models (and results for each) are described in Tables 2 and 3. For these tests, the developmental spectrum was treated as a pseudo-continuous ordinal predictor (Symonds & Blomberg, 2014) and numerically discretized (based on the categorization of Starck & Ricklefs (1998) as follows: 1, precocial; 2, semi-precocial; 3, semi-altricial 1; 4, semi-altricial 2; 5, altricial. A phylogenetic generalized least squares regression (PGLS) was used in cases when model residuals had phylogenetic signal; in all other cases, an ordinary least squares regression (OLS) was used.
| Parameter tested | K Statistic | P-value |
| --- | --- | --- |
| Adults, Humerus (ACT) | 0.804 | 0.591 |
| Adults, Femur (ACT) | 1.060 | 0.197 |
| Neonates, Humerus (ACT) | 0.804 | 0.613 |
| Neonate, Femur (ACT) | 1.061 | 0.207 |
| Adults, Humerus (RCT) | 0.860 | 0.433 |
| Adults, Femur (RCT) | 1.101 | 0.089 |
| Neonates, Humerus (RCT) | 0.813 | 0.689 |
| Neonate, Femur (RCT) | 1.235 | 0.043* |
| Developmental Mode | 1.317 | 0.005* |
| log10(NHACT) ~ log10(NFACT) + log10(NBM) | 1.286 | 0.028* |
ACT, absolute cortical thickness; RCT, relative cortical thickness; measured as the ratio of average cortical thickness to average total cross-sectional diameter. The final row shows results of a test for phylogenetic signal in the residuals from a PGLS analysis of the model described (NHACT, neonate humerus ACT; NFACT, neonate femur ACT; NBM, neonate body mass). Significant P-values are indicated by asterisks.
Regression Model
F Ftatistic
P-value
(F Statistic)
Adjusted R2
P-value (Adjusted R2)
log10(NHACT) ~ log10(NFACT) + log10(NBM)
0.81;
0.96
0.466;
0.392
0.65
0.054
log10(AHACT) ~ log10(AFACT) + log10(ABM)
5.53;
−0.40
0.007 × 10−4*; 0.692
0.91
0.002 × 10−5*
log10(AHRCT) ~ log10(AFRCT)
—
—
0.23
0.029
log10(NHRCT) ~ log10(NFRCT)
—
—
0.15
0.095
DM ~ log10(NHACT) + log10(NBM)
0.45; −0.75
0.660;
0.468
−0.11
0.709
DM ~ log10(NFACT) + log10(NBM)
3.06;
−3.15
0.051;
0.023*
0.39
0.050
DM ~ log10(NHRCT)
—
—
−0.03
0.442
DM ~ log10(NFRCT)
—
—
−0.06
0.657
The first model was assessed using PGLS. All other models were assessed using OLS. ACT, absolute cortical thickness; RCT, relative cortical thickness; measured as the ratio of average cortical thickness to average total cross-sectional diameter. Significant p-values are indicated by asterisks. Abbreviations used in models: NHACT, neonate humerus ACT; NFACT, neonate femur ACT; NBM, neonate body mass; AHACT, adult humerus ACT; AFACT, adult femur ACT; ABM, adult body mass; AHRCT, adult humerus RCT; AFRCT, adult femur RCT; NHRCT, neonate humerus RCT; NFRCT, neonate femur RCT; DM, developmental mode.
Results
Broad intertaxonomic patterns and comparisons are reported here; for a detailed description of each individual and intrataxonomic comparisons, please see Supplementary Material.
Discussion
Several osteohistological attributes characterize Aves as a whole, both in terms of general ontogenetic trends and similarities among specific growth stages. In all neonates, the humerus and femur are composed of a disorganized matrix of woven bone with many large, irregular vascular channels, and a high osteocyte density (with round, large osteocyte lacunae) (Figs. 6–15). In many hatchling chicks, it was difficult to identify a primary orientation of vascular canals because their arrangement appeared so haphazard. This is unsurprising, and corroborates with both previous reports on bone histology of avian chicks (Castanet et al., 2000; de Margerie, Cubo & Castanet, 2002; de Margerie et al., 2004), and data available on high growth rates in birds (Starck, 1989; Starck, 1993; Starck, 1994; Starck & Ricklefs, 1998) as bone with such a lack of organization is known to be very fast-growing. Additionally, nearly all taxa hatch with a femoral cortex that is thicker than that of the humerus (as an absolute measure), but this relationship becomes inverted by the adult stage, when the bone of the humerus is almost invariably thicker than the femur. Absolute cortical thickness generally increases through ontogeny, reaching highest values in adults. Conversely, relative cortical thickness often decreases between the neonate and adult stages. Below we discuss further patterns related to phylogeny, biomechanics, and ontogeny.
Conclusions
We tested hypotheses that cortical thickness is used to compensate for biomechanical weakness of woven bone in the hindlimbs of precocial chicks, and that precocial chicks exclusively have more mature bone in the femur than the humerus at the time of hatching. No evidence was found that unequivocally supports either prediction. While most precocial taxa in this dataset have thicker femoral cortices than humeral at hatching, this relationship was also observed in most other taxa, and irrespective of place along the altricial-precocial spectrum, the femoral bone of most neonates was comparatively more mature than that of the humerus. Once again, this indicates a difference in relative growth rates, and is a somewhat surprising result given the different functional demands on altricial and precocial chicks based on behavior and primary locomotor module. This may instead represent developmental channeling in avian growth, a feature with such deep evolutionary history that it is a nearly indelible part of their ontogeny. While maturity of these two limb bones later becomes coincident, as reported here and by others (e.g., Starck & Ricklefs, 1998), the initial difference appears to be common to all or most avians. Furthermore, differences in cortical thicknesses across growth stages and within single elements suggest that width of the cortex may represent a non-adaptive feature of immature bird bones. Ultimately, there are in fact fewer histological differences along the altricial-precocial spectrum than anticipated, and it is difficult based on qualitative descriptions to identify a clear histological signal of developmental mode beyond relative maturity of both skeletal elements at the extreme ends of the spectrum. However, it is very possible that quantitative analyses of histological attributes would be more successful in parsing out finer categories along the altricial-precocial spectrum.
If relative growth rates can be inferred from tissue maturity as many previous studies suggest (e.g., Ricklefs, 1979; Kirkwood et al., 1989; Carrier & Leon, 1990; Montes et al., 2005) this research does support the conclusion of lower growth rates in precocial neonates, and higher growth rates in altricial neonates. The humerus and femur of chicks at the precocial end of the developmental spectrum were observed to be more mature than that of the humerus and femur respectively in chicks along the altricial end of the spectrum. This not only reflects the faster growth of altricial chicks, but also the higher functional demands on precocial chicks, which need to locomote and be relatively independent at an earlier age.
Bone growth appears to be a balance between growth rate, structural weakness/strength, and functional demands. This aspect of life history is a compromise between functional and developmental channeling, and it is the interplay of these two constraints that limits viable growth trajectories. However, within these constraints, different taxa alter their developmental trajectories by changing the timing of the onset and offset of bone growth. The bone of precocial chicks is more functionally mature than that of altricial neonates because of the biomechanical demands that come with precociality. The onset of bone growth is affected by developmental mode, with precocial chicks accomplishing more growth in the egg than altricial. Altricial chicks ultimately follow a similar trajectory of bone development, but in a shorter span of time (hatching to adult). On the other hand, timing of the offset of bone growth is independent of developmental mode, and instead changes with adult body size. Smaller birds achieve smaller body size by truncating their period of fast growth, parallel to the strategy used by avialans to evolve a small body size relative to their dinosaurian ancestors. As a result, small taxa achieve appositional "adult" size by the pre-fledgling to subadult stage when the OCL appears. However, this does not correlate with complete skeletal maturity. Instead, the tissue continues to change and mature through a combination of endosteal resorption, increased organization of bone texture (including a thickening of the OCL), and a reduction in vascularity.
Avian osteological development is clearly influenced by the canonical triad of constraints: functional, phylogenetic, and developmental (Seilacher, 1970; Gould, 2002). Functionally, the demands of locomotion (to varying degrees across the developmental spectrum) and strain on bone are high but are necessarily compromised by the need for fast growth which results in weaker bone. Phylogenetically, several histological characteristics observed are correlated with particular clades, including cortical thickness and unique features (e.g., intercortical gap left by the Kastschenko line in passeriforms). And developmentally, all birds are constrained by high growth rates and consequently weak bones, as well as ontogenetically channeled attributes, such as relatively more mature bone in the femur compared to the humerus at hatching.
This research lays the groundwork for future studies, such as longitudinal sections of the samples described here, sections from other skeletal elements, a detailed description of the presence of chondroid bone, quantification of additional microstructural features (e.g., vascular porosity and size and shape of osteocyte lacunae), inclusion of more specimens and taxa, and further investigation into the functional and phylogenetic differences between developmental modes and avian clades to gain greater insight into the influence of these factors on bone growth and evolution.