Tackling the phylogenetic conundrum of Hydroidolina (Cnidaria: Medusozoa: Hydrozoa) by assessing competing tree topologies with targeted high-throughput sequencing
1
Marine Laboratory, University of Guam

,

Mangilao

,

Guam

,

USA
2
National Museum of Natural History & National Systematics Laboratory of NOAA's Fisheries Service, Smithsonian Institution

,

Washington

,

DC

,

USA
Published

Accepted

Received
Academic Editor
Subject Areas

Keywords

Hydrozoa

,

Hydroidolina

,

Phylogenomics

,

Target enrichment

,

Phylogenetic hypothesis testing

,

Bayes factors
Copyright

©

2021

©2021 Bentlage and Collins

Licence

This is an open access article, free of all copyright, made available under the Creative Commons Public Domain Dedication. This work may be freely reproduced, distributed, transmitted, modified, built upon, or otherwise used by anyone for any lawful purpose.
Cite this article

2021

.

Tackling the phylogenetic conundrum of Hydroidolina (Cnidaria: Medusozoa: Hydrozoa) by assessing competing tree topologies with targeted high-throughput sequencing

.

PeerJ

9

:

e12104

https://doi.org/10.7717/peerj.12104
Abstract
Higher-level relationships of the Hydrozoan subclass Hydroidolina, which encompasses the vast majority of medusozoan cnidarian species diversity, have been elusive to confidently infer. The most widely adopted phylogenetic framework for Hydroidolina based on ribosomal RNA data received low support for several higher level relationships. To address this issue, we developed a set of RNA baits to target more than a hundred loci from the genomes of a broad taxonomic sample of Hydroidolina for high-throughput sequencing. Using these data, we inferred the relationships of Hydroidolina using maximum likelihood and Bayesian approaches. Both inference methods yielded well-supported phylogenetic hypotheses that largely agree with each other. Using maximum likelihood and Baysian hypothesis testing frameworks, we found that several alternate topological hypotheses proposed previously may be rejected in light of the genomic data generated for this study. Both the maximum likelihood and Bayesian topologies inferred herein consistently score well across testing frameworks, suggesting that their consensus represents the most likely phylogenetic hypothesis of Hydroidolina. This phylogenetic framework places Aplanulata as sister lineage to the remainder of Hydroidolina. This is a strong deviation from previous phylogenetic analyses that placed Capitata or Siphonophorae as sister group to the remainder of Hydroidolina. Considering that Aplanulata represents a lineage comprised of species that for the most part possess a life cycle involving a solitary polyp and free-swimming medusa stage, the phylogenetic hypotheses presented herein have potentially large implications for clarifying the evolution of life cycles, coloniality, and the division of labor in Hydrozoa as taxon sampling for phylogenetic analyses becomes more complete.
Introduction
While the fossil record of medusozoan cnidarians is scant, the origin of the group has been inferred to lie near the end of the Ediacaran, approximately 550–580 million years ago (Han, Zang & Komiya, 2016). Plausible crown-group hydrozoans have been described from some 500 million year old Cambrian deposits (Cartwright et al., 2007), suggesting an ancient origin of extant hydrozoans likely dating back to the period of rapid diversification of metazoan life during which all major modern animal phyla emerged (Valentine, Jablonski & Erwin, 1999; Erwin, 2020). Hydrozoans are of particular interest in the study of the evolution of development, as their radiation gave rise to diverse life cycle strategies, diverse forms of coloniality and the division of labor (Cartwright & Nawrocki, 2010; Bentlage et al., 2018; Cartwright, Travert & Sanders, 2020). This diversity is concentrated in the hydrozoan subclass Hydroidolina, the medusozoan clade that contains the vast majority of the 3,800 nominal hydrozoan species (Daly et al., 2007; Schuchert, 2020). Elucidating the evolutionary history and patterns of complex character evolution in Hydroidolina requires a solid understanding of the phylogenetic history of the group (e.g., Cartwright, Travert & Sanders, 2020).
However, the goal of inferring the deep phylogeny of Hydroidolina has been elusive, possibly as a result of the early origin and likely rapid diversification of the group. The most comprehensive phylogenetic hypothesis (Cartwright & Nawrocki, 2010) of higher-level relationships within Hydroidolina was inferred using ribosomal DNA (rDNA) from a broad taxonomic sample. While shallow nodes were well resolved with high confidence, higher-level relationships generally received weak support. In particular, Leptothecata, Siphonophorae, Capitata, and Aplanulata were inferred to be monophyletic groups while Filifera was polyphyletic (Cartwright et al., 2008; Cartwright & Nawrocki, 2010). Previously, the latter three taxa were united under the name Anthoathecata but their non-monophyly had been demonstrated earlier (Collins et al., 2006). Whole mitochondrial genomes have been employed previously to address the issue of reconstructing deep nodes within the phylogeny of Hydroidolina (Kayal et al., 2015). While this approach led to a well-resolved and highly supported phylogenetic hypothesis, several nodes of the resulting tree topology are at odds with rDNA-based phylogenies (Cartwright et al., 2008; Cartwright & Nawrocki, 2010) and recent phylogenomics-based hypotheses (Kayal et al., 2018).
Advances in understanding of medusozoan, and more broadly cnidarian relationships, were made by employing phylogenomic datasets derived from whole-transcriptome and genome-sequencing efforts (Zapata et al., 2015; Kayal et al., 2018). While these efforts provided answers to several long-standing questions of cnidarian evolutionary history, taxon sampling was insufficient for rigorous evaluation of hydrozoan relationships. We used the coding sequences generated by these phylogenomic studies as a backbone for targeted high-throughput sequencing, producing a multi-locus dataset to infer the phylogeny of Hydroidolina. For this purpose, we developed a set of custom baits to enrich target loci from a representative sample of hydroidolinan hydrozoans. This work provides a new framework for the phylogeny of Hydroidolina that will enable further phylogenetic comparative studies of character evolution in Hydrozoa. To evaluate multiple competing topological hypotheses of hydroidolinan relationships, both likelihood and Bayesian statistical frameworks (cf. Sober, 2008) were employed to discriminate between alternate tree topologies and evaluate the strength of evidence supporting prior phylogenetic hypotheses of Hydroidolina as well as those phylogenies inferred from the multi-locus dataset presented here.
Results
Recovery of target loci and alignment
The final concatenated alignment (Fig. 1A; Supplemental File 2) contained 44 medusozoan cnidarians, sequence data for 18 of which were generated in this study (Table 2). This alignment contained 134 of the 355 targeted loci, with a total alignment length of 21,816 character columns. Loci targeted but not included in the final alignment failed to generate sequence data from target enrichment reactions and were excluded from further analysis. Alignment lengths per locus ranged from 56 to 363 positions (average 164), with a combined total of 333 to 5,818 (average 2,891) amino acids contained in each alignment (Fig. 1B). Taxon occupancy per locus ranged from 5 to 36 species with an average of 21 species included in each alignment partition for phylogenetic analysis (Fig. 1C). Among ingroup hydrozoans, coverage varied between and within clades, with matrix completeness being highest for taxa of the Kayal et al. (2018) reference dataset (Fig. 1A). In particular, sequence data for Aplanulata, Siphonophorae, and Filifera III largely represent previously published sequence data that were used for bait design (Table 2). Consequently, alignment coverage in these groups ranges from some 40% to almost 80%. Despite being closely related to at least some of the taxa used in bait design, success in recovering loci from Podocoryne martinicana (Filifera III) and Athorybia rosacea (Siphonophorae) was limited (Table 2). In species of Filifera I, Filifera II, and Capitata target capture yields ranged from as few as some 500 amino acid residues spread over five loci (Myrionema hargitti) to as high as some 4,400 residues contained in 46 separate loci (Pennaria disticha). By contrast, the RNA bait set and hybridzation protocol employed here was highly successful in recovering sequence data for leptothecate hydrozoans despite being somewhat distantly related to any of the reference taxa. On average, 49 target loci comprising close to 5,000 amino acid residues were recovered for leptothecate species (Table 2). Here, the maximum yield was some 8,000 residues spread across 80 separate loci (Kirchenpaueria sp.). Consistent with the high degree of missing sequence data, gene trees displayed a large amount of discordance for both ingroup and outgroup taxa (Fig. 2).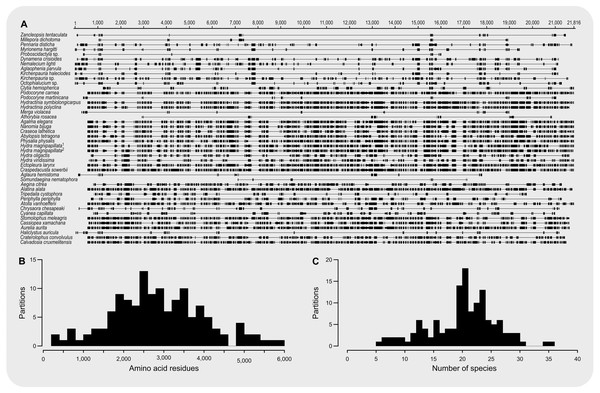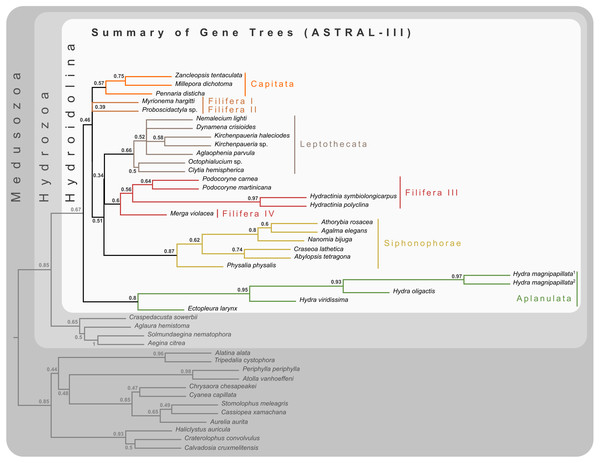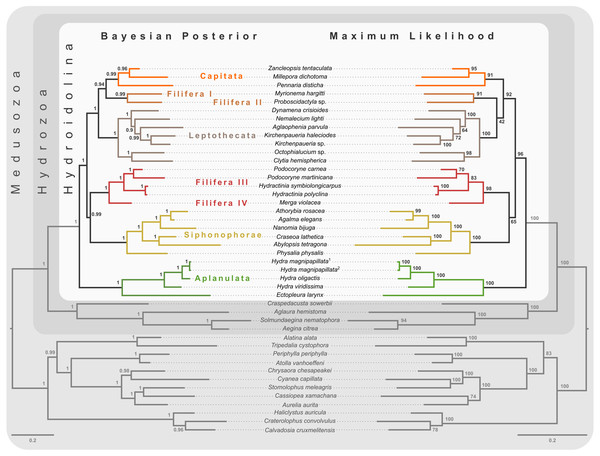 Phylogeny of Hydroidolina inferred from target-capture sequencing
Bayesian MCMC chains using the CAT-GTR model were terminated after some 14,000 iterations, of which the first 3,000 were discarded as burn-in. Chains were thinned by sampling every tenth generation, yielding a mean difference between chains of 9e−4 and a maximum difference of 0.0469. The majority rule consensus of the posterior shows a well-resolved phylogeny with high posterior probabilities for the monophyly of the major ingroup and outgroup clades (Fig. 3). Aplanulata represents the sister group to the remainder of Hydroidolina. As in previous analyses, Filifera represents a polyphyletic taxon. Interestingly, Filifera I plus II are each other's closest relative as are Filifera III plus IV. Filifera I plus II are the closest relatives to Capitata, albeit with a posterior probability slightly less than 0.95; Leptothecata is inferred as sister to the clade of Filifera I plus II and Capiata. Filifera III plus IV are the closest relatives of Siphonophorae.
For ML phylogenetic inference, the best partitioning scheme of the 134 locus dataset contained 25 partitions. In particular, the ML phylogeny was inferred using 22 partitions comprising 128 loci under the LG+G+F model, two partitions with a total of 5 loci under the MTZOA+G+F model, and 1 partition with a single locus under the WAG+G+F model. The ML tree largely agrees with the Bayesian inference (Fig. 3), but differs in the placement of Filifera I plus II relative to Capitata and Leptothecata. In contrast to the Bayesian inference, Filifera I plus II are the sister to Leptothecata rather than Capitata. However, this result lacks support with a bootstrap of less than 50. While the majority of the other nodes in both the in- and outgroup received high bootstrap support, the deep ingroup node uniting Filifera III plus IV and Siphonophorae is weakly supported with a bootstrap of 65. Despite these differences between Bayesian and ML phylogenies, both analyses agree in confidently inferring Aplanulata to be the sister lineage of the rest of Hydroidolina.
Phylogenetic hypothesis testing
Aplanulata represents the most likely sister taxon to the remainder of Hydroidolina (Fig. 4 left) with the alternate hypotheses of Capitata (Fig. 4 center) or Siphonophorae (Fig. 4 right) both receiving low BIC posterior probabilities and being rejected by the AU test. Fully constrained phylogenetic inferences provided further insight into the relationships within Hydroidolina (Fig. 5A). Two phylogenies, T2 (cf. Cartwright & Nawrocki, 2010) and T3 (cf. Kayal et al., 2015), were rejected by the AU test (Table 3). Interestingly, T2 had a higher likelihood than T3, indicating a worse fit of T3 to the data compared to T2. T0 and T1 were constrained following the Bayesian and Maximum likelihood phylogenies inferred herein (Fig. 3). Both tree hypotheses are roughly equally likely, with the maximum likelihood phylogeny T1 being a slightly better fit to the data using maximum likelihood tree searches (Table 3). Constrained Bayesian searches using T0 and T1 as priors generated a sample of 27,000 log likelihoods from the posterior, with chains mixing well after burn-in (Fig. 5B). The marginal likelihood of T0 was higher than the marginal likelihood of T1 under the GTR model while the marginal likelihood of T1 was higher under the F81 model (Fig. 5C). Under the GTR substitution model, T0 is better at predicting the data than T1 (BF10 = 10.48; Fig. 5D). By contrast, T1 is favored under the F81 model (BF10 =  − 8.84; Fig. 5D).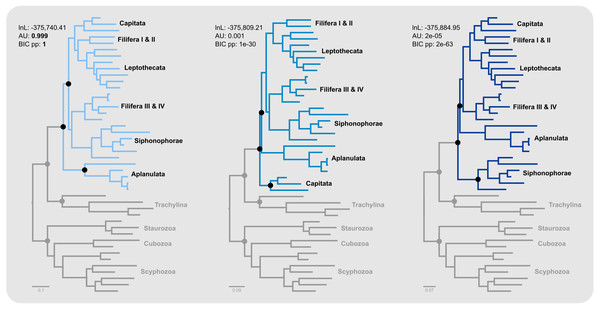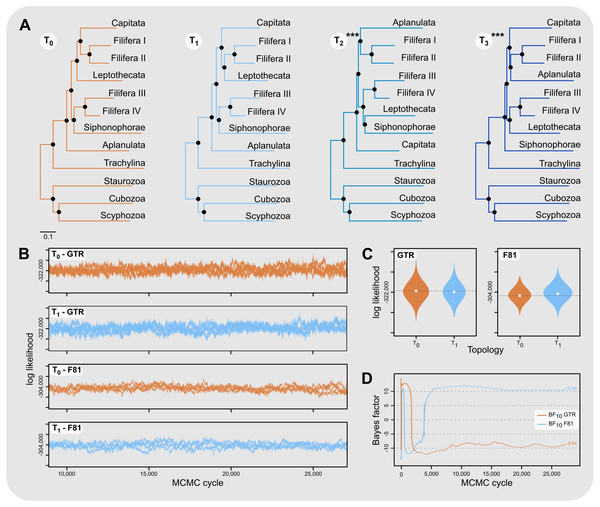 Discussion
A new phylogenetic hypothesis for Hydroidolina
Despite highly variable recovery rates of target loci that leave large gaps in the final alignment (Fig. 1A), the dataset analyzed here provides high resolution of the deep phylogeny of Hydroidolina (Fig. 3) even though discordance among gene trees is apparent (Fig. 2). Considering the ancient radiation of medusozoan cnidarians, the gene tree discordance observed here is unlikely a result of incomplete lineage sorting but rather the result of gene tree estimation error driven by the limited information contained in individual amino acid alignments. Coalescent-based summary methods lack accuracy in the presence of substantial gene tree estimation error (Warnow, 2015) and, under these conditions, phylogenetic analyses of fully partitioned concatenated alignments are preferable over summary methods that implement multi-species coalescent models (cf. Molloy & Warnow, 2018; Bryant & Hahn, 2020). While missing data could affect tree topology inference from concatenated alignments, in practice accurately placing taxa despite missing information is often not a major concern (Wiens & Morrill, 2011). Indeed, we were able to infer a well-resolved phylogeny by combining a publicly available data-rich amino acid sequence dataset with new data from key hydrozoan taxa that have so far been absent from multi-gene phylogenomic datasets. Overall topologies recovered in our phylogenetic inferences are consistent with previous phylogenomic analyses (Zapata et al., 2015; Kayal et al., 2018). While neither Zapata et al. (2015) nor Kayal et al. (2018) included sufficient taxa representing Hydroidolina to allow for much insight into the evolutionary history of the group, both recovered Aplanulata as the sister clade of the remaining hydroidolinan groups, a placement we confirmed after comprehensively sampling higher-level taxa of Hydroidolina (Fig. 3). This placement is at odds with previous phylogenetic treatments of Hydroidolina that inferred a more recent origin of Aplanulata within Hydroidolina as sister of Filifera I plus II (Cartwright & Nawrocki, 2010; Kayal et al., 2015). Placing Aplanulata as the sister-group of Hydroidolina has potentially far-reaching consequences for our understanding of hydrozoan evolution. Aplanulata is dominated by solitary polyp-forming taxa, a trait common in other medusozoans but rare across Hydroidolina in which colonial hydroids, many of which are polymorphic, displaying a reproductive division of labor, dominate (Cartwright & Nawrocki, 2010; Cartwright, Travert & Sanders, 2020). As such, the placement of Aplanulata as sister to the remainder of Hydroidolina suggests that the last common ancestor of Hydroidolina possessed a solitary polyp that produces medusae as part of a metagenetic life cycle in which an asexually reproducing polyp generation alternates with a sexually reproducing medusa generation (cf. Bentlage et al., 2018). Pending formal analyses using ancestral state reconstructions with greater taxon sampling, the evolution of coloniality and division of labor, including losses of metagenesis (lack of free-swimming medusae), are likely derived traits in Hydroidolina.
| Constraint | Log likelihood | Likelihood ratio | AU | BIC posterior |
| --- | --- | --- | --- | --- |
| T0 | −375,741.33 | – | 0.54 | 0.282 |
| T1 | −375,740.41 | −0.92 | 0.60 | 0.718 |
| T2 | −375,844.52 | 103.19 | 2e−4 | 4e−46 |
| T3 | −375,944.68 | 203.35 | 4e−4 | 1e−89 |
Ingroup relationships within Hydroidolina appear largely congruent across the Bayesian posterior tree set and the maximum likelihood phylogeny with the exception of the placement of Filifera I plus II with respect to Capitata and Leptothecata (Fig. 3). One possible explanation for this disagreement may be that the substitution matrix-based models used for maximum likelihood inference here are potentially less accurate in reflecting the substitution process that led to the observed data. Exploratory partitioning analyses with PartitionFinder suggested that substitutions in a significant number of partitions should be inferred using the GTR model. However, benchmarking of partitioning analyses under the GTR model indicated that computational time would be prohibitive to search across this large parameter space. To address this issue, partitioning schemes were inferred using simpler substitution matrices (i.e., LG, WAG, and MtZoa). Regardless of this poorly supported topological difference in the placement of Filifera I plus II (Fig. 3), the overall relationships recovered are consistent across analyses but at odds with previous phylogenetic hypotheses of Hydroidolina (cf. Cartwright & Nawrocki, 2010; Kayal et al., 2015). Despite conflicts between the phylogenetic hypotheses presented here and previous treatments of Hydroidolina, a consistent result that has emerged over the last decade is the polyphyly of Filifera. In agreement with prior phylogenetic hypotheses (Cartwright & Nawrocki, 2010; Kayal et al., 2015), we find that Filifera I plus II forms a monophyletic clade, as does Filifera III plus IV. As of now, these clades remain without clear definition based on morphological or life history characteristics but Cartwright et al. (2008) provide the most detailed discussion of possible synapomorphies of hydroidolinan clades to date.
Phylogenetic tree selection
Our results appear unequivocal on the position of Aplanulata as sister to the remaining lineages of Hydroidolina (Figs. 2–4). To facilitate discriminating between competing hypotheses of hydroidolinan relationships, we quantified the evidence for the set of alternate phylogenetic hypotheses (Fig. 5A) in light of the multi-locus dataset analyzed here. Likelihood ratio statistics (Table 3) indicate that the phylogenies proposed in this contribution (Fig. 3; Fig. 5A T0 and T1) are a better fit than either the previously published rDNA (Fig. 5A T2; Cartwright & Nawrocki, 2010) or mitochondrial genome-based (Fig. 5A T3; Kayal et al., 2015) phylogenetic hypotheses. Indeed, T2 and T3 were rejected by the AU test while neither T0 nor T1 could be rejected (Table 3). In addition, the majority rule consensus of the Bayesian posterior (T0) and the maximum likelihood topology (T1) received high BIC-based posterior probabilities compared to the very small posterior probabilities of the alternate hypotheses (Table 3).
The hypothesis tests above reduced the set of credible trees by eliminating unlikely tree topologies. The procedures employed rely on the likelihood of a single phylogeny, implicitly assuming that the tree is known without error. Resampling of site likelihoods from this best tree was used to estimate variances of tree likelihoods for comparisons. Bayesian approaches that estimate the posterior probability distribution of phylogenetic hypotheses allow averaging across tree topologies and branch lengths for more comprehensive incorporation of uncertainty into comparisons of phylogenetic trees but may be affected adversely by misspecifications of the prior (e.g., Bergsten, Nilsson & Ronquist, 2013). Bayes factors incorporate phylogenetic uncertainty in model comparisons by employing ratios of marginal likelihoods and allowed us to quantify the weight of evidence for a topological hypothesis under a given amino acid substitution model. We found that T0 predicts the alignment data best under the GTR model while T1 predicts the alignment best under the simpler F81 model (Figs. 5C & 5D). The difference between these two topologies is limited to the placement of Filifera I plus II with respect to Capitata and Leptothecata (Fig. 3) and we suspect that the sensitivity to model choice may be driven by the lack of data for Filifera I plus II (Fig. 1) and the resulting gene tree discordance (Fig. 2).
Despite being unable to confidently choose a single phylogenetic hypothesis as fitting the data best using maximum likelihood and Bayesian hypothesis testing frameworks, the phylogenetic hypotheses presented in this contribution (Fig. 3) consistently display high predictive power for the alignment data compared to the alternate hypotheses proposed previously. Consequently, we suggest that our phylogenetic framework for Hydroidolina represents the most viable hypothesis of hydroidolinan relationships to date. That said, further studies with additional taxa and characters are still needed to assess the validity of this working hypothesis and clarify the affinities of Filifera I plus II in particular. Such analyses will also allow for more thorough analyses of the evolution of life history characteristics across this most speciose of medusozoan clades.
Conclusions
This study represents one of only a few attempts at using target-enriched high throughput sequencing to generate a multi-locus alignment for phylogenetic analyses of Cnidaria. Previous attempts had been limited to Anthozoa (Quattrini et al., 2018; Erickson et al., 2021), relying on the greater availability of genomic data for Anthozoa compared to Medusozoa. Despite mixed success in capturing target loci, we were able to generate an informative multi-gene alignment that produced a well-supported phylogenetic hypothesis for Hydroidolina. One drawback of bait-development based on coding sequences alone, as done here, is that baits may inadvertently be designed across intron-exon boundaries which is likely to reduce bait effectiveness. As availability of genomic resources increases, it will be possible to address these issues and apply target capture sequencing approaches routinely to phylogenetic studies of medusozoan cnidarians, building on the growing knowledge-base for designing targeted high-throughput sequencing experiments (reviewed in Andermann et al., 2020). Nonetheless, we were able to address long-standing questions in hydrozoan phylogenetics by applying relevant constraints for discriminating between alternate phylogenetic hypotheses for Hydroidolina. We suggest that the consensus of T0 and T1 (Fig. 5A) represents the most likely tree topology for hydroidolinan evolutionary relationships to date. While the likelihood-based AU test (Table 3) allowed rejection of several alternate topologies, Bayes factors (Fig. 5D) suggested that the choice of substitution model affects the posterior distributions of the two alternate topologies inferred. As such, the most viable representation of phylogenetic relationships of Hydroidolina is the consensus of the two topologies inferred herein.
Supplemental Information
RNA baits used for target capture reactions
Concatenated Multiple Sequence Alignment for Hydroidolina