Experiences of international medical students enrolled in Chinese medical institutions towards online teaching during the COVID-19 pandemic
1
School of Education, Shaanxi Normal University

,

Xi'an, Shaanxi

,

China
2
Faculty of Education, Northeast Normal University

,

Changchun, Jilin

,

China
3
College of Teacher Education, College of Education and Human Development, Zhejiang Normal University

,

Jinhua, Zhejiang

,

China
Published

Accepted

Received
Academic Editor
Subject Areas

Keywords

Medical students

,

Medical education

,

COVID-19

,

Online teaching

,

China

,

Pandemic

,

International students
Copyright

©

2021

Aslam et al.

Licence

This is an open access article distributed under the terms of the Creative Commons Attribution License, which permits unrestricted use, distribution, reproduction and adaptation in any medium and for any purpose provided that it is properly attributed. For attribution, the original author(s), title, publication source (PeerJ) and either DOI or URL of the article must be cited.
Cite this article

2021

.

Experiences of international medical students enrolled in Chinese medical institutions towards online teaching during the COVID-19 pandemic

.

PeerJ

9

:

e12061

https://doi.org/10.7717/peerj.12061
Abstract
Introduction
. The COVID-19 pandemic has forced the world to pause. One hundred and eighty-eight countries have imposed countrywide school closures, affecting more than 1.5 billion children and youths. The majority of academic leaders are currently encouraging online education to resolve this crisis. This study aimed to investigate international medical students' (IMS) experiences of online teaching during the COVID-19 pandemic.
Methods
Data were collected online using a validated questionnaire and one open-ended question, presented on the Google forms platform. The study attracted responses from 1,107 IMS volunteer participants. IBM SPSS v. 25, GraphPad Prism v. 9, and MindManager v. 2018 were used for data analysis. All variables were subjected to descriptive statistical analysis. The Mann–Whitney U test was used in subgroup analysis and the Kruskal-Wallis test was also applied for year-wise comparisons. Open-ended text responses were analyzed qualitatively, extracting themes by which responses were classified.
Results
Among 1,107 respondents, a total of 67.8% were males, and the majority (63.1%) of the IMS were in the age group of 21–23 years. The results show that more than half of the respondents reported their Internet connection quality as poor to average. Poor Internet connection severely affected IMS online learning experience. Persistent and recurrent issues with Internet access became a significant concern for IMS. Lack of electricity is one of the factors that can contribute to poor learning output and dissatisfaction with online teaching. IMS perceive online medical education as unhelpful in several phases of the training, such as improving their clinical skills, knowledge, and discussion skills.
Conclusions
During these unprecedented periods, online teaching has allowed medical education to continue. However, IMS are generally dissatisfied with online teaching. Medical students must visualize the human body, so supportive technologies are important to compensate for the lack of clinical practices. Medical institutions may need to invest in faculty training programs and continually adjust to enhance the content of online training and international partnerships. A switch from conventional face-to-face teaching to a fully functional virtual education framework in the medical education field will take time and experience.
Introduction
Current scenario: the world and China
The twenty-first century is experiencing what may be one of its most devastating events. Now known to the world as the COVID-19 pandemic, the virus swiftly engulfed the whole world with almost 11 million cases in a span of around six months. It has not only increased the global burden of disease but has heavily dented many social systems, including education (Baloch et al., 2021). The World Health Organization (WHO) announced the COVID-19 outbreak initially as a public health emergency of international concern on January 30, 2020 and later declared it a pandemic on March 11, 2020 (WHO, 2020). In China, the first case of novel coronavirus was reported in Wuhan in December 2019 (Chen et al., 2020; Huang et al., 2020). At that time it was not expected to become a pandemic, but by June 20th 2020 COVID-19 had infected more than 8.5 million and killed 460 thousand people globally (Sindiani et al., 2020).
Soon after this viral outbreak, semester break was approaching in China and many international students were returning to their homes for vacations. The Chinese Ministry of Foreign Affairs announced that all students (local and international) must await official permission before returning to their institutions (Wang & Dai, 2020). On 28th March 2020, in view of the rapid global spread of COVID-19, China temporarily suspended the right of foreign nationals holding valid visas or residence permits, including international students, to enter the country (Overseas Security Advisory Council, 2020).
With the growing influence of Chinese education, the number of students in China is increasing (Gu et al., 2020). In 2017, China became the leading destination for international students in Asia (Jianfeng, 2018). China is currently one of the fastest-growing destinations for international medical students (IMS) (Fan, Kosik & Chen, 2013), having received over 68,000 IMS, mostly from Asian and African nations (Li, 2019). More than 10,000 students came to China to study medicine in 2018, most of whom chose a Bachelor of Medicine Bachelor of Surgery (MBBS) program delivered in English. Chinese medical institutions offer an English-taught 6-year undergraduate program (MBBS) that includes 5-year theoretical and practical studies courses and a one-year clinical rotation internship. Successful students receive a bachelor's degree in medicine and surgery at the end of the program. The Chinese government has authorized 49 medical institutions to accept IMS (Chu et al., 2019). Each of those students requires a study visa and many of those planning to work in China after graduation are required to apply for a work visa (Li & Sun, 2019).
The COVID-19 pandemic has forced the world to pause, and countries worldwide have implemented strict policies to avoid disease transmission (Sarwar et al., 2020). It was observed by UNESCO (2020) that 91% of the total global student population has been absent from school in more than 188 countries affected by the pandemic (Koçoglu & Tekdal, 2020).
COVID-19 and online medical education
In order to continue to offer higher education, authorities worldwide issued new recommendations on conversion to online university teaching and most academic leaders are currently encouraging this switch (UNESCO, 2020). In the COVID-19 pandemic situation, universities at all levels worldwide have led their teachers and students to use material conventionally delivered face to face via an online format.
Accelerated development of IT systems and enhancement of Internet mechanisms have allowed online learning to become central to modern global education (Wang, Zhang & Ye, 2020). Moving from on-campus to distance learning may be facilitated by methods such as self-paced independent study and remote interactive workshops, or real-time immersive settings that are needed for distance learning (Cook et al., 2010).
A rise in external resources and teaching programs such as Osmosis and BiteMedicine has allowed many teaching sessions to be available to medical students online (Dost et al., 2020). Learning health and medicine with Osmosis is intended to be fun, with a visual style to help communicate difficult concepts by grounding them with visual memory anchors, memorable characters, and engaging animations (Osmosis, https://www.osmosis.org/about), and BiteMedicine is a free complete resource intended to help medical students excel in their medical studies. Question banks, online textbooks, live webinars and forums are provided to help students to pass their exams (BiteMedicine, https://www.bitemedicine.com).
Several studies indicate that online and blended educational approaches are equivalent to conventional classroom models. However, few studies are based on students and teachers' satisfaction with online education during situations such as the COVID-19 pandemic (Muflih et al., 2020). Appraising a student's simulated learning experience may help assess the effectiveness of an online training program (Hamutoglu et al., 2020).
Medical students' perceptions about online learning
The online learning experiences of medical students globally have been the focus of many recent studies. A national cross-sectional survey (Dost et al., 2020) investigated 2721 UK medical students' perceptions of online teaching during the COVID-19 pandemic. It was concluded that online teaching had allowed the continuity of medical education during these exceptional times. A cross-sectional survey among medical students in the North of Jordan (Sindiani et al., 2020) found that most medical students favored the conventional face-to-face teaching method over the solo online teaching methods.
A survey of Pakistani dentistry graduates found that they were unanimously unhappy with different online teaching sessions (Sarwar et al., 2020). However, a nationwide survey of online teaching strategies in dental education in China found the online delivery to be necessary and effective during the outbreak. The study recommends that the online education model and pedagogy may be enhanced for future delivery of dental education (Wang, Zhang & Ye, 2020).
As mentioned earlier, China is host to many IMS, but to date no study has investigated their online learning experiences. Research on this issue is important as a basis for development of sophisticated online learning-enabled programs. The present study therefore aimed to:
Assess the experiences of IMS regarding the effectiveness of online teaching.

Investigate the challenges faced by IMS in adjusting to this new mode of learning.

Propose practical strategies for medical institutions to address the identified factors.
The findings of this research will serve as the foundation for future applied and intervention studies, as a guide for universities and policymakers worldwide, and may be used to better understand the positive role of online teaching in medical education.
Materials and Methods
A cross-sectional survey design was used for data collection (Fraenkel, Wallen & Hyun, 1993) between January and March 2021 via an online Google-based questionnaire.
Participants
The target population was IMS studying in various medical institutions in China. Undergraduate IMS who were enrolled and took online courses from the first to the fifth year in the 6-year MBBS program were included in this study. A total of 1,107 IMS from fifteen medical institutions across China were recruited by simple random sampling in which each member of the population has an equal chance of being selected. This approach removes bias from the selection procedure and should result in a representative sample (Gravetter & Forzano, 2011). Ideally, a sample size of more than a few hundred is required in order to apply this sampling technique (Saunders, Lewis & Thornhill, 2009). The present study sample size was determined using an Open-Epi online calculator. If 50% of the target population subjects were interested in participating, a sample size of 385 would be required to assess the estimated proportion at 5% absolute precision and 95% confidence (Dhand & Khatkar, 2014). Moreover, a sample size of about 400 should be sufficient for a large population (Krejcie & Morgan, 1970). The G*Power 3.1 calculator was used to compute statistical power of 0.95, above the value of 0.80 considered adequate in social science research (Hair et al., 2016; Uttley, 2019).
Instrument
The data collection tool consisted of two parts: a questionnaire and an open-ended question.
Questionnaire
A validated questionnaire (Sarwar et al., 2020) in English consisting of 31 items (without sub-dimensions or inverse items), with a mixture of question styles including 5-point Likert-type questions, was used to collect the data (File S1). The questionnaire is considered highly reliable, the Cronbach's alpha value of the original version being 0.78 (Sarwar et al., 2020). The current authors checked validation prior to the final data collection and found Cronbach's alpha value of 0.83 indicating an acceptable level of internal consistency. This questionnaire was designed and used to measure the self-reported effectiveness of medical e-learning classes during the COVID-19 pandemic. The questionnaire explored the following three themes (1) Demographics of participants (2) General information about technology readiness and online classes (3) Effectiveness of online classes.
Opinions about online teaching
The current researchers added one open-ended question asking ''Please tell us the three most crucial improvements required to make online sessions more effective and anything you want to share; please feel free to share'' intended to gather IMS perspectives about the challenges they face during online teaching and their suggestions for improvements to make online sessions more effective.
Ethical considerations and participation
Ethics committee approval was received from Shaanxi Normal University's institutional review board (reference number AR 2021-01-001). IMS were given brief information about the study and were invited to agree to participate using the consent form on the first page of the online questionnaire. Participation was voluntary, and before beginning the survey, participants were told that all data obtained would be anonymous and would be used for research purposes only. At the start of the survey, a mandatory email id was required to validate participation, affirming consent and preventing multiple responses.
Data collection
The survey was created using Google forms, and the link was distributed to IMS globally via social media (WeChat, WhatsApp, Facebook and others). The authors also contacted some known IMS and invited them to let others know about this study to minimize non-response bias. Response rate could not be determined since the number of IMS who were aware of the study was unknown.
Data analysis
Data were exported from Google Forms for data analysis using IBM SPSS v. 25. GraphPad Prism v. 9 was used to generate graphs, and MindManager v. 2018 was used to draw the coding map. Shapiro–Wilk and Kolmogorov–Smirnov normality tests were used to examine whether the data were distributed normally, which found the data set to be non-Gaussian in distribution. Descriptive statistical analysis was performed on all the variables. Mann–Whitney U tests were used in subgroup comparisons between public and private sector and male and female IMS. Kruskal–Wallis tests followed by Mann–Whitney U tests were used for year-wise comparisons. P values of < 0.05 were considered statistically significant.
Content analysis, a qualitative data analysis method, was used to categorize the open text responses. The main purpose of content analysis is to capture the concepts and correlations that may explain the collected data (Şimşek & Yıldırım, 2011). Two members of the research team coded and classified the open-ended responses separately. Then, they collectively did this based on the analysis of the core concept for each aim. To ensure authenticity, investigator triangulation was used (Ma et al., 2009). A three-step coding approach was used to further refine the analysis of responses to the open-ended question.
A thematic analysis technique was used to identify, deduce and record trends in the responses (Clarke & Braun, 2013; Ritchie et al., 2013). A three-step coding approach was adopted (Gioia, Corley & Hamilton, 2013), similar to Strauss and Corbin's open and axial coding (1990). The first step involved coding all the open-ended responses into several codes, then axial coding (Corbin & Strauss, 2014) was used to merge similar codes that were revealed during the first step, and cluster the codes into a less tangible form (Gioia, Corley & Hamilton, 2013). In the final step (Fig. 1) all similar codes that were found in the second step were grouped into three themes; (a) IMS perception of online teaching, (b) Barriers to online teaching, and (d) Future strategies for online teaching (Gioia, Corley & Hamilton, 2013) and the frequency of the codes was calculated (Fig. 2).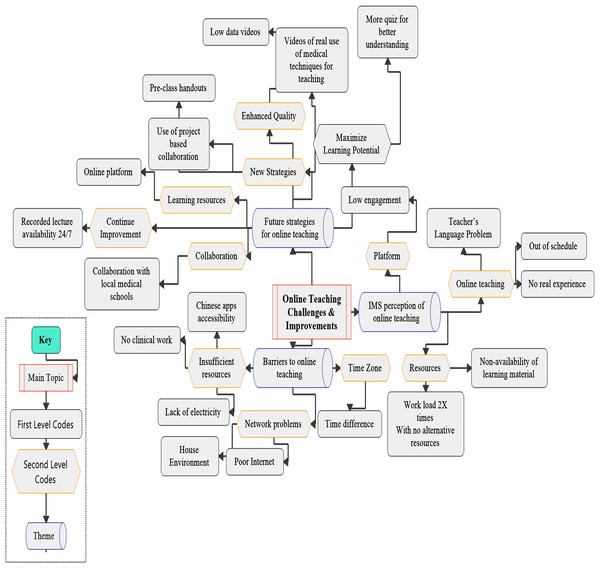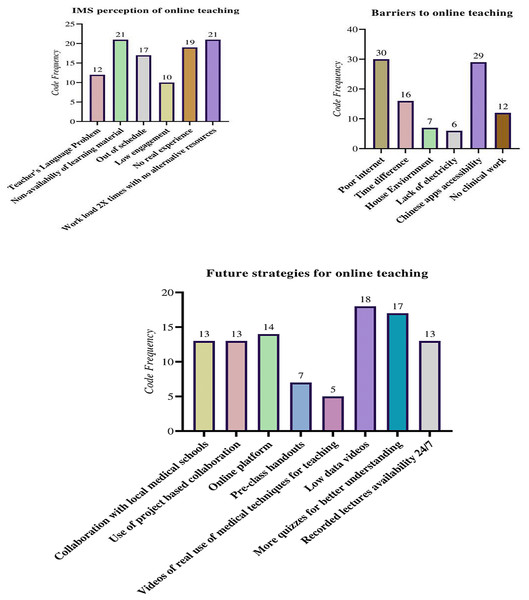 Discussion
The COVID 19 pandemic forced educational institutions worldwide to adapt and implement online platforms for teaching (Akram et al., 2021; Wu et al., 2020). Here, we discuss how this situation has shaped the use of online teaching. Some of the findings were correlated with similar challenges in different environments; it is important to remember that our results reflect students' diverse experiences from 12 countries. This investigation revealed dissatisfaction with online teaching among IMS enrolled with different medical institutions in China during the pandemic period. Previously, the courses included a rudimentary online medical education presence but the COVID-19 outbreak triggered much higher reliance on online teaching (Dost et al., 2020) and students became acquainted with various online learning methods and forums (Dhawan, 2020).
Conclusions
This study explored the perspectives of IMS regarding the effectiveness of online teaching, challenges in adjusting to this new mode of learning and proposed practical strategies for medical institutions based on the identified factors. IMS' dissatisfaction with the various components of the online teaching indicates a need for medical institutions to enhance online learning. IMS suggested strategies including investment in faculty professional development and modification of online course content. More international collaboration may increase the quality and accessibility of online medical education. Virtual teaching, especially clinical simulation arrangements, should be developed collaboratively by advanced and developing countries, and would be helpful to IMS and assessment strategies. We recognize that COVID-19 has proven to be an extraordinary threat at the global level (Baloch et al., 2021) to which medical institutions have responded, but online education needs to be developed further. It will take time and experience to switch from a conventional face-to-face teaching approach to a fully functional virtual education framework in the medical education field.
Supplemental Information
SPSS data sheet.
Questionnaire used for data collection.