Plastic response of Medicago sativa L. root system traits and cold resistance to simulated rainfall events
Institute of Animal Science, Chinese Academy of Agricultural Sciences

,

Beijing

,

China
Published

Accepted

Received
Academic Editor
Subject Areas

Keywords

Medicago sativa L.,

Irrigation intervals

,

Root system traits

,

Root architecture

,

Rainfall events

,

Cold resistance
Copyright

©

2021

Li et al.

Licence

This is an open access article distributed under the terms of the Creative Commons Attribution License, which permits unrestricted use, distribution, reproduction and adaptation in any medium and for any purpose provided that it is properly attributed. For attribution, the original author(s), title, publication source (PeerJ) and either DOI or URL of the article must be cited.
Cite this article

2021

. Plastic response of Medicago sativa L. root system traits and cold resistance to simulated rainfall events.

PeerJ

9

:

e11962

https://doi.org/10.7717/peerj.11962
Abstract
Climate change (rainfall events and global warming) affects the survival of alfalfa (Medicago sativa L.) in winter. Appropriate water management can quickly reduce the mortality of alfalfa during winter. To determine how changes in water affect the cold resistance of alfalfa, we explored the root system traits under different rainfall events and the effects on cold resistance in three alfalfa cultivars. These were exposed to three simulated rainfall events (SRE) × two phases in a randomized complete block design with six replications. The three cultivars were WL168, WL353 and WL440, and the three SRE were irrigation once every second day (D2), every four days (D4) and every eight days (D8). There were two phases: before cold acclimation and after cold acclimation. Our results demonstrated that a period of exposure to low temperature was required for alfalfa to achieve maximum cold resistance. The root system tended toward herringbone branching under D8, compared with D2 and D4, and demonstrated greater root biomass, crown diameter, root volume, average link length and topological index. Nevertheless, D8 had less lateral root length, root surface area, specific root length, root forks and fractal dimensions. Greater root biomass and topological index were beneficial to cold resistance in alfalfa, while more lateral roots and root forks inhibited its ability to survive winter. Alfalfa roots had higher proline, soluble sugar and starch content in D8 than in D2 and D4. In contrast, there was lower malondialdehyde in D8, indicating that alfalfa had better cold resistance following a longer irrigation interval before winter. After examining root biomass, root system traits and physiological indexes we concluded that WL168 exhibited stronger cold resistance. Our results contribute to greater understanding of root and cold stress, consequently providing references for selection of cultivars and field water management to improve cold resistance of alfalfa in the context of changes in rainfall patterns.
Introduction
Alfalfa (Medicago sativa L.) has spread widely because of its productivity and palatability. The global area planted with alfalfa is about 3.2 × 107 hm2 and is mainly distributed in the United States, Russia and Argentina (Russelle, 2001). The area planted with alfalfa exceeds 4 × 106 hm2 in China (He, 2011), where it is mainly distributed in the high latitudes. There has been frequent crop failure due to winter conditions in recent years, such as the "Easter freeze" of 2007 in the United States (Augspurger, 2009) and the frost in northern China from 2012 to 2020 (Yang et al., 2019). The failure of alfalfa to overwinter not only causes huge economic losses (Castonguay et al., 2006), but also reduces biological nitrogen fixation and increases nitrous oxide emissions from agronomic ecosystems, leading to an increased risk of global warming (Crews & Peoples, 2004; Robertson, Paul & Harwood, 2000). The IPCC Fifth Assessment Report showed that the average temperature of the world had risen by 0.85 °C in the past 100 years and by 1 °C in China over the past few decades (Fang et al., 2018). Two major factors linked to climate change are likely to affect plant winter survival: changes in precipitation and temperatures (Bélanger et al., 2002; Bélanger et al., 2001). Extreme low temperature is more likely to reduce the survival rate of alfalfa in winter owing to reduced snowfall, and greater temperature fluctuation can make alfalfa break dormancy prematurely, exposing vulnerable buds to subsequent killing frost and causing sustained damage (Augspurger, 2009). Modeling of global climate change has predicted that alfalfa death due to reduced snowfall and greater temperature fluctuation will occur more frequently in the future (Carol, 2013; Ji et al., 2017).
Alfalfa needs to undergo a period of low temperature and a short photoperiod to obtain its freezing tolerance, and this is known as cold acclimation (Theocharis, Clement & Barka, 2012; Trischuk et al., 2014). Appropriate cultivation measures are also an effective way to improve cold resistance. Water plays an important role in the winter hardiness of alfalfa because freezing injury is mainly caused by cell dehydration (Xu et al., 2020a; 2020b; Zhang et al., 2015). Water can not only affect the cold resistance of alfalfa by changing the morphology and spatial distribution of the root system, but also protect cells from low-temperature damage through physiological metabolic pathways (Castonguay et al., 2006). In addition to precipitation amount, the impact on root growth also includes precipitation timing and interval. Research has shown that precipitation events have different effects on various plants, and high-frequency light precipitation events were found to have a greater impact on herbaceous plants (Schwinning & Sala, 2004; Schwinning, Starr & Ehleringer, 2003). The root system is key to the ability of alfalfa to resist low temperature. Plants can regulate root system development in response to dynamic changes in soil moisture (Comas et al., 2013; Li et al., 2020). Previous studies have documented that below-ground biomass (BGB) (Larson & Smith, 1963; Liu et al., 2015), root crown (Larson & Smith, 1963; Liu et al., 2015; Schwab et al., 1996), lateral roots (Liu et al., 2015; Smith, 1951) and root system spatial distribution (Castonguay et al., 2006) all affect the cold resistance of alfalfa. According to the cross acclimation theory (Kong & Henry, 2019a; 2019b), low-frequency heavy precipitation will increase the time plants spend in drought conditions, and so improve the cold resistance of alfalfa. This is because drought can enhance the antioxidant capacity and osmotic regulation of plants, including changes in malondialdehyde (MDA) (Schwab et al., 1996), proline (Pro) (Janska et al., 2010), soluble sugars (SS) (Trischuk et al., 2014) and starch content (Xu et al., 2020a), and these are closely related to the cold resistance of alfalfa. MDA reflects the degree of membrane lipid peroxidation in the cell membrane, and its content is directly proportional to the low temperature injury of alfalfa (Schwab et al., 1996). Proline improves the cold resistance of plants by regulating osmotic balance and increasing protein solubility (Janska et al., 2010). Soluble sugar acts as osmotic regulator, cryoprotectant, and signaling molecule to stabilize the cell membrane and scavenge reactive oxygen species under low temperature (Trischuk et al., 2014). Starch can be broken down into soluble sugar to improve the cold resistance of alfalfa (Xu et al., 2020a).
Our experiment simulated the effects of different precipitation patterns on alfalfa root traits and cold resistance. The purpose was to: (1) study the response of root morphology and spatial distribution to different precipitation events; (2) clarify the relationship between root traits and cold resistance; (3) explain the effect of different precipitation patterns on cold resistance; (4) clarify whether precipitation patterns have differences in the root traits of alfalfa cultivars. These are of great significance since the water management could prove important for increasing cold resistance.
Materials & Methods
Experiment location and materials
This experiment was conducted in a controlled greenhouse at the Institute of Animal Science, Chinese Academy of Agricultural Sciences (Beijing, China) from May to September 2020, with 25 °C/20 °C (day/night), 14 h/10 h (light/dark) and photosynthetic photon flux density of 350 μmol·m−2·s−1 at 60–65% relative humidity. Alfalfa seeds were disinfected with sodium hypochlorite (1% NaClO) for 30 min and washed with deionized water five times. We then selected seeds of the same size and germinated them in a Petri dish with 14 h light and 10 h dark at 25 °C. After 72 h we moved three germinant seeds into one polyvinyl chloride (PVC) pipe with an inner diameter of 18 cm and height of 50 cm. A nylon mesh bag was placed in each pipe (to facilitate later sampling) and this was filled with 2.5 kg of sterilized dry mixture with a volume ratio of 4:1 sandy soil and nutrient soil mixture. The nutrient soil mixture is a cultivation medium (composed of peat moss and lime), named TS1, produced by Klasmann–Deilmann. TS1 contains 1.6% total nitrogen, 0.1% P2O5, 0.2% K2O (N: P: K = 14:10:18) and 91% of organic matter, with a conductivity of 0.9 dS/m and pH of 5.8. The water-holding capacity (WHC) of the mixture was measured to be 38.35%. One plant was left in each PVC pipe 1 week after transplanting according to its height (about 15 cm), and cultivation continued for another 2 weeks before subsequent experimentation. The soil moisture content was kept at 60–65% WHC by weighing the pipe every second day. Weeds and pests were removed regularly.
Experiment designs and treatments
A randomized complete block design was used, with three alfalfa cultivars (C), three simulated rainfall events (SRE) and two phases. The three alfalfa C were WL168, WL353 and WL440 (with a fall dormancy score of 2, 4 and 6, respectively; provided by Beijing Zhengdao Seed Industry Co., Ltd.). These are commonly planted in large areas of northern China and represent the range in fall dormancy scores of alfalfa C grown in the region. The three SRE were: irrigation once every second day (D2), every four days (D4) and every eight days (D8). D2 represented a high-frequency light precipitation and D8 represented a low-frequency heavy precipitation. The two phases were phase 1 (before cold acclimation) and phase 2 (after cold acclimation). The combined 3 × 3 × 2 × 6 repetitions = 108 PVC pipes.
According to the preliminary test, the soil moisture content of D2, D4 and D8 before the next irrigation was about 50%, 40% and 30% of WHC respectively. We carried out three irrigation interval treatments, and total irrigation quotas remained the same between different treatments and determined by D2 (keeping the soil moisture content at 60–65% of the WHC by weighing every second day). After 8 weeks we carried out phase 1 sampling (3 × 3 × 6 = 54 pipes in total, as shown in Fig. 1). The aboveground and underground parts were separated and then carefully removed from the nylon mesh bag in each PVC pipe to minimize damage to the spatial distribution of the root system. The root surface mixture was washed away gently with distilled water by hand and the roots were placed evenly in a transparent acrylic tray with 1,200 mL of distilled water. They were then scanned with a MICROTEK Scan Maker i800plus (Microtek Technology Co., Ltd., Shanghai, China) with a resolution of 600 dpi. Immediately after scanning, about five cm of the root crown was used to determine electrical conductivity and physiological indicators. We divided the sample into two parts, one part was used for the determination of LT50, the other part was used for the determination of physiological indicators. The remainder of the root was measured to calculate biomass. The aboveground and underground parts were weighed after being placed in an oven at 65 °C for 48 h and the dry weight were above-ground biomass (AGB) and below-ground biomass (BGB).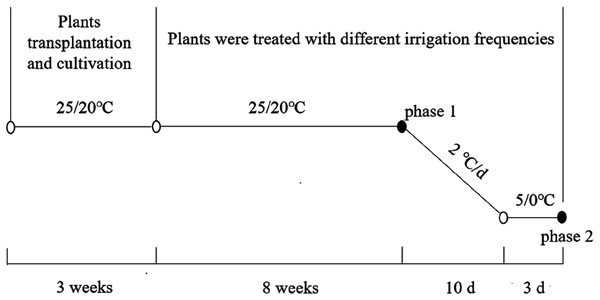 The rest half of the experimental plants were moved to an LRH-200-GD low-temperature light incubator (Taihong Medical Instruments, Guangdong, China) for the low-temperature experiment (phase 2). The initial temperature was 25 °C/20 °C (day/night) with a photoperiod of 10 h light and 14 h dark, and the photosynthetic photon flux density was 350 μmol·m−2·s−1. The temperature was decreased to 5 °C/0 °C (day/night) at a rate of 2 °C·d−1 and the light intensity was decreased to 150 μmol·m−2·s−1 at a rate of 20 μmol·m−2·s−1·d−1, simulating the cold adaptation environment of alfalfa. Sampling was carried out after a further 72 h of cold acclimation. During this phase of the experiment, plants were watered as in the previous phase. The root was carefully rinsed by hand with distilled water after the test and the root crown sample was divided into two parts. One part was used for the measurement of electrical conductivity and the other for physiological indicators (kept at −80 °C).
Measurements
Root morphological indicators
We used a Win-RHIZO 2017a (Regent Instruments, Inc., Quebec, QC, Canada) to analyze the scanned images (Fig. 2). The process included thresholding, framing, editing breakpoints and eliminating loops to obtain the root morphological indicators, root length, root surface area (RSA), root volume (RV), root forks (RF) and average link length (ALL). Topological index (TI) and fractal dimensions (FD) were obtained by calculation.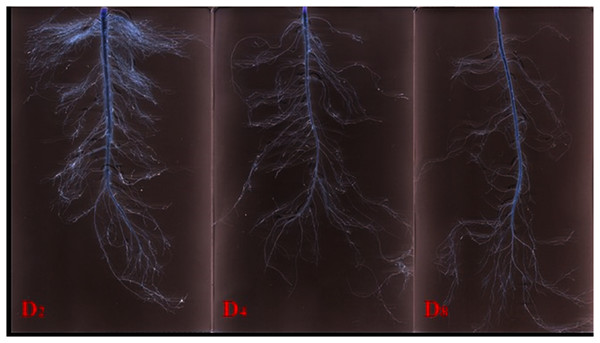 TI is used to reflect the spatial structure of different root systems and is defined as log altitude (A)/log magnitude (M) where A is the number of links in the longest path from an exterior link to the most basal link of the root system and M is the total number of the exterior links (Bouma et al., 2001). When TI is close to 0.5, the root system tends to a dichotomous branching and when close to 1 it tends to herringbone branching. FD were obtained according to the box-dimension method (Bouma et al., 2001; Fitter, 1986; Fitter et al., 1991; Harrar & Hamami, 2007).
Semi-lethal temperature
The semi-lethal temperature (LT50, the temperature at which the relative permeability of intracellular ions attains 50%) was used to represent the cold resistance of alfalfa in this study (Anower et al., 2016). We took the five cm underground taproot as the root crown, and then we cut the root crown into nine pieces of 2–3 mm (based on length instead of diameter), and these pieces were put into nine 2-mL centrifuge tubes (Xu et al., 2020a). Tubes were placed at 8 °C for 2 h. The subsequent freezing test was conducted in a ZX-5C constant-temperature circulator (Zhixin Instrument, Shanghai, China) under a decreasing series of nine temperatures, and tubes with samples were kept in alcohol for 1.5 h at each temperature. The temperatures of the alcohol were different due to the difference between the LT50 under the two treatments. For the samples collected in phase 1, nine temperatures were set to 8 °C, 6 °C, 4 °C, 2 °C, 0 °C, −2 °C, −4 °C, −6 °C and −8 °C. For the samples collected in phase 2, nine temperatures were set to 0 °C, −2 °C, −4 °C, −6 °C, −8 °C, −10 °C, −12 °C, −14 °C and −16 °C. After 1.5 h at the first temperature in each phase, one tube was transferred to storage at that temperature; after 1.5 h at the second temperature another tube was removed for storage at that temperature; and so on until all nine tubes in each phase were stored at their designated temperatures. We then removed the pieces of root crown from each 2-mL tube and placed them in one 15-mL tube and added 5 mL deionized water. This tube was shaken on an HZQ-A gyratory platform shaker (Hengrui Instrument and Equipment, Changzhou, China) at 120 rpm for 12 h at 25 °C. Next used a conductivity meter FE38 (Mettler, Shanghai, China) to measure the electrical conductivity as EL1. The sample was autoclaved at 121 °C for 30 min and, on remeasuring, its electrical conductivity was found to be EL2. The electrical conductivity of deionized water was EL. Relative electrolyte leakage can be calculated according to Eq. (1) and the semi-lethal temperature can be calculated by logistic Eq. (2). In Eq. (2), x is the freezing temperature, y is the relative electrical leakage and A, B and k are constants:
(1)
(2)
Statistical Analyses
Shapiro–Wilk test and Levene test showed that all data in this experiment obeyed a normal distribution and satisfied the homogeneity of variance. Data in this study were subjected to a two-way analysis of variance between treatments using SPSS 20.0 (SPSS Inc., Chicago, IL, USA). Multiple range tests were performed using least significant differences, and differences were considered significant at p < 0.05 and p < 0.01; ns was not significant. Principal component analysis (PCA) was also conducted in this experiment.
Conclusions
In our study, a low-frequency heavy precipitation significantly enhanced the cold resistance of alfalfa compared with a high-frequency light precipitation. The increase in root biomass and crown diameter, and the decrease of lateral root length and root surface area may have contributed to the difference in LT50 among plants receiving the different treatments. A fewer root forks and a bigger topological index may reduce the redundant consumption of the root system, which is beneficial to improve the cold resistance of alfalfa in a low temperature environment. Alfalfa with high fall dormancy grade has more below-ground biomass and less lateral root, and these characteristics are conducive to rapid acquisition of cold resistance. Simultaneously, a longer irrigation interval facilitated the accumulation of proline and soluble sugar content. These conclusions provide support for winter water management of alfalfa and selection of varieties in areas of high latitude.