The importance of molecular characters when morphological variability hinders diagnosability: systematics of the moon jellyfish genus Aurelia (Cnidaria: Scyphozoa)
Published

Accepted

Received
Academic Editor
Subject Areas

Keywords

Cryptic species

,

Diagnosis

,

DNA barcoding

,

Medusa

,

Phylogeny

,

Species delimitation

,

Species description

,

Synapomorphy

,

Taxonomy
Copyright

©

2021

Lawley et al.

Licence

This is an open access article distributed under the terms of the Creative Commons Attribution License, which permits unrestricted use, distribution, reproduction and adaptation in any medium and for any purpose provided that it is properly attributed. For attribution, the original author(s), title, publication source (PeerJ) and either DOI or URL of the article must be cited.
Cite this article

2021

. The importance of molecular characters when morphological variability hinders diagnosability: systematics of the moon jellyfish genus Aurelia (Cnidaria: Scyphozoa)

PeerJ

9

:

e11954

https://doi.org/10.7717/peerj.11954
Abstract
Cryptic species have been detected across Metazoa, and while no apparent morphological features distinguish them, it should not impede taxonomists from formal descriptions. We accepted this challenge for the jellyfish genus Aurelia, which has a long and confusing taxonomic history. We demonstrate that morphological variability in Aurelia medusae overlaps across very distant geographic localities. Even though some morphological features seem responsible for most of the variation, regional geographic patterns of dissimilarities are lacking. This is further emphasized by morphological differences found when comparing lab-cultured Aurelia coerulea medusae with the diagnostic features in its recent redescription. Previous studies have also highlighted the difficulties in distinguishing Aurelia polyps and ephyrae, and their morphological plasticity. Therefore, mostly based on genetic data, we recognize 28 species of Aurelia, of which seven were already described, 10 are formally described herein, four are resurrected and seven remain undescribed. We present diagnostic genetic characters for all species and designate type materials for newly described and some resurrected species. Recognizing moon jellyfish diversity with formal names is vital for conservation efforts and other studies. This work clarifies the practical implications of molecular genetic data as diagnostic characters, and sheds light on the patterns and processes that generate crypsis.
Introduction
Challenges in 21st century taxonomy
As genetic datasets necessary for species delimitation have grown, "integrative taxonomy" that explicitly incorporates molecular data (Dayrat, 2005) is becoming more common. Yet, taxonomy has always been integrative, relying on a broad range of available data that expand with the advent of new technologies, and it is no surprise that derived biological information should also be included (Valdecasas, Williams & Wheeler, 2008). That said, it is important to note that integration should be conducted with thoughtfulness and rigor in order to assess the utility of different lines of evidence and their use for constructing species hypotheses (Valdecasas, Williams & Wheeler, 2008; Conix, 2018). For example, DNA barcoding has been proposed as a tool for rapid species identification (Hebert et al., 2003, 2004), but the term 'species identification' has not had a standard meaning in the barcoding literature (Goldstein & DeSalle, 2011; Collins & Cruickshank, 2013; DeSalle & Goldstein, 2019). Further issues relate to adherence of arbitrary distance thresholds (Wiemers & Fiedler, 2007), incomplete reference databases, misidentified sequences and more (Collins & Cruickshank, 2013; Ransome et al., 2017; Paz & Rinkevich, 2020). In spite of these complications, improvements have been made to optimize identification thresholds and assess their viability for certain groups (Virgilio et al., 2012), and it cannot be denied that molecular data have proven vital to the discovery of cryptic species, which are two or more distinct species previously unrecognized due to apparent or real morphological resemblance (Bickford et al., 2007).
Cryptic species seem to occur across all metazoan groups and biogeographic zones, although some studies have suggested phylogenetic and ecological patterns in the distribution of this phenomenon (Bickford et al., 2007; Pfenninger & Schwenk, 2007). However, it is questionable whether cryptic species have been studied thoroughly and broadly enough across taxa to confidently assert such patterns (Trontelj & Fišer, 2009). Indeed, it seems overly simplistic to generalize about cryptic species diversity at the level of phylum, as there is an astounding variety of speciation-related processes that occur at the genus level (Trontelj & Fišer, 2009; see Coyne & Orr, 2004). Lack of morphological characters that can adequately distinguish species should be researched further to deepen understanding of morphological variation and the scope and scale of cryptic diversity. The challenge is particularly acute when one shifts from species delimitation to species description. Recognizing real rather than apparent diversity is essential not only for conservation efforts to define priorities and avoid local extinctions, but also for understanding patterns of, and processes that generate, crypsis (see review in Bickford et al., 2007 and further discussions in Struck et al., 2017).
From species delimitation to description
Taxonomy remains incomplete if discovered entities are not formally described, and species hypotheses are flagged as merely putative, creating parallel worlds populated by numbered candidate taxa (Jörger & Schrödl, 2013). The collapse of taxonomic expertise creates a sense of urgency and increasing reliance on molecular data as the solution for sustainable identification (Hebert et al., 2003). If that is the case, we must reconcile the precise mechanics of these data with the empirical and philosophical rigor of systematics and taxonomy (Goldstein & DeSalle, 2011). Without formal descriptions and testable hypotheses represented by unambiguous names, discovered species are not properly documented, and often not associated to vouchered specimens deposited at museums. Confusion arises from informal naming or numbering schemes of detected lineages when formal taxonomic practice is side-stepped, thereby limiting biodiversity analyses (Jörger & Schrödl, 2013; Pleijel et al., 2008). Many attempts have been made to incorporate DNA sequence information in taxonomic descriptions, such as including GenBank accession numbers, DNA barcode sequences, raw distance measures and phenetic or phylogenetic trees, but rarely are diagnostic sequence characters identified (see reviews and operational terminology in Goldstein & DeSalle, 2011, DeSalle & Goldstein, 2019). Nevertheless, a consensus view holds that species descriptions should be character-based (Bauer et al., 2011).
Even though it may be artificial to assume that the biological reality of a species depends on a number of diagnostic characters, it provides a falsifiable and comparable framework in which to construct and assess species hypotheses (Grant et al., 2006; Bauer et al., 2011). Furthermore, the inclusion of diagnostic characters is required for new species names by the International Code of Zoological Nomenclature (ICZN (International Commission on Zoological Nomenclature), 1999, Article 13.1.1., also see definition for 'character' in its Glossary). There are now computational tools that can provide diagnostic molecular genetic characters, such as CAOS (Sarkar, Planet & DeSalle, 2008), YBYRÁ (Machado, 2015), QUIDDICH (Kühn & Haase, 2019) and DeSignate (Hütter et al., 2020). Even though these programs compile and evaluate diagnostic characters under different strategies, which are yet to be rigorously assessed, they provide a basis for the description of cryptic species. Some efforts have already been made to describe cryptic species (Jörger & Schrödl, 2013; Delić et al., 2017), and even though there is an ongoing increase in recognition of the economic and ecological importance of scyphozoan jellyfishes (Hamilton, 2016; Hays, Doyle & Houghton, 2018), a relative lack of investment still results in a taxonomic impediment today (Gómez-Daglio & Dawson, 2019).
A scyphozoan jellyfish with a long taxonomic history
In the moon jellyfish genus Aurelia, the subject of the present study, taxonomic history dates back to the 18th century, starting with the description of the type species Aurelia aurita (Linnaeus, 1758). Since then, this genus has encompassed as many as eight (Haeckel, 1880), 13 (Mayer, 1910, considering varieties) or seven accepted species (Kramp, 1961). More recently, only two species were recognized, Aurelia limbata Brandt, 1835, which has a brown bell margin and is primarily from temperate regions, and a cosmopolitan nearshore inhabitant A. aurita, which included as synonyms most of the previously proposed names (Larson, 1990; Arai, 1997). In the 2000s, two species (Aurelia labiata Chamisso & Eysenhardt, 1821 and Aurelia marginalis Agassiz, 1862) were resurrected based on morphological and geographical differences (Gershwin, 2001; Calder, 2009), and with the inclusion of genetic data, there were indications of at least another 16 species, some of which are hypothesized to have been introduced in several localities (Dawson & Jacobs, 2001; Schroth et al., 2002; Dawson, Gupta & England, 2005; Gómez-Daglio & Dawson, 2017). The most recent accounts of valid described species is up to 10 (Jarms & Morandini, 2019; Collins, Jarms & Morandini, 2020).
In addition to the evaluation of genetic data, other studies have also reassessed morphological features, taking into consideration morphometric data and not only in the medusa stage (Dawson, 2003), but also in other life cycle stages, such as polyps and ephyrae (Gambill & Jarms, 2014). A recent result of the integration of these morphological reassessments with genetic data delimited and described or redescribed three species that occur in the Mediterranean, Aurelia coerulea von Lendenfeld, 1884, Aurelia relicta (Scorrano et al., 2016) and Aurelia solida Browne, 1905 (Scorrano et al., 2016). However, some of the reported diagnostic morphological features seemed to overlap across these species, and morphological variability was shown to be considerable, especially in the redescribed A. coerulea (see Fig. 6 in Scorrano et al., 2016). Other findings further highlight the widespread potential for high morphological variability, such as ecophenotypic plasticity in Aurelia medusae (Chiaverano, Bayha & Graham, 2016), as well as in the other stages of the life cycle (Chiaverano & Graham, 2017).
In the present study, we re-examine the use of morphological data in Aurelia medusae, the most conspicuous and collected of the life cycle stages, as well as present a molecular genetic phylogeny for the genus, based on mitochondrial and nuclear markers. In addition, we evaluate previous morphological diagnoses proposed for Aurelia species. In combination with recorded geographic distributions, this dataset provides a framework to delimit and describe species, as well as identify new geographical occurrences and potential introductions. With this study, we hope to encourage the transition from species delimitation to description, advance discussions on theoretical and practical applications related to diagnosis from molecular data as part of taxonomy, and expand perspectives for morphological studies to address questions regarding morphological variability, ecophenotypic plasticity, and the evolution of cryptic diversity.
Materials & methods
Morphological data collection
Observations were made on living medusae from aquariums in the USA, and on preserved medusae from museums and universities from the USA, Brazil and Denmark. In total, 173 specimens were analyzed (Table 1; specimen vouchers, identification, sampling sites and correspondence to molecular data of specimens observed are provided in Tables S1–S2). Two live medusae from laboratory cultures at the Laboratory for Cnidarian Studies and Cultivation (University of São Paulo), identified from genetic analyses as Aurelia coerulea (presented further), were also used, but only for the purpose of a direct comparison with the species' redescription in Scorrano et al. (2016). Specimen examinations included scaled photographs and measurements of features that involved "depth" or "thickness", which could not be acquired later from photographs. When necessary, a stereomicroscope was also used for observations. Morphological measurements were acquired from scaled photographs with the program Fiji (Schindelin et al., 2012).
| Institution | City, Province | Country | Live/Preserved | N |
| --- | --- | --- | --- | --- |
| Smithsonian Institution's National Museum of Natural History (USNM) | Washington, DC | USA | Preserved | 81 |
| Zoological Museum of the University of Copenhagen (ZMUC) | Copenhagen | Denmark | Preserved | 25 |
| Yale Peabody Museum of Natural History (YPM) | New Haven, CT | USA | Preserved | 24 |
| Laboratory for Cnidarian Studies and Cultivation of the University of São Paulo (LAB) | São Paulo, SP | Brazil | Preserved | 20 |
| Discovery Place (DP) | Charlotte, NC | USA | Live | 8 |
| American Museum of Natural History (AMNH) | New York, NY | USA | Preserved | 5 |
| Federal University of Bahia (UFBA/MZUFBA) | Salvador, BA | Brazil | Preserved | 3 |
| Museum of Zoology of the University of São Paulo (MZUSP) | São Paulo, SP | Brazil | Preserved | 3 |
| National Aquarium (NA) | Baltimore, MD | USA | Live | 2 |
| Federal University of Ceará (UFC) | Fortaleza, CE | Brazil | Preserved | 1 |
| Florida Museum of Natural History (FLMNH/UF) | Gainesville, FL | USA | Preserved | 1 |
N = number of specimens. Preserved samples were mostly in 4–5% formalin, but sometimes in 70% ethanol. Acronyms of other institutions cited, mostly in the species descriptions are as follows: CAS/CASIZ, California Academy of Sciences, Invertebrate Zoology, USA; MCZ, Museum of Comparative Zoology, Harvard, USA; NHM, The Natural History Museum, United Kingdom; UNIPD, Museum of Adriatic Zoology Giuseppe Olivi, Italy; UNIS_SCY, Laboratory of Zoology and Marine Biology in the University of Salento, Italy.
Characteristics observed from medusae mainly followed Dawson (2003), which included 24 characters, comprising continuous, meristic, and categorical features (Fig. 1, f1-30; Table S3). Sixteen extra characters were added (Fig. 1, f31-46; Table S3), either novel or from previous studies (Gershwin, 2001; Chiaverano, Bayha & Graham, 2016), mainly to unambiguously characterize categorical features, after observing their variation.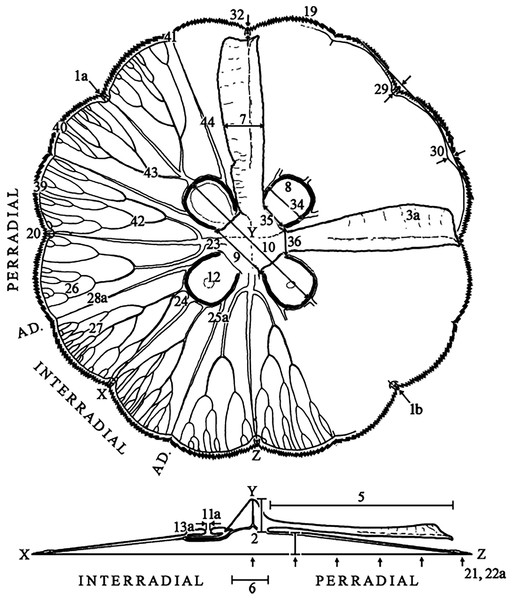 Morphological data analyses
To account for differences in shape, morphology must be characterized regardless of size. As continuous and meristic features in our dataset may vary with size (i.e., bell diameter—f1), we scaled all individuals to the same f1 by adapting the method of Lleonart, Salat & Torres, (2000), which has been previously used for various animals including jellyfish (Chiaverano, Bayha & Graham, 2016). This method considers potential allometric differences that can occur between species or even within species across geographic localities. Specimens analyzed were therefore separated into geographic localities defined by countries, and usually also by region within the country (e.g., southeast–SE). Size corrections followed the formula Y* = Yi (f1m/f1i)b, in which the desired size-corrected feature (Y*) equals its measurement in a specimen (Yi) times the ratio between the average bell diameter in the locality group (f1m) and the bell diameter of the specimen (f1i), this raised to the power of the slope of the relationship between both log-transformed variables Y and f1 from the entire dataset (b), as we did not have enough samples per locality group to obtain significant relationships.
Some morphological characters in 104 of the observed specimens were damaged, missing, or could not be measured by photographs. In this case, prior to the size correction mentioned above, we adapted Lleonart's method to perform estimations of these missing data, using the same formula as before, but considering Yi as the missing variable to be estimated and Y* as the average of the given variable in the locality group. When data for the variable were not present within the locality group, we used data from the closest locality, also accounting for morphological similarity when possible (see details in Table S1).
Features that were mostly invariable or that lacked a significant relationship with f1 were removed from further analyses, as they could bias the resulting dataset. Lastly, we standardized all variables to scale to a minimum of 0 and maximum of 1. Categorical features were excluded from analyses, as they may not be reliable due to the ambiguity seen in the specimens observed. Number of lobes (f19) and number of rhopalia (f20) were also removed as not to bias the results due to potential asymmetric development that may occur in some specimens. Medusae were not differentiated based on presence or absence of gonads, and consequently not between male and female, as size is the main factor influencing variation of morphological features.
In order to compare observed specimens based on the size corrected and scaled continuous and meristic morphological characters described above, we performed multidimensional scaling (MDS, Gower distance), with weighted average scores of variable contributions also mapped within. These analyses were separated into two sets, one that included all specimens with estimated missing data and subsequent size correction and scaling of variables, and another that excluded specimens with missing data, and therefore only size corrections and scaling were performed, to check for potential biases in estimations. Regarding these analysis sets we also computed a Mantel test with 9,999 permutations, to investigate the correlation between a geographic distance matrix (Euclidean distance, based on coordinates) and a morphological difference matrix (Gower distance, based on size corrected and scaled features), excluding aquarium specimens. The comparison of morphological measurements of A. coerulea from lab cultures and the species' redescription was performed by Welch's t-test. All of the corrections, estimations and further analyses mentioned above were performed using the software R version 4 (R Core Team, 2020) and relevant codes are available in GitHub (github.com/lawleyjw/Aurelia).
Molecular data collection
Total DNA was extracted from oral arms of medusae, entire polyps, or entire ephyrae from specimens collected in the field or cultured in the laboratory at the University of São Paulo, using a protocol based on ammonium acetate, adapted from Fetzner (1999) (see Table S4 for details on samples used for molecular genetic analyses). From the mitochondrial genome, we amplified and sequenced two markers: a ~650-bp fragment of the large ribosomal RNA subunit (16S) and a ~650-bp fragment of the cytochrome c oxidase subunit I (COI) (primers derived from Lawley et al., 2016). From the nuclear genome, we obtained the internal transcribed spacer 1 (ITS1) with ~300-bp in length (primers jfITS1-5F, from Dawson & Jacobs, 2001; and ITS-R-28S-15, from Cunha, Genzano & Marques, 2015), and a ~650-bp fragment from the large ribosomal RNA subunit (28S) (primers Aa_L28S_260 and Aa_H28S_1078 from Bayha et al., 2010). Polymerase Chain Reaction (PCR) protocols followed standard procedures. Thermocycler profiles were conducted with initialization at 95 °C for three min, followed by 36–40 cycles of denaturation at 95 °C for 30 s, annealing at 46–58 °C (16S - 46 °C; COI - 52 °C; ITS1 - 57 °C; 28S - 58 °C) for 30–45 s, and extension at 72 °C for 1–2 min. Final extension was further conducted at 72 °C for 10 min. PCR products were purified using Agencourt AMPure XP DNA Purification and Cleanup kit (Beckman Coulter Inc., Brea, CA, USA) and subsequently cycle-sequenced, with the same primers as before, to add fluorescently labeled dideoxy terminators. The above procedures were conducted at the Laboratory of Molecular Evolution (University of São Paulo) and chromatograms were generated on an Applied Biosystems 3730xl DNA Analyzer at the Laboratory of Plant Regulatory Network Signaling (University of São Paulo).
Molecular analyses, species delimitation and descriptions
Sequenced chromatograms were assembled, trimmed and aligned in Geneious Prime 2019.0.4 (Kearse et al., 2012), which also included most sequences available in GenBank for Aurelia and some for Drymonema dalmatinum Haeckel, 1880 (Table S4), the chosen outgroup taxa as it was the most closely related Semaeostomeae to Aurelia (Bayha et al., 2010) with sequences for all markers herein studied. Alignments were performed using the software's implementation of MAFFT (Katoh & Standley, 2013), with the G-INS-i option and other default parameters, later visualized and edited manually to remove leading and trailing gap regions from variations in sequence length. Because the COI alignment did not present any alternative indel positions, which is common for protein-coding regions if introns are absent, the static alignment (sensu Wheeler, 2001) generated with MAFFT was used for phylogenetic analyses. This alignment was submitted to TNT ver 1.5 (Goloboff & Catalano, 2016) and analyzed under parsimony as the optimality criterion, using its New Technology searches (Goloboff, 1999; Nixon, 1999) with the following parameters: consense 10, css, rss, xss, rep 10, ratchet 50, drift 50, fuse 10. Node support was assessed by Goodman-Bremer values (Goodman et al., 1982; Bremer, 1994; Grant & Kluge, 2008), calculated by running a modified version of the script BREMER.RUN distributed with TNT, which considered 1,000 replicates with 10 repetitions of ratchet and drift (Goloboff, 1999; Nixon, 1999) in constrained searches. Bootstrap resampling frequencies were also calculated for nodes from 1,000 pseudoreplicates.
Considering ribosomal RNA regions, they commonly present insertions and deletions, which makes multiple sequence alignment more challenging (Nagy et al., 2012). To account for this, we submitted the resulting sequences of 16S, ITS1 and 28S to phylogenetic inference by direct optimization (Wheeler, 1996) using POY ver. 5.1.2 (Wheeler et al., 2014), under the parsimony optimality criterion. Tree search was performed by three independent one, three and six hour searches assuming equal rates for character transformations. All unique trees compiled from the above searches were submitted to tree refinement by the tree-fusing algorithm (Goloboff, 1999) and re-diagnosed with the iterative pass algorithm (Wheeler, 2003a). The resulting implied alignment (sensu Wheeler, 2003b) was submitted to TNT to verify the results, under the same parameters as described before, including the Goodman-Bremer support and bootstrap frequencies. The analyses run with POY were conducted in an IBM x3850 X5 server with eight processors Intel Xeon CPU E7-8870 2.40 GHz, housed at the Genetics and Evolutionary Biology Department (University of São Paulo).
Primary species hypotheses were considered based on previous mentions in the literature and when, in at least one single-marker phylogeny, species clades were monophyletic, had support ≥2 and resampling frequency ≥75. Then, markers were combined for a concatenated phylogenetic analysis. We imported the 16S, ITS1 and 28S implied alignments, and the COI static alignment, to Sequence Matrix ver 1.8 (Vaidya, Lohman & Meier, 2011), and selected mostly 3-4 sequences, when available, of each marker for each of the hypothesized species (see details of sequence composition in Table S5). Whenever possible, sequences of different markers within species were selected from the same specimen, but alternatively these sequence sets (terminal taxa) were chimeric, combined either from other specimens of the same locality, or the closest locality (Table S5). Sequence sets within each species hypothesis were selected from geographic regions as diverse as possible. The resulting file with combined alignments was analyzed in TNT as described previously. We also performed this concatenated phylogenetic analysis in IQ-TREE ver 1.6.12 (Nguyen et al., 2015) under maximum likelihood as the optimality criterion, using ModelFinder (Kalyaanamoorthy et al., 2017) for model selection and measuring bootstrap resampling frequencies and SH-aLRT (Guindon et al., 2010) from 1,000 pseudoreplicates. Alignments and trees retrieved in all molecular genetic analyses were deposited in Figshare (Lawley et al., 2021). All relevant codes used for genetic analyses are available in GitHub (github.com/lawleyjw/Aurelia).
For species delimitation (sensu DeSalle & Goldstein, 2019), primary species hypotheses were reassessed based on criteria from two lines of evidence: (1) species' monophyly and the clade's support (≥2), resampling frequency (≥75) and branch length (ad hoc) on the concatenated phylogeny; (2) species' distribution, based on collection localities of sequenced specimens (ad hoc). However, there are some caveats to this procedure. We recognize that phylogenetic analyses impose a hierarchy even on entities related tokogenetically (Davis & Nixon, 1992; Grant et al., 2006), and consequently species, which we herein consider as historical individuals, do not necessarily need to form a clade (Kluge, 1990; Frost & Kluge, 1994; Skinner, 2004). Therefore, branch lengths of the species' clades were also considered, as these are a measure of their differentiation. Nevertheless, due to variation in evolutionary rates and collection efforts, branch lengths may vary even across congeners (Grant et al., 2006). Considering species distributions can also be misleading, as there are likely multiple introductions in different Aurelia species (Dawson, Gupta & England, 2005), as well as sympatry (Chiaverano, Bayha & Graham, 2016). In spite of these caveats, these are clear and falsifiable criteria that can facilitate species discovery (sensu DeSalle & Goldstein, 2019) and diagnosability (Frost et al., 1998; Grant et al., 2006).
After species delimitation, diagnostic characters (sensu ICZN (International Commission on Zoological Nomenclature), 1999) were identified for each marker using the program YBYRÁ (Machado, 2015), considering the alignments and phylogenies of both single-marker and concatenated analyses. Reported diagnostic character-states for positions in the alignment are color-coded in the program's output, based on optimization of synapomorphies (sensu Grant & Kluge, 2004): white are ambiguous, and other colors are unambiguous; black are unique and non-homoplastic; red are unique and homoplastic; and blue are non-unique and homoplastic (see further details in Machado, 2015).
We also calculated uncorrected pairwise distances (number of base mismatches divided by total sequence length, also known as uncorrected p), which were retrieved from the software Geneious. We did not use this measure to delimit species, as (1) pairwise distances only discriminate among samples, and therefore cannot diagnose any particular entity (Frost, 2000); (2) they fail to explain observed variation, as they cannot distinguish between symplesiomorphy and synapomorphy; and (3) due to variation in evolutionary rates that could occur even among congeners, as previously mentioned, there seems to be no justification to set an arbitrary distance as threshold for granting species status (Grant et al., 2006). Nevertheless, we evaluated the use of this measure across molecular genetic markers, as it can provide a rapid heuristic for species identification (sensu DeSalle & Goldstein, 2019) without the need of a complete phylogenetic analysis, in a similar way as dichotomous keys can be useful identification tools (Grant, 2002; Grant et al., 2006).
The electronic version of this article in Portable Document Format (PDF) will represent a published work according to the ICZN, and hence the new names contained in the electronic version are effectively published under that Code from the electronic edition alone. This published work and the nomenclatural acts it contains have been registered in ZooBank, the online registration system for the ICZN. The ZooBank LSIDs (Life Science Identifiers) can be resolved and the associated information viewed through any standard web browser by appending the LSID to the prefix http://zoobank.org/. The LSID for this publication is: http://zoobank.org/9CCDC703-92EB-4EDD-AB8F-F353941FEA1B. The online version of this work is archived and available from the following digital repositories: PeerJ, PubMed Central and CLOCKSS.
Discussion
Variability and the use of morphology to diagnose
Most descriptions of Aurelia species were based on the medusa stage, which is the most conspicuous and easily collected of the life cycle stages (Mayer, 1910 reviews morphology of Aurelia species and their varieties that had been described). Overlaps in morphological differences across large spatial scales created much confusion for species identification, until the incorporation of molecular genetic data propelled a re-evaluation of morphological characters in all life cycle stages (Dawson & Jacobs, 2001; Schroth et al., 2002; Dawson, 2003; Dawson, Gupta & England, 2005; Gambill & Jarms, 2014). Recent descriptions of species hypotheses based on genetic data acknowledge some morphological features of medusae as diagnostic (Scorrano et al., 2016).
In our evaluation of Aurelia specimens from across the globe, we found no geographic organization associated with morphological variation. On the contrary, morphological variation among specimens within regions, and even within collection lots, usually overlapped with that of specimens from very distinct localities (Figs. 3–4). If, however, neighboring regions had structured morphological dissimilarities, this could mean that morphotypes might be distinguished in smaller spatial scales, and if related to species hypotheses, these could be useful to distinguish neighbor or even sympatric species (e.g., Aurelia in the Gulf of Mexico, as in Chiaverano, Bayha & Graham, 2016). We did not observe this pattern, but the opposite, that specimens distributed closer to each other tended to be more similar, although this was presented as either a weak or non-significant relationship. The morphological variation discussed above also encompassed previously considered categorical features, which could not be unambiguously determined, likely due to the higher sampling effort of this study, and were either removed from analyses or adapted to continuous or meristic features (such as f34-36 reflecting continuous variation from previously used f8; Table S3).
The comparison of cultured Aurelia coerulea medusae with the species diagnosis, provided by specimens studied in the Mediterranean (Scorrano et al., 2016), further illustrates the potential for morphological variability, in both continuous and categorical features (illustrated in Fig. 7). Interestingly, the only specimens analyzed that were more morphologically similar to each other were from the cultures at the Discovery Place Aquarium (DP-Aq in Figs. 3–4; identified as A. coerulea based on genetic data, see Table S4). These were raised under roughly the same controlled conditions, such as temperature, water circulation, light intensity, and fed the same amount at the same time. Controlled conditions that reflect a certain morphological pattern corroborates the hypothesis for environmentally determined morphological plasticity, which has already been demonstrated for medusae of an Aurelia species in the field (Chiaverano, Bayha & Graham, 2016). All of the evidence mentioned above favors the argument that medusa morphology is likely uninformative for species diagnosis in this genus.
To further complicate matters, there are hypothesized multiple introductions of Aurelia species across the globe (Dawson, Gupta & England, 2005; see examples in the remarks for A. coerulea, Aurelia aurita and Aurelia solida), and likely more still undetected. Even if species within neighboring regions could be distinguished by morphology, introduced species could confuse these distinctions. This could also have confused our morphological analysis, as it is based on the geographic distribution of morphological dissimilarities that, in most cases, did not have direct equivalence to the genetic dataset, in which species hypotheses were based. Still, even considering potential confusions from that scenario, by relating the determined geographic regions with sampling sites of species hypotheses from genetic markers, no structure appears from morphological data (e.g., Japan and USA-SW, which could both belong to A. coerulea, see Figs. 3–4).
However uninformative medusa morphology may be for species distinction, it is interesting to ponder the characters that account for most of the morphological variation across specimens, such as the branching pattern of radial canals and bell indentations, the latter which determines the number of lobes (scallops) on the umbrella margin. These characters were some of those previously used to recognize a few species: Aurelia labiata and Aurelia limbata were distinguished by the possession of 16 marginal scallops, while A. aurita only had eight (Mayer, 1910; Gershwin, 2001); A. limbata was also reported to have highly branched radial canals in comparison to other species (Mayer, 1910; Gershwin, 2001). As more specimens were collected through time, these distinctions started to fade, and are further discussed for each species, when applicable, in the remarks of their systematic account in this study. Only one character from the medusa stage was maintained as potentially diagnostic, the absence of the endodermal ocellus in the rhopalia of A. solida (Scorrano et al., 2016). This character is usually faded in preserved material, and we could not observe it in the museum specimens analyzed.
Other candidates as diagnostic morphological characters derive from other stages of the life cycle, such as polyps and ephyrae (Gambill & Jarms, 2014; Scorrano et al., 2016), which were not the focus of the morphological assessment herein presented. Nevertheless, previous studies have compared them in Aurelia, and have shown the overlap in morphology of these stages in different hypothetical species (Gambill & Jarms, 2014), as well as morphological plasticity in different sets of controlled conditions (Chiaverano & Graham, 2017), in line with the overall patterns discussed here for the medusa stage. Only one morphological character was here maintained as potentially diagnostic, the higher number of tentacles in polyps of Aurelia insularia sp. nov. (as Aurelia sp. 2 from Gambill & Jarms, 2014), until further studies can re-address this more thoroughly across the recently recognized diversity. Further discussions on the morphology of polyps and ephyrae, when applicable, are present in the remarks of each species' description.
Species delimitation, cryptic diversity and the transition to species description
Acknowledging that morphology may not be informative for taxonomy, at least for some groups of metazoans, can be daunting. Morphology has been the basis of taxonomy for centuries, although the increase in accessibility to genetic data has raised doubts (Dayrat, 2005). Many studies that embrace this new source of information have revealed a previously undetected diversity, mostly named as 'cryptic' (for a review see Bickford et al., 2007). In result, it has been suggested that molecular data could be the only solution to assess the planet's biodiversity in the midst of the extinction of both species and taxonomists (Hebert et al., 2003). Even though there is little consensus in that view (made clear by the reviews and comments in Goldstein & DeSalle, 2011, Collins & Cruickshank, 2013 and DeSalle & Goldstein, 2019), few studies have accepted the challenge of reconciling species delimitation and description for medusozoans, thus failing to provide both the scientific community and society of this taxonomic service (Jörger & Schrödl, 2013).
Prior to descriptions, we assessed the use of molecular genetic markers herein studied as barcodes, in the sense of a potential tool for rapid identification. COI remains as the best candidate (as previously suggested for most metazoans, as well as medusozoans; Hebert et al., 2003; Ortman et al., 2010), as there is a greater gap between most intra- and interspecific distances (Fig. 11). However, some of the hypothesized species have between 6.2% and 9.8% of differences between them, and in the case of the sister species Aurelia smithsoniana sp. nov. and Aurelia cebimarensis sp. nov. it was as low as 2% (Fig. 11; Table S7). As evolutionary rates may vary across congeners, it is hard to set a threshold for species identification, and this gap could be partly an artifact of unknown diversity due to undersampling (Meyer & Paulay, 2005; Wiemers & Fiedler, 2007; see Gómez-Daglio & Dawson, 2017 for other examples in medusozoans). Also, species hypotheses may change with future studies, and this gap could become more or less pronounced depending on what species hypotheses are accepted and considered. This may be a useful tool for first assessments and the discovery of potentially cryptic species, but it might not be reliable for species identification. Even less so should it be used for species delimitation, as neo-phenetic arbitrary constructs should not replace testable species hypotheses (Prendini, 2005; Valdecasas, Williams & Wheeler, 2008; see more in the 'Materials and Methods' section). For quite some time now the scientific community has accepted that similarity does not necessarily reflect kinship (i.e., evolutionary relationship), one of the basic principles of phylogenetic systematics (Hennig, 1966), which remains a key component for molecular species delimitation and taxonomy (Gómez-Daglio & Dawson, 2017).
With the results from past studies and those provided herein, we demonstrate that morphology is likely uninformative for distinguishing at least most of the species of the Aurelia genus. Even though some characters might yet be revealed as useful, and as we are only beginning to understand morphological variability and diversity within the genus, providing formal descriptions with a character-based diagnosis seems paramount to develop a taxonomic foundation for future studies. Character-based diagnosis, molecular or not, provides a falsifiable and comparable basis in which to build species hypotheses and descriptions (Grant et al., 2006; Bauer et al., 2011) and is required by the ICZN (International Commission on Zoological Nomenclature) (1999); Article 13.1.1.). Also required to accompany newly described species are name-bearing types (ICZN (International Commission on Zoological Nomenclature), 1999; Article 72.3). Ideally, the type material that accompanies newly described species should be a specimen, from which a subsample is taken and DNA is extracted. For some samples in this study that was not possible, so to comply with the ICZN, the type material is provided as tissues or DNA extractions, and further specimens from the same culture or collection (when no sympatry had been recorded), when available, were provided within the type series (for other examples of species descriptions with molecular genetic diagnosis and tissues or DNA extractions as type material, see Jörger & Schrödl, 2013; Eitel et al., 2018).
Diagnostic molecular genetic characters have been identified as, for example, character attributes from sequence alignments, with sequences manually identified in groups of previously determined species hypotheses (Sarkar, Planet & DeSalle, 2008; as in Jörger & Schrödl, 2013), or as synapomorphies for the species clades observed in a phylogenetic tree (Machado, 2015; Eitel et al., 2018). We reported diagnostic characters as synapomorphies (sensu Grant & Kluge, 2004), as these rely directly on a phylogenetic inference and are portrayed in categories defined based on all possible optimization schemes for character-states (output from the program YBYRÁ; Machado, 2015). As a result, synapomorphies can be classified as ambiguously or unambiguously optimized, the latter which is further categorized into unique and non-homoplastic, unique and homoplastic or non-unique and homoplastic (Machado, 2015). The desired scenario regarding these categories would be to have unique and non-homoplastic synapomorphies (in black, Fig. 9 and Table S6) for each species hypothesis. With only five possible character-states (gaps as fifth state), it is not surprising that many species did not present these synapomorphies, mostly for COI, which is likely related to the much greater number of sequences in this dataset but could also be associated with varying evolutionary rates across markers. In that sense, the combination of synapomorphies as diagnostic, regardless of the category, could be more reliable.
There seems to be great potential in synapomorphies not only to construct species hypotheses and provide descriptions, but also for species identification. A synapomorphy-based identification can be much more reliable than conventional barcoding or NCBI's BLAST, as it is not based on similarity but on specified characters that directly reflect species hypotheses. This has been somewhat attempted with CAOS's P-Elf program (Sarkar, Planet & DeSalle, 2008), but to our knowledge, none of the authors that report diagnostic characters from this program, such as Jörger & Schrödl (2013) and Maggioni et al. (2017), provided the output of the program's P-Gnome module, which would be used for classifying new sequences. These authors have otherwise suggested that diagnostic synapomorphy positions from the alignment, retrieved from CAOS, should be mapped to a reference sequence and both positions reported in the description. Yet, if other researchers seek to manually map their newly acquired sequences with any of the suggested above, for species identification, insertions and deletions could highly confuse the process, especially in genetic markers that commonly present them, such as those from ribosomal RNA regions (e.g., 16S, ITS1 and 28S). Furthermore, the algorithm used by P-Elf to classify new sequences is not clearly stated (Sarkar, Planet & DeSalle, 2008). A prospect for future studies would be to better evaluate and understand the possible issues involved in synapomorphy-based identifications and how to convert them in a computational pipeline that can be easily and widely used, such as the BLAST tool.
Conclusions
Our conclusion with this study is not that morphology should be left aside. On the contrary, we are just beginning to unravel how morphological variation can be environmentally induced (Chiaverano & Graham, 2017), as well as the evolutionary processes involved in morphological change and speciation (see Struck et al., 2017). For example, the morphological overlap we observed across species could be related to recent divergences, parallelism, convergence or even stasis, and most of these have already been demonstrated to occur in other medusozoans (Swift, Gómez-Daglio & Dawson, 2016). A starting point for such studies in the jellyfish genus Aurelia could be investigating the characters that accounted for most of the morphological variation detected herein, such as bell indentations and ramification of radial canals, on more fine spatial scales considering environmental variation. This next step is fundamental to understand mechanisms that generated biodiversity and how these could be impacted by future changes.