Designing of the N-ethyl-4-(pyridin-4-yl)benzamide based potent ROCK1 inhibitors using docking, molecular dynamics, and 3D-QSAR
1
Department of Biomedical Sciences, College of Medicine, Chosun University

,

Gwangju

,

South Korea
2
Department of Cellular and Molecular Medicine, College of Medicine, Chosun University

,

Gwangju

,

South Korea
Published

Accepted

Received
Academic Editor
Subject Areas

Keywords

Rho-associated kinase-1 (ROCK1)

,

Cardio-vascular disease

,

Molecular docking

,

Molecular dynamics

,

MMPBSA

,

3D-QSAR

,

CoMFA

,

CoMSIA

,

ADME/Tox
Copyright

©

2021

Ghosh et al.

Licence

This is an open access article distributed under the terms of the Creative Commons Attribution License, which permits unrestricted use, distribution, reproduction and adaptation in any medium and for any purpose provided that it is properly attributed. For attribution, the original author(s), title, publication source (PeerJ) and either DOI or URL of the article must be cited.
Cite this article

2021

.

Designing of the N-ethyl-4-(pyridin-4-yl)benzamide based potent ROCK1 inhibitors using docking, molecular dynamics, and 3D-QSAR

.

PeerJ

9

:

e11951

https://doi.org/10.7717/peerj.11951
Abstract
Rho-associated kinase-1 (ROCK1) has been recognized for its pivotal role in heart diseases, different types of malignancy, and many neurological disorders. Hyperactivity of ROCK phosphorylates the protein kinase-C (PKC), which ultimately induces smooth muscle cell contraction in the vascular system. Inhibition of ROCK1 has been shown to be a promising therapy for patients with cardiovascular disease. In this study, we have conducted molecular modeling techniques such as docking, molecular dynamics (MD), and 3-Dimensional structure-activity relationship (3D-QSAR) on a series of N-ethyl-4-(pyridin-4-yl)benzamide-based compounds. Docking and MD showed critical interactions and binding affinities between ROCK1 and its inhibitors. To establish the structure-activity relationship (SAR) of the compounds, 3D-QSAR techniques such as Comparative Molecular Field Analysis (CoMFA) and Comparative Molecular Similarity Indices Analysis (CoMSIA) were used. The CoMFA (q2 = 0.774, r2 = 0.965, ONC = 6, and = 0.703) and CoMSIA (q2 = 0.676, r2 = 0.949, ONC = 6, and = 0.548) both models have shown reasonable external predictive activity, and contour maps revealed favorable and unfavorable substitutions for chemical group modifications. Based on the contour maps, we have designed forty new compounds, among which, seven compounds exhibited higher predictive activity (pIC50). Further, we conducted the MD study, ADME/Tox, and SA score prediction using the seven newly designed compounds. The combination of docking, MD, and 3D-QSAR studies helps to understand the coherence modification of existing molecules. Our study may provide valuable insight into the development of more potent ROCK1 inhibitors.
Introduction
Rho-associated kinase (ROCK) has been studied for its role as a downstream effector of small guanosine triphosphatases (GTPases), RhoA, RhoB, and RhoC (Tang, Campbell & Nithipatikom, 2012; Vigil et al., 2012). It is a member of the serine/threonine AGC kinase family and phosphorylates various downstream targets such as myosin light chain 2 (MLC2), myosin light chain phosphatase 1 (MYPT1), LIM kinase, collapsing response mediator protein-2 (CRMP-2), adducin and calponin. The downstream phosphorylation promotes actin–myosin-mediated smooth muscle cell contraction, actin organization, cell proliferation, and migration (Lock et al., 2012; Shi et al., 2013; Sunamura et al., 2018; Kalaji et al., 2012). ROCK1 and ROCK2 are two isoforms of the ROCK family and consist of 1354 and 1388 amino acids, respectively. ROCK1 and ROCK2 share 65% overall sequence identity and 92% amino acid homology in their kinase domains as shown in Fig. 1A (Judge et al., 2018; Heikkila et al., 2011). Full-length ROCKs contain an N-terminal kinase domain, a coiled-coil linker region, and a Rho-binding domain (RBD). The split pleckstrin homology (PH) domain, containing a zink finger-like cystine-rich tandem repeat domain (ZFD), is located at the C-terminal end and shares 65% sequence identity between the two isoforms. The ROCKs exclusively interact with the switch-1 and switch-2 regions of the active RhoA, RhoB, and RhoC conjugated to GTP by their RBD domains (Hartmann, Ridley & Lutz, 2015). However, ROCK1 and ROCK2 have different binding preferences for membrane lipids. Their subcellular localizations were also found to be distinct. ROCK1 has been reported to have cytosolic localization and is closely associated with cell–cell adhesion, plasma membrane, and centrosomes, while ROCK2 is more abundant in the intercalated disk and Z-disk of striated muscle cells (Lock et al., 2012; Shi et al., 2013; Lisowska et al., 2018). In particular, ROCK1 regulates cell motility integrin β1-activated focal adhesion kinase (FAK) signaling during multiple myeloma and lung cancer progression (Amit et al., 2020; Gilkes et al., 2014). Overexpression of ROCK1 is correlated with numerous pathophysiological conditions such as cardiac arrest, cerebral vasospasm, pulmonary hypertension, reperfusion injury, glaucoma, arteriosclerosis, Alzheimer's disease, and several types of cancer (Jin et al., 2019; Shi et al., 2010; Shao et al., 2008; Hu et al., 2016). Thus, the pharmaceutical industry is focusing on the development of selective and nonselective ATP competitive ROCK inhibitors (Feng et al., 2016). Figures 1B and 1C depicted the global structure of the ROCK1 kinase domain and an ATP competitive Type-1 inhibitor inside the binding pocket (PDB ID: 6E9W). The primary role of this inhibitor is to block the transmission of terminal phosphate from ATP to its corresponding substrate (Koch et al., 2018). These inhibitors encompass a variety of chemical groups, such as pyridine, pyrazole, indazole, amino-furazan, and isoquinoline derivatives, which form critical interactions with the hinge loop at the binding pocket of kinase domain (Feng et al., 2007; Goodman et al., 2007; Abbhi et al., 2017; Schirok et al., 2008; Fang et al., 2010; Gingras et al., 2004).
The computational modeling approach would play a viable role in the discovery of more potent lead compounds as ROCK inhibitors. We have conducted a molecular modeling study of 42 novel N-ethyl-4-(pyridin-4-yl)benzamide-based compounds reported by Hobson et al. (2018), which showed a wide range of inhibitory activity (IC50 =0.003 µM - 16 µM) against ROCK1. Compound C08, N-((2,3-Dihydrobenzo[b][1,4]dioxin-5-yl)methyl)-4-(pyridine-4-yl)benzamide which was cocrystallized with ROCK1 (PDB ID: 6E9W), was selected as a representative candidate among the compounds. To investigate the critical binding interaction, we performed molecular docking and MD studies of C08, along with several other compounds in the dataset. In addition, we have calculated the MMPBSA binding-free energy and interaction energy (IE) to evaluate the binding affinity. Based on the average MD pose of C08, we developed the CoMFA and CoMSIA models to establish the structure–activity (SAR) relationship. Finally, we designed 40 new compounds and their activities (pIC50) were predicted based on the CoMFA and CoMSIA models. The designed compounds with higher pIC50 values were taken for the Absorption Distribution Metabolism Excretion Toxicity (ADME/Tox), and Synthetic Accessibility (SA) score analysis.
Discussion
Together with the docking study, the CoMFA and CoMSIA contour maps provided a valuable insight into the rational modifications of existing compounds. The data were shown in Tables S1 and S7 from ligRMSD, which has provided the validity of our docking protocol for both the existing compounds and designed compounds. One of the key H-bond interactions was between the M156 residue and the N atom of the pyrimidine ring, which played a crucial role in anchoring the ligands. The surrounding residues were found to be M153, A215, Y155, A103, V90, F120, and F87, which formed the hydrophobic surface. In CoMFA study, a yellow contour was observed near the hinge loop, which suggested that the compound having a steric group might not be favorable. A small blue contour was observed near the backbone of Y155, suggesting that a small electron donor would be advantageous at that site. From the docking and MD study, we have observed that C22, which has a 2-methyl-1- (methylamino) propan-2-ol group with the pyrimidine moiety, prevents the formation of H bonds with M156 and resulted in the loss of the H-bond interaction. This may affect the inhibitory activity of compound C22. For the same reason, having a steric group on the pyrimidine ring, C21, C23, and C24 might have decreased inhibitory activity. Another key H-bond interaction was detected between the K105 and the -C =O groups of the docked compounds. Due to the presence of a rotatable bond (torsion) in the molecules, this H-bond formation might occasionally get interrupted. At the R3 position, a large green contour suggested that a bulky steric group will be beneficial. However, our docking and MD studies suggested that substitution for the larger groups could be limited. Similarly, a larger substitution of the steric group at the R4 position might result in a steric clash with the surrounding residues. Therefore, we have chosen the major modification strategies at the positions R3 and R4 when designing the new compounds. The introduction of chemical group substitution at the positions R3 and R4 increased the probability of H-bond formation with either D160 or I82, which led to the higher binding affinity of the newly designed compounds to ROCK1. The RMSD graphs of the newly designed compounds indicated stable protein-ligand complexes. We have calculated the angular distributions and distances among the D-H-A atoms of M156 and the newly designed compounds in Figs. S8 and S9, respectively. Finally, the average H-bond angle values and distances of the dataset compounds and designed compounds were summarized in Table S8. The distance between the H-bond donor and acceptor atoms was found to be less than 5 Å, and the angle values were found to be within the range of 120°–180°. This configuration suggests a reasonable geometry for a stable H-bond interaction. In the MMPBSA energy evaluation, the vdW energy and the electrostatic energy added the key energy values in total BE. Nonethless, negative SASA scores also favored total binding energy. In Fig. 9 below, we have drawn a comparative plot of the decomposition of the MMPBSA binding energy to the designed compounds. Residues with net negative binding energy contribution and net positive energy contribution were shown in slate and magenta colors. Residues K105, R125, and K200 have been found to contribute a positive energy value to the total binding energy of the designed compounds. Residues E89, V90, E124, D202, L205, and F368 contributed to negative binding energy decomposition.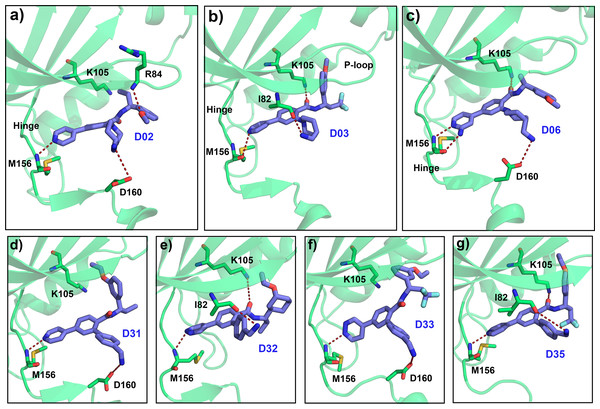 Prior to the commencement of the experimental procedure, the prediction of the pharmacokinetic properties and bioavailability of the designed compounds is necessary. The prediction of ADME/Tox showed the high gastrointestinal absorption of the designed compounds, which indicated that the compound would have good bioavailability. The inhibitory effects of the designed compounds on different types of Cytochrome P450 were marked by Yes/No representation and possibly excreted through biotransformation. In general, the ADME/Tox analysis predicted that the designed compound would be a safer and more active ROCK1 inhibitor.
Conclusions
The discovery of a potent ROCK1 inhibitor is a promising strategy to achieve the therapeutic goal against cardiovascular disease and carcinomas. In our present study, we have performed the molecular modeling study of 41 pyridinyl-benzamide-based ROCK1 inhibitors. Molecular docking, Molecular Dynamics, MMPBSA, and IE calculations provide critical information about the molecular interactions and binding affinity between protein-inhibitor complexes. We have established a reasonable correlation between the actual and predictive activity of the compounds from the CoMFA and CoMSIA models with external predictive capability. The contour maps from the CoMFA and CoMSIA described the structure–activity relationship of the compounds. Models also suggest that it could predict the activity of the newly designed compound with a similar scaffold. Based on the SAR study, we have designed several new compounds, and seven of them expressed higher pIC50 values compared to the most active compound C34. Estimation of ADME/Tox and SA scores suggested that the designed compounds would have more potent inhibitory activity against ROCK1 while having the desirable pharmacokinetics property and bioavailability. Additionally, we have validated our results with the selected designed compounds by MD simulation, MMPBSA, and IE models. The outcome of our study might be useful to the future development of the ROCK1 inhibitor.
Supplemental Information
Supplementary Figures and Tables
Protein-ligand docked complex, input/output files, ligand topology-parameter files, forcefield, and running scripts