A glacial survivor of the alpine Mediterranean region: phylogenetic and phylogeographic insights into Silene ciliata Pourr. (Caryophyllaceae)
1
Department of Biotechnology, Agricultural University of Athens

,

Athens

,

Greece
2
Area de Biodiversidad y Conservación, Universidad Rey Juan Carlos

,

Móstoles, Madrid

,

Spain
Published

Accepted

Received
Academic Editor
Subject Areas

Keywords

Silene ciliata ,

Mediterranean Basin

,

cpDNA markers

,

Pleistocene glaciations

,

Phylogeography

,

Phylogeny

,

Alpine plant

,

Subspecies

,

Silene genus
Copyright

©

2015

Kyrkou et al.

Licence

This is an open access article distributed under the terms of the Creative Commons Attribution License, which permits unrestricted use, distribution, reproduction and adaptation in any medium and for any purpose provided that it is properly attributed. For attribution, the original author(s), title, publication source (PeerJ) and either DOI or URL of the article must be cited.
Cite this article

2015

. A glacial survivor of the alpine Mediterranean region: phylogenetic and phylogeographic insights into Silene ciliata Pourr. (Caryophyllaceae)

PeerJ

3

:

e1193

https://doi.org/10.7717/peerj.1193
Abstract
Silene ciliata Pourr. (Caryophyllaceae) is a species with a highly disjunct distribution which inhabits the alpine mountains of the Mediterranean Basin. We investigated the phylogeny and phylogeography of the species to (a) clarify the long-suggested division of S. ciliata into two subspecies, (b) evaluate its phylogenetic origin and (c) assess whether the species' diversification patterns were affected by the Mediterranean relief. For this purpose, we collected DNA from 25 populations of the species that inhabit the mountains of Portugal, Spain, France, Italy, former Yugoslav Republic of Macedonia, Bulgaria and Greece and studied the plastid regions rbcL, rps16 and trnL. Major intraspecific variation was supported by all analyses, while the possibility of the existence of more varieties or subspecies was not favoured. Plastid DNA (cpDNA) evidence was in accordance with the division of S. ciliata into the two subspecies, one spreading west (Iberian Peninsula and Central Massif) and the other east of the Alps region (Italian and Balkan Peninsula). This study proposes that the species' geographically disconnected distribution has probably derived from vicariance processes and from the Alps acting as a barrier to the species' dispersal. The monophyletic origin of the species is highly supported. cpDNA patterns were shown independent of the chromosome evolution in the populations and could have resulted from a combination of geographic factors providing links and barriers, climatic adversities and evolutionary processes that took place during Quaternary glaciations.
Introduction
Alpine environments provide interesting frameworks for answering phylogeographic and phylogenetic questions that remain unresolved from a botanical perspective. Plant species in mountain ecosystems face challenges for survival and adaptation to different environmental conditions and fluctuations (Körner, 2003). High altitude habitats often follow an island-like structure due to significant levels of isolation and fragmentation (Pawłowski, 1970), thus leading to adaptive divergence and, finally, speciation events (Wiens, 2004). These inland habitat patches could harbour greater species diversity compared to a seamless area of the same extent (Quinn & Harrison, 1988). Nunataks and peripheral glacial refugia inside mountain ranges are thought to have sheltered a wide range of biological and genetic diversity during the Pleistocene glacial-interglacial periods (Hewitt, 2000; Taberlet et al., 1998).
Various phylogeographic and phylogenetic surveys have been conducted for floristic taxa of the Alps (Schönswetter et al., 2005), while the rest of the European mountain ranges and the processes occurring inside them during glaciations have generally been overlooked (Hewitt, 2001). Nevertheless, interest in Mediterranean mountain systems has gradually been increasing (e.g., Vargas, 2003; Mas de Xaxars et al., 2015). The Mediterranean Basin has undoubtedly played a crucial role in shaping the genetic and distributional patterns of many species, since it provided them with sanctuary during glaciations (Médail & Diadema, 2009) and served as a starting point for the recolonization of northern latitudes (Petit et al., 2003; Tzedakis et al., 2002). Indeed, the Southern Mediterranean Peninsulas (i.e., Iberian, Italian and Balkan) are considered important glacial refugia for many plant and animal species (e.g., Taberlet et al., 1998; Hewitt, 2000; Hewitt, 2004), and Mediterranean mountains have been considered potential refugia for alpine plants (Vargas, 2003; Hughes, Woodward & Gibbard, 2006).
Silene L. is a genus that has caught the attention of many scientists due to its many interesting attributes, making it a potential "model system" in ecology and evolution (Bernasconi et al., 2009). Yet, its phylogeny still remains perplexing and unclear (Oxelman et al., 2000; Greenberg & Donoghue, 2011). Half of Silene species inhabit the Mediterranean Basin (Greuter, 1995) and c. 87 of them are found in altitudes above the treeline (based on Jalas & Suominen, 1988 and supported by Zángheri & Brilli-Cattarini, 1976; Castroviejo et al., 1986–2001; Strid & Tan, 2002). The majority of Silene species are diploid with 2n = 20 or 2n = 24 (Bari, 1973). The latest taxonomic classification can be found in Greenberg & Donoghue (2011). Many recent studies have tried to clarify the phylogeny of its tribes and sections (e.g., Oxelman et al., 2000; Rautenberg et al., 2008; Rautenberg et al., 2010).
Although Silene species in alpine environments have been included in phylogenetic and phylogeographic studies of the genus Silene (e.g., Abbott et al., 1995; Popp et al., 2005), those native to Mediterranean mountains have been understudied. Silene ciliata is a notable species in the genus Silene, because it presents a circum-mediterranean distribution around mountain ranges and above the treeline. Taxonomists have consistently divided it into two subspecies based on habit differences and disjunct geographical distribution. These are S. ciliata subsp. graefferi (referred to as the "Italian race"), which is principally found in the Italian and the Balkan Peninsula, and S. ciliata subsp. ciliata, (referred to as the "Spanish race"), which occupies the Iberian Peninsula (Blackburn, 1933). Blackburn (1933) recorded large morphological and cytological variation both between and within the two races. She concluded that the prime differences inside the "Italian race" are size, leaf form, hairiness and flower colour, whereas variation in the "Spanish race" is unravelled in all features of the plant. For the western populations several other subspecies or varieties have long been proposed (e.g., Silene ciliata subsp arvatica Lag. in Varied .Ci. (1805), Silene ciliata subsp. elegans (Link. ex Brot.) Rivas Martínez in Brotero, 1804), although the validation of these subcategories remains unsolved with available taxonomical data (Nieto Feliner, 1985). This species also stands out for its extraordinary variability of ploidy levels in natural populations (i.e., 2n = 24, 36, 48, 72, 84, 96, 120, 144, 168, 192, 240; Blackburn, 1933; Küpfer, 1974). In particular, subsp. ciliata is reported to vary from diploid to 20-ploid complements, whereas in subsp. graefferi only diploid and tetraploid plants are described (Blackburn, 1933; Küpfer, 1974; Tutin et al., 1993).
We followed a phylogenetic and phylogeographic approach to this species to gain insight into the diversification processes that have taken place in alpine environments of Mediterranean high mountains. To our knowledge, this is the first study to cover the vast majority of the alpine Mediterranean area with the aid of molecular marker evidence. We hypothesize that: (1) in spite of its heterogeneity discussed by Blackburn in 1933, the species is of monophyletic origin; (2) this heterogeneity is reflected in great cpDNA diversification that could explain the sub-classification of this species into two distinct subspecies as proposed by Blackburn (1933) and maintained by Tutin et al. (1993) and; (3) differentiation patterns are essentially determined by the geomorphology and spatial location of the Mediterranean mountain ranges.
Results
Chloroplast haplotype and intrapopulation variation
After multiple alignment evaluation of the three polymorphic cpDNA regions, the final length of the study region resulted in 564 nucleotides for rbcL, 756 nucleotides for rps16 and 509 nucleotides for trnL. Thus, the length of the combined matrix of an "all-marker" region was 1,829 nucleotides. The number of variable sites among chloroplast markers ranged from 4 to 25, while that of parsimony informative sites ranged from 3 to 16 (Table 2). Sequences were submitted to GenBank (accession numbers are available in Table S4).
| Chloroplast marker | Length of selected region | Variable (polymorphic) sites | Parsimony informative sites |
| --- | --- | --- | --- |
| rbcL | 564 bp | 4 | 3 |
| rps16 | 753 bp | 25 | 16 |
| trnL | 513 bp | 18 | 11 |
| all | 1,830 bp | 47 | 30 |
The intrapopulation study showed no divergence for rbcL and inconsistent polymorphisms (i.e., only present in one individual and probably associated to sequencing errors) in one and two bases for rps16 and trnL, respectively. Therefore, we considered that the evidence for intrapopulation variation was not strong enough to require further testing.
Phylogeny, genetic distance analyses and population structure
No incongruence in results was found among the single markers. Therefore, we essentially used a combined study because all the markers are in the chloroplast genome. The resulting "all-marker" dendrogram from the Bayesian analysis (Fig. 2) revealed two distinct groups, one including all individuals in the western region (i.e., the Iberian Peninsula and France) and another one including all individuals in the eastern region (i.e., the Italian and Balkan Peninsulas). However, the calculated 65% PP for the "eastern group" did not provide a significant difference between the two groups. On the other hand, significant differentiation (100% PP) was found between S. ciliata individuals and the outgroups. Strikingly, two S. ciliata individuals, Pyr1 and Pyr4, were located between the outgroups and the rest of S. ciliata, and were significantly different from them as well as from each other. Both Pyr1 and Pyr4 branches were long, implying high substitution rates. One overarching clade was observed (99% PP) in the "eastern group", and the Din population was the only one branching off this clade. The "western group" consisted of one clade (78% PP), but also had many separate individual branches. The maximum likelihood dendrogram obtained with the bootstrapping method did not differ, either in formation or in significance of branches support, from the Bayesian dendrogram.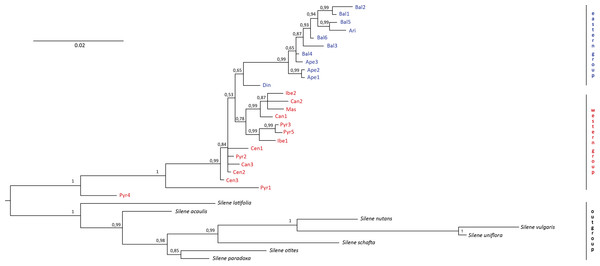 In the haplotype network approach, the overall analysis (Fig. 3) corroborated the existence of two (eastern–western) groups and found higher haplotype diversification in the western group. Of all the eastern populations, the Din haplotype had the nearest position to the western group, which was in agreement with the results obtained from the dendrogram. Sequences assembled into 24 haplotypes, with 12 haplotypes including only western region sequences, 10 haplotypes including only eastern region sequences and two haplotypes outside the network (Pyr1 and Pyr4). Only eastern region sequences Ape1 and Ape2 shared the same haplotype pattern, and no shared haplotype patterns were found between the "eastern" and "western" groups. Moreover, the haplotype network revealed a close relationship between the haplotype pattern of Ape3 and some Balkan populations and among the haplotype pattern of Pyr2 and some Central System populations. The rbcL haplotype network (Fig. S1) was selected to visualise the geographic distribution of haplotypes by regions, as it showed the most representative and parsimonious patterns of the three cpDNA regions, when analysed separately (Fig. 5). In that network, Cen2 and Bal1 haplotypes were prevalent in the western and eastern regions, respectively.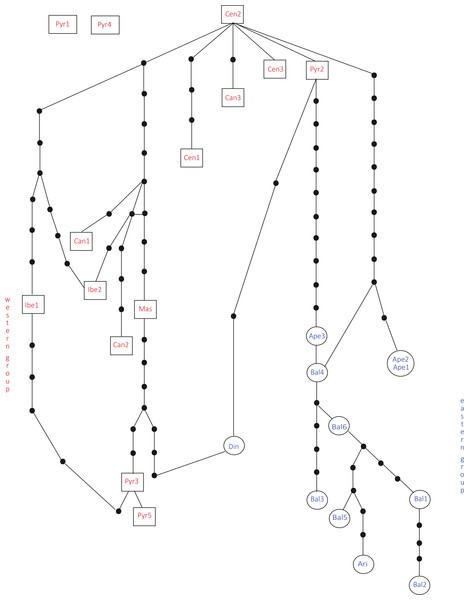 The neighbour-net method suggested a grouping pattern that was in accordance with the one obtained using the haplotype network approach. Besides that, it provided a chance to delve deeper into the differences among S. ciliata sampled populations. The all-inclusive neighbour-net network (Fig. 4) confirmed the classification of all studied populations into a western and an eastern region, which was 91.6% statistically supported. Furthermore, some distances inside the network were noteworthy because they verified previous results. This is the case of the observed 98.4% difference in the distance between Cen1 and the rest of Central System populations (implied by the haplotype network). The Italian Ape3 showed a minor differentiation (77.1%) that was also noticed in the haplotype network and in the dendrograms. Last but not least, the eastern population Din was placed in the "western" group.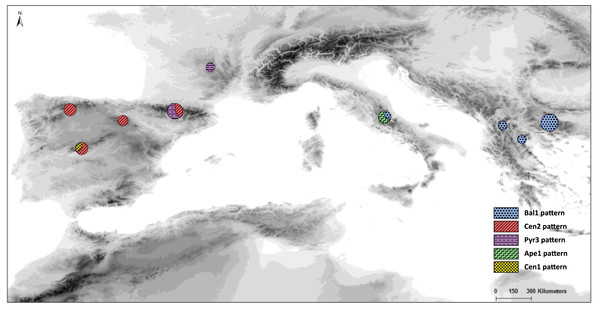 The Bayesian spatial clustering of populations resulted in an optimal grouping of K = 2. This supported the western–eastern region division of populations noted in previous analyses. Only the Balkan population Din deviated once more from this division, clustering with the western-region populations.