Bird-window collisions: Mitigation efficacy and risk factors across two years
1
Family & Consumer Studies Department, University of Utah

,

Salt Lake City

,

UT

,

United States of America
2
Environmental and Sustainability Studies, University of Utah

,

Salt Lake City

,

UT

,

United States of America
3
Environmental Studies, University of California, Santa Cruz

,

Santa Cruz

,

CA

,

United States of America
Published

Accepted

Received
Academic Editor
Subject Areas

Keywords

Bird

,

Window collision/strike

,

Prevention

,

Reflective windows

,

Bird-friendly window

,

Collision deterrent film

,

Fritted window

,

UV patterned window

,

Cedar Waxwing

,

Season
Copyright

©

2021

Brown et al.

Licence

This is an open access article distributed under the terms of the Creative Commons Attribution License, which permits unrestricted use, distribution, reproduction and adaptation in any medium and for any purpose provided that it is properly attributed. For attribution, the original author(s), title, publication source (PeerJ) and either DOI or URL of the article must be cited.
Cite this article

2021

.

Bird-window collisions: Mitigation efficacy and risk factors across two years

.

PeerJ

9

:

e11867

https://doi.org/10.7717/peerj.11867
Abstract
Background
Research on bird-window collision mitigation is needed to prevent up to a billion bird fatalities yearly in the U.S. At the University of Utah campus (Salt Lake City, Utah, USA), past research documented collisions, especially for Cedar Waxwings (Bombycilla cedrorum) drawn to fruiting ornamental pears in winter. Mirrored windows, which have a metallic coating that turns window exteriors into mirrors, had frequent collisions, which were mitigated when Feather Friendly®bird deterrent markers were applied. Bird-friendly windows–ORNILUX®ultraviolet (UV) and fritted windows–also reduced collisions when data were collected across fall and winter. Extending this prior research, we evaluated additional mitigation and tested the replicability of effects for pear trees, mirrored windows, and bird-friendly windows across two years.
Methods
Using published data from eight buildings monitored for collisions in year 1 (Fall and Winter, 2019–2020), we added another year of monitoring, Fall and Winter, 2020–2021. Between years, Feather Friendly®mitigation markers were added to collision-prone areas of two buildings, including both mirrored and transparent windows.
Results
The two buildings that received new Feather Friendly®mitigation had significantly fewer collisions post-mitigation. Control areas also had nonsignificant decline in collisions. The interaction of area (mitigation vs. control) by time (year 1 vs. 2) was significant, based on generalized estimating equations (GEE). The total yearly collisions across all eight buildings declined from 39 to 23. A second GEE analysis of all 8 buildings showed that mirrored windows, pear trees, and bird-friendly windows were each significant when analyzed separately. The best-fit model showed more collisions for mirrored windows and fewer collisions for bird-friendly windows. We found pear tree proximity to be related to more collisions in winter than fall. In addition, pear trees showed reduced collisions from year 1 to 2, consistent with new mitigation for two of three buildings near pear trees.
Discussion
Feather Friendly® markers can mitigate collisions with transparent windows, not only mirrored windows, compared to unmitigated areas over 2 years. Results also underscore the dangers of pear tree proximity and mirrored windows and the efficacy of bird-friendly windows. Thus, bird collisions can be prevented by window mitigation, permanent bird-friendly windows, and landscape designs that avoid creating ecological traps.
Introduction
Threats to birds from windows are becoming well-known, with a systematic review estimating up to one billion birds per year killed in the U.S. in window collisions (Loss et al., 2014). Birds fly into windows because they do not see transparent windows as solid surfaces or they see reflected images of sky or habitat as places to fly through (Klem, 1989). Past research documents how new window materials or applications of mitigation material to existing windows can reduce these collisions (Klem, 2009; Klem & Saenger, 2013; Ocampo-Peñuela, Peñuela Recio & Á, 2016a; Sheppard, 2019; Swaddle et al., 2020). Much of the research on bird-friendly window treatments is drawn from special tunnel tests that offer controlled flight conditions in the presence of specially mitigated windows. These essential tunnel tests should be complemented with additional research on existing buildings that include pre-test and post-test measures of both experimental areas receiving mitigation and control areas that do not receive mitigation. Such studies, often characterized as quasi-experimental designs (Cook & Campbell, 1979) or before-after control-impact (BACI) designs (Underwood, 1992), can identify the range of building-related qualities, such as windows and landscaping, that could be modified to reduce bird-window collisions (Basilio, Moreno & Piratelli, 2020; Dunn, 1993; Hager et al., 2008). Therefore, it is important to study the efficacy of window treatments as well as the risk factors that exist in situ, in order to reduce the mortality associated with the most dangerous buildings.
The current study extends past research conducted on the University of Utah campus in Salt Lake City, Utah, USA (Brown et al., 2019). A mirrored building façade had a metallic coating that turned the window exterior into a mirror under most lighting conditions. The building with the mirrored facade was near ornamental pear trees (Pyrus calleryana) that drew Cedar Waxwings (Bombycilla cedrorum) to feed but also to collide with the mirrored facade. A bird collision deterrent film, applied to part of the mirrored façade, reduced collisions in the second winter. In addition, a correlational follow-up of eight buildings during the second winter identified nearby pear trees and mirrored windows as the best predictors of collisions. Although two buildings had permanent bird-friendly windows, fabricated with frits or ultraviolet-reflective patterned windows, overall collisions in winter were so low that the permanent bird-friendly windows did not have fewer collisions than the other six buildings (Brown, Hunter & Santos, 2020). However, when data collection was expanded the next year to include both fall and winter seasons, the numbers of collisions overall naturally increased and the two buildings with permanent bird-friendly windows exhibited fewer collisions than other buildings, given the greater variability and total numbers of collisions introduced by extending observations to fall. The current study extends these past two analyses by evaluating additional mitigation for transparent windows, not just mirrored windows. In addition, a new fall and winter season of data collection across all eight buildings allows us to test the stability of risk factors across two years in order to establish greater generalizability of findings.
Untreated windows
Unless specially treated, many windows currently installed in buildings pose dangers to birds because transparent windows are not perceived as a solid surface or reflections from clear or tinted windows are seen as more habitat. (Klem, 2009). One way to understand bird avoidance of window surfaces is from research in specially designed tunnels, where a released bird is observed to swerve toward one of two window treatments (Klem, 2009; Rössler, Nemeth & Bruckner, 2015; Sheppard, 2019; Swaddle et al., 2020). Alternatively, research assesses how many birds fly into different types of windows erected in fields near woods (Klem, 1989; Klem, 1990; Klem, 2009). Both the controlled tunnel tests and the more open field tests show that birds will frequently fly into windows unless they have been mitigated with visible markers affixed to the external surface in a 5 x 10 cm (2 x 4 inch) pattern or when windows are specially fabricated with materials that are visible to birds. Outside of testing situations, multiple studies have confirmed that buildings with unprotected glass are vulnerable to collisions, especially buildings with greater amounts of glass (Basilio, Moreno & Piratelli, 2020; Borden et al., 2010; Cusa, Jackson & Mesure, 2015; Elmore et al., 2020; Hager et al., 2013; Hiemstra, Dlabola & O'Brien, 2020; Keyes & Sexton, 2014; Klem et al., 2009; Ocampo-Peñuela et al., 2016b; Riding, O'Connell & Loss, 2019; Schneider et al., 2018).
Buildings with mirrored glass, which is reflective under a wide range of lighting conditions, appear to be especially dangerous to birds, according to numerous anecdotal observations in past studies (Evans Ogden, 2002; O'Connell, 2001; Sheppard & Phillips, 2015). The systematic test of mitigation efficacy for the mirrored façade at the University of Utah used Feather Friendly® Symmetry pattern bird collision deterrent. This deterrent is applied as a film onto the window exterior, then the backing is removed, leaving small (six mm.) white dots, spaced 5.08 cm apart. These markers are designed to make the window visible to birds as a solid surface. The dots can be seen by humans, although they do not block much total area of the view. By affixing the dots to 36 m2 of a 199 m2 mirrored surface, collisions were reduced by 71% on the mitigated surface and unchanged on the remaining untreated mirrored or traditional transparent glass surfaces of the building (Brown et al., 2019). Specifically, from winter 1 (November 9, 2017 to January 2, 2018) to winter 2 (November 15, 2019 to January 12, 2019) the mitigation area had collisions decline from seven pre-mitigation to two post-mitigation, a 71% reduction, while remaining at 8 collisions on unprotected windows in both years. As one would expect when a mitigation is effective, the treatment by year interaction effect was significant (p = 0.03) in a generalized estimating equation test, supporting the efficacy of the Feather Friendly® treatment.
Bird-friendly windows
A growing number of windows are manufactured to include features that may be visible to birds, including fritted windows and ultraviolet-reflective patterned windows. Fritted windows have small ceramic frits fused into the glass and are employed primarily to reduce heat and light penetration (Wilson & Elstner, 2018). However, these windows often deter bird collisions as well. In outdoor cage tests, birds faced with a choice of fritted or clear windows avoided flying toward the fritted windows in 89% of 70 trials (Klem, 2009). These frits were 0.32 cm in diameter and 0.32 cm apart; thus, they may be less acceptable to humans who want unobstructed window views.
Windows manufactured with patterns that reflect ultraviolet light will reflect short wavelengths of light that are visible to many birds, but are less detectible by humans. For example, the ORNILUX® Mikado pattern will, upon close examination by a human, appear to have patterns loosely resembling pick-up sticks embedded in the window, but without obstructing the view. Birds may see these patterns more readily than humans, though more research about bird vision across species and viewing conditions is needed. The Mikado pattern was inspired by ultraviolet-reflective strands of webs created by orb weaver spiders that may warn off approaching birds (Postel, 2016). In outdoor field tests ORNILUX Mikado pattern deterred collisions 55% of the time when the window covered a darkened interior, which was comparable to the 58% to 66% deterrence when windows were tested in tunnels (Klem & Saenger, 2013). However, bird species differ in their ability to see ultraviolet reflections (Håstad & Ödeen, 2014) and these reflections may be less visible on cloudy days (Sheppard, 2019). Together the fritted and ORNILUX® windows were associated with fewer collisions at the University of Utah when data were collected for both fall and winter seasons (Brown, Hunter & Santos, 2020). Given few tests of these products in existing buildings, replications are warranted.
Trees and collisions
In addition to considering the dangers posed by building windows, the landscape surrounding each building may attract or repel birds, altering their likelihood of collisions. Past research has found that trees or shrubs close to buildings may attract birds and reflections of trees or shrubs in windows or mirrored surfaces can mask the solid hazard of glass, increasing collisions (Borden et al., 2010; Gelb & Delacretaz, 2006; Klem et al., 2009; Kummer, Bayne & Machtans, 2016b; Loss et al., 2019), although others find no effect (Hager et al., 2017). Few studies have examined whether particular trees are associated with more collisions, although some studies have shown that taller trees near buildings relate to more collisions (Klem et al., 2009; Kummer, Bayne & Machtans, 2016b). Another study found that trees with fruits or berries attract a greater variety of native birds, but did not examine collisions (Belaire, Whelan & Minor, 2014). Fruit trees became a focus at the current study site because of past years of sightings of Cedar Waxwings feeding on pear trees in winter (Brown, Hunter & Santos, 2020; Brown et al., 2019). Waxwings are especially dependent on fruit as a food source in winter (Witmer, 1996; Witmer, Mountjoy & Elliot, 2014). Thus, while some studies highlight the dangers of any surrounding trees or shrubs, the current study focuses on the dangers of pear trees near buildings with mirrored or transparent windows.
In sum, this study addressed three research questions. First, we tested whether the application of Feather Friendly® bird deterrent markers reduced bird collisions across two years, compared with control areas. Second, we assessed whether nearby pear trees and mirrored windows related to greater collisions while bird-friendly windows (fritted and ORNILUX) related to fewer collisions. Third, we examined seasonal differences in collisions, attempting to replicate the associations found between pear trees and winter collisions, especially for Cedar Waxwings, compared with fall.
Results
Reliability and descriptive information
Reliability checks showed that observers had good to excellent agreement, with ICCs of 0.92 in year 1 (95% CI [0.89–0.94]) and 0.92 in year 2 (95% CI [0.90–0.94]).
Fewer collisions across all 8 buildings were noted in year 2 (n = 23) than in year 1 (n = 39) (Table 1). Six of the eight buildings had fairly stable collision numbers, which varied only +/−2 collisions. However, the two treated buildings had the greatest number of collisions during year 1 and also had the largest decline in strikes, with declines of 9 collisions for each of buildings 1 and 2.
Of the 62 total collisions, 30 (48.39%) involved Cedar Waxwings in winter (Table 2). Dark-eyed Juncos (Junco hyemalis) had 8 collisions across fall and winter, with the remaining species represented by 3 or fewer collisions. In total, 18 identifiable species were involved in collisions.
Building number
Common name
Scientific name
1
2
3
4
5
6
7
8
Totals
Cedar Waxwing
Bombycilla cedrorum
14-W1
5-W2
9-W1
1-W2
1-W2
30
Dark-eyed Junco
Junco hyemalis
2-W2
1-F2
2-W2
1-F1
1-F2
1-W2
8
Lincoln's Sparrow
Melospiza lincolnii
1-F2
1-F1
1-F1
3
Orange-crowned warbler
Leiothlypis celata
1-F1
1-F2
2
Yellow-rumped Warbler
Setophaga coronata
1-F1, 1-W1
2
Mourning Dove
Zenaida macroura
1-F1
1-F2
2
Red-naped Sapsucker
Sphyrapicus nuchalis
1-F1
1
Black-capped chickadee
Poecile atricapilla
1-W1
1
Townsend's Solitaire
Myadestes townsendi
1-F1
1
American Robin
Turdus migratorius
1-W1
1
House Finch
Haemorhous mexicanus
1-F1
1
Brewer's Sparrow
Spizella breweri
1-F1
1
Lazuli Bunting
Passerina amoena
1-F1
1
Rock Pigeon
Columba livia
1-W2
1
Brown Creeper
Certhia americana
1-W2
1
MacGillivray's Warbler
Geothlypis tolmiei
1-F2
1
Spotted Towhee
Pipilo maculatus
1-F2
1
Ruby-crowned Kinglet
Regulus calendula
1-W2
1
Unknown bird
 
 
 
1-W1
 
1-F1
 
 
 1-W2
3
Totals
19
13
3
3
9
9
4
2
62
W

winter

F

fall season

1

year 1

2

year 2
Feather Friendly® mitigation evaluation
Buildings 1 and 2, which received Feather Friendly® mitigation treatment between years 1 and 2, had 24 collisions that could be assigned to either mitigation or control areas in year 1 and 7 in year 2. Consistent with the overall reduction of collisions in year 2, collisions for both treatment and control areas decreased in year 2. Control areas collisions declined from 11 to 6 (a 45.45% reduction), and treatment areas declined from 13 to 1 (a 92.31% reduction). The weekly collision averages across years, based on the expected marginal mean from the GEE analysis, are indicated on Fig. 1. The interaction of area by time was significant, indicating different amounts of change in collisions over time for treatment and control areas (Wald χ2 = 14.99, d.f. = 3, p = 0.002). The follow-up simple effects tests show the decrease in collisions was significant for the experimental area (Wald χ2 = 8.09, d.f. = 1, p = 0.004) but not for the control area (Wald χ2 = 1.24, d.f. = 1, p = 0.27). Thus, the results support the effectiveness of the mitigation.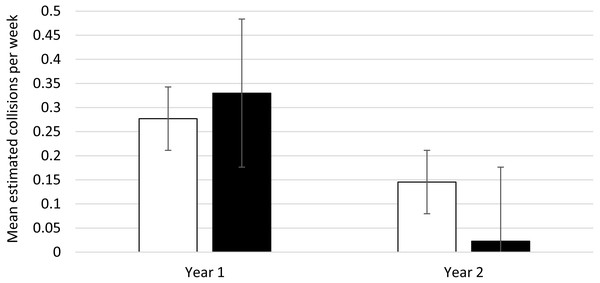 Risk factors across years 1 and 2
Table 3 summarizes the effects of the three environmental predictors—pear trees, mirrored windows, and permanent bird-friendly windows—on collisions across the two years. These analyses contain the three predictors together and then separately, along with the best fitting model among all possible combinations of the three predictors. When all three predictors are in Model 1, mirrored windows explained a significant amount of unique variance (p = 0.01), increasing the likelihood of a collision by 2.38. Given correlations among the predictors (phi coefficients range from −0.45 to 0.49, p = .01), Models 2 through 4 evaluate each predictor alone. In these single-variable models, each predictor is significant in the expected direction. Pear trees and mirrored windows increase odds of collisions (Exp(B) or odds ratio = 2.16 and 3.09, respectively) and bird-friendly windows reduce odds (Exp(B) = 0.32). A comparison of QICC fit statistics across all single, double, and triple predictors showed that the best fit Model 5 included mirrored windows and bird-friendly windows (QICC = 388.53 compared with 391.57 to 403.49 for other models). Again, mirrored windows increase odds (Exp(B) = 2.57) and bird-friendly windows reduce odds (Exp(B) = 0.41).
95% Wald C.I.
 
B
S.E.
p
Exp(B)
Lower
Upper
Model 1: All three predictors
Intercept
−2.84
0.22
0.01
0.06
0.04
0.09
Pear trees
0.13
0.33
0.69
1.14
0.60
2.19
Mirrored windows
0.87
0.34
0.01
2.38
1.22
4.62
Bird-friendly glass
−0.85
0.46
0.07
0.43
0.17
1.06
Model 2: Pear trees only
Intercept
−3.10
0.19
0.01
0.05
0.03
0.07
Pear trees
0.77
0.26
0.01
2.16
1.31
3.57
Model 3: Mirrored windows
Intercept
−2.97
0.15
0.01
0.05
0.04
0.07
Mirrored windows
1.13
0.28
0.01
3.09
1.80
5.31
Model 4: Bird-friendly glass
Intercept
−2.55
0.13
0.01
0.08
0.06
0.10
Bird-friendly glass
−1.14
0.43
0.01
0.32
0.14
0.75
Model 5: Mirrored + bird-friendly windows, best fit
Intercept
−2.79
0.16
0.01
0.06
0.05
0.09
Mirrored windows
0.94
0.28
0.01
2.57
1.48
4.46
Bird-friendly windows
−0.90
0.44
0.04
0.41
0.17
0.96
B

B coefficient

S.E.

Standard error of B

Exp(B)

odds ratio

CI

confidence interval
Data were collected in fall and winter, 2019–2020 and 2020–2021 at the University of Utah, Salt Lake City, Utah, USA.
To ascertain whether buildings near pear trees posed special dangers to birds that feed on fruit in winter, such as Cedar Waxwings, we computed interactions with the three building risk factors and the two temporal variables of season and year. Table 4 shows that, once again, the presence of pear trees is especially predictive of collisions in winter, when pear trees provide an important food source for waxwings and other fruit eaters. Specifically, the expected pear tree by season interaction effect was significant (Wald χ2 = 12.00, d.f. = 3, p = 0.01). Significant simple effects follow-up tests reflect the greater number of winter collisions than fall collisions for buildings near pear trees (Wald χ2 = 8.12, d.f. = 1, p = 0.01); adjusted means show 0.08 collisions/observation day in winter compared to 0.01 in fall. Conversely, the five buildings that were not close to pear trees had more fall than winter collisions (Wald χ2 = 4.27, d.f. = 1, p = 0.04); adjusted means show 0.04 collisions/day in winter compared to 0.10 in fall.
95% Wald C.I.
 
B
S.E.
p
Exp(B)
Lower
Upper
Intercept
−2.35
0.34
0.01
0.10
0.05
0.18
Pear trees
−1.37
0.70
0.05
0.26
0.06
1.01
Mirrored windows
0.86
0.34
0.01
2.38
1.22
4.62
Bird-friendly glass
−0.85
0.46
0.07
0.43
0.17
1.06
Season (winter =1)
−0.99
0.39
0.01
0.37
0.17
0.80
Year (2020-2021 = 1)
0.07
0.39
0.85
1.08
0.51
2.29
Pear trees * Season
2.74
0.72
0.01
15.52
3.79
63.59
Pear trees * Year
−1.13
0.55
0.04
0.32
0.11
0.94
B

B coefficient

S.E.

Standard error of B

Exp(B)

odds ratio

CI

confidence interval
Data were collected in fall and winter 2019-2020 and 2020-2021 at the University of Utah, Salt Lake City, Utah, USA.
The only significant difference in effects of risk factors by year involved the pear tree by year interaction effect (Wald χ2 = 8.61, d.f. = 3, p = 0.04). The effect reflects what would be expected from additional mitigation of two of the three buildings near pear trees between years 1 and 2. These buildings had fewer collisions in the second year, after mitigation (Wald χ2 = 4.21, d.f. = 1, p = 0.04); adjusted means decreased from 0.06 to 0.02 across the two years.
Conclusions
The current study is the third in a series of studies that establish that two separate phases of installation of Feather Friendly® bird collision deterrent is effective in lowering collisions against both mirrored and transparent glass windows on two different buildings. In addition, the studies have provided correlational evidence that permanent bird-friendly windows—ORNILUX® Mikado UV reflective windows and fritted windows—are associated with fewer collisions and that mirrored glass is associated with more collisions. The special dangers created for Cedar Waxwings by pear trees planted near transparent and mirrored windows underscore how human preferences for aesthetic advantages can create ecological traps for birds drawn to food sources near windows. Although these results could benefit from replications in different seasons and places, the accumulating evidence supports preventive actions. We should install protective windows in new construction, mitigate dangerous existing windows, and provide safe food and shelter opportunities for birds when creating landscapes near buildings.
Supplemental Information
Raw data and code for evaluating intervention and for the correlational analysis and list of species