Genome-wide analysis of 3′-untranslated regions supports the existence of post-transcriptional regulons controlling gene expression in trypanosomes
Instituto de Investigaciones Biotecnológicas-Instituto Tecnológico de Chascomús, UNSAM-CONICET

,

Buenos Aires

,

Argentina
Published

Accepted

Received
Academic Editor
Subject Areas

Keywords

RNA-binding protein

,

Trypanosomes

, Cis-element,

Post-transcriptional control

,

RNA regulon
Copyright

©

2013

De Gaudenzi et al.

Licence

This is an open access article distributed under the terms of the Creative Commons Attribution License, which permits unrestricted use, distribution, and reproduction in any medium, provided the original author and source are credited.
Cite this article

2013

.

Genome-wide analysis of 3′-untranslated regions supports the existence of post-transcriptional regulons controlling gene expression in trypanosomes

.

PeerJ

1

:

e118

https://doi.org/10.7717/peerj.118
Abstract
In eukaryotic cells, a group of messenger ribonucleic acids (mRNAs) encoding functionally interrelated proteins together with the trans-acting factors that coordinately modulate their expression is termed a post-transcriptional regulon, due to their partial analogy to a prokaryotic polycistron. This mRNA clustering is organized by sequence-specific RNA-binding proteins (RBPs) that bind cis-regulatory elements in the noncoding regions of genes, and mediates the synchronized control of their fate. These recognition motifs are often characterized by conserved sequences and/or RNA structures, and it is likely that various classes of cis-elements remain undiscovered. Current evidence suggests that RNA regulons govern gene expression in trypanosomes, unicellular parasites which mainly use post-transcriptional mechanisms to control protein synthesis. In this study, we used motif discovery tools to test whether groups of functionally related trypanosomatid genes contain a common cis-regulatory element. We obtained conserved structured RNA motifs statistically enriched in the noncoding region of 38 out of 53 groups of metabolically related transcripts in comparison with a random control. These motifs have a hairpin loop structure, a preferred sense orientation and are located in close proximity to the open reading frames. We found that 15 out of these 38 groups represent unique motifs in which most 3′-UTR signature elements were group-specific. Two extensively studied Trypanosoma cruzi RBPs, TcUBP1 and TcRBP3 were found associated with a few candidate RNA regulons. Interestingly, 13 motifs showed a strong correlation with clusters of developmentally co-expressed genes and six RNA elements were enriched in gene clusters affected after hyperosmotic stress. Here we report a systematic genome-wide in silico screen to search for novel RNA-binding sites in transcripts, and describe an organized network of several coordinately regulated cohorts of mRNAs in T. cruzi. Moreover, we found that structured RNA elements are also conserved in other human pathogens. These results support a model of regulation of gene expression by multiple post-transcriptional regulons in trypanosomes.
Introduction
The kinetoplastid protozoa comprise a group of unicellular parasites that belong to a distinctive evolutionary lineage of eukaryotes. Members of this taxonomic group include etiological agents of several neglected zoonoses such as Chagas disease (Trypanosoma cruzi), sleeping sickness (Trypanosoma brucei) and Leishmaniasis (Leishmania spp.). These three species are digenetic unicellular microorganisms that suffer continuous morphological changes throughout their complex life-cycles (Barrett et al., 2003).
Transcription in these cells is polycistronic. RNA synthesis by RNA polymerase II starts at a few genomic locations within chromosomes and thus nearly all the protein-coding genes are arrayed in long multi-gene transcription units (Fernandez-Moya & Estevez, 2010; Kramer, 2011). In contrast to operons in bacteria, trypanosomal polycistronic units require processing before translation. Consequently individual mature messenger ribonucleic acids (mRNAs) are generated by 5′ trans-splicing and 3′ polyadenylation of precursor RNAs (Hendriks & Matthews, 2007). Given these unique genetic features, trypanosomes essentially make use of post-transcriptional processes to control gene expression [reviewed in (De Gaudenzi et al., 2011)].
A common polypyrimidine tract located between two neighboring open reading frames is the signal sequence recognized by both trans-splicing and polyadenylation machineries and governs the co-transcriptional RNA processing (Matthews, Tschudi & Ullu, 1994). A 39-nt capped spliced-leader sequence is added only a few nucleotides upstream of the ATG translational start codon thus generating short 5′-UTRs. Because this region is usually under rigid structural constraints to accommodate the translational machinery (Conne, Stutz & Vassalli, 2000), the 3′-UTR is usually the key region involved in transcript stability and translation efficiency.
Bioinformatic tools allowed the identification of all trypanosomal RBPs and numerous sequence elements mainly involved in RNA-processing and genome structure (Benz et al., 2005; Campos et al., 2008; Duhagon, Dallagiovanna & Garat, 2001; Duhagon et al., 2013; Smith, Blanchette & Papadopoulou, 2008). Several studies demonstrated the presence of U-rich elements in trypanosomal mRNA 3′-UTRs [reviewed in Araujo & Teixeira, 2011; Haile & Papadopoulou, 2007; Hendriks & Matthews, 2007]. Strikingly, the functional role of CA repeated tracts in T. cruzi 3′-UTRs was recently established as a signal for gene expression modulation through the parasite's life-cycle (Pastro et al., 2013).
Cis-acting motifs are recognized by different trans-acting factors, including members of the kinetoplastid superfamily of RNA-recognition motif (RRM)-containing RNA-binding proteins (RBPs) (Kramer & Carrington, 2011). The first two RRM proteins of this family were previously characterized by our group and termed T. cruzi U-rich RBP 1 (TcUBP1) and TcUBP2. A third member of this group was named TcRBP3 and displayed different RNA-binding properties than the previously mentioned RBPs (De Gaudenzi, D'Orso & Frasch, 2003). A comparative ribonomic analysis of TcUBP1 and TcRBP3 showed that both proteins can share target transcripts, although they preferentially bind different sets of mRNAs. These trypanosomal target transcripts were classified within functional groups and contain conserved structural elements involved in RNA-binding in their 3′-UTRs (Noe, De Gaudenzi & Frasch, 2008). Furthermore, these two RRM-containing RBPs can associate with more than one RNA element within the same transcript, supporting the idea that the combination of motifs is the main factor that defines RNA-protein interaction networks (Mittal et al., 2009; Morris, Mukherjee & Keene, 2010).
A group of functionally linked mRNAs together with the sequence-specific RBPs that coordinately modulate their expression is termed an RNA regulon, due to their partial analogy to the bacterial operon. The messenger ribonucleoprotein (mRNP) complex-driven organization of transcripts allows eukaryotic cells to control protein synthesis from genes that are dispersed throughout the genome but encode for products involved in common or related functions. This higher-order cytoplasmic organization of transcripts implies a complex but flexible level of gene regulation that entails a rapid adaptation of the cellular transcriptome in response to alterations in the environment (Mansfield & Keene, 2009). Post-transcriptional regulons have been described in mammalian cells, fruit flies, and yeast, and can control several associated processes such as RNA processing, export, stabilization, localization and translation. Moreover, regulons are important in different cellular pathways such as oxidative metabolism, stress response and circadian rhythms (Keene, 2007).
We and other authors demonstrated that Keene's model of RNA regulons precisely fits the observed trypanosome gene expression regulation (Noe, De Gaudenzi & Frasch, 2008; Ouellette & Papadopoulou, 2009; Queiroz et al., 2009). Genomes analysis of TriTryps provided a large collection of putative RBPs and mRNA metabolism factors, but an extensive characterization of RNA-protein interactions still remains elusive (Kramer, Kimblin & Carrington, 2010). This is due, at least in part, because the cis-elements that orchestrate these interactions are poorly defined. In particular, more efforts are necessary to complete the global identification of conserved sequences that govern large cohorts of trypanosome stage-regulated mRNAs. Post-transcriptional gene regulation does not seem to be exclusively governed by linear motifs, thus models of RNA-protein interactions should include both primary sequence and secondary structures features (Goodarzi et al., 2012).
An exhaustive genome-wide computational search for regulatory RNA elements has been reported in T. brucei (Mao, Najafabadi & Salavati, 2009) and conserved intercoding sequences and putative regulons were also identified in Leishmania (Vasconcelos et al., 2012). The observation that RRM-type RBPs recognize conserved structural motifs located in the 3′-UTR from functionally related targets, prompted us to search the T. cruzi genome in order to systematically describe the elements defining RNA regulons. We found that distinct groups of metabolically clustered transcripts contain cis-regulatory signals. These cis-elements have stem-loop secondary structures, and were preferentially located in the 3′-UTR of transcripts (but not in the 5′-UTR), with a particular sense orientation at the vicinity of the coding sequence. Here we describe, for the first time, a systematic identification of candidate RNA regulons in kinetoplastids grouped by similar metabolic pathways, and harboring signature structured RNA motifs. The identification of shared elements in cohorts of transcripts will pave the way for the detection of the trans-acting factors that organize each group of mRNAs and govern their final behaviour. All these observations are consistent with the RNA regulon model.
Discussion
The life-cycle of an RNA in trypanosomatids mostly depends on post-transcriptional mechanisms due to the absence of a tight control at the transcriptional level. Given the large diversity of cellular transcripts, the separation of a transcriptome into modules of co-regulated genes is likely to be an advantageous strategy. Particularly in the case of trypanosomes, RNA regulons may represent an ideal system to achieve an adequate control of gene expression. In the past few years several reports provided evidence indicating that trypanosomal transcripts are organized as post-transcriptional regulons (Archer et al., 2009; Das et al., 2012; Estevez, 2008; Guerra-Slompo et al., 2012; Mayho et al., 2006; Noe, De Gaudenzi & Frasch, 2008). Furthermore, several RBPs have also been shown to interact with a subset of stage-specific mRNAs, suggesting the presence of developmental regulons (Dallagiovanna et al., 2008; Li et al., 2012; Mörking et al., 2012; Walrad et al., 2012).
Nowadays, the three-dimensional structure prediction tools of RNA based on its sequence constitutes a major challenge (Cruz et al., 2012). However, several methods for determining predictive models of RNA secondary structures have been described in the last decade (Seetin & Mathews, 2012) and, some of them, were used here to elucidate RNA regulons in ≈ 70% of the trypanosomal 3′-UTRs analyzed. Probably, the lack of advanced methods to facilitate the estimation of higher-order RNA structures is a partial explanation for why we failed to identify RNA motifs in ≈ 30% of the KEGG groups. Identification of conserved elements constitutes the primary step in the characterization of RNA regulons and to our knowledge, this is the first systematic genome-wide in silico screen to search for novel structural cis-acting elements in T. cruzi. The major findings of this investigation can be summarized as follow: [1] 38 KEGG groups have conserved structured elements mostly located in the 3′-UTR (Fig. 3); [2] these motifs have a preferred sense orientation and are positioned in the vicinity of the translational stop codon (Fig. 4); [3] structured RNA motifs found in the 3′-UTR are highly represented in its corresponding metabolic categories compared with random/remaining KEGG groups (Fig. 5), as previously reported in other RNA regulon heatmaps (Hogan et al., 2008). Through the binding of cognate RBPs, the RNA motifs present in a given metabolic pathway may guide the construction of regulatory networks, also called RNA regulons (see model in Fig. 7).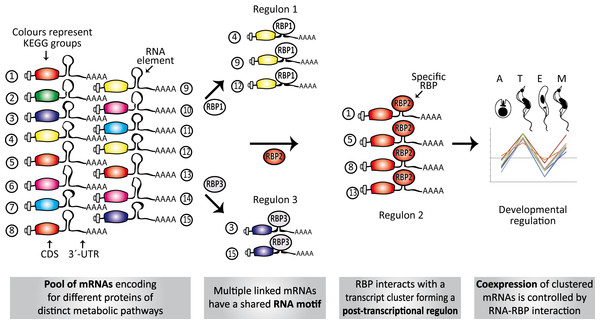 The element m03010 is greatly over-represented in the dataset, being found in ≈ 90% of the 3′-UTRs of the ribosomal protein genes. It was previously reported that ribosome biogenesis is controlled by post-transcriptional mechanisms (Grigull et al., 2004; Thorrez et al., 2008) and that sequence elements are shared by the transcripts encoding its components. For instance, a conserved sequence motif UUGUU is present in many ribosomal protein 3′-UTRs in nematodes (Hajarnavis & Durbin, 2006), probably involved in translation regulation. The data obtained revealed that the motif UUGUU is over-represented in the mRNAs of trypanosomal ribosomal proteins (92.7%, 280 of 302), compared to the remaining KEGG groups (75.5%, 780 of 1033) (P < 0.0001, χ2 test). This short motif is also present in the consensus sequence of the structural m03010 element.
A number of studies in trypanosomes show that genes encoding interrelated proteins have similar mRNA levels (Minning et al., 2009). For diverse groups of genes, this similarity in mRNA levels can be extended to concerted changes during differentiation or in perturbation experiments, suggesting that the transcriptome of these parasites is organized in clusters of transcripts exhibiting similar transcript abundance profiles (Ouellette & Papadopoulou, 2009; Rochette et al., 2008; Veitch et al., 2010). Also the abundance of certain ncRNAs varies between distinct forms of T. brucei (Michaeli et al., 2012). Here, we reported that functional groups in T. cruzi share common motifs (as depicted in Fig. 6), offering a starting point to screen for trans-acting factors in each set of mRNAs, or regulons, that probably modulate their abundance, turnover and/or access to the translation machinery.
Our results demonstrate that members of different clusters display similar RNA abundances in distinct stages of the T. cruzi life-cycle (Fig. 6 and Table 4) and in specific cellular conditions (Table 5). Analysis of developmentally regulated clusters with the DAVID Functional Annotation Chart tool revealed that clusters C1, C5, C23, C32 and C49 contain metabolically connected transcripts with profile expressions that might be coordinated by the over-represented elements (Table 4). For instance, the m00562 motif, present in the majority of genes of the inositol phosphate pathway follows in part the same profile expression pattern of Trypomastigote-like Trans-sialidase genes [notice that Trans-sialidase enzyme is GPI-anchored in the infective trypomastigote forms of the parasite (Chaves, Briones & Schenkman, 1993)]. This outcome could probably be the result of the same pattern of regulation exerted over a cohort of transcripts. These observations, together with the existence of common sequence signals involved in protein recognition within each group of mRNAs, make it possible to describe the components that make up numerous potential post-transcriptional regulons.
mRNP complexes are highly dynamic structures that can be rapidly remodeled in response to alterations in environmental conditions or during differentiation (Keene, 2007; Mansfield & Keene, 2009). Protein composition of these mRNP complexes modulates RNA biology in different environmental conditions or developmental stages. To assess whether post-transcriptional regulons are remodeled under stress conditions, we evaluated the abundance of structured RNA motifs in genes clustered by their expression profile after hyperosmotic stress during a time course study. Several clusters of stress regulated transcripts were observed (as depicted in Table 5), denoting that potential RNA regulons can still coordinate gene expression under osmotic stress conditions. In this context, it was also shown that TbDRBD3 remains bound to its specific target transcripts after starvation or arsenite treatment (Fernandez-Moya et al., 2012).
The four RNA elements that fulfill all the criteria examined in this work are m00310 (Lysine degradation), m00562 (Inositol phosphate metabolism), m00670 (One carbon pool by folate) and m03440 (Homologous recombination). These potential RNA-binding sites have a specific motif enrichment, a particular sense orientation, and are differentially expressed during parasite development and stress response. Although future experimental approaches are necessary to explore their biological functions, it is worth noticing that a complete in silico analysis was able to reveal hidden regulatory connections between these genes.
Regulatory cis-elements tend to be conserved among closely related organisms. To evaluate whether orthologous structural RNA elements could be acting in 3′-UTRs of other kinetoplastid parasites, we searched a variety of T. cruzi elements in T. brucei and L. major 3′-UTR datasets (unpublished data). As expected, several 3′ structured motifs identified in T. cruzi were also recognized in T. brucei [a species that diverged from the American parasite circa 100 million years ago (Stevens et al., 1999)], and to a lesser extent in L. major [speciation of Trypanosoma and Leishmania genus occurred 200–500 million years before present (Overath et al., 2001)]. These preliminary results suggest that there may also be a conserved phylogenetic signal in these structured RNA elements.
Conclusions
The regulon model states that RBPs coordinately regulate multiple mRNAs coding for interrelated proteins by interacting with transcripts containing shared elements. These post-transcriptional regulons could describe how gene expression is coordinately achieved in organisms where transcriptional regulation (at the initiation level) does not seem to play a major role. In this work, we reported the bioinformatic characterization of conserved structural cis-regulatory RNA elements in the 3′-UTRs of metabolically clustered T. cruzi transcripts. Using a computational approach, we have previously identified a collection of hundreds of RBPs encoded in the TriTryp genomes potentially involved in post-transcriptional mechanisms (De Gaudenzi, Frasch & Clayton, 2005). That genome-wide screen for RRM-type RBPs, is now followed in this work by the identification of novel putative RNA-binding sites shared by diverse mRNAs. Taken together, these two computational studies lay out the foundation required for further functional characterization of these post-transcriptional regulons in trypanosomatids.
Methods
Databases
The T. cruzi database (T. cruzi CL Brener genomic sequence Release 5.1) utilized in this work was obtained from TriTrypDB Database Resource (www.tritrypdb.org) (Agüero et al., 2006). 5′ upstream genomic sequences and 3′ downstream genomic sequences were obtained using the TriTrypDB sequence retrieval tool. A length of 80 nts upstream to the CDS was used to obtain sequences resembling the 5′-UTR, while 350 nts downstream to CDS were used for 3′-UTR, in agreement to previously reported data from trypanosomes (Campos et al., 2008). The 5′-end of transcripts was estimated as a 350-nt sequence encoding the predicted 5′-UTR followed by the first 270 nts of the coding region (in order to cover the same total length of the 3′-UTRs).
Trypanosomatid genes were grouped by the KEGG pathway database (Kanehisa & Goto, 2000). EST databases (T. cruzi filtered) were downloaded from NCBI and BLASTn searches were performed with the following parameters "−F F −W 7 −E 1e−5 −S 1 −b 1 −v 1 −m 8". DAVID Functional Annotation Chart tool (Huang et al., 2007) (http://david.abcc.ncifcrf.gov/) was used to categorize and compare the different gene lists against a T. cruzi background (using Fisher's exact test and Benjamini-Hochberg correction).
RNA motif elucidation
All computational analyses were performed using free software, available in the public domain and compiled for a LINUX environment (Ubuntu 9.10 distribution). Using CMfinder stand-alone software version 0.2 (Yao, Weinberg & Ruzzo, 2006) (http://bio.cs.washington.edu/yzizhen/CMfinder/), common elements were identified in 53 different datasets containing at least 10 sequences, using the following parameters "−s1 −f 0.6 −c10". As a control, motifs were also obtained using random sets. The 53 candidate motifs obtained were used to build stochastic context-free grammar (SCFG) model with the Infernal program (Nawrocki, Kolbe & Eddy, 2009). These models are representations of the RNA secondary structure and were used as queries in more refined searches (cmsearch algorithm). To validate the usage of models, a full test comparison between cmsearch and CMfinder's output was performed to determine the parameters of true and false positive rates. Thus, each model was used to assess the element coverage within the 3′ sequences in the KEGG dataset (m00010 vs. tcr00010, m00020 vs. tcr00020, etc). We found that cmsearch tool gave a very good performance, being able to find most of the originally predicted CMfinder elements (mean "sensitivity" 0.91), giving very few false positives (mean "1-specificity" of 0.13) with a mean accuracy of 0.90.
Randomization test
Random datasets were constructed using a custom Perl script (version 5.8). Fifty different groups containing 3′-UTRs were obtained by randomly shuffling the original dataset of 1814 sequences from the KEGG repertoire and used in searches with CMfinder and Infernal programs. Each KEGG motif was used to search with Infernal program (Nawrocki, Kolbe & Eddy, 2009) against 50 random groups containing a similar number of sequences.
Statistical analysis
All statistical tests were corrected for multiple-testing, using the Benjamini-Hochberg False Discovery Rate (FDR) procedure. To test statistical significance of detected motifs, we first evaluated the specific enrichment of a given element. We defined specific enrichment as the mean difference of sequences having the motif in the original set, compared to sets of non-related sequences. For this, we generated a distribution of specific-motif enrichment by searching a given motif into 50 groups of non-related 3′-UTRs (randomly generated groups). The motif coverage (i.e., the number of sequences having a motif divided the total number of sequences in the group) was normally distributed, allowing us to calculate a Z-score for each putative motif [(specific-motif coverage — mean coverage in random groups)/standard deviation]. As the expected motif coverage was sensitive to the size of the group, we actually generated distributions for different group sizes (N = 5 to N = 200) and evaluated each motif significance with the corresponding distribution (according to its size). To determine if the specific-enrichments are significant, we generated a null distribution of motif-specificity, from sets of non-related sets of UTRs. A second Z-score was calculated and used to determine whether a particular specific-enrichment is expected by chance or not. Because this test was more restrictive, and to avoid losing too much sensitivity, we set an FDR threshold of 0.1 (i.e., 10% of false positives are expected). Motif candidates were further filtered based on a motif coverage test. The motif coverage was calculated for each KEGG group using Infernal algorithm [using parameter "−toponly −E 1" (Nawrocki, Kolbe & Eddy, 2009)]. Then, we tested if the motif coverage in a given set of UTRs is significantly higher compared to the set of complementary strands (i.e., non-transcribed strands where no motifs are expected). For motif detection in non-transcribed regions, the parameter "−bottomonly" was applied. Statistical significance of the coverage difference between UTRs and non-transcribed sequences (sense vs. anti-sense) was assessed by a χ2 test (FDR 5%).
Gene filtering
Many T. cruzi genes are present in many copies. To avoid such sequence bias in motif detection procedures, we filtered out paralogous genes whose UTRs have >80% of sequence identity (BLAST alignment with at least 280 of the 350 nucleotide matches). In addition, truncated UTRs (<350 nts) and UTRs having a stretch of 5 or more ambiguous nucleotides (NNNNN) were discarded. A total of 106 genes were eliminated after applying these filters using custom Perl scripts.
Generation of disjoint (non-overlapping) KEGG groups
In order to unbiasedly test if some motifs are present in more than one KEGG group, we first defined non-overlapped KEGG groups (i.e., groups that have no genes in common). A measure of overlap between a pair of KEGG groups was calculated as the number of shared genes divided by the number of total distinct genes considering both groups (set intersection/set union). Figure S4 shows a dendogram of KEGG groups after a complete-linkage clustering. All branches starting at a height of 1 are disjoint (non-overlapped), while groups joining at lower heights have increasing degrees of overlap. To make a dataset of non-overlapped groups, we simply selected one KEGG group of each branch.
Clustering
Hierarchical clustering was carried out using CoXpress 1.3 software (http://coxpress.sf.net). Briefly, 5268 genes obtained from T. cruzi microarray data previously published by the Tarleton lab (Minning et al., 2009) were clustered into 74 profiles using the following parameters: h = 0.05, r = 0.95. Stress data was extracted from Table S2 of Li et al. (2011) collected by the Docampo lab. Concisely, 1468 genes affected after hyperosmotic stress were clustered into 33 profiles using the following parameters: h = 0.01, r = 0.95. RNA motifs were used to search against clustered and 50 random groups using cmsearch algorithm and statistical significance was calculated by Z-test.
Abbreviation List

ARE

AU-rich element

mRNP

messenger ribonucleoprotein

RBP

RNA-binding protein

RRM

RNA-recognition motif

UTR

untranslated region