ERpred: a web server for the prediction of subtype-specific estrogen receptor antagonists
Center of Data Mining and Biomedical Informatics, Faculty of Medical Technology, Mahidol University

,

Bangkok

,

Thailand
Published

Accepted

Received
Academic Editor
Subject Areas

Keywords

Breast cancer

,

Estrogen

,

Estrogen receptor

,

Data science

,

Machine learning

,

Quantitative structure-activity relationship

,

QSAR
Copyright

©

2021

Schaduangrat et al.

Licence

This is an open access article distributed under the terms of the Creative Commons Attribution License, which permits unrestricted use, distribution, reproduction and adaptation in any medium and for any purpose provided that it is properly attributed. For attribution, the original author(s), title, publication source (PeerJ) and either DOI or URL of the article must be cited.
Cite this article

2021

.

ERpred: a web server for the prediction of subtype-specific estrogen receptor antagonists

.

PeerJ

9

:

e11716

https://doi.org/10.7717/peerj.11716
Abstract
Estrogen receptors alpha and beta (ERα and ERβ) are responsible for breast cancer metastasis through their involvement of clinical outcomes. Estradiol and hormone replacement therapy targets both ERs, but this often leads to an increased risk of breast and endometrial cancers as well as thromboembolism. A major challenge is posed for the development of compounds possessing ER subtype specificity. Herein, we present a large-scale classification structure-activity relationship (CSAR) study of inhibitors from the ChEMBL database which consisted of an initial set of 11,618 compounds for ERα and 7,810 compounds for ERβ. The IC50 was selected as the bioactivity unit for further investigation and after the data curation process, this led to a final data set of 1,593 and 1,281 compounds for ERα and ERβ, respectively. We employed the random forest (RF) algorithm for model building and of the 12 fingerprint types, models built using the PubChem fingerprint was the most robust (Ac of 94.65% and 92.25% and Matthews correlation coefficient (MCC) of 89% and 76% for ERα and ERβ, respectively) and therefore selected for feature interpretation. Results indicated the importance of features pertaining to aromatic rings, nitrogen-containing functional groups and aliphatic hydrocarbons. Finally, the model was deployed as the publicly available web server called ERpred at http://codes.bio/erpred where users can submit SMILES notation as the input query for prediction of the bioactivity against ERα and ERβ.
Introduction
Breast cancer is the most frequently detected cancer amongst women with over 2 million new cases and an estimated 627,000 deaths (15% of all cancer deaths in women) in 2018, according to the WHO (World Health Organization, 2018). Furthermore, it is a well-known fact that levels of Estrogen Receptor (ER) impacting breast cancer metastasis are the fundamental and critical determinants of clinical outcomes (Kammerer et al., 2013; Gamucci et al., 2013). In addition, ER positive breast cancer types exhibit favorable responses to hormone therapy (Althuis et al., 2004; Foulkes, Smith & Reis-Filho, 2010; Thrane et al., 2013), for example tamoxifen (Ramirez-Ardila et al., 2013), or aromatase inhibitors (Hiscox, Davies & Barrett-Lee, 2009), designed to block aberrant signaling within oncogenic pathways. However, a major obstacle in the case of chemotherapy in ER-positive breast cancers is chemoresistance (Kim et al., 2010; Ji et al., 2019; Han et al., 2019). Therefore, new systemic therapies are urgently needed.
The estrogen receptor is a member of the nuclear receptor family, mainly found in the nucleus but can also be seen in the cytoplasm and mitochondria. ER consists of two main subtypes (i.e., ERα and ERβ) which bind to hormones and trigger the activation or repression of genes (Brzozowski et al., 1997). Estrogen signaling is selectively stimulated or inhibited depending on the balance between ERα and ERβ activities in target organs. Both receptor subtypes are expressed in various cells and tissues (i.e., breast, prostate and ovary) as they control various physiological functions of the human body (i.e., reproductive, skeletal, cardiovascular and central nervous systems). The mammary gland, uterus, ovary (thecal cells), bone, male reproductive organs, prostate, liver and adipose tissues are mainly composed of ERα (Welboren et al., 2009). In contrast, ERβ is found mainly in the prostate, bladder, ovary (granulosa cells), colon, adipose tissue, and the immune system (Weiser, Foradori & Handa, 2008). Common physiological roles for ERα and ERβ includes the development and function of ovaries and the protection of the cardiovascular system (Paterni et al., 2014). A more prominent role is exerted on the mammary gland and uterus as well as on the homeostasis of the skeletal system and the regulation of metabolism by ERα. ERβ on the other hand, exerts a more powerful effect on the central nervous and immune systems (Paterni et al., 2014). Furthermore, the β subtype is shown to generally counteract the hyperproliferation of ERα-promoted cells in tissues such as the breast and uterus (Heldring et al., 2007).
Estradiol and hormone replacement therapy targets both ERs, but this often leads to an increased risk of breast and endometrial cancers as well as thromboembolism. Selective estrogen receptor modulators (SERMs) are the most common drug group used in ER-positive breast cancer treatment with tamoxifen as the first line agent used to block mitogenic effects of estrogen at all stages of breast cancer, particularly in pre- and post-menopausal patients (Abdulkareem & Zurmi, 2012). In addition, Fulvestrant, the main drug in the group of Selective estrogen receptor downregulators (SERDs) is used as an alternative in tamoxifen resistant breast cancers and acts by disrupting the ER receptor and blocking ER dimerization which in turn inhibits estrogen signaling via ER down-regulation (Osborne, Wakeling & Nicholson, 2004). However, the effectiveness of fulvestrant is decreased by acquired resistance whereby a response to therapy is not seen in most ER-positive breast cancer patients (Cook, Shajahan & Clarke, 2011). Furthermore, through mechanisms distinct from ER subtype selective binding, SERMs target both receptor subtypes even though they display tissue-selective agonist/antagonist activities (Paterni et al., 2014). An ideal SERM would thus possess antagonist activity in the mammary gland and uterus and antagonist activity in other tissues such as those pertaining to the skeletal, cardiovascular or the central nervous systems (Jordan, 2001). Alternatively, based on the distribution and levels of the two ER subtypes in the various tissues mentioned above, subtype-selective ligands could be used to elicit beneficial estrogen-like activities and reduce side effects. In this regard, there appears to be particular promise for the use of subtype-selective agonists/antagonists (Kumar et al., 2011). However, the challenge for developing ER subtype specific compounds remains elusive.
The ER structure contains a globular ligand binding domain (LBD) harboring a hormone-binding site, a homo- or heterodimerization interface, and coregulator (activator and repressor) interaction sites (Kumar et al., 2011). The amino acid sequence of ERα and ERβ displays a 55% sequence identity in their respective LBDs, which represents a significant difference (Kerdivel, Habauzit & Pakdel, 2013). The LBD of both ER subtypes are comprised of 12 α-helices (H1–H12) arranged in a three-layered sandwich topology (shown in Fig. 1) with a central core layer of three helices (H5/6, H9 and H10) sandwiched between two additional layers of helices (H1–4 and H7, H8, H11) in an anti-parallel formation. The remaining secondary structural elements, a small two-stranded antiparallel β-sheet (S1 and S2) and H12, are located at the narrow end of the ligand-binding portion of the molecule (Brzozowski et al., 1997). Upon binding to its natural ligand (i.e. 17β-estradiol or E2), a deep hydrophobic environment is formed through an ellipsoidal cavity (Kumar et al., 2011). In addition, the hydroxyl groups form the A and D rings of E2, which are comprised of hydrogen bonded residues in H3, H5 and H11. These hydrogen bonds play crucial roles in the orientation of the steroid ligand (Brzozowski et al., 1997). Upon agonist binding, both ER subtypes orient the H12 helix to create a hydrophobic pocket for interaction with the LXXLL motif of coactivators (Leung et al., 2006). This binding allows for conformational changes to occur which in turn activates or inhibits responsive genes (Arao et al., 2013). However, upon antagonist binding, the alignment of H12 over the binding cavity is prevented and thus, no co-factor binding and downstream gene activation takes place. This antagonist-induced repositioning of H12 is considered to be a crucial step in the prevention of ER activation (Dahlman-Wright et al., 2006). Structural analysis of various antagonist-ER complexes has revealed that they usually contain a bulky side chain that cannot be contained in the ligand binding pocket. The protrusion of these side chain disrupts the binding and subsequent activation of H12 and coactivators (Shiau et al., 2002). Owing to the very subtle differences in the LBDs of both ER subtypes, the design of a subtype-specific antagonist is a challenge. Nevertheless, major advances over the past two decades in the fields of structural biology pertaining to ERs have shed light on the plasticity and binding modes of both ER subtypes (Bafna et al., 2020; Brzozowski et al., 1997; Pavlin et al., 2018; Pang et al., 2018; Shiau et al., 2002).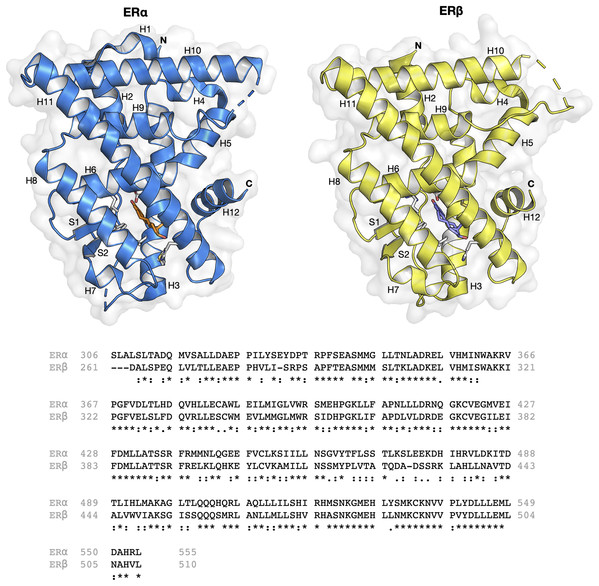 The discovery of novel drugs is an expensive and time-consuming endeavor. Nowadays, the use of computational methods is increasingly playing important and integral roles as part of the drug discovery process. Quantitative structure-activity relationship (QSAR) is a ligand-based approach that allows elucidation on the prediction and rationalization of the investigated biological activity as a function of computed molecular descriptors that describes the unique physicochemical properties of molecules (Nantasenamat, Isarankura-Na-Ayudhya & Prachayasittikul, 2010; Cherkasov et al., 2014). QSAR has been successfully applied to model a wide range of bioactivities and chemical properties. Such models are also useful for rationalizing the importance and contributions of molecular features on investigated activities/properties. Subsequently, crucial information pertaining to ER binding affinity coupled with structure-binding and structure-activity relationship data, have led to the formulation of reliable ERα models (Anstead, Carlson & Katzenellenbogen, 1997; Serafimova et al., 2007; Xiang et al., 2009; Toropov et al., 2012; Chang et al., 2013; Ribay et al., 2016; Suvannang et al., 2018; Lee & Barron, 2017; Pavlin et al., 2018; Pang et al., 2018; Balabin & Judson, 2018; Cotterill et al., 2019; Bafna et al., 2020). However, not much research has been conducted regarding the binding specificity towards ERβ (Manas et al., 2004; Coriano et al., 2018). Thus, the aim of this study is to build classification models able to (i) distinguish active from inactive compounds for both ERα and ERβ, and (ii) build a web server for discriminating compounds for estrogen receptor α and β with selectivity.
Materials and Methods
Data compilation and curation
Two data sets of inhibitors against ERα and ERβ were compiled from the ChEMBL database, version 25 (Gaulton et al., 2017), which consisted of an initial set of 11,618 compounds for ERα and 7,810 compounds for ERβ. The IC50 was selected as the bioactivity unit for further investigation and after the data curation process, this led to a final data set of 1,593 and 1,281 compounds for ERα and ERβ, respectively. As this study sets out to develop a classification model for both ERα and β we therefore, defined thresholds of <1 and >10 µM (corresponding to pIC50 values of 6 and 5, respectively) for distinguishing actives from inactives, respectively. Moreover, the intermediate biological activity with IC50 values ranging between 1 and 10 µM were not selected for this study. A final set of non-redundant and curated compounds consisting of 1,194 and 997 inhibitors were obtained for ERα and ERβ, respectively.
Molecular descriptors
Fingerprint descriptors for compounds in the data sets were computed using the PaDEL-descriptor software (Yap, 2011). SMILES notation was used for the calculation of molecular descriptors. Structures were pre-processed so as to remove salt and standardize tautomers using the built-in function of the PADEL-descriptor software. In general, molecular descriptors are important for QSAR studies as they characterize molecular properties and chemical structure information in quantitative or qualitative forms. As previously described in Malik et al. (2020) 12 molecular fingerprints belonging to 9 classes consisting of AtomPairs 2D, CDK fingerprinter, CDK extended, CDK graph only, E-state, Klekota–Roth, MACCS, PubChem and Substructure were used for describing the chemical structures. Furthermore, Substructure, Klekota–Roth fingerprint and 2D atom pairs consisted of two versions: (1) 1 or 0 denotes the presence or absence of the descriptor and the (2) representing the frequency value of the descriptor with a count version.
Data filtering
In order to remove inherent complexity and bias that may be introduced to the model building process, constant and near constant variables were removed to select the fingerprint descriptor sets. Particularly, near constants were identified using a standard deviation (SD) threshold of 0.1 whereby variables with SD values less than 0.1 were selected for further analysis.
Data splitting
The Kennard–Stone algorithm (Kennard & Stone, 1969) was applied for splitting the data into an 80/20 split where, the internal set comprised of 80% of the entire data set while the external set consisted of the remaining 20%. The internal set is used as the training set and also subjected to 5-fold CV. The external set is used as the testing set whereby the trained model will be applied to this data set to make predictions and thus determine the model's robustness. For the internal set of ER alpha (comprising 528 compounds), active compounds accounted for 53.59% while inactive compounds are comprised of 46.41%. Similarly, for the external set (comprising of 131 compounds), active and inactive compounds were split into sets of 53.44% and 46.56%, respectively. For ERβ, the percentage of active and inactive in the internal data set (composed of 572 compounds) was 78.15% and 21.85%, respectively. Similarly, in the external data set (composed of 142 compounds), the percentage for active and inactive was 78.12% and 21.88%, respectively.
Statistical analysis
As described in our previous work (Malik et al., 2020), trends in individual descriptors of active and inactive compounds were determined through 6 common descriptive statistical parameters, encompassing the minimum (Min), first quartile (Q1), median, mean, third quartile (Q3) and maximum (Max) parameters. The outcome was visualized in the form of a box plot using ggplot2, a package of the R program. In addition, the Mann–Whitney U test (also known as the Wilcoxon Rank Sum test) was conducted to determine the statistical significance in terms of the p-value.
Multivariate analysis
Random forest (RF) is used for the building of classification models owing to its robust model performance and interpretability. RF was successfully used in our recent work for modeling the bioactivity of hepatitis C virus inhibitors (Malik et al., 2020). In essence, RF is an ensemble classifier that employs an N number of decision trees (specified by the ntree parameter) to learn the inherent patterns from the input data (Breiman, 2001; Breiman et al., 1984). In this study, a five-fold cross-validation (5-fold CV) procedure was applied for tuning the ntree parameter (100, 1,000, 100) and the mtry parameter (5, 30, 5) via the use of the tuneRF function from the randomForest package (Liaw & Wiener, 2002). In order to provide a better understanding of the biochemical activity of the inhibitors, feature selection was estimated using the built-in importance estimator of the RF model. The mean decrease of the Gini index (MDGI) was utilized to estimate the important descriptors (Weidlich & Filippov, 2016). Descriptors affording the largest value of MDGI represents the most important features as that descriptor contributes most significantly to the model performance.
Model validation
Parameters commonly used for evaluating the model performance of binary classification problems are typically based on true positives (TP), true negatives (TN), false positives (FP) and false negatives (FN). Particularly, the fitness of the model was assessed using various statistical parameters including the overall prediction accuracy (Ac), sensitivity (Sn), specificity (Sp) and Matthews correlation coefficient (MCC) (Song & Tang, 2004).
(1)
(2)
(3)
(4) where TP, TN, FP and FN represent the instances of true positives, true negatives, false positives and false negatives, respectively.
Applicability domain analysis
The main purpose of the applicability domain (AD) is to estimate the boundaries within which the model can make reliable and accurate predictions for compounds on the basis of similarity with the compounds on which the model was constructed. The compounds that satisfy the scope of the model are within the AD while the rest are outside the AD. In this study, we used the principal component analysis (PCA) bounding box to assess the AD of compounds from the training (internal) and testing (external) sets.
Web server development
The predictive model was exported as an RDS file (i.e., the model.RDS file) and subsequently deployed as a web server. Particularly, the web server is coded in R via the use of the Shiny R package (i.e., a web framework for the R environment). Technically, the web server is comprised of two major components: (1) user interface and (2) server, which are saved as ui.R and server.R, respectively. The ui.R file accepts input values (i.e. the SMILES notation of query compounds) and transfers this information to the server.R file where the SMILES notation is submitted to the PaDEL-Descriptor software. After descriptor calculation, the computed descriptors are used as input to the predictive model (i.e., the model is exported as model.RDS file) which will then classify query compounds as either being active or inactive (i.e., the bioactivity class label). Such predicted class labels are then printed out onto the web server whereby users can also download the predicted results as a CSV file.
Results and discussion
A schematic summary of the workflow employed in this study is shown in Fig. 2. Briefly, we start out by performing a chemical space analysis followed by QSAR model building and an in-depth feature analysis and finally deployed the best predictive model as a public web server.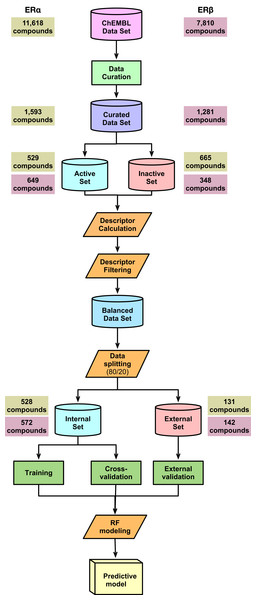 Conclusions
Breast cancer is the most frequently detected cancer among women with over 2 million new cases and an estimated 627,000 deaths (15% of all cancer deaths in women) in 2018 (World Health Organization, 2018). However, current inhibitors and hormone therapy is problematic due to the development of resistance and an increased risk of breast and endometrial cancers, and thromboembolism. Thus, this study had qualitatively and quantitatively addressed these issues by building a QSAR model capable of distinguishing active compounds from inactive compounds for ERα and ERβ. In addition, to allow researchers from all backgrounds easy access to our prediction model, we built a web server for discriminating compounds for ERα and ERβ with selectivity. ER activity prediction was evaluated via machine learning algorithms and several classes of fingerprint descriptors. The results obtained indicated that the RF algorithm coupled with the PubChem fingerprints allowed for the most interpretable descriptors along with the best performing model. The feature analysis of important substructure contributions as obtained from the Gini index revealed that aromaticity, amine groups and aliphatic hydrocarbons were important for the active compounds. Moreover, in-depth scaffold analysis of the top active compounds revealed that the binding specificity for ERα and ERβ involve different scaffolds. Since not many studies have focused on ERβ, this protein is worth further explorations. Thus, the knowledge gained from this study serves as general guidelines for the data driven design of potentially active and selective estrogen receptor antagonists.
Supplemental Information
Chemical structures and IUPAC names of the top 10 active and inactive compounds against ERα and Erβ.