Sixty years of change in avian communities of the Pacific Northwest
Department of Fisheries & Wildlife, Oregon State University

,

Corvallis, OR

,

United States
Published

Accepted

Received
Academic Editor
Subject Areas

Keywords

Abundances

,

Community composition

,

Turnover

,

Richness

,

Evenness

,

Historic data

,

Birds

,

Avian diversity
Copyright

©

2015

Curtis and Robinson

Licence

This is an open access article distributed under the terms of the Creative Commons Attribution License, which permits unrestricted use, distribution, reproduction and adaptation in any medium and for any purpose provided that it is properly attributed. For attribution, the original author(s), title, publication source (PeerJ) and either DOI or URL of the article must be cited.
Cite this article

2015

.

Sixty years of change in avian communities of the Pacific Northwest

.

PeerJ

3

:

e1152

https://doi.org/10.7717/peerj.1152
Abstract
Bird communities are influenced by local and regional processes. The degree to which communities are dynamic has implications for projecting responses in community composition as birds track geographic shifts of their habitats. Historic datasets offer a legacy of information that can be used to quantify changes over time in avian community composition. A rare, highly-detailed avian survey of multiple habitat types in the Willamette Valley, Oregon, was conducted in 1952. We resurveyed the same sites in 2013 and evaluated whether observed results agreed with theoretical patterns of community change. We compared alpha, beta, and gamma diversity between survey periods and evaluated shifts in categorical abundances of species. Most patterns of change were consistent with community turnover. Nearly 50% of species were replaced over six decades, with increased species richness and decreased evenness at local and regional spatial extents. Patterns of regional species turnover reflected local turnover. Evidence that local shifts in habitat type drove bird community change were not strongly supported, although historic data on habitats within study plots were limited to macro-level aerial photographs. Thus, regional factors and structural changes likely played important roles determining species composition and abundance.
Introduction
Understanding the long-term consequences of environmental variation on biodiversity is central to the conservation of ecosystems (Vitousek et al., 1997). Birds are especially responsive to environmental variation (Temple & Wiens, 1989; Crick, 2004). Change over time in species richness and patterns of abundance within local bird communities can be indicative of environmental change (Vale, Parker & Parker, 1982; Root, 1988; Crick, 2004), local habitat variation (Knick & Rotenberry, 2000; Brown et al., 2001; Rotenberry & Wiens, 2009), or immigration and extinction at a regional level (Ricklefs, 1987; Loreau & Mouquet, 1999). Both habitat characteristics and regional species assemblages influence local species communities, but the degree to which such relationships are dynamic over decades is not well understood. Detailed, long-term data capable of quantifying change within local communities are rare. Yet such data are necessary to empirically test predictions of community change (Igl & Johnson, 2005; Tingley & Beissinger, 2009).
Previous studies suggest several general, non-exclusive ways in which communities can change, particularly in systems experiencing increasing anthropogenic pressure (Catterall et al., 2010; Shultz, Tingley & Bowie, 2012). Avian communities are generally expected to vary over time, as birds respond quickly to environmental change (Temple & Wiens, 1989). However, some communities may express more long-term stability than others. Biologically diverse communities may be more stable, or resilient to change in the face of species invasion or population fluctuations, than simpler communities (MacArthur, 1955; Elton, 1958). While constancy in communities is unexpected, the extent to which communities change over time may be influenced by community composition, structure, or diversity (McCann, 2000).
Community diversity may decrease over time in cases where the number of species capable of inhabiting an area is reduced, usually in conjunction with habitat loss, anthropogenic disturbance or urbanization (Beissinger & Osborne, 1982; Strohbach, Hrycyna & Warren, 2014). This pattern has been referred to as "diversity decay" (Catterall et al., 2010). Homogenization of communities may also occur when an influx of invasive, generalist species across habitats reduces diversity between areas, skewing abundances in favor of common invaders (McKinney & Lockwood, 1999; Davey et al., 2012). Though invasion and homogenization can temporarily increase overall species richness, a pattern of systematic increase in biodiversity is rarely posited in scientific literature, despite evidence some urban environments support higher species diversity (Marzluff, 2014).
Fluctuations in individual abundances may result in some species going locally extinct as other species colonize. This pattern of "species turnover" produces changes in community composition over time without significant changes in species richness (Diamond, 1969; Parody, Cuthbert & Decker, 2001; Catterall et al., 2010; Shultz, Tingley & Bowie, 2012). Pronounced turnover of biological systems has been observed across the globe (Dornelas et al., 2014), amidst range shifts and species losses (Vitousek et al., 1997; Thomas & Lennon, 1999). Yet there remains disagreement as to which of these patterns is likely to describe long-term avian community change at smaller spatial extents. Long-term avian surveys on multiple geographic extents, coupled with assessments of habitat change, may provide the best opportunity to test the applicability of these different models in a variety of systems.
We resurveyed sites from a 60-year-old historic dataset. This dataset is uniquely valuable because raw count data from each survey of each site were published in Richard Eddy's (1953) master's thesis. Our objective was to evaluate the nature of avian community change in the Willamette Valley, Oregon, and to characterize long-term variation in avian diversity between and among different habitats. We compared alpha, beta, and gamma diversity, as well as species turnover and categorical abundance levels. Changes in land use and habitat were measured using aerial photographs and satellite imagery. Breeding Bird Survey data from western Oregon were used to assess to what degree local differences in alpha and beta diversity between eras agreed with regional gamma diversity. Overall, we evaluated whether observed results agreed with any theoretical patterns of community change.
Results
Land use and vegetation cover
To determine if environmental conditions at survey sites changed, we quantified differences in the percent cover of multiple vegetation and land use classes. The amount and direction of habitat change varied among sites (Figs. S1–S5). The Willamette River site experienced some of the greatest overall changes in habitat percent cover. Historically this site was nearly 50% wetland and approximately 30% open water. By 2013, floodplain forest dominated the site with 85% cover. Canopy in the burned portion (about 15%) of the mature coniferous site closed, but was otherwise similar in structure. Both the mixed deciduous and oak woodland sites experienced some canopy closure. The mixed deciduous site changed from primarily riparian forest to a mixed forest/pasture habitat with nearly 50% deciduous cover. Similarly, the oak woodland site lost almost 15% deciduous cover to expanding coniferous forest. Eddy (1953) did not quantify understory vegetation so we could not quantify changes in habitat structure. In conjunction with an overall increase in coniferous canopy cover, the three forest habitats remained forested, while the Willamette River floodplain site increased in forest cover. The marsh site was superficially very similar, but Eddy's description indicates the marsh was open to cattle grazing, which has now been eliminated.
Species diversity
Stability and turnover predict species richness will remain the same, while diversity decay predicts richness will decrease. Observed species richness was higher in modern study sites compared to the historic surveys when aural detections were included (Table 1). Thirteen rare species were removed from historic dataset and 18 from the modern dataset, 14 of which were visually detected. After removing non-visual detections, observed species richness remained an average of 4.8 species higher than historic richness, except for the coniferous site, which decreased in richness. Estimates of species richness accounting for rare and undetected species showed significant increases in richness for the marsh and oak woodland sites.
| Site | Richness measure | 1952 | 2013 (all detections) | 2013 (visual only) |
| --- | --- | --- | --- | --- |
| Overall | Observed S | 79 | 101 | 85 |
| | Chao 1 S | 87 (79–99) | 116 (101–134) | 109 (85–137) |
| Coniferous | Observed S | 32 | 36 | 19 |
| | Chao 1 S | 33 (32–40) | 46 (36–78) | 24 (19–58) |
| Marsh | Observed S | 34 | 61 | 51 |
| | Chao 1 S | 35 (34–40) | 69 (61–83)a | 55 (51–62)a |
| Mixed deciduous | Observed S | 32 | 43 | 36 |
| | Chao 1 S | 33 (32–36) | 46 (43–53)a | 42 (36–57) |
| Oak Woodland | Observed S | 25 | 52 | 31 |
| | Chao 1 S | 25 (25–28) | 58 (52–72)a | 37 (31–51)a |
| Willamette | Observed S | 27 | 46 | 36 |
| | Chao 1 S | 29 (27–43) | 48 (46–53)a | 39 (36–45) |
a
Indicates a significant increase in estimated richness compared to historic values.
Alpha diversity is linearly related to species richness, and should exhibit a similar response as richness under each pattern of community change. After removing rare species, the inverse of Simpson's diversity was an average of 4.8 higher for modern sites (Table 2). Across all sites, alpha diversity experienced a statistically significant increase between years (all detections: t3905 = 19.3, p < 0.001; visual detections: t4379 = 16.2, p < 0.001). The only significant site-specific increase occurred at the marsh site (all detections: t2579 = 23, p < 0.001; visual detections: t2832 = 20.9, p < 0.001). The coniferous and oak woodland sites both showed significant decreases in diversity considering only visual detections (coniferous: t298 = − 6.6, p < 0.001; oak woodland: t410 = − 3.8, p < 0.001). There was no evidence of changes in diversity for the mixed deciduous and Willamette River sites. Removing non-visual detections had the general effect of decreasing modern alpha diversity to near or below historic values for all sites. This is notable, considering richness was still higher in the modern era after removing non-visual detections.
| Site | 1952 | 2013 (all detections) | 2013 (visual only) |
| --- | --- | --- | --- |
| Overall | 9.28 (8.66–9.93) | 30.90 (29.62–31.91)a | 23.47 (22.04–24.58)a |
| Coniferous | 15.93 (13.51–17.33) | 13.95 (12.64–14.93) | 7.15 (6.01–8.10)a |
| Marsh | 3.14 (2.97–3.33) | 10.89 (10.14–11.66) a | 9.63 (8.84–10.42)a |
| Mixed deciduous | 12.24 (10.51–13.66) | 12.92 (11.44–14.26) | 11.11 (9.45–12.5) |
| Oak | 11.12 (9.63–12.21) | 12.19 (10.67–13.7) | 7.55 (6.54–8.6)a |
| Willamette | 12.69 (11.34–13.41) | 12.08 (10.93–13.14) | 10.73 (9.15–12.06) |
a
Indicates significantly different modern diversity compared to historic values (Paired t-test, p < 0.05).
Beta diversity, a measure of community dissimilarity among sites, should remain constant with stability and turnover, and decrease with diversity decay. Accounting for differences in species richness, mean beta diversity for the historic period was 0.61, while mean beta diversity for the modern period was 0.18 (0.19 visual only). While modern sites were more similar in community composition than their historic counterparts, beta diversity did not significantly differ between years (all detection types: t3 = 2.2, p = 0.12; visual detections only: t3 = 1.9, p = 0.16). Both survey periods showed less among-site similarity than expected by chance.
We evaluated patterns of community turnover by quantifying the probability of species replacement between survey periods. Species turnover between 1952 and 2013 was high (Table 3). After removing rarities, only 48 species out of 102 species (39 out of 91 species, visual detections only) were present for both survey periods (Tables S1 and S2). Turnover at individual sites was higher than turnover across the study area. The oak woodland site had the highest species turnover. Removing non-visual detections generally increased turnover values, with the exception of the Willamette River site.
| Site | All detections (%) | Visual only (%) |
| --- | --- | --- |
| Overall | 39.3 ± 6.2 | 48.3 ± 6.7 |
| Coniferous | 55.7 ± 10.7 | 68.3 ± 3.5 |
| Marsh | 63.6 ± 12.3 | 64.0 ± 7.3 |
| Mixed deciduous | 58.1 ± 5.0 | 59.1 ± 4.5 |
| Oak woodland | 70.2 ± 6.5 | 75.2 ± 3.0 |
| Willamette | 58.9 ± 8.1 | 54.1 ± 6.9 |
We compared local community results to regional community change using individual-based rarefied BBS data for 10 selected routes with similar habitat. After accounting for differences in annual survey effort, trends in regional species richness agreed with local results (Fig. 1). Species richness across rarefied samples significantly increased from an estimated 69 species in 1968 (SE = 10.1) to 97 species in 2012 (SE = 10.6). The highest annual estimated species richness was 103 species (SE = 10.8) in 2005. The estimate of overall regional turnover was similar to local turnover, with a 41% probability of species replacement over three decades (SE = 7.7). Mean annual turnover over the 34-year period was 16%. Estimated annual turnover ranged from 11% (multiple years) to 26% (between 1968 and 1969). There was a significant increasing trend in species richness over time after accounting for serial correlation. Regional species richness increased approximately 0.29 species per year between 1968 and 2012 (p < 0.001, 95% CI [0.13–0.45]). Regional turnover did not exhibit serial correlation, and had a slight but non-significant decrease of 0.02% over time (p = 0.51, 95% CI [ − 0.11–0.06]; Fig. 1).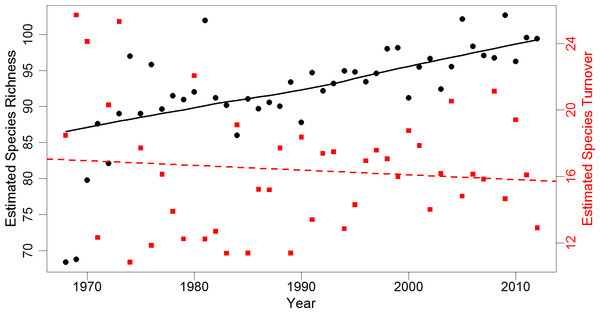 Abundance comparisons
Some patterns of community change predict avian abundances to decrease from urbanization or habitat loss. Considering all detection types, the majority of species in this study were increasing or strongly increasing (40 and 17 species, respectively; Table S3). Another 17 species did not change in categorical abundance over time. 23 species were decreasing in abundance. However, after removing non-visual detections, more birds were decreasing or strongly decreasing in abundance (34 and 8 species, respectively). Only 38 visually detected species increased in abundance to any degree. 11 species did not change in categorical abundance based on visual detections.
The distribution of species among abundance categories shifted significantly over time (all detections: , p = 0.04; visual detections only: , p = 0.05). Species were more evenly distributed among abundance categories historically. Modern abundances were less evenly distributed and had more species in the "rare" and "abundant" categories. There was variation in the degree to which abundance distributions changed for each individual site. The coniferous and oak woodland site both showed significant shifts in categorical avian abundances regardless of detection type (coniferous site: all detections p = 0.03, visual detections p = 0.002; oak woodland site: all detections p = 0.03, visual detections p < 0.001). The coniferous site increased in abundant species, while the oak woodland site increased in rare species. The Willamette River site increased in both abundant and rare species, with a loss in common species; this shift was significant when all detection types were considered (p = 0.007).
Discussion
In 1952, Richard Eddy conducted detailed avian surveys at 6 sites in Benton County, Oregon. We resurveyed 5 of those sites six decades later to evaluate how and to what extent avian community composition changed. Species turnover was high, and there was strong evidence nearly half of the species detected during modern surveys were not present historically. On a local scale, richness increased. Similar levels of turnover and increasing species richness were evident on a regional extent. Our results paint a picture of dynamic species richness, abundances, and overall community change.
Many challenges accompany the use of historic datasets (Igl & Johnson, 2005; Tingley & Beissinger, 2009). We attempted to account for as many of these as possible through survey methods and analyses. Our greatest challenge was lack of clarity regarding Eddy's detection method. We suspect his dataset contains only visual detections. Most modern surveys emphasize auditory detections, particularly in wooded habitats. Removing non-visually detected species from our surveys provided a conservative estimate of modern avian diversity but improved our ability to compare with Eddy's results. We found historic and modern survey efforts encountered species at similar rates and with similar thoroughness (Curtis, 2015). There was no evidence omitting post-breeding season (late July and August) surveys from the historic dataset significantly influenced our conclusions (Curtis, 2015). We addressed the issue of uncertain site placement by comparing diversity within sites to adjacent areas. There was no evidence that changing site placement influenced results of modern surveys (Curtis, 2015).
Although we addressed potential issues confounding our comparisons with Eddy's surveys, the possibility remains that some changes were the result of methodological differences or changes in detectability, rather than actual ecological changes. While insufficient historic vegetation data and limitations associated with the interpretation of Eddy's data limit the precision of conclusions, we found strong indications of community change during the last six decades.
Conclusion
Novel communities are expected as species distributions adjust to changing environmental conditions (Thomas & Lennon, 1999; Williams & Jackson, 2007). There is concern the resulting communities will possess altered ecosystem functionality and challenge species' abilities to adapt (Stralberg et al., 2009). An underlying implication is that communities would otherwise remain static, or that modern species assemblages are comparatively more natural than those resulting from climate change and anthropogenic disturbance. However, it is difficult to say how much species assemblage variation could be expected even under "normal" conditions (Magurran et al., 2010). Our study suggests communities are in a state of flux and "re-shuffle" over decadal periods even with little macro-scale habitat change.
The community turnover observed in this study demonstrates long-term variability of species composition. Drivers of community change may not always relate to climate, vegetation, or human disturbance exclusively. Much has been said about the influence of site-specific conditions on observed community composition (Knick & Rotenberry, 2000; Rotenberry & Wiens, 2009). However, our results demonstrate the association between regional communities and community change at smaller scales. Community turnover is an ecologically important pattern useful for understanding the underlying mechanisms structuring communities (Chase et al., 2011). Assemblage flux may contribute to community instability, even when richness remains constant or increases, in cases where the addition of new species reduces evenness. Population instability resulting from reduced evenness (Mikkelson et al., 2011) may drive other local species to disappear, producing the observed community turnover.
Despite the challenges our comparison faced, we identified significant species assemblage changes. Richard Eddy's (1953) dataset is the only one of such detail currently known for the Pacific Northwest from that era, and provides us with a unique look at historic avian communities. Some may consider the analytical challenges presented by historic datasets to be insurmountable. However, to discard past data because it no longer meets modern requirements is to ignore a valuable perspective on previous conditions. Historic data remind us that biological communities are in flux and may not be easily characterized by a few seasons of data collection. As more researchers seek ways to preserve biodiversity in the face of global climate change, historic datasets present an essential perspective on how community diversity varies over time.