Run for your life: can exercise be used to effectively target GLUT4 in diabetic cardiac disease?
1
Strathclyde Institute of Pharmacy and Biomedical Sciences, University of Strathclyde

,

Glasgow

,

United Kingdom
2
Institute of Cardiovascular and Medical Sciences, University of Glasgow

,

Glasgow

,

United Kingdom
Published

Accepted

Received
Academic Editor
Subject Areas

Keywords

GLUT4

,

Diabetic cardiomyopathy

,

Cardiomyocyte

,

Exercise

,

Glucose
Copyright

©

2021

Bowman et al.

Licence

This is an open access article distributed under the terms of the Creative Commons Attribution License, which permits unrestricted use, distribution, reproduction and adaptation in any medium and for any purpose provided that it is properly attributed. For attribution, the original author(s), title, publication source (PeerJ) and either DOI or URL of the article must be cited.
Cite this article

2021

.

Run for your life: can exercise be used to effectively target GLUT4 in diabetic cardiac disease?

PeerJ

9

:

e11485

https://doi.org/10.7717/peerj.11485
Abstract
The global incidence, associated mortality rates and economic burden of diabetes are now such that it is considered one of the most pressing worldwide public health challenges. Considerable research is now devoted to better understanding the mechanisms underlying the onset and progression of this disease, with an ultimate aim of improving the array of available preventive and therapeutic interventions. One area of particular unmet clinical need is the significantly elevated rate of cardiomyopathy in diabetic patients, which in part contributes to cardiovascular disease being the primary cause of premature death in this population. This review will first consider the role of metabolism and more specifically the insulin sensitive glucose transporter GLUT4 in diabetic cardiac disease, before addressing how we may use exercise to intervene in order to beneficially impact key functional clinical outcomes.
Introduction—identifying the heart of the issue
Diabetes is defined clinically by a fasting blood glucose value of >7 mM, or fasting HbA1c level >6.5%, predominantly due to peripheral insulin resistance (type 2 diabetes; T2D) or insufficient pancreatic insulin production (type 1 diabetes; T1D). The primary consequence of chronic hyperglycaemia is vascular degeneration (Dal Canto et al., 2019), which accounts for most common complications of diabetes e.g., diabetic retinopathy, diabetic foot and myocardial infarction (MI). Resulting increased blood pressure and coronary artery disease may also overload the heart and lead to the development of cardiac failure.
In 1972 a post-mortem of four diabetic patients identified cardiac failure in the absence of vascular disease, indicating for the first time that diabetes may directly impair cardiac structure and function (Rubler et al., 1972). This phenomenon is now referred to as diabetic cardiomyopathy (DCM), which first presents as an impairment in diastolic function early after the onset of diabetes. Early diastolic dysfunction has been repeatedly demonstrated in cohorts of asymptomatic diabetic patients using several echocardiographic parameters, primarily related to transmitral blood flow and myocardial tissue movement velocities during early and late diastole (Nicolino et al., 1995; Di Bonito et al., 1996; Poirier et al., 2001; Poulsen et al., 2010). Impaired relaxation of the ventricular wall is likely to delay early diastolic filling and therefore increase the contribution of atrial contraction mediated blood flow to ensure sufficient ventricular filling. If left unabated, major structural changes and systolic dysfunction develop and drive progression of DCM towards heart failure (Bell, 2003).
The estimated prevalence of DCM varies, largely due to the sensitivity of the detection system and criteria utilised. Boyer et al. demonstrated that within a population of asymptomatic diabetics conventional Doppler echocardiography detected diastolic dysfunction in 46% of individuals, whereas this increased to 63% using tissue Doppler imaging and 75% with a combined approach (Boyer et al., 2004). The high prevalence and potentially severe life limiting consequences of this condition coupled with a lack of specific treatment options makes this an area of urgent unmet clinical need.
The pathophysiological mechanisms associated with DCM are complex, both in isolation and in the way that they interact with and amplify one another via a myriad of signalling pathways (Jia, Hill & Sowers, 2018). Factors including activation of the renin-angiotensin and sympathetic nervous systems, inflammation, oxidative and endoplasmic reticulum stress and increased production of advanced glycation end products (AGEs) have all been cited (Fig. 1). Importantly, many of these are secondary factors. While important contributors to disease progression, they are probably consequences of earlier events. These issues are worthy of review in their own right; however, here we will focus on key early instigators of DCM that arguably have the most potentially powerful disease modifying capacity e.g., metabolic changes linked to the glucose transporter GLUT4. We will then consider whether lessons from exercise physiology could offer a useful mechanism for treatment of DCM. This review is aimed at those with an interest in cardiovascular disease, exercise physiology and the metabolic basis of heart disease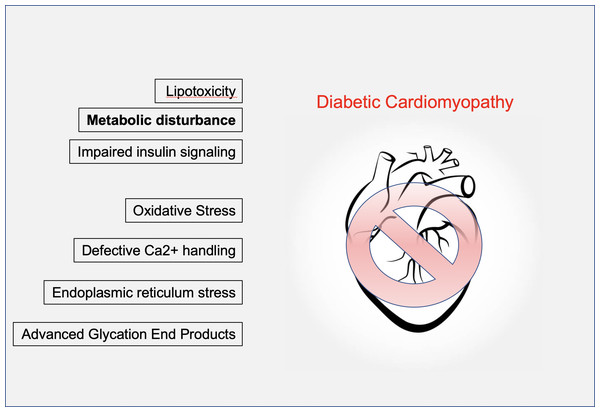 Survey methodology
We conducted a literature search using combinations of key words (e.g., GLUT4 and diabetic cardiomyopathy) and ad hoc searches as required, using PubMed, MedLine or Web of Science providing an objective subject coverage. We selected articles in English and based on our subjective valuation of the work. This is therefore a comprehensive but not exhaustive review.
Conclusions
Diabetic cardiomyopathy develops from initial metabolic alterations and leads to progressive functional and structural adaptations that can ultimately result in heart failure. Impaired regulation of the subcellular distribution of GLUT4 has emerged as an important early pathological event. Exercise can counteract a range of pathophysiological mechanisms and consequences of diabetes, and suitable programmes could and therefore should be developed to specifically target GLUT4 alongside current pharmacological strategies. The rapidly developing iPSC-CM technology could be of benefit in this field.