Anatomy, feeding ecology, and ontogeny of a transitional baleen whale: a new genus and species of Eomysticetidae (Mammalia: Cetacea) from the Oligocene of New Zealand
1
Department of Geology, University of Otago

,

Dunedin

,

New Zealand
2
University of California Museum of Paleontology, University of California

,

Berkeley, CA

,

USA
3
Department of Geology and Environmental Geosciences, College of Charleston

,

Charleston, SC

,

USA
Published

Accepted

Received
Academic Editor
Subject Areas

Keywords

Mysticeti

,

Eomysticetidae

,

New Zealand

,

Oligocene

,

Ontogeny

,

Filter feeding
Copyright

©

2015

Boessenecker and Fordyce

Licence

This is an open access article distributed under the terms of the Creative Commons Attribution License, which permits unrestricted use, distribution, reproduction and adaptation in any medium and for any purpose provided that it is properly attributed. For attribution, the original author(s), title, publication source (PeerJ) and either DOI or URL of the article must be cited.
Cite this article

2015

.

Anatomy, feeding ecology, and ontogeny of a transitional baleen whale: a new genus and species of Eomysticetidae (Mammalia: Cetacea) from the Oligocene of New Zealand

.

PeerJ

3

:

e1129

https://doi.org/10.7717/peerj.1129
Abstract
The Eocene history of cetacean evolution is now represented by the expansive fossil record of archaeocetes elucidating major morphofunctional shifts relating to the land to sea transition, but the change from archaeocetes to modern cetaceans is poorly established. New fossil material of the recently recognized family Eomysticetidae from the upper Oligocene Otekaike Limestone includes a new genus and species, Waharoa ruwhenua, represented by skulls and partial skeletons of an adult, juvenile, and a smaller juvenile. Ontogenetic status is confirmed by osteohistology of ribs. Waharoa ruwhenua is characterized by an elongate and narrow rostrum which retains vestigial alveoli and alveolar grooves. Palatal foramina and sulci are present only on the posterior half of the palate. The nasals are elongate, and the bony nares are positioned far anteriorly. Enormous temporal fossae are present adjacent to an elongate and narrow intertemporal region with a sharp sagittal crest. The earbones are characterized by retaining inner and outer posterior pedicles, lacking fused posterior processes, and retaining a separate accessory ossicle. Phylogenetic analysis supports inclusion of Waharoa ruwhenua within a monophyletic Eomysticetidae as the earliest diverging clade of toothless mysticetes. This eomysticetid clade also included Eomysticetus whitmorei, Micromysticetus rothauseni, Tohoraata raekohao, Tokarahia kauaeroa, Tokarahia lophocephalus, and Yamatocetus canaliculatus. Detailed study of ontogenetic change demonstrates postnatal elaboration of the sagittal and nuchal crests, elongation of the intertemporal region, inflation of the zygomatic processes, and an extreme proportional increase in rostral length. Tympanic bullae are nearly full sized during early postnatal ontogeny indicating precocial development of auditory structures, but do increase slightly in size. Positive allometry of the rostrum suggests an ontogenetic change in feeding ecology, from neonatal suckling to a more specialized adult feeding behaviour. Possible absence of baleen anteriorly, a delicate temporomandibular joint with probable synovial capsule, non-laterally deflected coronoid process, and anteroposteriorly expanded palate suggests skim feeding as likely mode of adult feeding for zooplankton. Isotopic data in concert with preservation of young juveniles suggests the continental shelf of Zealandia was an important calving ground for latitudinally migrating Oligocene baleen whales.
Introduction
The fossil record of cetaceans is densely sampled for the Neogene and many Miocene and Pliocene specimens provide good evidence of feeding adaptations (Muizon, Domning & Ketten, 2002; El Adli, Deméré & Boessenecker, 2014; Racicot et al., 2014), intraspecific variation (Bouetel & de Muizon, 2006; Gutstein et al., 2009; El Adli, Deméré & Boessenecker, 2014), adaptations for hearing and echolocation (Geisler & Luo, 1996; Luo & Eastman, 1995; Steeman, 2009), and pathology and disease (Dawson & Gottfried, 2002; Thomas et al., 2008; Beatty & Dooley, 2009; Gerholdt & Godfrey, 2010). Broader studies of fossil assemblages have elucidated cetacean paleobiogeography and faunal change (Barnes, 1977; Mchedlidze, 1984; Fordyce, 1991; Gottfried, Bohaska & Whitmore, 1994; Whitmore, 1994; Oishi & Hasegawa, 1995; Boessenecker, 2013), taphonomic patterns (Boessenecker, Perry & Schmitt, 2014) and megabiases (Uhen & Pyenson, 2007). Eocene cetacean assemblages now convincingly demonstrate the evolution of fully pelagic basilosaurid archaeocetes from earlier quadrupedal, fully terrestrial ancestors (Uhen, 2010). Spectacular fossils of some Eocene cetaceans such as Dorudon atrox Andrews, 1906 and Georgiacetus vogtlensis Hulbert et al., 1998 have yielded much information regarding locomotory adaptations and musculature, buoyancy, brain anatomy and evolution, feeding behavior, trophic relationships, hearing adaptations and ontogeny and skeletal growth (Hulbert et al., 1998; Uhen, 2004). Cetaceans from the Oligocene reveal the early evolutionary history of Neoceti, but most of the relevant literature consists of descriptive reports of 'singleton' specimens representing new taxa, but with little information on intraspecific variation, biogeography, biochronology, or ontogeny; indeed, the mode of life of Eocene archaeocetes is arguably better known than for Oligocene cetaceans (Sanders & Geisler, 2015). Ontogenetic changes in particular are generally poorly investigated amongst fossil cetaceans (but see observations in Kellogg, 1924; Kellogg, 1936; Bouetel & de Muizon, 2006; Uhen & Gingerich, 2001; Gingerich et al., 2009; Gutstein et al., 2009; Gol'din & Startsev, 2014), despite the promise for interpreting heterochrony (Tsai & Fordyce, 2014a) or potential for biasing cladistic analyses (Tsai & Fordyce, 2014b). In the absence of fossilized ontogenies, it may be possible to overinflate taxonomic diversity by erecting names upon different ontogenetic stages (Scannella & Horner, 2010; Campione et al., 2013). This paper reports a new genus and species of eomysticetid from the upper Oligocene Otekaike Limestone of New Zealand (Fig. 1) with three individuals represented by well-preserved crania, tympanoperiotics, and mandibles demonstrating ontogenetic changes from young juvenile to old adult, elucidating the early evolution of filter feeding in Chaeomysticeti, and representing one of the most completely known Oligocene cetaceans in terms of anatomy and paleobiology.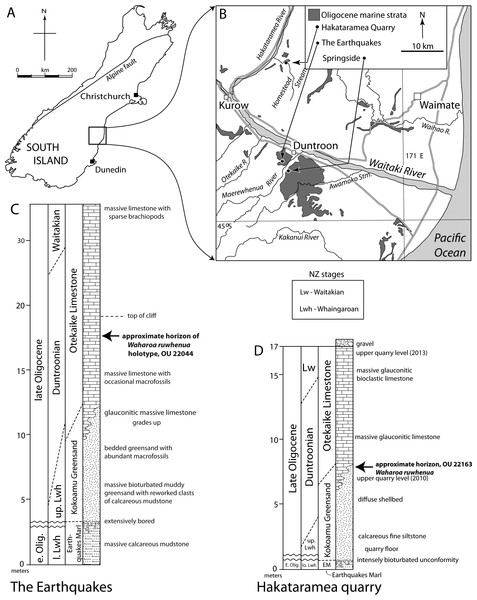 Geologic Background
Fossils of Waharoa ruwhenua were collected from the Otekaike Limestone (Gage, 1957; Duntroonian to Waitakian Stages, Chattian, upper Oligocene) in North Otago and South Canterbury, South Island, New Zealand. Vertebrate skeletal remains from Otekaike Limestone and underlying Kokoamu Greensand include sharks, bony fish, marine birds (penguins and volant birds), and cetaceans; vertebrates most commonly occur as isolated bones but disarticulated associated and partially articulated skeletons occur infrequently (Fordyce, 1991; Boessenecker & Fordyce, 2015a). The glauconitic Kokoamu Greensand grades upwards into glauconitic limestone of the lower Maerewhenua Member of the Otekaike Limestone, deposited between 100 and 50 m water depth (Ayress, 1993). The Otekaike Limestone consists of massively bedded bioclastic limestone (packstone to grainstone, composed of sand-size equivalent foraminifera, bryozoan, mollusk, and echinoderm fragments) that is often glauconitic and probably deposited under transition zone settings below storm weather wave base under 50 m water depth, or possibly somewhat deeper offshore settings (Ayress, 1993; Beu & Maxwell, 1990); the general lack of mm to dm bedding suggests little traction current activity. The Otekaike Limestone has more-conspicuous macrofossils (albeit, generally not in shellbeds) than the underlying Kokoamu Greensand and includes sparse and isolated macroinvertebrates but some laterally extensive thin concentrations of presumed hiatal origin contain abundant brachiopods, bivalves, gastropods, scaphopods, and less abundant serpulids, barnacles, bryozoans, and scleractinian corals. Well-preserved calcareous microfossils such as foraminifera and ostracods are abundant. The Otekaike Limestone is conformably overlain by the Mt. Harris Formation (Waitakian-Otaian-Altonian Stage, Aquitanian-Burdigalian correlative, lower Miocene), but occasionally the contact is unconformable and marked by Gee Greensand (of Gage, 1957). The upper Kokoamu Greensand and lower Otekaike Limestone are correlative with the Duntroonian Stage (upper Chattian) and the uppermost Otekaike Limestone is assignable to the Waitakian Stage (uppermost Chattian and lower Aquitanian; Gage, 1957; Beu & Maxwell, 1990; see below).
Systematic Paleontology
LSID: urn:lsid:zoobank.org:act:3601D851-F9D2-4364-83F5-7A466DC432F3
Type and only species: Waharoa ruwhenua.
Diagnosis of Genus: same as for the type and only known species.
Etymology: Waharoa, meaning long mouth; from the Māori waha (mouth) plus roa (long).
Waharoa ruwhenua new species
LSID: urn:lsid:zoobank.org:act:2FC4AC75-2378-4FFA-801A-2A3475BFDF31
Diagnosis of species
Waharoa ruwhenua is a relatively small-bodied mysticete (5–6 m estimated adult body length) with archaic features differing from crown Mysticeti including: an anteriorly placed bony nares, anteroposteriorly elongate and narrow intertemporal region, temporal fossae longer than wide, firmly closed naso-premaxilla and naso-frontal sutures, transversely broad median palatal keel, elongate and anteriorly directed zygomatic processes that extend anterior to the occipital shield apex, vertically developed falciform process of the squamosal, anteroposteriorly thickened paroccipital process with pit for stylohyal, trefoil-shaped occipital in posterior view, distinctly concave glenoid fossae of squamosal, unfused anterior and posterior pedicles of the tympanoperiotic, deep lateral pit on periotic, short posterior process of the periotic, well-differentiated lateral and medial lobes of tympanic bulla, horizontal cleft of sigmoid fissure, horizontal crest on posterior surface of medial lobe, tympanic cavity divided by transverse ridge, deeply incised elliptical foramen, double posterior pedicle of bulla, enlarged mandibular foramen and transversely thin "pan bone" of mandible, delicate angular process of the mandible, and vestigial alveoli in premaxilla, maxilla, and mandible. Waharoa ruwhenua differs from archaeocetes and toothed mysticetes in lacking alveoli from the posterior portion of the maxilla and possibly lacking adult dentition, possessing a proportionally more elongate rostrum, unfused fronto-maxilla and maxilla-premaxilla sutures, an orbitotemporal crest that is positioned entirely on the dorsal surface of the frontal, a subrectangular supraorbital process of the frontal that is transversely wider than anteroposteriorly long and at the same level as the nasals, posteroventrally oriented postglenoid processes of the squamosal, an occipital shield that extends anterior to the subtemporal crest, and posterolaterally directed paroccipital processes; differs from Basilosauridae in possessing nasal and premaxilla that extend further posterior than maxilla, nasals with parallel margins, vertical nuchal crests that do not dorsally overhang the posterior margin of the skull, transversely thickened basioccipital crests, pars cochlearis with rounded anteromedial margin and smoothly convex ventral surface, mallear fossa positioned medial to lateral tuberosity, superior process reduced to low ridge with anterior and posterior apices, posterior process of periotic that does not extend to lateral edge of braincase, anteriorly directed zygomatic processes, and humerus similar in length to ulna and radius; from Basilosauridae and Aetiocetidae in possessing a humerus with proximally positioned deltopectoral crest; from Basilosauridae and Balaenidae in possessing ulna and radius that are not anteriorly bowed or distally inflated; from Basilosauridae and Mammalodontidae in possessing a thin lateral edge of the maxilla, palatal foramina and sulci, lacking a firm mandibular symphysis, mandible with parallel dorsal and ventral margins; from Mammalodontidae and Aetiocetidae in more anterior termination of nasals, transversely narrower intertemporal region with high sagittal crest, and anteroposteriorly longer than wide temporal fossa; from Mammalodontidae and Chonecetus in possessing a transverse frontoparietal suture; from all archaeocetes and toothed mysticetes except Chonecetus in numerous supraorbital foramina and deep sulci in the frontal; and from Aetiocetus in lacking orbitotemporal crests that extend posteriorly onto the parietal.
Waharoa ruwhenua shares with Aetiocetidae and other Eomysticetidae an elongate posterior meatal crest that extends dorsally along most of the dorsoventral depth of the squamosal and an unfused mandibular symphysis. Waharoa ruwhenua shares with other Eomysticetidae various aforementioned archaic features and, to the exclusion of other Mysticeti, an extremely elongate rostrum and elongate nasals, an anteroposteriorly oriented and longitudinally twisted zygomatic process that lacks a supramastoid crest anterior to the subtemporal crest, a secondary squamosal fossa, and a superior process of the periotic reduced to a low discontinuous ridge with anterior and posterior apices. Waharoa ruwhenua shares with other Eomysticetidae and Cetotheriidae sensu stricto a transversely flattened and blade-like anterior process of the periotic. Waharoa ruwhenua shares Tohoraata and Tokarahia dorsoventrally shallow and wide occipital condyles, a triangular anterior process and well-developed incisural flange of the periotic; with Tohoraata and Tokarahia a concave anterodorsal margin of the anterior process of the periotic and a smooth and transversely convex posterior bullar facet; with Tohoraata a distinct lateral tubercle on the anterior process; and with Eomysticetus and Micromysticetus a short posterior process.
Holotype
OU 22044, nearly complete skull (approximate condylobasal length: 183 cm) with left tympanic bulla, right periotic, mandibles, atlas, axis, C5, C7, an isolated thoracic vertebra, ribs, and sternum. Collected from "The Earthquakes" (Fig. 2A), North Otago, during April, 1989, by RE Fordyce, A Grebneff, CM Jones, P McIntosh, and A Penniket (Grid reference I40:151931; New Zealand Fossil Record number I40/f94).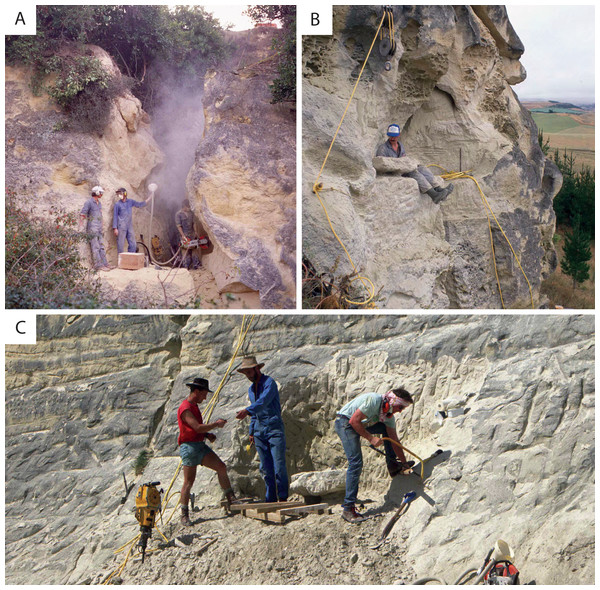 Paratypes
OU 22075, small juvenile skeleton including anterior skull (estimated condylobasal length: 90 cm), squamosal fragments, tympanoperiotics, mandibles, axis, C7, six thoracic vertebrae including T1–T5, five lumbar vertebrae, one caudal vertebra, several ribs, scapula, humeri, radii, and ulnae, collected December 4–5 and 13–14 1990 from the lower Maerewhenua Member of the Otekaike Limestone exposed in west facing cliffs at Springside (Fig. 2B), North Otago, by RE Fordyce, A Grebneff, and CM Jones (Grid reference 141:228843; New Zealand Fossil Record number I41/f0184). OU 22163, large juvenile skeleton including nearly complete skull (estimated condylobasal length: 109.8 cm), tympanoperiotics, mandibles, four cervical vertebrae and poorly preserved thoracic vertebrae, and ribs, collected November 9–10 1992 from the lower Maerewhenua Member of the Otekaike Limestone at Hakataramea Quarry (Fig. 2C), South Canterbury, by RE Fordyce, CM Jones, RD Connell, and R Köhler (Grid reference I40:235137; New Zealand Fossil Record number I40/f0398).
Referred specimen
OU 22140, isolated tympanic bulla collected October 10, 1990, from the lower Maerewhenua Member of the Otekaike Limestone at Awahokomo Pinnacles, Awahokomo Valley, North Otago, by A Grebneff (Grid reference I40:022085; New Zealand Fossil Record number I40/f0396).
Etymology
Ruwhenua, from the Maori for shaking (ru) and whenua (land), a translation of the "The Earthquakes" locality.
Type locality
"The Earthquakes," 5 km east southeast of Duntroon, North Otago, South Island, New Zealand (Figs. 1 and 2A).
Formation and age
The holotype was collected from a large (∼10 m) slumped block at "The Earthquakes" locality (Figs. 1 and 2A) near Duntroon (North Otago; New Zealand Fossil Record number I40/f94). Matrix samples from OU 22044 yielded no specimens of the Waitakian planktonic foraminiferan Globoquadrina dehiscens, suggesting Duntroonian age (27.3–25.2 Ma) for this specimen; likewise, the stratigraphic occurrence of this specimen within the Otekaike Limestone indicates a maximum age of Duntroonian. Also corroborating a maximum age of Duntroonian are valves of the pectinid Lentipecten hochstetteri (Beu & Maxwell, 1990). Taphonomic aspects of the holotype, including bite marks attributable to bony fish and elasmobranchs, bioerosion caused by the bone eating annelid worm Osedax, and evidence for fish (or elasmobranch) predation upon Osedax, were reported by Boessenecker & Fordyce (2015a).
OU 22163 was collected from the lower Otekaike Limestone at a quarry informally known as "Haughs' Quarry" (Figs. 1 and 2C) in the Hakataramea River valley (South Canterbury; New Zealand Fossil Record number I40/f0398); this specimen occurred within a glauconitic limestone horizon corresponding to the uppermost parts of the Kokoamu Greensand-Otekaike Limestone transition, and approximately 4 m below the first appearance datum of Globoquadrina dehiscens within the quarry (D de B Hornibrook, pers. comm. to RE Fordyce, 1988). The holotype specimen of the billfish Aglyptorhynchus hakataramea Gottfried, Fordyce & Rust, 2012 (OU 22396) was collected from the same locality at a comparable level (both 2–3 m above the active quarry floor) and yielded a sample similarly lacking Globoquadrina dehiscens and preserving the benthic foraminifer Notorotalia spinosa, indicating Duntroonian age (Gottfried, Fordyce & Rust, 2012) and further suggesting a Duntroonian age assignment for OU 22163.
OU 22075 was collected from the lower Otekaike Limestone at Springside (Figs. 1 and 2B; North Otago; New Zealand Fossil Record number I41/f0184), from a massive glauconitic horizon corresponding to transitional strata of the Kokoamu-Otekaike succession (= basalmost Maerewhenua Member of the Otekaike Limestone).
Description
The description is primarily based on the holotype adult specimen, but combines information from all known specimens. Where anatomical features in the juveniles differ, or if structures missing in the adult are present in the juveniles, they are noted.
Comparisons
Waharoa possesses several features which unequivocally identify it as an eomysticetid, including an extremely elongate rostrum, extremely elongate nasals, frontal with anteromedial projection, high sagittal crest, longitudinally rotated zygomatic processes that extend anterior to the occipital shield and lack supramastoid crests, distinct secondary squamosal fossa, and a discontinuous and low superior process of the periotic with anterior and posterior apices. Owing to possession of clear eomysticetid features and phylogenetic placement of Waharoa, comparisons are restricted to other Eomysticetidae. Waharoa shares with Tokarahia a nasal that is laterally overlain by and sutured to the premaxilla (unknown in Tohoraata). The frontal is anteroposteriorly shorter than Yamatocetus, but similar to Eomysticetus, Tohoraata, and Tokarahia; unlike the northern hemisphere taxa, Waharoa possesses a series of foramina with elongate and radiating sulci in the supraorbital process of the frontal. Sutural surfaces potentially indicate that the premaxilla extended slightly posterior to the nasal, unlike all other eomysticetids. The zygomatic process of Waharoa, like Tokarahia, is medially bowed, differing from the condition in Eomysticetus, Micromysticetus, and Yamatocetus; the squamosal of Waharoa further differs from the northern hemisphere eomysticetids in possessing a trough-like shallow secondary squamosal fossa with a medial ridge. The periotic of Waharoa shares a secondary tuberosity of the anterior process with Tohoraata, to the exclusion of all other eomysticetids; the concave anterodorsal margin of the anterior process is shared also with Tokarahia and Tohoraata. Waharoa, Tohoraata and Tokarahia share a triangular anterior process, unlike the rectangular shape in Eomysticetus and Micromysticetus. The posterior process of the periotic is relatively shorter than in Tohoraata and Tokarahia; however, the posterior bullar facet is smooth (unlike Eomysticetus and Micromysticetus) and transversely convex and lacking two facets (differing from Eomysticetus and Micromysticetus). The periotic of Waharoa is otherwise absolutely smaller than all other eomysticetids. The tympanic bulla of Waharoa is similar in overall morphology with most other eomysticetids but is proportionally narrower (transversely) and shallower (dorsoventrally) than all other eomysticetids. The lateral lobe is ventrally inflated and clearly visible in medial view below the medial lobe, unlike almost all other stem mysticetes. It further differs from Tohoraata in having lateral and medial lobes of equal transverse width.
The mandible of Waharoa is longitudinally straight in lateral view, unlike the downturned mandibular terminus of Eomysticetus and Micromysticetus and upturned terminus in Yamatocetus; like Micromysticetus and Tokarahia the terminus is lanceolate in lateral aspect, unlike the subrectangular profile in Yamatocetus. The atlas exhibits a subtriangular transverse process, unlike the rectangular process in Tohoraata, Tokarahia, and Yamatocetus; medial tubercles form a Fig. 8 shaped vertebral foramen as in Tohoraata, but unlike other eomysticetids. The axis lacks dorsolaterally projecting postzygapophyses, like Tohoraata and Tokarahia but unlike Micromysticetus and Yamatocetus.
Phylogenetic Relationships
Cladistic analysis recovered Waharoa ruwhenua as an eomysticetid with strong support (Fig. 28). Eomysticetid monophyly was poorly supported under equal weighting (49%); six synapomorphies supported eomysticetid monophyly, including triangular anteromedial projection of frontal present (77:1), high sagittal crest present (93:0, reversal), supramastoid crest absent on zygomatic process (118:2), zygomatic process with parallel lateral and medial margins (125:1), secondary squamosal fossa present (127:1), and superior process of periotic discontinuous with anterior and posterior apices (161:1). Similar to Boessenecker & Fordyce (in press), a southern hemisphere eomysticetid clade including Tohoraata, Tokarahia, and Waharoa was recovered with strong support (84%); six synapomorphies supported this clade including medially bowed zygomatic processes (132:1), incisural flange present on periotic (168:1), posteroexternal foramen developed as a fissure (175:1), posterodorsal angle of periotic formed as right angle (178:1), concave anterodorsal margin of anterior process of periotic (179:1), and anterior internal acoustic meatus transversely "pinched" by projections of meatal rim (205:1). Resolution was poorer for more exclusive clades; a sister taxon relationship between Tohoraata and Waharoa was weakly supported (48%), and supported by five synapomorphies including a subvertical to posteroventrally projecting postglenoid process (121:1), alignment of the facial canal, internal acoustic meatus, and aperture for the cochlear aqueduct (153:1), tubercle present laterally on anterior process of periotic (181:1), anterior margin of fenestra rotunda overlaps fenestra ovalis in ventral view (204:1), and shallow suprameatal fossa (218:1). Inclusion of Waharoa ruwhenua within the analysis did not affect topology of the remainder of the cladogram, and a more exhaustive discussion of broader mysticete relationships as revealed by this matrix is given in Boessenecker & Fordyce (in press).
Discussion
Cranial sutures, mandibular morphology, and vertebral fusion
Fusion of cranial sutures is frequently used to estimate the age of modern and fossil mammals, including cetaceans (Perrin, 1975; Uhen, 2004; Chen et al., 2011). However, unlike most terrestrial mammals, the rostral elements of extant mysticete crania remain unfused throughout ontogeny; with the exception of the divisions of the occipital bone, sutures of the braincase in extant mysticetes are already at least partially ossified at birth (Walsh & Berta, 2011). Occipital ossification can be used to evaluate the relative age of OU 22163 and OU 22044. In the juvenile OU 22163, the basioccipital-basisphenoid synchondrosis is unfused and open but the basioccipital-exoccipital sutures are fused (Fig. 10). The occipital-parietal and frontal-parietal sutures are closed and corrugated; similarly, the squamosal-parietal suture is visible as an anastomosing suture line. Lastly, although the supraoccipital-exoccipital suture is not visible, persistent occipital fontanelles are present in the occipital shield (fontanelles are present in some extant adult odontocetes, such as Mesoplodon and phocoenids). Damage has obscured some of the holotype (OU 22044) sutures, but the basicranial fragment preserves a fused exoccipital-basioccipital suture; the occipital-parietal suture and frontal-parietal sutures are open, and the frontals have slipped anteriorly by about 2 cm (Fig. 3). Braincase sutures thus corroborate size-based identification of OU 22163 as a juvenile. Punctate texture on the occipital condyles of OU 22163 is further suggestive of juvenile status (Aguirre-Fernández & Fordyce, 2014). The occipital region of OU 22075 is not preserved. The nasofrontal suture is of possible use in Waharoa. In OU 22163 and 22044, the nasal bears a corrugated suture with the underlying frontal (Figs. 3 and 9), whereas in OU 22075 the nasals are slightly disarticulated and the suture is open (Fig. 8), identifying OU 22075 as an even younger juvenile. The median frontal suture is unfused in all three specimens, a unique feature amongst mysticetes; similarly the parietal–occipital and frontoparietal sutures are also unfused.
The symphyseal groove of cetaceans is a developmental vestige of the groove for the Meckel's cartilage (Mead & Fordyce, 2009). In the mandible of the smallest specimen (OU 22075), the symphyseal groove extends far posteriorly and is continuous with a linear groove that can be traced along the entire length of the medial surface of the mandible (Fig. 20E). The symphyseal groove is present in adult aetiocetids and all adult Chaeomysticeti, but absent in mammalodontids and the Charleston toothed mysticetes (Fitzgerald, 2006; Fitzgerald, 2010; Fitzgerald, 2012); similarly, a groove is developed in juvenile odontocetes but lost during postnatal ontogeny (Mead & Fordyce, 2009). An extensive groove for the Meckel's cartilage is absent in OU 22163, but the symphyseal groove is proportionally longer than in the holotype (OU 22044), indicating the gradual loss of this feature during postnatal ontogeny in Waharoa.
Vertebral epiphyseal fusion also has implications for ontogeny (Moran et al., 2015). All preserved vertebrae of the smaller specimens of Waharoa (OU 22075, 22163) have unfused vertebral epiphyses (Figs. 22–24), whereas the holotype (OU 22044) possesses fused vertebral epiphyses on the cervical and thoracic vertebrae (Figs. 21H–21M), suggesting maturity relative to OU 22075 and 22163. While not directly relating to epiphyseal fusion, the axis of OU 22075 bears a punctate texture on the atlantal articular surface as in extant juvenile cetaceans (Aguirre-Fernández & Fordyce, 2014). Other postcranial elements of OU 22075 (humerus) possess unfused epiphyses, further supporting identification as a juvenile.
Other aspects of the skeletal ontogeny of Waharoa ruwhenua are noteworthy. A sagittal crest is prominent in the adult (OU 22044), but absent in the large juvenile (OU 22163); a low but sharp sagittal crest is also present in the small juvenile. This suggests ontogenetic elaboration of the sagittal crest; similarly, the nuchal crests of the large juvenile (OU 22163) are relatively lower and less bladelike than in OU 22044. This probably corresponds to ontogenetic development of the temporalis musculature, and could reflect increase in size of the muscle in order to stabilize an increasingly more elongate beam-like mandible (see Functional implications of Rostromandibular Ontogeny). The atlas notably increases in anteroposterior length during postnatal ontogeny (Figs. 21 and 22); the atlas of adult eomysticetids is relatively massive and anteroposteriorly elongate but generally similar in proportion to that of basilosaurid archaeocetes. Modern mysticetes have anteroposteriorly flattened cervical vertebrae, and in some species some or all of the cervicals are fused (Balaenidae, Caperea, Balaenoptera borealis Lesson, 1828). The posterior cervicals are thinner than the atlas, but proportionally thicker than their counterparts in modern species. The anteroposteriorly thin atlas of the large juvenile of Waharoa ruwhenua implies that cervical thinning in later diverging mysticetes is a paedomorphic (rather than peramorphic) trait. This is surprising, as fusion of cervical vertebrae may be a peramorphic trait as it occurs late in Balaena mysticetus Linnaeus, 1758 postnatal ontogeny (Moran et al., 2015).
Ontogenetic implications of osteohistology
Osteohistology presents a useful method towards inferring ontogenetic age in fossil vertebrates (Woodward, Padian & Lee, 2013). Many vertebrates preserve cyclically zoned bony tissues such as lines of arrested growth (LAGs) which can be used to accurately reconstruct the absolute ontogenetic age (in years) of fossil vertebrates (Woodward, Padian & Lee, 2013). Growth banding has been identified in tympanic bullae of extant mysticetes (Klevezal & Mitchell, 1971; Olsen, 2002) as well as mandibles (Olsen et al., 2003), although the accuracy of these skeletochronologic methods is problematic for mysticetes and less accurate than ear plugs (Olsen, 2002; Olsen et al., 2003). The possible growth bands in OU 22044 are too remodeled to permit convincing interpretation (Fig. 27C) Tissue organization and the extent of bone remodeling is a less accurate but useful method of determining relative (but not absolute) ontogenetic age (Woodward, Padian & Lee, 2013; Kerley, 1965). In general, the bones of rapidly growing juvenile mammals are characterized by disorganized woven bone, which can grade into more organized lamellar or remodeled bone during later growth. The rib of the smallest juvenile (OU 22075) is completely composed of woven bone with radially organized vascular channels (Fig. 27A). The holotype (OU 22044) retains some interstitial fragments of non-remodeled lamellar bone but the cortex is otherwise composed entirely of overlapping secondary osteons (Fig. 27C), indicating that the majority of the cortex is completely remodeled. The rib of the larger juvenile (OU 22163) is also composed mostly of disorganized woven bone, but there is a thin layer of laminar bone and sparse (non-overlapping) secondary osteons occur within the outer cortex (Fig. 27B). In terms of bone remodeling, osteohistology clearly identifies the largest specimen (OU 22044) as the most remodeled and therefore ontogenetically oldest, and the non-remodeled smallest specimen (OU 22075) as the ontogenetically youngest. Incipient bone remodeling in OU 22163 further indicates a slightly older ontogenetic age than OU 22075. Osteohistology thus supports the identification of OU 22075 as a young juvenile, OU 22163 as a somewhat older juvenile, and OU 22044 as an adult.
Cortical bone thickness (see Beatty & Dooley, 2009, for methods) is highest in the smaller juvenile (100%, OU 22075), lowest in the larger juvenile (47.4-55.55%, OU 22163) and intermediate in the adult (71.6%, OU 22044). The simplest interpretation of this pattern is that the medullary zone forms via resorption of vascular channels during early postnatal ontogeny, a process which has not yet started at the age at which OU 22075 died, but had occurred by age at which OU 22163 died. Slightly thicker cortex in the adult (OU 22044) may represent addition of lamellar bone during later ontogeny without a change in size of the medullary zone. Whether this pattern has any functional significance remains unclear. It must be stressed because incomplete rib fragments were sampled (although straight sections likely to be distal rib fragments), some of these differences in cortical bone thickness may represent variation between ribs or variation along the proximodistal axis (as in basilosaurids; De Buffrenil et al., 1990; Houssaye et al., 2015).
Conclusions
The new eomysticetid Waharoa ruwhenua is the first stem mysticete, and the first early neocete, for which an ontogenetic series of fossils is available for study. Amongst eomysticetids, Waharoa has a gracile skull, anteriorly oriented zygomatic processes, small periotics with a short anteroposteriorly directed and smooth posterior bullar facet, narrow and dorsoventrally shallow tympanic bullae, transversely wide atlases and axes and posterior cervicals with dorsoventrally deep vertebral foramina. External morphology, suture development, and osteohistology clearly identifies the smallest specimen (OU 22075) as a young juvenile, a slightly larger specimen as mature juvenile (OU 22163), and the holotype as an old adult. Several craniomandibular changes are noted through ontogeny, including anteroposterior lengthening of the rostrum, nasals, and mandibles, decrease in the size of the symphyseal groove, elaboration of the sagittal and nuchal crests, lengthening of the tympanic bulla, and increase in diameter of the facial canal of the periotic. Postnatal growth of the feeding apparatus is more extreme even than within modern rorquals, indicating that the long rostrum of eomysticetids is not simply a primitively inherited condition but that an elongate feeding apparatus was positively selected for. Distinct glenoid fossae indicate the presence of synovial craniomandibular joints, and in concert with the delicate posterior mandible indicate that Waharoa was likely not capable of rapid lunge feeding like rorquals. The lack of lateral palatal sulci from the anterior third of the palate may suggest the absence of baleen from the rostral terminus, perhaps forming a subrostral gap functionally analogous to that of balaenids and permitting skim feeding behavior. Osteohistology indicates that Waharoa primitively retained dense osteosclerotic ribs but lost localized pachyosteosclerosis characteristic of archaeocetes. Discovery of several juvenile Waharoa from New Zealand suggests that the continental shelf of Zealandia served as a calving ground for some of the earliest toothless mysticetes, perhaps serving as a warm-water winter habitat prior to a latitudinal migration to productive Antarctic waters. The radiation of early skim feeders such as putative late Oligocene balaenids may have contributed to the demise of Waharoa and other eomysticetids at the end of the Oligocene.
Supplemental Information
Electronic Supplementary Information
Electronic supplementary information for RW Boessenecker and RE Fordyce. Anatomy, feeding ecology, and ontogeny of a transitional baleen whale: a new genus and species of Eomysticetidae (Mammalia: Cetacea) from the Oligocene of New Zealand.