Recruitment of toxin-like proteins with ancestral venom function supports endoparasitic lifestyles of Myxozoa
Published

Accepted

Received
Academic Editor
Subject Areas

Keywords

Venom

,

Cnidaria

, Buddenbrockia plumatellae, Polypodium hydriforme,

Toxin divergence

,

Secretion
Copyright

©

2021

Hartigan et al.

Licence

This is an open access article distributed under the terms of the Creative Commons Attribution License, which permits unrestricted use, distribution, reproduction and adaptation in any medium and for any purpose provided that it is properly attributed. For attribution, the original author(s), title, publication source (PeerJ) and either DOI or URL of the article must be cited.
Cite this article

2021

.

Recruitment of toxin-like proteins with ancestral venom function supports endoparasitic lifestyles of Myxozoa

.

PeerJ

9

:

e11208

https://doi.org/10.7717/peerj.11208
Abstract
Cnidarians are the oldest lineage of venomous animals and use nematocysts to discharge toxins. Whether venom toxins have been recruited to support parasitic lifestyles in the Endocnidozoa (Myxozoa + Polypodium) is, however, unknown. To examine this issue we variously employed transcriptomic, proteomic, associated molecular phylogenies, and localisation studies on representative primitive and derived myxozoans (Malacosporea and Myxosporea, respectively), Polypodium hydriforme, and the free-living staurozoan Calvadosia cruxmelitensis. Our transcriptomics and proteomics analyses provide evidence for expression and translation of venom toxin homologs in myxozoans. Phylogenetic placement of Kunitz type serine protease inhibitors and phospholipase A2 enzymes reveals modification of toxins inherited from ancestral free-living cnidarian toxins, and that venom diversity is reduced in myxozoans concordant with their reduced genome sizes. Various phylogenetic analyses of the Kunitz-type toxin family in Endocnidozoa suggested lineage-specific gene duplications, which offers a possible mechanism for enhancing toxin diversification. Toxin localisation in the malacosporean Buddenbrockia plumatellae substantiates toxin translation and thus illustrates a repurposing of toxin function for endoparasite development and interactions with hosts, rather than for prey capture or defence. Whether myxozoan venom candidates are expressed in transmission stages (e.g. in nematocysts or secretory vesicles) requires further investigation.
Introduction
Venoms, by definition, are compounds delivered by injection for prey capture, defence and reproduction (Fry et al., 2009; Casewell et al., 2013; Schendel et al., 2019). Typically, they comprise complex mixtures of peptides and proteins, colloquially known as toxins, which variously act to kill or disrupt functions. Most research focuses on selected venoms of potential importance for human health–a bias that may highly compromise understanding of venom diversity. Indeed, wide-ranging sampling reveals an enormous and previously unappreciated diversity of other peptide and protein venom components such as peptidase inhibitors that unlike toxins, do not cause damage directly, but nevertheless still disrupt physiological functions (Jenner et al., 2019; Casewell et al., 2019; Lu et al., 2020). However, in its extensive focus on free-living animals, venom research may overlook major avenues of toxin diversification. In particular, venom components may have suited transitions to parasitism with venom traits being co-opted and further modified in support of parasitic lifestyles. In view of the multiple transitions to parasitism within Metazoa (Weinstein & Kuris, 2016), such a scenario is not far-fetched, but the deployment of venom cocktails by parasites may not always involve injection by delivery systems.
Cnidarians are arguably the most basal venomous extant metazoan (Starcevic & Long, 2013). Their toxins are produced by the Golgi apparatus of 'stinging cells' (cnidocytes) and are then transported to specialised organelles (nematocysts). Venom is inoculated from nematocysts into prey following the explosive eversion of a hollow tubule that punctures prey surfaces (Fautin, 2009). As in other venomous animals, the major toxic activities of cnidarian venoms involve enzymatic, neurotoxic, and cytolytic actions. Cnidarian venoms can be as complex in composition as those of insects, gastropods and elapid snakes (Jaimes-Becerra et al., 2019; Šuput, 2009; Badré, 2014; Mariottini et al., 2015).
Although widely recognised as iconic residents of our seas (e.g. corals, jellyfish, and sea anemones), cnidarians also include a large radiation of endoparasites, the Myxozoa (Fig. 1). Molecular phylogenetic analyses place the monotypic Polypodium hydriforme as sister to Myxozoa, forming the Endocnidozoa (Chang et al., 2015; Kayal et al., 2018) (Fig. 1). Myxozoans comprise some 20% of currently recognised cnidarian species (Okamura, Hartigan & Naldoni, 2018) and exploit vertebrate and invertebrate hosts in complex life cycles. Extremely rapid rates of molecular evolution, morphological simplification and miniaturisation long precluded higher-level placement of myxozoans (Okamura, Gruhl & Reft, 2015) and may be associated with their greatly reduced genome sizes (Chang et al., 2015). Myxozoans are comprised of the sister taxa, Malacosporea and Myxosporea. The former possess tissues and develop into active vermiform 'myxoworms' (e.g. Buddenbrockia plumatellae) and inert sacs (e.g. Tetracapsuloides bryosalmonae). Myxosporeans are more derived having lost tissues and developing as plasmodia and pseudoplasmodia (Okamura, Gruhl & Bartholomew, 2015). Myxozoans exploit marine, freshwater and terrestrial hosts. Transmission is achieved by water-borne multicellular spores. Nematocysts (traditionally referred to as polar capsules in myxozoans, henceforth referred to as nematocysts (Americus et al., 2020)) within spores effect attachment to hosts and amoeboid cells then penetrate host surfaces and migrate to infection sites. The life cycle of P. hydriforme entails a parasitic larval stage in eggs of paddlefish and sturgeon and a free-living, actively feeding adult stage (Raikova, 1994).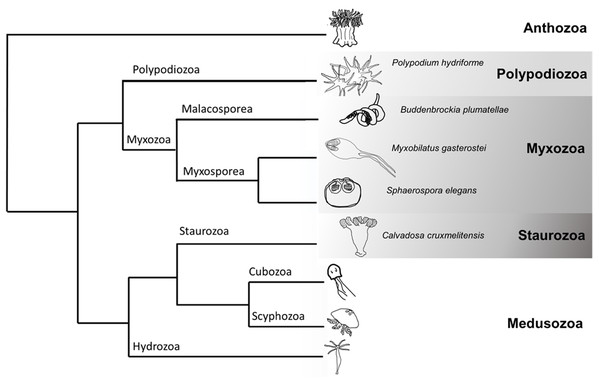 Could venoms deployed by free-living ancestors be used to support parasitic lifestyles in endocnidozoans? There is currently no compelling evidence. Foox et al. (2015) identified proteins similar to cnidarian toxins in the transcriptome of Myxobolus pendula but did not address whether such putative toxins were distinct from those with non-toxic physiological functions. Proteomic analysis of isolated polar capsules from the myxozoan Ceratonova shasta found minimal evidence for proteins similar to toxins of cnidarians or other venomous animals (a toxin-like ShK domain was identified in one peptide sequence, but this was later discounted (Piriatinskiy et al., 2017)). However, nematocysts and filament function have been shown to be highly variable in myxozoans (Ben-David et al., 2016). The apparent loss of venom toxins in nematocysts of C. shasta could be attributed to a structural adaptation that facilitates host attachment rather than toxin delivery.
Here we tackle the question of whether endoparasites employ venom toxins inherited from their free-living ancestors by presenting comparative transcriptomics, targeted proteomics and further expression studies on cnidarian taxa with entirely parasitic life cycles (Buddenbrockia plumatellae and the myxosporeans Myxobilatus gasterostei and Sphaerospora elegans), entirely free-living life cycles (the staurozoan Calvadosia cruxmelitensis), and a life cycle containing both parasitic and free-living stages (P. hydriforme) (Fig. 1). Our rationale is that expression of venom-candidate proteins in endoparasites provides evidence for repurposing of toxins from their ancestral functions of prey capture and defence. In support of this study, we developed a custom pipeline to increase rigour in screening sequences and identifying putative toxins in our datasets. M. gasterostei and S. elegans were collected as mixed infections representing various stages of development (plasmodia with and without spores) from fish kidneys. Because their transcriptomic and proteomic data could not be deconvoluted we hereafter refer to 'mixed myxosporean' datasets. Multiple stages of development (mature and early stages with and without spores, respectively) also characterised the pooled B. plumatellae myxoworms collected from bryozoan hosts.
Our collective approaches enable us to test the following hypotheses: (H1) venom toxins have been conserved and repurposed in endoparasitic cnidarians; (H2) toxins of endoparasitic cnidarians are more divergent from homologs in free-living relatives; and (H3) toxin diversity will be reduced in myxozoans in keeping with the general trend for reduction in genome size in this group. By characterising toxins in myxozoans our aim is to expand the overall appreciation of how toxins have evolved in cnidarians as a whole and to address whether toxins may have been repurposed in animals with parasitic lifestyles.
Materials and Methods
Extended methods are available in the Supplemental Methods.
Transcriptomics: the material used to isolate RNA was as follows: 50 stickleback kidneys of varying sizes with mixed myxosporean infections (Myxobilatus gasterostei and Sphaerospora elegans samples were not separated and hence treated and interpreted as a mixed dataset); approximately 500 B. plumatellae myxoworms from bryozoan host (Plumatella emarginata); 20 stolons of P. hydriforme; secondary tentacle clusters from each of two arms of 20 individual C. cruxmelitensis. RNA was isolated from all material using the same protocol involving homogenisation in TRIzol Reagent followed by biphasic extraction with alcohol and MagMax magnetic beads. RNA library preparation used a NEBNext Poly(A) mRNA Magnetic Isolation Module and fragments with an average size of 300 bp were sequenced on an Illumina HiSeq platform.
Removal of host contaminating sequences: see Supplemental Methods for detailed host filtering pipeline. In summary, to filter the myxozoan and P. hydriforme raw transcriptomic reads from potentially contaminating fish sequences, the raw reads were mapped to the cDNA and ncRNA sequences of G. aculeatus (https://www.ensembl.org/Gasterosteus_aculeatus/Info/Index) (Jones et al., 2012), Rutilus rutilus transcriptome GEBE00000000.1 and sequences from the P. spathula lateral-line transcriptome (Modrell et al., 2017) (bio-project PRJNA357629). Paired reads that did not align to the host datasets were used for transcriptome assembly. Putative fish sequences were also removed after assembly using BLASTn (e value 1e−10, sequence similarity/alignment 80%). Additionally, a draft transcriptome of Plumatella vaihiriae was constructed to remove invertebrate host sequences from the Buddenbrockia transcriptome using the Alien_Index pipeline (https://github.com/josephryan/alien_index, see Supplemental Methods).
Transcriptome assembly: each of the four transcriptomes were assembled with Trinity v2.6.6 using default settings (Haas et al., 2013). Assembled transcriptomes were translated with OrfPredictor v3.0 (Min et al., 2005) using default settings. Sequences >30 amino acids in length were retained. Gene completeness for each of the now non-redundant transcriptomes was assessed with BUSCO v3.0.2 using the metazoan odb nine sequence database (http://busco.ezlab.org/) (Simão et al., 2015).
Proteomics: soluble proteins were extracted by homogenisation and precipitated using methanol, chloroform and water from: 100 kidneys infected with the mixed myxosporeans, approximately 500 B. plumatellae myxoworms, 20 individuals of P. hydriforme and the tentacle clusters from 20 individuals of C. cruxmelitensis. A total of 300 µg of protein from each sample was reduced and alkylated before in-solution digestion was performed using trypsin. Each sample was separated into 12 peptide fractions and analysed by LC-MS/MS using an Ultimate 3,000 nano-LC system in line with an Orbitrap Velos mass spectrometer operated in data-dependent acquisition mode.
Identification of putative toxin encoding transcripts and potential toxins from proteomic data: Translated non-redundant proteins from each transcriptome were matched with BLASTp (e-value 1e−05, bit score > 50) against the UniProt/Swiss-Prot database and a customised toxin dataset which consisted of the Tox-Prot database (Jungo et al., 2012) (downloaded 12/07/2017) supplemented with putative cnidarian toxin sequences reported in the literature but not deposited in either the UniProt/Swiss-Prot or Tox-Prot databases (Jungo et al., 2012; Brinkman et al., 2015; Macrander, Broe & Daly, 2015; Gacesa et al., 2015; Ponce et al., 2016). A transcript was deemed to be a potential toxin sequence if the custom toxin database BLAST hit had a bit score > the corresponding UniProt hit. For each set of putative toxins, conserved domains were predicted using InterProScan5 (Jones et al., 2014), and these predictions were used to assign sequences to the most likely toxin protein family. The assignments were then checked by manual search of the scientific literature to validate the putative toxin function. Unique MS/MS spectral events were visualised using PEAKS Studio software v8.5 (Zhang et al., 2012). Peptides for each animal were back translated and paired against the corresponding non-redundant transcriptome using the PEAKS proprietary matching algorithm. Spectra for peptide- transcriptome matches were manually validated for unbroken series of overlapping b-type and y-type sequence specific fragments ions. Alignments of peptide-spectral matches to putative toxins previously annotated from the transcriptome are given in Fig. S1.
Comparative toxin profiles: to compare toxin diversities a Venn diagram was constructed using InteractiVenn (Heberle et al., 2015) from a data matrix of presence (1) and absence (0) of putative toxin protein families identified in this study and in 11 previously published venom proteomes (Jaimes-Becerra et al., 2019) to reflect total similarity. This matrix is shown in Table S1.
Molecular phylogenetic analyses: validated protein sequences previously identified as venom Kunitz-type toxins and phospholipase A2 (PLA2) from five taxa (sea anemones, insects, scorpions, spiders and snakes) with extensively studied venom as well as protein sequences of some non-venomous taxa were downloaded from the UniProt database and several published cnidarian transcriptomes (Zapata et al., 2015) (Tables S2 and S3). These sequences are provided in FASTA format together with the sequences identified in the transcriptomes of our study (Figs. S2 and S3). Multiple alignments of these sequences, together with homologs of potential venom Kunitz-type toxins and PLA2 sequences identified in this study, were constructed (Figs. S4 and S5). Phylogenetic analyses from these alignments were then carried out using maximum likelihood and Bayesian approaches. Comparison of the substitution rates between free-living cnidarians and endocnidozoans was conducted using the program RRTree version 1.1 (Robinson-Rechavi & Huchon, 2000).
Localisation of putative toxins in B. plumatellae: whole mounts of B. plumatellae myxoworms were stained using customised Rabbit polyclonal antibodies raised against three potential toxins that were identified in both the transcriptome and proteome data; a serine peptidase inhibitor, a C-type lectin and a CRiSP allergen (Vertebrate Antibodies Ltd., Aberdeen, UK). Specificity and sensitivity of the polyclonal antibodies against the proteins were measured by ELISA and are shown in Table S4. Localisation of the potential toxins was made after counter staining with an Alexafluor-conjugated anti-rabbit antibody using a Nikon Eclipse upright microscope with A1-Si confocal microscope.
Data deposition: raw reads for the transcriptomes generated in this study are available at NCBI Sequence Read Archive (SRA) as Bioproject number PRJNA576367. The mass spectrometry proteomics data have been deposited to the ProteomeXchange Consortium via the PRIDE (Perez-Riverol et al., 2019) partner repository with the dataset identifier PXD016306.
Conclusions
Our detection of relatively few venom-candidate proteins in myxozoans suggests that the general reduction in genome size in myxozoans includes reduced toxin diversity. At least some of these retained toxins have diverged. Future work is required to demonstrate how endocnidozoan toxins are deployed and if they are presented collectively as mixtures. Our localisation studies suggest that venom toxins may be uniquely used in endoparasites during development within hosts. For example, serine peptidase inhibitors may have been repurposed for self-destruction to liberate transmission stages. It would be of particular interest to determine sites and sources of toxin localisation, including from membrane-bound intracellular bodies (sporoplasmosomes) that likely fuse with cell membranes to secrete contents (Canning & Okamura, 2004), and by discharge from nematocysts. The latter would suggest deployment of ancestral function for host attachment using these nematocysts. The former may reflect repurposing of venom toxins for functions such as defence against the host environment or transmission (e.g. dissolution of parasite or host membranes). Confirmation of venom secretion from sporoplasmosomes in myxozoan cells would extend observations of venom secretion from cells in anthozoans (Moran et al., 2012) and a scyphozoan (Ames & Macrander, 2016) and would raise further questions about the nature of the ancestral venom-secreting cell type and diversification of secretory processes in Cnidaria (Mariscal, 1974; Beckmann & Özbek, 2012). We predict that venom repurposing has been critical in the adoption of endoparasitism and that cnidarian venom traits will eventually be viewed as a composite of ancestral and derived processes.