Limited influence of marine sediment lyophilization on prokaryotic community structure assessed via amplicon sequencing: an example from environmentally contrasted sediment layers in Toulon harbor (France)
1
Université de Toulon, Aix Marseille University, CNRS, IRD, MIO

,

Toulon

,

France
2
Department of Biology, University of Ottawa

,

Ottawa, ON

,

Canada
Published

Accepted

Received
Academic Editor
Subject Areas

Keywords

Prokaryotic diversity

,

Metabarcoding

,

Marine sediment

,

Lyophilization

,

Vertical distribution

,

Historical contamination
Copyright

©

2021

Misson et al.

Licence

This is an open access article distributed under the terms of the Creative Commons Attribution License, which permits unrestricted use, distribution, reproduction and adaptation in any medium and for any purpose provided that it is properly attributed. For attribution, the original author(s), title, publication source (PeerJ) and either DOI or URL of the article must be cited.
Cite this article

2021

.

Limited influence of marine sediment lyophilization on prokaryotic community structure assessed via amplicon sequencing: an example from environmentally contrasted sediment layers in Toulon harbor (France)

PeerJ

9

:

e11075

https://doi.org/10.7717/peerj.11075
Abstract
Sediment lyophilization is a common process that allows for long-term conservation and sharing of marine sediments for multiple downstream analyses. Although it is often used for geochemical studies, the effects of lyophilization on prokaryotic taxonomic diversity assessment remained to be assessed. Here, we tested the effect of lyophilization on microbial diversity assessment using three sediment layers corresponding to various sediment ages and chemical contamination levels sampled from a marine Mediterranean harbor. Duplicate DNA samples were extracted from wet frozen or lyophilized sediments, and 16S rRNA gene amplicon sequence variants were analyzed. We detected changes in community structure over depth linked to both dominant and less abundant taxa whether sediments were lyophilized or not. Data from both wet frozen and lyophilized sediments led us to conclude that historical chemical contamination of the sediment of Toulon Bay did not appear to be the main environmental variable shaping prokaryotic community structure on the vertical dimension, but that sediment diagenesis was. We conclude that sediment lyophilization is compatible with marine biogeochemical and ecotoxicological studies but that caution should be used when discussing small variations among samples.
Introduction
Linking chemical contamination to ecological effects through genomic approaches remains challenging. Multidisciplinary approaches are needed, but their application often requires that varying sample amounts and sometimes different conservations means be used. Marine sediment conservation for inorganic contamination evaluation often require freeze-drying (Tessier et al., 2011; Dang et al., 2015; Outridge et al., 2017). In order to couple microbial community structure analyses with geochemical investigations, the same samples need to be processed for different downstream analyses. One question that microbiologists interested in geochemical processes often face is whether sediment freeze-drying, typically required to determine metal burden per dry mass of sediment, is compatible with microbial studies. If yes, such sample conservation could facilitate collaborative work performed by distant laboratories.
A previous study on freeze-dried soil and freshwater sediment samples (Miller et al., 1999) demonstrated the ability to use freeze-dried samples to extract and amplify microbial DNA, but no comparison with results obtained with wet samples was provided. More recently, Gianaroli et al. (2012) demonstrated by using microscopy that DNA integrity was not altered in freeze-dried eukaryotic cells when compared to fresh ones. With recent advances in high throughput sequencing and downstream bioinformatics analyses, we can question whether more subtle consequences on DNA structure or extraction could interfere with microbial diversity assessments because of sediment freeze-drying.
A recent study targeting soil samples, using 454 pyrosequencing and focusing on nucleic acids conservation, demonstrated that alpha- and beta-diversity were little affected by freeze-drying (Weißbecker, Buscot & Wubet, 2017). However, the taxa encountered were not reported. Given the very large microbial diversity in soil or sediment, it is reasonable to expect differential conservation of microbial DNA upon freeze-drying and/or recovery during DNA extraction based on cell wall properties or even DNA sequences (e.g., low vs. high GC).
Furthermore, marine coastal sediments are rich in salts and humic acids, potentially inhibiting PCR amplification (Kreader, 1996), and increasingly subject to anthropogenic contaminants, among which divalent metallic cations can negatively alter nucleic acids recovery during the extraction procedure (Stein et al., 2001). These chemicals are further concentrated during sediment freeze-drying, thus potentially challenging microbial community structure assessment. Validating the suitability of molecular tools on DNA extracted from freeze-dried sediments is still necessary (Bey et al., 2010).
This study aimed at comparing prokaryotic community diversity determined by MiSeq high throughput sequencing of 16S rRNA gene amplicon from DNA extracted from wet frozen or freeze-dried marine sediments. Our analysis focused on alpha and beta diversity metrics. We used highly contaminated sediments from the Toulon Harbour (NW Mediterranean Sea, France) which anthropogenic recent and historical chemical contamination was previously characterized (Misson et al., 2016). In addition to testing for the role of lyophilization on diversity assessment, we were interested in evaluating the relative contribution of this contamination and of naturally occurring processes such as diagenesis on prokaryotic diversity. To do so, we used three sediment layers spanning 150 years of sedimentation and capturing the main contamination event associated with the scuttling of the French fleet during World War II.
Results
Historical contamination profile
Concentrations of HgT spanned 2 orders of magnitude, ranging from 0.37 to 15 ppm. The vertical profile exhibited stable and low HgT concentrations (0.4–1.1 ppm) at the bottom of the core (from −46 to −28 cm), then a first increase to 3.3 ppm was recorded (from −28 to −19 cm) before a second but sharper increase towards the maximal historical contamination (recorded at −12 cm). Concentrations subsequently decreased from ca. 12 cm to stabilize at ~5 ppm in the top 8 cm (Fig. 1).
Prokaryotic community abundance and diversity
Bacterial 16S rRNA gene copy number was recorded as a proxy of prokaryotic abundance. Once normalized to sediment wet weight (or equivalent) used for extraction, values ranged from 0.93 to 6.42 × 108 copies g−1 and from 0.73 to 6.71 × 108 copies g−1 for frozen and lyophilized sediments, respectively. Whatever the sediment conditioning before extraction, a similar decreasing trend with depth was observed, especially between 0–1 cm and 10–11 cm (Fig. 2). In spite of this common trend, a higher variability was recorded for lyophilized sediment from 0 to 1 cm.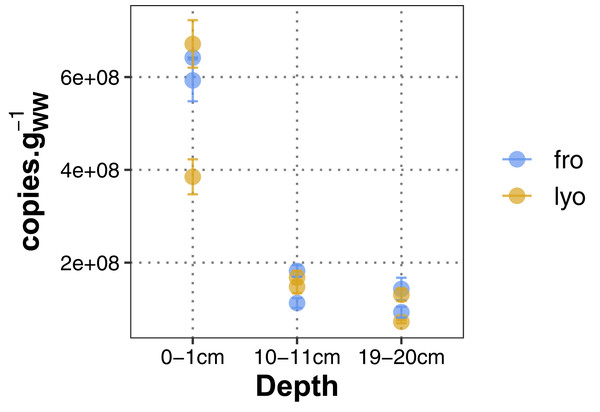 Sequencing the prokaryotic community yielded 2,396 ASVs from 108,216 sequences. Rarefaction curves demonstrated that a plateau was reached quickly for all samples (Figs. 3A–3C). The observed richness per sample ranged between 141 and 722 ASVs. As observed for 16S rRNA gene copies, the observed richness at 0–1 cm after lyophilization appeared highly variable (Fig. 4A). However, it should be noted that the sample showing the lowest richness was not the one showing the lowest 16S rRNA gene copy number. At 10–11cm, both observed richness values and variability appeared similar for frozen and lyophilized sediment (Fig. 4B). At 19–20 cm, the variability among replicates was similar for both frozen and lyophilized sediment, but the observed richness appeared higher for lyophilized sediments. Other alpha diversity metrics, Shannon and reciprocal Simpson indexes, presented a higher variability for lyophilized than for frozen sediment at 0–1 cm, and also at 19–20 cm. We observed far lower values of Shannon and reciprocal Simpson indexes for one replicate at 19–20 cm (Fig. 4C). Finally, DNA extracted from frozen sediment led to a slight increasing trend with depth for all metrics, a trend that could not be observed from lyophilized material because of the higher variability observed.


ASVs were distributed among 49 phyla corresponding mainly to Bacteria. Indeed, after extraction from frozen sediment, the proportion of archaeal sequences ranged from 0.3% to 14.0%. Archaeal ASVs were more represented at 10–11 cm and 19–20 cm (9.4–14.0%) than in the surface layer (0.3%). The same trend was observed for lyophilized sediments, Archaea being undetected or rare at 0–1 cm (0–0.3%), and more abundant in intermediate (12.3–14.3%) and deep layers (13.5–17.4%). Among the bacterial phyla encountered, Proteobacteria (especially Delta- and Gammaproteobacteria), Chloroflexi (especially Dehalococcoidia) and Bacteroidetes were dominant and accounted for 40.8–70.9% of the community recovered from frozen sediment (Fig. 5). Strong vertical variations in community structure were recorded, mainly between the surface layer, on the one hand, and intermediate and deep layers, on the other. Gammaproteobacteria and Bacteroidetes were dominant groups in the surface layer (24.1–38.5% and 12.7–13.2%, respectively) but largely decreased in intermediate and deep layers (0.2–10.8% and 1.5–2.6%, respectively). We noted that Dehalococcoidia strongly increased in intermediate and deep layers (16.6–18.9% and 23.6–23.8%, respectively) when compared to the surface (from undetected to 0.3%). This vertical structure shift appeared highly reproducible between frozen and lyophilized sediment samples at all depths (Figs. 5A–5C), although the proportion of Gammaproteobacteria in one deep lyophilized sample appeared abnormally high (12.1%). In the same sample, Firmicutes reached 16.7% while they were not detected in the other samples from the same depth.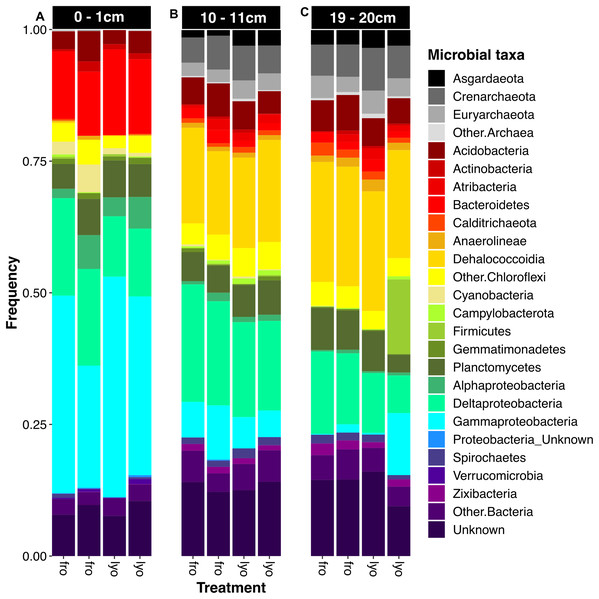 Taking into account the whole community and not only dominant phyla or classes, weighted UniFrac distance analysis performed at the ASV level largely confirmed both the vertical trend, and the similarities observed between lyophilized and frozen sediments. As demonstrated by Fig. 6, the large majority of community structure variation was recorded between the surface layer and the other two samples, their separation being evident on the first axis of the PCoA representing more than 90% of the variability whatever treatment before DNA extraction was applied (Figs. 6A and 6B). Some variability among replicates (at 0–1 cm for frozen sediments and 19–20 cm for lyophilized ones) could be observed along the second axis, representing 3.0–4.3% of the variability. When considering both treatments together (Fig. 6C), the second axis allowed to discriminate intermediate (10–11 cm) and deep samples (19–20 cm) as well as support the influence of sediment treatment (fro vs. lyo). Although this observation could suggest some phylogeny-related susceptibility to lyophilization, the small representation of the biological variability on the second axis (3.4%) tends to indicate that such difference could be restricted to rare groups and only slightly alter our assessment of community structure.

Discussion
In this study, we evaluated the influence of sediment freeze-drying on 16S rRNA gene amplicon diversity analyses using three sediment layers collected from a sediment core.
The highest congruence between results obtained from frozen and lyophilized sediments was for beta diversity analyses. Indeed, at the ASV level, within layer differences observed for frozen or lyophilized materials appeared lower than when comparing frozen vs. lyophilized samples. Very few differences were observed for dominant groups although some replicate showed singular community structure for either frozen or lyophilized sediment. We did not observe an effect of DNA extraction or degradation leading to a qualitative bias, which is in agreement with the absence of an effect of lyophilization on DNA structure within cells (Gianaroli et al., 2012).
When considering alpha diversity, sediment lyophilization resulted in more variability between replicates at the surface than for the two deeper layer samples. Moreover, vertical trends were not reproducible between frozen and lyophilized sediments. It should be noted that the number of ASVs retrieved from both lyophilized and frozen sediments (a few hundreds per samples) is in line with what should be expected and supports the suitability of DADA2, compared to prior programs that inflated diversity 10–100 times (Edgar, 2013).
Finally, qPCR analysis did not detect any major or recurrent modification of DNA extraction yield after sediment lyophilization. This suggests that differences in alpha or beta diversity could rather be linked to either natural variability, or to variability introduced by amplification and/or sequencing.
Together, these data suggest that lyophilization of marine sediments does not seem to lead to large biases in microbial taxonomic diversity evaluation. However, caution should be taken, especially when interpreting small amplitude variations of alpha diversity.
Having established that frozen and freeze-dried sediments were both amenable for 16S rRNA gene sequencing analyses, we studied the effect of a historical contamination gradient recorded vertically in Toulon Bay. Using 210Pb dating, Tessier et al. (2011) showed that Toulon Bay experienced an important chemical contamination event during World War II, most probably associated with the scuttling of the French fleet. It resulted in a strong metal enrichment of the sediment, particularly for total mercury (HgT) concentrations. As a consequence, (HgT) vertical profile has been a reliable dating tool for every new cores at this site, in addition to providing information on the contamination level of the samples. Our sediment sampling approach allowed us to compare prokaryotic taxonomic diversity in sediment settled before, during, or after this historical contamination event. In addition to the historical contamination gradient, sediment underwent diagenesis. Sediment diagenesis can lead to the development of a very reductive environment. According to a previous temporal survey performed at the same sampling site in Toulon Bay, sediment layers deposited before and during the historical contamination event are both anoxic and dominated by sulfate reduction. Closer to the surface, the sediment layer deposited after the contamination event corresponds to either oxic or suboxic conditions and is typically dominated by iron and manganese reduction due to its interaction with the oxic water column (Dang et al., 2015). These varying and contrasted geochemical conditions offered ideal conditions to evaluate how prokaryotic community structure changed over time and responded to chemical multicontamination. Indeed, both diagenesis and the varying toxicity of metal burden, this latter possibly attenuated by the presence of sulfides (Dang et al., 2015) and modulated by long term adaptation to metal stress (>70 years; Misson et al., 2016), could contribute to structuring the community.
We observed an important community structure shift between the top sediment layer on the one hand, and both intermediate and deep sediment layers on the other. We suspect that the strong diagenetic redox gradient induced by the very first stages of the early diagenesis (i.e., microbial mineralization of organic matter) is a very strong driver of prokaryotic community structure in the sediments of Toulon Bay as already demonstrated in various freshwater and marine sediments (Cornall et al., 2013; Ruuskanen et al., 2018; Jiménez et al., 2018). Subsequently, the distance analysis showed very slight discrimination of samples originating from before or contemporary to the historical contamination peak. These results suggest that the strong and multiple historical contamination of Toulon bay likely affected the prokaryotic benthic community, but far less than sediment aging and especially diagenesis-related redox gradients.
Supplemental Information
Total mercury data.
Dataset describing total mercury concentration with sediment depth.
ASV table.