Age, growth, and natural mortality of yellowfin grouper (Mycteroperca venenosa) from the southeastern United States
Beaufort Laboratory, Southeast Fisheries Science Center, National Marine Fisheries Service, NOAA

,

Beaufort, NC

,

USA
Published

Accepted

Received
Academic Editor
Subject Areas

Keywords

Serranidae

,

Life history

,

Age-growth

,

Natural mortality
Licence

This is an open access article, free of all copyright, made available under the Creative Commons Public Domain Dedication. This work may be freely reproduced, distributed, transmitted, modified, built upon, or otherwise used by anyone for any lawful purpose.
Cite this article

2015

. Age, growth, and natural mortality of yellowfin grouper (Mycteroperca venenosa) from the southeastern United States.

PeerJ

3

:

e1099

https://doi.org/10.7717/peerj.1099
Abstract
Ages of yellowfin grouper (n = 306) from the southeastern United States coast from 1979–2014 were determined using sectioned sagittal otoliths. Opaque zones were annular, forming January–June (peaking in February–March). Yellowfin grouper ranged in age from 3 to 31 years; the largest fish measured 1,000 mm fork length (FL). Body size relationships for yellowfin grouper were: W = 1.22 × 10−5 FL3.03 (n = 229, r2 = 0.92); TL = 1.06 FL − 14.53 (n = 60, r2 = 0.99); and FL = 0.93 TL + 18.63 (n = 60, r2 = 0.99), where W = whole weight in grams, FL in mm, and TL = total length in mm. The von Bertalanffy growth equation was: Lt = 958 (1 − e−0.11(t+2.94)) (n = 306). The point estimate of natural mortality for yellowfin grouper was M = 0.14, while age-specific estimates of M ranged from 1.59 to 0.17 for ages 1–31.
Introduction
The yellowfin grouper (Mycteroperca venenosa Linnaeus 1758), a moderate- to large-sized member of the family Serranidae, is widely distributed throughout the western Atlantic Ocean from North Carolina through the Florida Keys (referred hereafter as the southeastern US or SEUS), into the northern Gulf of Mexico, and in waters off Bermuda and throughout the Caribbean south to Brazil. Juveniles are often found in the shallow turtle grass (Thalassia testudinum) beds, while adults are typically found on subtropical rocky hardbottom and coral reef areas at depths up to 137 m (Heemstra & Randall, 1993). Yellowfin grouper feed mainly on fishes and squid (Randall, 1967) and are known to form spawning aggregations (Kadison et al., 2010; Scharer et al., 2012). Cushion (2010) studied growth and reproduction of specimens from the Bahamas.
Yellowfin grouper are of moderate importance to the SEUS reef fish fishery. While caught infrequently by anglers, their large size makes them a prized trophy species. Estimated total annual landings from headboats (vessels carrying at least seven anglers engaged in recreational fishing) sampled by the Southeast Region Headboat Survey (SRHS), conducted by the National Marine Fisheries Service (NMFS), averaged 304 kg from 1986 to 2013 (K Brennan, 2014, unpublished data). Annual numbers of fish landed by anglers fishing from private recreational boats and charter boats, estimated by the NMFS Marine Recreational Information Program (MRIP, T Sminkey, 2014, unpublished data) averaged 649 fish from 1981 to 2013. Commercial fisheries of the SEUS on average annually harvested 2,163 kg of yellowfin grouper from 1981–2013 (N Baertlein, pers. comm., 2014), primarily from hook-and-line gear. Landings are widely distributed along the SEUS coast, from North Carolina through the Florida Keys, including the Dry Tortugas.
Yellowfin grouper are currently included in the South Atlantic Fishery Management Council's (SAFMC) Snapper-Grouper Fishery Management Plan (FMP). Since 1992 the species has been regulated by a 20 inch (508 mm) total length (TL) size limit in commercial and recreational fisheries; they have been included in a shallow-water grouper closed season from January 1 to April 30 of each year since 2012, and included in an aggregate three-grouper-per-person-per-day bag limit for recreational fishermen outside of the closed season since 2012 (five grouper bag limit during 1992–2011) (SAFMC, 2015). Commercial regulations include the 20 inch size limit and inclusion in the shallow-water grouper closure from January 1 to April 30 (SAFMC, 2015). Yellowfin grouper are not currently scheduled for a National Marine Fisheries Service (NMFS) stock assessment under the Southeast Data, Assessment and Review (SEDAR) program, likely due to low annual landings and management priorities.
Information about size-at-age and growth rates of reef fishes is important to fishery managers. The preferred method of aging reef fish is to use the sagittal otoliths, or ear stones (Manooch, 1987), a calcareous structure found inside the cranium. These sagittae may be read as whole structures but are usually sectioned into several thin sections and the sections looked at under a microscope to elucidate the age of the fish. Age is determined by counting alternating opaque and translucent bands deposited due to fluctuations in environmental conditions such as water temperature. Nonlinear regression relating the measured length of the fish to the estimated age leads to the generation of growth curves, which are one of the most important inputs into the stock assessment process used by NMFS to manage fisheries (K Siegfried, NMFS Beaufort Laboratory, pers. comm., 2015).
We studied yellowfin grouper because little is known of their life history in SEUS waters. The desirability of the species as a trophy fish for recreational angles due to its large size, the relative infrequency with which it is caught, and the potential for overexploitation by overfishing spawning aggregations all make it imperative to study the basic biology needed for proper fishery management. Herein, we describe age and growth parameters and natural mortality, which are important input variables for agency-led stock assessment efforts. This study provides the first published information on life history parameters for yellowfin grouper from SEUS waters.
Discussion
Otolith edge analysis demonstrated that yellowfin grouper deposited one annulus per year between January and June, with peak annulus formation between February and March. This is similar to timing of annulus formation for other groupers in the SEUS, which tend to form annuli in winter (Moe, 1969; Manooch & Haimovici, 1978; Burton, Potts & Carr, 2012). Crabtree & Bullock (1998) found that the congeneric black grouper (Mycteroperca bonaci), formed annuli from April to June in Florida waters.
Yellowfin grouper grew moderately fast, attaining an average observed size of 428 mm FL by age-3, 583 mm by age-5, 736 mm by age-10, and 821 mm by age-15. Subsequently, growth slowed to an average of 14 mm per year (Table 2). Observed size at age for yellowfin grouper from the SEUS compared favorably through age-13 with that of the Bahamian population studied by Cushion (2010) (Fig. 3) but our study found a much greater maximum age than that found by Cushion (2010), 31 yrs as compared with 13 yrs for the Bahamian population. While both studies were comprised of fishery-dependent samples, we feel our study was more representative of the population we sampled due to broader geographic coverage and larger sample size. All of the samples from the Bahamas study came from a single fish-market in New Providence Island.
Our predicted growth curve of yellowfin grouper using the parameters from the freely estimated, unweighted growth model fit the observed data well (Fig. 4). The von Bertalanffy parameter K, or the Brody growth coefficient, which estimates the rate of attainment of maximum size, was lower in our study, 0.11, compared to 0.14 for Bahamian yellowfin grouper (Cushion, 2010). Conversely, maximum predicted length was slightly larger for Bahamian fish (977 mm) versus our study (958 mm), which is interesting considering maximum observed ages were age-13 and age-31, respectively. Curiously, the usual expectation is that tropical populations of fish grow faster and reach smaller maximum sizes and ages than subtropical or temperate populations (Longhurst & Pauly, 1987; Berrigan & Charnov, 1994). Manickchand-Heileman & Phillip (2000) pointed out that yellowmouth grouper (Mycteroperca interstitialis) populations from Trinidad and Tobago had larger maximum sizes, lower growth rates, and greater observed age when compared with subtropical/temperate populations. They suspected that this was likely because of a shorter period of exploitation. Relatively high rates of fishing pressure in the tropics may tend to truncate the population age structure of yellowfin grouper in the Bahamas. Alternately, we examined almost four times as many specimens as Cushion (2010). Perhaps with a greater sample size there is a greater chance of encountering fish of greater ages; Hoenig (1983) recognized this possibility and incorporated sample size into his estimator for mortality rates.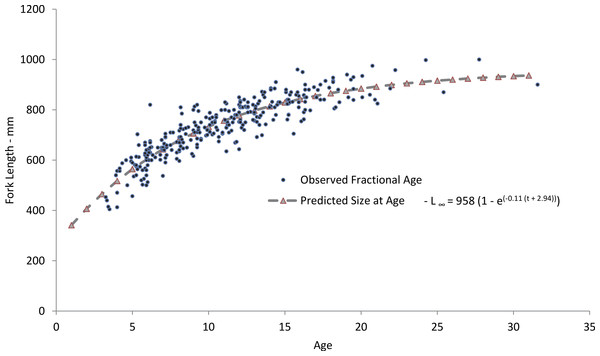 We constrained t0 to −0.5 in our modified growth curve for yellowfin grouper, which had the effect of dampening the growth curve in the earliest years. However, by age-6 the modified curve and the freely estimated curve were nearly identical, differing only in the earlier ages. Adjustment of the curve for size limits using the method of McGarvey & Fowler (2002) resulted in very similar growth parameters as generated by the freely estimated model. While size at age-1 was slightly lower, the method did not pull the curve down in the earlier ages as much as the previous fixed t0 model run did, and the von Bertalanffy growth parameters were very similar (Fig. 3). This result is likely explained by the fact that there were very few fish in the age classes most affected by the size limit prior to the implementation of the minimum size limit. Thus, the McGarvey & Fowler (2002) method could not fully determine and correct for the potential non-normal distribution of size-at-age.
Natural mortality (M) of wild fish populations is difficult to measure but is an important input into stock assessments. A point estimate of M (Hewitt & Hoenig, 2005) for the entire life span of a fish seems unreasonable, because as fish grow they become less vulnerable to predation. We thought that our point estimate of M was reasonable for fully recruited ages in our study but was an insufficient estimate of M for all ages. The age-varying M calculated using Charnov, Gislason & Pope (2013) seems a more appropriate estimator for the younger ages. The initial Charnov estimates of M starting with the fully recruited age-6 are approximately 2.6× the Hewitt and Hoenig estimate, reflecting higher natural mortality at younger ages. The age-specific estimates of M for the older ages stabilized near the Hewitt & Hoenig (2005) estimate of M (Table 2). When considering the cumulative estimate of survivorship to the fully recruited ages, the Hewitt & Hoenig (2005) method estimated 2.9% survivorship, while the Charnov estimate was 0.6%. Very few of the fish in our samples were older than age-18 (19 of 306), and even fewer were older than age-22 (n = 4). Though sample size in this study was limited, the age-frequency distribution suggests that the chance of survivorship to the oldest age may truly be as low as 1%. There is no evidence that hook and line gear is dome-selective for this species or its congeners: thus our study had the potential to collect the largest and oldest fish in the population. These observations give weight to the argument to use Charnov's estimate of M at age.
One limitation of this study was the lack of fish smaller than about 428 mm FL (or about age-3), because of the fishery-dependent nature of our samples, the selectivity of fishing gear, and the minimum size limits in place for yellowfin grouper. Lack of smaller fish is common in studies dominated by fishery-dependent samples and can lead to problems in estimating the growth curve for the youngest ages. Inclusion of fishery-independent samples usually corrects this problem, as fishery-independent gear such as traps will catch smaller fish. However, only two yellowfin grouper have been caught by the two major fishery-independent surveys operated by natural resource agencies in the southeast (Southeast Fishery Independent Survey, administered by the NOAA Fisheries/SEFSC/Beaufort Laboratory, 2010-present; Marine Monitoring, Assessment and Prediction Program annual survey, administered by South Carolina Department of Natural Resources, 1972-present). Younger fish were unavailable to us to help define the trajectory of the growth curve at the earliest ages, and this section of the growth curve should be interpreted with caution. We accounted for this limitation by re-estimating our growth parameters using a fixed value for t0 of −0.5.
Another limitation of our study is the long period of time over which samples were collected (>30 yrs). Population parameters can vary inter-annually for various reasons (e.g., variable recruitment, environmental reasons), and it is certain that parameter estimates based on samples collected over 30 yrs would have increased variability when compared to estimates generated from samples collected over a much shorter time period. Unfortunately, samples from infrequently-caught species such as yellowfin grouper will likely never be obtained in quantities large enough to allow us to eliminate this source of error in the parameter estimates.
Conclusions
This study is the first published study of yellowfin grouper life history in the SEUS. We have shown that otolith sections of yellowfin grouper contain annuli that are relatively easy to enumerate and that otolith sections are therefore likely reliable structures for aging. Growth rings on yellowfin grouper sagittae are assumed to be deposited once a year in spring and growth is generally fast for the first seven years and then slows considerably, as evidenced by the low value of K, the von Bertalanffy growth coefficient. Our estimates of M are reasonable for a fish with a moderately long life span and longevity to age 31. We believe the results of this study accurately describe the fished population of yellowfin grouper in the SEUS. The overall landings of this species in the commercial and recreational fisheries of the SEUS make it an unlikely candidate for a stock assessment through the NMFS SEDAR process because of the prioritization of more commonly landed species. A possible use of these data would be their application to studies of the population dynamics of US Caribbean stocks (US Virgin Islands and Puerto Rico). The US Caribbean is typically a data-poor region, and studies from the SEUS could be used as proxies in analyses for the region. However, analyses should be undertaken to determine appropriateness of such a procedure (i.e., similar life history traits between populations). Application of the growth curve from Cushion's (2010) Bahamian population to populations from the wider Caribbean might not be warranted based on the low maximum age in her study vs. what the current study found. Precaution should always be taken when extrapolating beyond the scope of current data.
Supplemental Information
Raw data spreadsheet and supplementary tabs with analyses
Raw Data spreadsheet and all component supplementary tabs with analyses.