A community perspective on the concept of marine holobionts: current status, challenges, and future directions
Published

Accepted

Received
Academic Editor
Subject Areas

Keywords

Evolution

,

Ecosystem services

,

Symbiosis

,

Host-microbiota interactions

,

Marine holobionts

,

Dysbiosis
Copyright

©

2021

Dittami et al.

Licence

This is an open access article distributed under the terms of the Creative Commons Attribution License, which permits unrestricted use, distribution, reproduction and adaptation in any medium and for any purpose provided that it is properly attributed. For attribution, the original author(s), title, publication source (PeerJ) and either DOI or URL of the article must be cited.
Cite this article

2021

.

A community perspective on the concept of marine holobionts: current status, challenges, and future directions

.

PeerJ

9

:

e10911

https://doi.org/10.7717/peerj.10911
Abstract
Host-microbe interactions play crucial roles in marine ecosystems. However, we still have very little understanding of the mechanisms that govern these relationships, the evolutionary processes that shape them, and their ecological consequences. The holobiont concept is a renewed paradigm in biology that can help to describe and understand these complex systems. It posits that a host and its associated microbiota with which it interacts, form a holobiont, and have to be studied together as a coherent biological and functional unit to understand its biology, ecology, and evolution. Here we discuss critical concepts and opportunities in marine holobiont research and identify key challenges in the field. We highlight the potential economic, sociological, and environmental impacts of the holobiont concept in marine biological, evolutionary, and environmental sciences. Given the connectivity and the unexplored biodiversity specific to marine ecosystems, a deeper understanding of such complex systems requires further technological and conceptual advances, e.g., the development of controlled experimental model systems for holobionts from all major lineages and the modeling of (info)chemical-mediated interactions between organisms. Here we propose that one significant challenge is to bridge cross-disciplinary research on tractable model systems in order to address key ecological and evolutionary questions. This first step is crucial to decipher the main drivers of the dynamics and evolution of holobionts and to account for the holobiont concept in applied areas, such as the conservation, management, and exploitation of marine ecosystems and resources, where practical solutions to predict and mitigate the impact of human activities are more important than ever.
Rationale, intended audience, and survey methodology
The idea of considering organisms in connection with the complex microbial communities they are associated with is a concept rapidly gaining in importance in a wide field of life and environmental sciences. It goes along with an increasing awareness that many organisms depend on complex interactions with their symbiotic microbiota for different aspects of their life, even though the extent of dependencies may vary strongly (Hammer, Sanders & Fierer, 2019). The host and its associated microbiota are considered a single ecological unit, the holobiont. This implies a real paradigm shift. Marine environments harbor most of the diversity of life in terms of the number of lineages that coexist, and the constant presence of surrounding water as a potential carrier of metabolites but also microbes facilitates tight interactions between these lineages, making a "holistic" view of these environments and the organisms that inhabit them particularly important.
This paper is intended for both scientists seeking an overview of recent developments in marine holobiont research and as a reference for policymakers. We review the state of the art in the field research and identify key challenges, possible solutions, and opportunities in the field. Our work is based on the result of a foresight workshop hosted in March 2018, which brought together an interdisciplinary group of 31 scientists. These scientists were selected for their complementary expertise in philosophy, evolution, computer sciences, marine biology, ecology, chemistry, microscopy, and microbiology, as well as for their work with a wide range of different model systems from phytoplankton, via macroalgae, corals, and sponges, to bacterial communities of hydrothermal vents. After a three-day brainstorming session, the resulting ideas and discussions were divided into different topics, and groups of two or more scientists were appointed to draft each section, each based on their expertise in the field, their knowledge of the literature, and literature searches. The assembled paper was then corrected and completed by the entire consortium.
Marine holobionts from their origins to the present
The history of the holobiont concept
Holism is a philosophical notion first proposed by Aristotle in the 4th century BC. It states that systems should be studied in their entirety, with a focus on the interconnections between their various components rather than on the individual parts (Met. Z.17, 1041b11–33). Such systems have emergent properties that result from the behavior of a system that is "larger than the sum of its parts". However, a major shift away from holism occurred during the Age of "Enlightenment" when the dominant thought summarized as "dissection science" was to focus on the smallest component of a system as a means of understanding it.
The idea of holism started to regain popularity in biology when the endosymbiosis theory was first proposed by Mereschkowski (1905) and further developed by Wallin (1925). Still accepted today, this theory posits a single origin for eukaryotic cells through the symbiotic assimilation of prokaryotes to form first mitochondria and later plastids (the latter through several independent symbiotic events) via phagocytosis (reviewed in Archibald, 2015). These ancestral and founding symbiotic events, which prompted the metabolic and cellular complexity of eukaryotic life, most likely occurred in the ocean (Martin et al., 2008).
Despite the general acceptance of the endosymbiosis theory, the term "holobiosis" or "holobiont" did not immediately enter the scientific vernacular. It was coined independently by Meyer-Abich (1943) (Baedke, Fábregas-Tejeda & Nieves Delgado, 2020) and by Lynn Margulis in 1990, who proposed that evolution has worked mainly through symbiosis-driven leaps that merged organisms into new forms, referred to as "holobionts", and only secondarily through gradual mutational changes (Margulis & Fester, 1991; O'Malley, 2017). However, the concept was not widely used until it was co-opted by coral biologists over a decade later. Corals and dinoflagellate algae of the family Symbiodiniaceae are one of the most iconic examples of symbioses found in nature; most corals are incapable of long-term survival without the products of photosynthesis provided by their endosymbiotic algae. Rohwer et al. (2002) were the first to use the word "holobiont" to describe a unit of selection sensu Margulis (Rosenberg et al., 2007b) for corals, where the holobiont comprised the cnidarian polyp (host), algae of the family Symbiodiniaceae, various ectosymbionts (endolithic algae, prokaryotes, fungi, other unicellular eukaryotes), and viruses.
Although initially driven by studies of marine organisms, much of the research on the emerging properties and significance of holobionts has since been carried out in other fields of research: the microbiota of the rhizosphere of plants or the animal gut became predominant models and have led to an ongoing paradigm shift in agronomy and medical sciences (Bulgarelli et al., 2013; Shreiner, Kao & Young, 2015; Faure, Simon & Heulin, 2018). Holobionts occur in terrestrial and aquatic habitats alike, and several analogies between these ecosystems can be made. For example, in all of these habitats, interactions within and across holobionts such as induction of chemical defenses, nutrient acquisition, or biofilm formation are mediated by chemical cues and signals in the environment, dubbed infochemicals (Loh et al., 2002; Harder et al., 2012; Rolland et al., 2016; Saha et al., 2019). Nevertheless, we can identify two major differences between terrestrial and aquatic systems. First, the physicochemical properties of water result in higher chemical connectivity and signaling between macro- and micro-organisms in aquatic or moist environments. In marine ecosystems, carbon fluxes also appear to be swifter and trophic modes more flexible, leading to higher plasticity of functional interactions across holobionts (Mitra et al., 2013). Moreover, dispersal barriers are usually lower, allowing for faster microbial community shifts in marine holobionts (Kinlan & Gaines, 2003; Burgess et al., 2016; Martin-Platero et al., 2018). Secondly, phylogenetic diversity at broad taxonomic scales (i.e., supra-kingdom, kingdom and phylum levels), is higher in aquatic realms compared to land, with much of the aquatic diversity yet to be uncovered (De Vargas et al., 2015; Thompson et al., 2017), especially marine viruses (Middelboe & Brussaard, 2017; Gregory et al., 2019). The recent discovery of such astonishing marine microbial diversity in parallel with the scarcity of marine holobiont research suggest a high potential for complex cross-lineage interactions yet to be explored in marine holobionts (Fig. 1).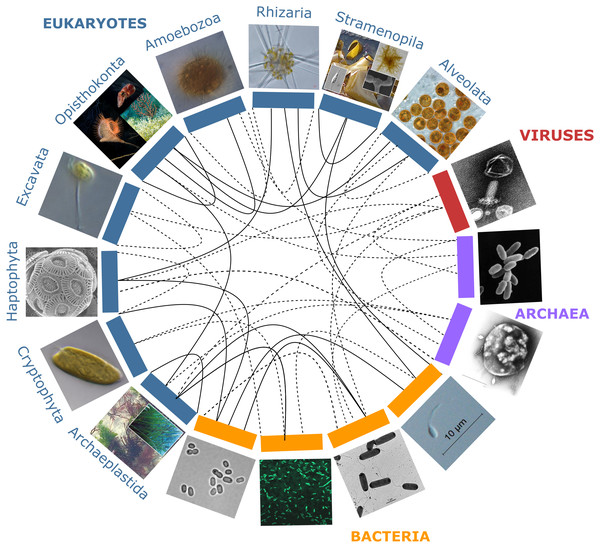 The boundaries of holobionts are usually delimited by a physical gradient, which corresponds to the area of local influence of the host, e.g., in unicellular algae the so-called phycosphere (Seymour et al., 2017). However, they may also be defined in a context-dependent way as a "Russian Matryoshka doll", setting the boundaries of the holobiont depending on the interactions and biological functions that are being considered. Thus holobionts may encompass all levels of host-symbiont associations from intimate endosymbiosis with a high degree of co-evolution up to the community and ecosystem level; a concept referred to as "nested ecosystems" (Fig. 2; McFall-Ngai et al., 2013; Pita et al., 2018).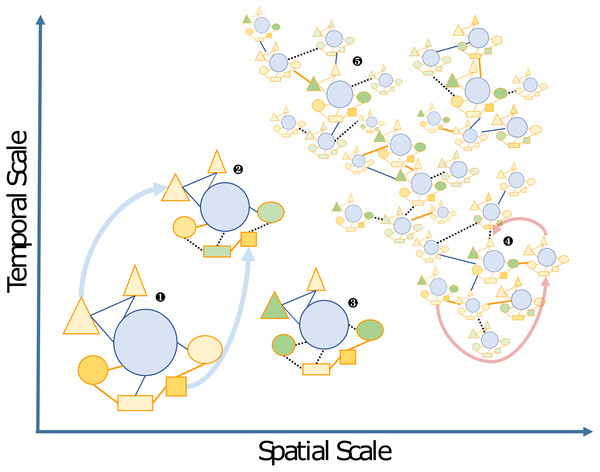 Such a conceptual perspective raises fundamental questions not only regarding the interaction between the different components of holobionts and processes governing their dynamics, but also of the relevant units of selection and the role of co-evolution. For instance, plant and animal evolution involves new functions co-constructed by members of the holobiont or elimination of functions redundant among them (Selosse, Bessis & Pozo, 2014), and it is likely that these processes are also relevant in marine holobionts. Rosenberg et al. (2010) and Rosenberg & Zilber-Rosenberg (2018) argued that all animals and plants can be considered holobionts, and thus advocate the hologenome theory of evolution, suggesting that natural selection acts at the level of the holobiont and its hologenome. This interpretation of Margulis' definition of a "holobiont" considerably broadened fundamental concepts in evolution and speciation and has not been free of criticism (Douglas & Werren, 2016), especially when applied at the community or ecosystem level (Moran & Sloan, 2015). More recently, it has been shown that species that interact indirectly with the host can also be important in shaping coevolution within mutualistic multi-partner assemblages (Guimarães et al., 2017). Thus, the holobiont concept and the underlying complexity of holobiont systems should be better defined and further considered when addressing evolutionary and ecological questions.
Marine holobiont models
Today, an increasing number of marine model organisms, both unicellular and multicellular, are being used in holobiont research (Fig. 1), often with different emphasis and levels of experimental control, but altogether covering a large range of scientific topics. Here, we provide several illustrative examples of this diversity and some of the insights they have provided, distinguishing between "environmental models", chosen for their environmental, evolutionary, economical, or ecological importance, or for historical reasons, but in which microbiome composition is not or only partially controlled, and "controlled bi- or trilateral associations", which can be kept separately from their symbionts under laboratory conditions and are particularly useful to develop functional approaches and study the mechanisms of symbiotic interactions.
Environmental models: Within the animal kingdom, and in addition to corals and sponges, which will be discussed below, the discovery of deep-sea hydrothermal vents revealed symbioses of animals with chemosynthetic bacteria that have later been found in many other marine ecosystems (Dubilier, Bergin & Lott, 2008; Rubin-Blum et al., 2019) and frequently exhibit high levels of metabolic and taxonomic diversity (Duperron et al., 2008; Petersen et al., 2016; Ponnudurai et al., 2017). In the SAR supergroup, in addition to well-known models such as diatoms, radiolarians and foraminiferans, both heterotrophic protist dwellers harboring endosymbiotic microalgae, are emerging as ecological models for unicellular photosymbiosis due to their ubiquitous presence in the world's oceans (Decelle, Colin & Foster, 2015; Not et al., 2016). Among the haptophytes, the cosmopolitan Emiliania huxleyi, promoted by associated bacteria (Seyedsayamdost et al., 2011; Segev et al., 2016), produces key intermediates in the carbon and sulfur biogeochemical cycles, making it an important model phytoplankton species. Finally, within the Archaeplastida, the siphonous green alga Bryopsis is an example of a model that harbors heterotrophic endosymbiotic bacteria, some of which exhibit patterns of co-evolution with their hosts (Hollants et al., 2013).
Controlled bi- or trilateral associations: Only a few models, covering a small part of the overall marine biodiversity, are currently being cultivated ex-situ and can be used in fully controlled experiments, where they can be cultured aposymbiotically. The flatworm Symsagittifera (= Convoluta) roscoffensis (Arboleda et al., 2018), the sea anemone Exaiptasia (Baumgarten et al., 2015; Wolfowicz et al., 2016), the upside-down jellyfish Cassiopea (Ohdera et al., 2018), and their respective intracellular green and dinoflagellate algae have, in addition to corals, become models for fundamental research on evolution of metazoan-algal photosymbiosis. In particular, the sea anemone Exaiptasia has been used to explore photobiology disruption and restoration of cnidarian symbioses (Lehnert, Burriesci & Pringle, 2012). The Vibrio-squid model provides insights into the effect of microbiota on animal development, circadian rhythms, and immune systems (McFall-Ngai, 2014). The unicellular green alga Ostreococcus, an important marine primary producer, has been shown to exchange vitamins with specific associated bacteria (Cooper et al., 2019). The green macroalga Ulva mutabilis has enabled the exploration of bacteria-mediated growth and morphogenesis including the identification of original chemical interactions in the holobiont (Wichard, 2015; Kessler et al., 2018). Although the culture conditions in these highly-controlled model systems differ from the natural environment, these systems are essential to gain elementary mechanistic understanding of the functioning, the roles, and the evolution of marine holobionts.
The influence of marine holobionts on ecological processes
Work on model systems has demonstrated that motile and macroscopic marine holobionts can act as dissemination vectors for geographically restricted microbial taxa. Pelagic mollusks or vertebrates are textbook examples of high dispersal capacity organisms (e.g., against currents and through stratified water layers). It has been estimated that fish and marine mammals may enhance the original dispersion rate of their microbiota by a factor of 200 to 200,000 (Troussellier et al., 2017) and marine birds may even act as bio-vectors across ecosystem boundaries (Bouchard Marmen et al., 2017). This host-driven dispersal of microbes can include non-native or invasive species as well as pathogens (Troussellier et al., 2017).
A related ecological function of holobionts is their potential to sustain rare species. Hosts provide an environment that favors the growth of specific microbial communities distinct from the surrounding environment (including rare microbes). They may, for instance, provide a nutrient-rich niche in the otherwise nutrient-poor surroundings (Smriga, Sandin & Azam, 2010; Webster et al., 2010; Burke et al., 2011a; Burke et al., 2011b; Chiarello et al., 2018).
Lastly, biological processes regulated by microbes are important drivers of global biogeochemical cycles (Falkowski, Fenchel & Delong, 2008; Madsen, 2011; Anantharaman et al., 2016). In the open ocean, it is estimated that symbioses with the cyanobacterium UCYN-A contribute ∼20% to total N2 fixation (Thompson et al., 2012; Martínez-Pérez et al., 2016). In benthic systems, sponges and corals may support entire ecosystems via their involvement in nutrient cycling thanks to their microbial partners (Raina et al., 2009; Fiore et al., 2010; Cardini et al., 2015; Pita et al., 2018), functioning as sinks and sources of nutrients. In particular the "sponge loop" recycles dissolved organic matter and makes it available to higher trophic levels in the form of detritus (De Goeij et al., 2013; Fiore et al., 2010; Rix et al., 2017). In coastal sediments, bivalves hosting methanogenic archaea have been shown to increase the benthic methane efflux by a factor of up to eight, potentially accounting for 9.5% of total methane emissions from the Baltic Sea (Bonaglia et al., 2017). Such impressive metabolic versatility is accomplished because of the simultaneous occurrence of disparate biochemical machineries (e.g., aerobic and anaerobic pathways) in individual symbionts, providing new metabolic abilities to the holobiont, such as the synthesis of specific essential amino acids, photosynthesis, or chemosynthesis (Dubilier, Bergin & Lott, 2008; Venn, Loram & Douglas, 2008). Furthermore, the interaction between host and microbiota can potentially extend the metabolic capabilities of a holobiont in a way that augments its resilience to environmental changes (Berkelmans & Van Oppen, 2006; Gilbert et al., 2010; Dittami et al., 2016; Shapira, 2016; Godoy et al., 2018), or allow it to cross biotope boundaries (e.g., Woyke et al., 2006) and colonize extreme environments (Bang et al., 2018). Holobionts thus contribute to marine microbial diversity and possibly resilience in the context of global environmental changes (Troussellier et al., 2017) and it is paramount to include the holobiont concept in predictive models that investigate the consequences of human impacts on the marine realm and its biogeochemical cycles.
Challenges and opportunities in marine holobiont research
Conclusions
Marine ecosystems represent highly connected reservoirs of largely unexplored biodiversity. They are of critical importance to feed the ever-growing world population, constitute significant players in global biogeochemical cycles but are also threatened by human activities and global change. In order to unravel some of the basic principles of life and its evolution, and to protect and sustainably exploit marine natural resources, it is paramount to consider the complex biotic interactions that shape the marine communities and their environment. The scope of these interactions ranges from simple molecular signals between two partners, via complex assemblies of eukaryotes, prokaryotes, and viruses with one or several hosts, to entire ecosystems. Accordingly, current key questions in marine holobiont research cover a wide range of topics: What are the exchanges that occur between different partners of the holobiont, and how do they condition their survival, dynamics and evolution? What are the cues and signals driving these exchanges? What are the relevant units of selection and dispersal in marine holobionts? How do holobiont systems and the interactions within them change over time and in different conditions? How do such changes impact ecological processes? How can this knowledge be applied to our benefit and where do we need to draw limits? Identifying and consolidating key model systems while adapting emerging "-omics", imaging, culturing technologies, and functional analyses via transgenesis (e.g., CRISPR/cas9) to them will be critical to the development of "holobiont-aware" ecosystem models.
The concept of holobionts represents the fundamental understanding that all living organisms have intimate connections with their immediate neighbors, which may impact all aspects of their biology. We believe that this concept of holobionts will be most useful if used with a degree of malleability, enabling us to define units of interacting organisms that are most suitable to answer specific questions. The consideration of the holobiont concept marks a paradigm shift in biological and environmental sciences, but only if scientists work together as an (inter)active and transdisciplinary community bringing together holistic and mechanistic views. This will result in tangible outcomes including a better understanding of evolutionary and adaptive processes, improved modeling of habitats and understanding of biogeochemical cycles, as well as application of the holobiont concept in aquaculture and ecosystem management projects.