Bioinformatic strategies for the analysis of genomic aberrations detected by targeted NGS panels with clinical application
Published

Accepted

Received
Academic Editor
Subject Areas

Keywords

Bioinformatic analysis

,

SNV/indel

,

CNV

,

Clinical application

,

Molecular markers

,

NGS

,

Targeted panels
Copyright

©

2021

Hynst et al.

Licence

This is an open access article distributed under the terms of the Creative Commons Attribution License, which permits unrestricted use, distribution, reproduction and adaptation in any medium and for any purpose provided that it is properly attributed. For attribution, the original author(s), title, publication source (PeerJ) and either DOI or URL of the article must be cited.
Cite this article

2021

.

Bioinformatic strategies for the analysis of genomic aberrations detected by targeted NGS panels with clinical application

.

PeerJ

9

:

e10897

https://doi.org/10.7717/peerj.10897
Abstract
Molecular profiling of tumor samples has acquired importance in cancer research, but currently also plays an important role in the clinical management of cancer patients. Rapid identification of genomic aberrations improves diagnosis, prognosis and effective therapy selection. This can be attributed mainly to the development of next-generation sequencing (NGS) methods, especially targeted DNA panels. Such panels enable a relatively inexpensive and rapid analysis of various aberrations with clinical impact specific to particular diagnoses. In this review, we discuss the experimental approaches and bioinformatic strategies available for the development of an NGS panel for a reliable analysis of selected biomarkers. Compliance with defined analytical steps is crucial to ensure accurate and reproducible results. In addition, a careful validation procedure has to be performed before the application of NGS targeted assays in routine clinical practice. With more focus on bioinformatics, we emphasize the need for thorough pipeline validation and management in relation to the particular experimental setting as an integral part of the NGS method establishment. A robust and reproducible bioinformatic analysis running on powerful machines is essential for proper detection of genomic variants in clinical settings since distinguishing between experimental noise and real biological variants is fundamental. This review summarizes state-of-the-art bioinformatic solutions for careful detection of the SNV/Indels and CNVs for targeted sequencing resulting in translation of sequencing data into clinically relevant information. Finally, we share our experience with the development of a custom targeted NGS panel for an integrated analysis of biomarkers in lymphoproliferative disorders.
Introduction
Recent progress and growing application use of next-generation sequencing (NGS) technology, alongside the reduction of costs, has revealed new prospects in the field of personalized medicine. Researchers and clinical laboratories worldwide are implementing NGS to identify defects in the cancer genome to improve patient stratification and treatment. These genomic aberrations are represented by single nucleotide variants (SNVs), small insertions and deletions (Indels), copy number variants (CNVs) and structural variants (SVs), which accumulate in the genome during tumor development. Some of them are present at the time of diagnosis, while others occur as a consequence of clonal evolution during the disease course (Wang et al., 2014; Landau et al., 2015). Over the past years, it has been demonstrated that NGS is a unique tool for identifying new genomic variants (Armaou et al., 2009; Ascierto et al., 2012; Lindsley et al., 2015; Zoi & Cross, 2015), which can serve as important diagnostic and prognostic markers in various cancer types. In the field of hematooncology, rapid adoption of NGS had an enormous influence on the understanding of the genetic landscape, clonal evolution and prognostic impact of new molecular markers during the disease course (Landau et al., 2015; Pastore et al., 2015; Nadeu et al., 2016; Papaemmanuil et al., 2016; Dubois et al., 2016).
An expanding catalogue of molecular markers with clinical importance can be analyzed by targeted DNA sequencing of relevant regions in a fast, effective, and accessible manner (Paasinen-Sohns et al., 2017). While targeted sequencing enables the detection of various alterations in recurrently affected genomic regions, alternative NGS techniques, such as whole-exome sequencing (WES) or whole-genome sequencing, can be used to identify additional disease-related markers outside the areas of targeted assays (especially genome-wide CNVs and SVs). Nevertheless, a higher cost and an overwhelming amount of produced data (Metzker, 2010) requiring extensive and time-consuming bioinformatic analysis limit their usage in routine diagnostics (Kuo et al., 2017). The use of targeted NGS panels has indeed proven to be a financially feasible approach, providing benefits in cancer patient management (Hamblin et al., 2017). Moreover, larger targeted panels (>1 Mb) with the adjustments of design and cutoff values (Allgäuer et al., 2018; Heydt et al., 2020) can nowadays substitute the use of WES for the estimation of tumor mutation burden, which serves as a surrogate predictive marker in cancer (Rizvi et al., 2015). In general, a variety of commercial cancer-specific panels is available and widely used to detect genomic changes in different cancer types (Nikiforova et al., 2018; Steward et al., 2019). However, an off-the-shelf approach may not always be appropriate for clinical use as these panels may include several genes without established clinical importance (e.g., genes investigated in clinical trials or research studies) or may lack other genes of interest. A trend towards customization of targeted panels to fulfil the needs of individual laboratories is evident. The decision whether to use a commercial NGS panel or whether to put effort and labor into the design, validation and development of a respective bioinformatic pipeline strongly depends on the clinical utility, available bioinformatic support and financial and time capabilities of individual laboratories.
The implementation of a reliable bioinformatic pipeline developed with respect to the experimental approach is a major challenge for many clinical laboratories. Although some targeted panels have been published together with their tailored pipelines (Kluk et al., 2016; Soukupova et al., 2018), additional validation is necessary for each pipeline to confirm or adjust panel specifics including the accuracy and sensitivity. The process of tailored pipeline development starts with comprehensive literature and software survey followed by an in-depth evaluation of results produced by every single bioinformatic step. Despite several published best practice bioinformatic guidelines (Van der Auwera et al., 2013; Gargis et al., 2015), the development of a pipeline is still a time-consuming and laborious procedure. The resulting pipeline has to be highly reliable, adjusted to specific laboratory needs and flexible to demands changing over time.
In this review, we discuss the possibilities of a custom targeted NGS panel implementation with a particular focus on bioinformatics. We emphasize state-of-the-art approaches for the identification of genomic aberrations from DNA NGS data to make the process of bioinformatic pipeline development more transparent. Finally, we share our experience with the evaluation of a custom panel designed for a comprehensive analysis of genomic markers in lymphoproliferative disorders with the emphasis on bioinformatic tools assuring accurate results.
Review methodology
The motivation behind the compilation of this review was our hands-on experience with the implementation of a custom targeted NGS panel for lymphoproliferative disorders and the scarcity of bioinformatic publications accompanied by practical experience in the development of specific bioinformatic pipelines in clinical use. Relevant and highly impacted articles from 2009 to the present, spanning the field of bioinformatics, cancer genomics and hematooncology, were scrutinized and systematically reviewed. The bibliography was created using the Zotero citation manager.
Experimental design remarks
During the design of a custom targeted NGS panel, issues such as intended use, panel size with respect to anticipated coverage, clinical validity and utility must be considered. Each laboratory should think over its facilities, time and cost demands, sample turnaround, flexibility and bioinformatic support. It is also essential to determine the spectrum of targeted aberrations before selecting a target enrichment approach and an NGS platform. Generally, targeted NGS gene panels are designed to identify variants such as SNV/Indels and are either limited to only well-described hotspot mutations in clinically relevant genes (especially in routine diagnostics) or include whole coding sequences and splice sites. In addition, larger panels may target selected CNVs and SVs requiring more sophisticated bioinformatic analyses. For the detection of subclonal aberrations, a high sequencing depth is necessary. Crucial recommendations for NGS panel and bioinformatics pipeline validation were published by the Association for Molecular Pathology and College of American pathologists (Jennings et al., 2017; Roy et al., 2018).
Target enrichment is an essential step in NGS testing. For sequencing library preparation, two major approaches are used: (1) hybrid capture-based and (2) amplification-based (Fig. 1). Several studies describe the benefits and drawbacks of both methods (Sulonen et al., 2011; Chilamakuri et al., 2014; Gargis et al., 2015; Kuo et al., 2017). The amplification approach is based on the multiplex polymerase chain reaction (PCR) method, which requires short hands-on time, but also precise PCR optimization to produce uniform amplification efficiency across all targets. Moreover, PCR amplification is less efficient in regions with high guanine-cytosine (GC) content or in repetitive regions. Importantly, the identification of larger Indels or chromosomal rearrangements is generally complicated since these aberrations could span over the location of a PCR primer. In the hybrid capture approach, sequence-specific probes are designed to catch DNA fragments of interest. These biotinylated oligonucleotides are significantly longer than PCR primers and can, therefore, tolerate the presence of several mismatches resulting in an effective enrichment process. Generally, it has been shown that the capture-based methods show better performance than amplification-based ones, with respect to sequencing complexity and uniformity (Samorodnitsky et al., 2015). Besides, the amount of captured DNA is proportional to the DNA present in a sample allowing CNV detection by a "read depth" approach. The method is also less affected by DNA quality, enabling the analysis of such biological materials as formalin-fixed, paraffin-embedded (FFPE) blocks (Hung et al., 2018) or circulating free DNA (cfDNA) (Rossi et al., 2017). Several commercial targeted NGS technologies are available in custom design and their comparison performed by Samorodnitsky et al. (2015) could serve as an informed decision for individual laboratory applications.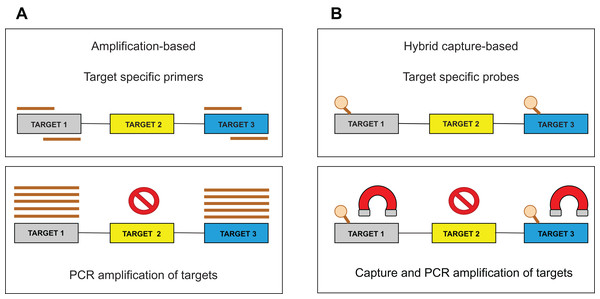 The occurrence of duplicated DNA fragments generated during the amplification step in library preparation represents a common issue in NGS data analysis. It is difficult to determine which sequences originate from genomic DNA and which are a product of PCR amplification. Unique molecular identifiers (UMIs) (usually 8–12 bp long), ligated to genomic fragments before the first PCR amplification, help solve this problem (Fig. 2A). Nonetheless, the incorporation of the UMIs increases the cost and uses up some of the assay capacity. The consequent bioinformatic analysis requires additional solutions to utilize UMIs in PCR duplicate recognition. Subsequent steps of deduplication and the creation of consensus sequences lead to the in silico removal of sequencing duplicates and thus increase the sensitivity of the assay. We discuss bioinformatic solutions for read deduplication with the use of UMIs in the bioinformatic part.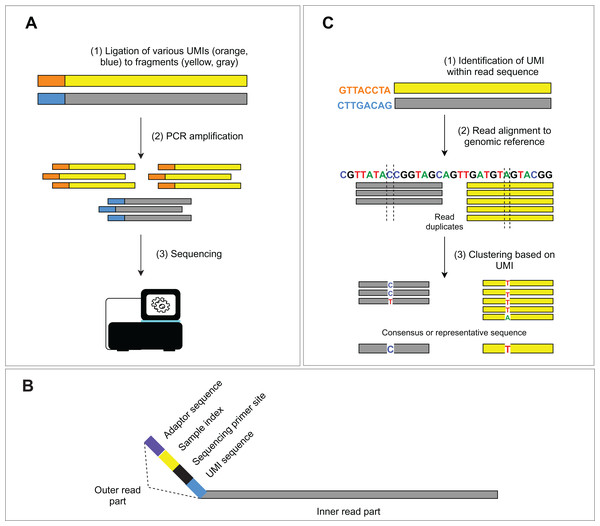 Bioinformatic data analysis
Conclusions
The purpose of this review was to provide a guidebook for the development of a robust bioinformatic pipeline for the analysis of clinically relevant molecular markers detected by targeted NGS panel intended for routine use. We present an overview of contemporary bioinformatic approaches for the analysis of genomic aberrations supported by an example of a successfully implemented comprehensive capture-based NGS panel. According to our experience, the most crucial steps for targeted NGS tool development are: (1) appropriate selection of validation cohort comprising plenitude of representative samples and diverse targets, (2) careful optimization and validation of the analytical pipeline based on state-of-the-art bioinformatic approaches to ensure high accuracy of the results and (3) robust software and hardware environment. The whole procedure of specific tool implementation is rather time-consuming but highly rewarding, especially when a custom assay with long-term use needs to be established.