Incomplete lineage sorting and ancient admixture, and speciation without morphological change in ghost-worm cryptic species
Published

Accepted

Received
Academic Editor
Subject Areas

Keywords

Morphology

,

Rapid evolution

,

Slow evolution

,

Stasis

,

Genomics

,

RADseq

,

Phylogenetics

,

Morphological evolution

,

Genomics

,

Sibling species
Copyright

©

2021

Cerca et al.

Licence

This is an open access article distributed under the terms of the Creative Commons Attribution License, which permits unrestricted use, distribution, reproduction and adaptation in any medium and for any purpose provided that it is properly attributed. For attribution, the original author(s), title, publication source (PeerJ) and either DOI or URL of the article must be cited.
Cite this article

2021

.

Incomplete lineage sorting and ancient admixture, and speciation without morphological change in ghost-worm cryptic species

.

PeerJ

9

:

e10896

https://doi.org/10.7717/peerj.10896
Abstract
Morphologically similar species, that is cryptic species, may be similar or quasi-similar owing to the deceleration of morphological evolution and stasis. While the factors underlying the deceleration of morphological evolution or stasis in cryptic species remain unknown, decades of research in the field of paleontology on punctuated equilibrium have originated clear hypotheses. Species are expected to remain morphologically identical in scenarios of shared genetic variation, such as hybridization and incomplete lineage sorting, or in scenarios where bottlenecks reduce genetic variation and constrain the evolution of morphology. Here, focusing on three morphologically similar Stygocapitella species, we employ a whole-genome amplification method (WGA) coupled with double-digestion restriction-site associated DNA sequencing (ddRAD) to reconstruct the evolutionary history of the species complex. We explore population structure, use population-level statistics to determine the degree of connectivity between populations and species, and determine the most likely demographic scenarios which generally reject for recent hybridization. We find that the combination of WGA and ddRAD allowed us to obtain genomic-level data from microscopic eukaryotes (∼1 millimetre) opening up opportunities for those working with population genomics and phylogenomics in such taxa. The three species share genetic variance, likely from incomplete lineage sorting and ancient admixture. We speculate that the degree of shared variation might underlie morphological similarity in the Atlantic species complex.
Introduction
The characterization and delimitation of species and populations using DNA sequencing and barcoding has led to the discovery of 'hidden species diversity' in previously established species (Knowlton, 1993; Bickford et al., 2007; Pfenninger & Schwenk, 2007; Struck et al., 2018). The initial interest in this hidden diversity, that is cryptic species, fuelled a debate on whether these lineages resulted from biases of a morphologically oriented classification of biodiversity or whether they resulted from underlying biological phenomena. On one side, proponents of the "artefact model" suggest that populations and species naturally accumulate morphological differences, and it is only the limitations associated with scientific methods that impede the discovery of those differences (Korshunova et al., 2017). On the one other side, the "evolutionary framework" suggests that the deceleration of morphological evolution is a plausible expectation, given the observation of stasis, niche conservatism and constraints in nature. While some of this diversity is potentially attributed to taxonomic artefacts (Korshunova et al., 2017), morphologically similar species—'true' cryptic species—have been discovered in various branches of the tree of life, thus representing an important part of biodiversity (Pfenninger & Schwenk, 2007; Pérez-Ponce de León & Poulin, 2016; Cerca, Purschke & Struck, 2018; Fišer, Robinson & Malard, 2018).
Following centuries of morphologically oriented taxonomy, the existence of "true" cryptic species entails a challenge to the delimitation, discovery and classification of species (Bickford et al., 2007; Fišer, Robinson & Malard, 2018; Struck et al., 2018). In the case of morphologically similar species, species delimitation relying on morphology alone will fail to capture the existing species diversity (Pante et al., 2015; Fišer, Robinson & Malard, 2018; Chenuil et al., 2019; Struck & Cerca, 2019), resulting in the lumping of different species into a single species complex. While much has been written on the consequences of cryptic species in terms of biological systematics, we have only recently begun to understand the impact of cryptic species in other fields of biology. When species are poorly delimited, determination of biogeographic breaks (Weber, Stöhr & Chenuil, 2019; Cerca et al., 2020a), inferences on the evolutionary history (Wada, Kameda & Chiba, 2013; Swift, Daglio & Dawson, 2016; Struck et al., 2018; Dufresnes et al., 2019), and the determination of ecological richness of an ecosystem (Chenuil et al., 2019) may be severely compromised. These problems extend outside fundamental fields of biology when species complexes are medically-relevant, such as the Anopheles cryptic species complex where not every morphologically-similar species is capable of transmitting malaria (Erlank, Koekemoer & Coetzee, 2018) or in parasite species (De León & Nadler, 2010; Nadler & De Len, 2011), but also in cases of conservation management (Bickford et al., 2007; Bernardo, 2011).
While the discovery of cryptic species complexes has increased in the last few years, the resulting debate has focused on whether these are taxonomic artefacts or biologically relevant species. Consequently, the causes underlying morphological similarity remain mostly unexplored. Despite this hindrance, an important source of information may come from palaeontology where stasis has been studied for decades (Eldredge & Gould, 1972; Gould, 2002), and from the subsequent integration of this evidence with neontological data. A particularly insightful contribution is that of Futuyma (2010), which suggests that stasis may result from certain ecological, genetic and developmental scenarios. Genetic scenarios include shared genetic variation, potentially resulting from hybridization or ILS, homogenizing morphological divergence; genetic constraints resulting from epistatic reactions or pleiotropy, or constrains from the lack of genetic variation due to repeated bottlenecks or founder effects; stabilizing selection on morphology (Futuyma, 2010). Some of these scenarios including stabilizing selection (Lee & Frost, 2002; Novo et al., 2010; Novo et al., 2012; Lavoué et al., 2011; Smith et al., 2011; Santamaria et al., 2016; Zuccarello, West & Kamiya, 2018), bottlenecks and founder effects (Dornburg et al., 2016; Valtueña et al., 2016) have been proposed to explain similarity on cryptic species. However, this remains untested since evidence for morphological similarity comes mostly from the interpretation of indirect methods, such as phylogenetic trees.
The Stygocapitella genus includes 11 described species with only four morphotypes and no significant quantitative morphological differences between some species (Cerca et al., 2020a; Cerca et al., 2020b). Morphologically identical species occur in sympatry and overlap in their distribution along the Northern European, Atlantic American, and Pacific American coastlines. In a previous study, we confirmed that three North Atlantic species—Stygocapitella westheidei, S. subterranea, and S. josemariobrancoi—are morphologically identical (Cerca et al., 2020a); nonetheless, we were not able to determine the causes underlying morphological similarity with certainty. Preliminary results from selected DNA markers indicated that morphological similarity potentially stems from niche conservatism and niche tracking, coupled with the fluctuating dynamics of their habitats and/or genetic constraints (Cerca et al., 2020b). Here, using genomic data, we extend these efforts by focusing on the causes linked to genetic variation underlying morphological similarity (see above). Following Futuyma (2010), we hypothesize that (1) bottlenecks and founder effects reduce genetic variation, thus resulting in morphological similarity; (2) morphological similarity results from recent admixture; (3) shared genetic variation due to incomplete lineage sorting and ancient admixture underlies morphological similarity.
Methods and Materials
Study system
Stygocapitella is part of the meiofauna, being generally found above the high-water line of sheltered gravel or sandy beaches. To collect individuals, we selected sampling areas based on old records or by assessing beaches using google maps (Table S1; Fig. 1). At each site, we drew a transect from the high-water line to the foot of the dune, digging a 1-meter deep hole every meter starting at the high-water line. In each hole, we collected sediment samples every 15 cm of depth with a volume of about 500 cm3. Sediment samples were brought to the laboratory and interstitial invertebrates were extracted using the MgCl2 method, and isolated using a dissecting microscope (Westheide & Purschke, 1988). After identifying Stygocapitella, we collected and preserved these in a ∼70% ethanol solution for DNA extraction.

DNA extraction and molecular species barcoding
Since Stygocapitella westheidei, S. subterranea and S. josemariobrancoi are morphologically indistinguishable (Cerca et al., 2020a), we barcoded individual individuals using 16S, 18S, ITS1 and COI as described in Cerca et al. (2020b) and Cerca et al. (2020a) (Table S2 includes NCBI reference-IDs). In brief, we extracted DNA from single individuals using either phenol-chloroform or the E.Z.N.A. Tissue DNA Kit (Omega Bio-Tek), and obtained COI (Astrin & Stüben, 2008), 18S (Hillis & Dixon, 1991), ITS1 (Cerca et al., 2020a), and 16S (Palumbi et al., 1991; Zanol et al., 2010) sequences using PCR. Amplified genetic markers were sequenced by Sanger-sequencing at Macrogen-Europe. For detailed information on amplification, primer sequences and extraction please see Cerca et al. (2020b) and Cerca et al. (2020a).
Library preparation and Illumina sequencing
We selected 50 Stygocapitella josemariobrancoi, 47 S. subterranea and 24 S. westheidei for library preparation (Table S2). Due to the reduced body size, DNA extractions of Stygocapitella yield low concentrations of DNA, therefore, to overcome this problem, we used a combination of whole genome amplification (WGA) (Golombek et al., 2013; De Medeiros & Farrell, 2018) followed by a double-digestion Restriction site-Associated DNA sequencing protocol (ddRAD) (Baird et al., 2008; Peterson et al., 2012). To complete the WGA reaction, DNA of a single individual is first denaturated and mixed with random hexamer primers and the Phi29 DNA polymerase (Illustra Genomiphi HY DNA Amplification Kit; GE©Healthcare Life Science). Following the manufacturer's instructions, 2.5 µl of template DNA were mixed with 22.5 µl of sample buffer, and incubated at 95 °C for three minutes for denaturation. After this, we added 22.5 µl of reaction buffer and 2.5 µl of enzyme mix to the DNA-sample buffer solution, incubated the solution at 30°C for four hours for DNA amplification and an enzyme heat-inactivation at 65 °C for ten minutes. DNA was purified using AMPure XP beads, and resuspended in ddH2O. The concentration of the amplified DNA was determined with Qubit and the fragment size distribution with a fragment-analyzer.
For each individual, 500 ng of amplified DNA was digested in 25 µl including 0.5 µl of each restriction enzyme (Pst-I HF and Mse-I, each 20 units/µl) and 2.5 µl Cut-smart buffer. The digestion reaction was carried out at 37 °C for two hours. Digested DNA was purified using Ampure-beads and resuspended in 22 µl ddH2O, and Illumina adaptors with barcodes were ligated to the digested DNA in a 25 µl reaction including 20.5 µl sample DNA, 1 µl T4 DNA-ligase, 2.5 µl 10X T4 ligase buffer and 1 µl adapter P1/2-mix. This reaction was incubated for 30 min at 25 °C, and the enzyme inactivated for 10 min at 65 °C. The barcoded libraries were pooled, cleaned using AMPure XP beads, and eluted in 100 µl of ultra-purified water. We ran a size-selection step using Blue Pippin's 100–600 bp cassette (BDF2010) selecting for fragment-length between 300–600 bp followed by cleaning with AMPure XP beads to remove short fragments. The library was amplified in 200 µl including 100 µl Q5 HiFi MasterMix, 5 µl Primer mix and 20 µl DNA, in 18 PCR cycles (initial denaturation: 98 °C for 30s; 18 cycles of 98 °C for 10 s, 60 °C for 15 s, 72 °C for 15 s; and a final elongation of 72 °C for 2 min). Finally, two cleaning-quantification steps using AMPure XP beads were done, and the libraries were sent for Illumina Sequencing on an Illumina Hi-Seq 4000.
Individual identification and multi-marker phylogeny
Raw 16S, 18S, ITS1 and COI sequences were assembled, and ends were automatically trimmed to remove primers and low-quality ends using Geneious v6.8.1, (Table S2). Each consensus sequence was queried against the default NCBI database (nr/nt) using BLAST (Altschul et al., 1990; Camacho et al., 2009) to exclude potential contamination. For each gene, sequences were aligned using mafft v7.310, using a maximum of 1,000 iterations, and the ends of the sequences trimmed until the first position without missing data. The accurate localpair algorithm was used for all genes (Katoh & Standley, 2013), with the exception of ITS1, which had a single peak, where the globalpair algorithm was applied as it is optimized for gappy sequences. The dataset was concatenated using FASconCAT v1.1 (Kück & Meusemann, 2010), and a partitioned phylogenetic tree was obtained using IQ-tree v1.6.10, by applying 1,000 fastbootstrap replications. Model determination was done automatically by IQ-tree, and it included TIM2+I for ITS1, JC+I for 18S, TN+R2 for 16S and HKY+I for COI. The congruence between these genes, and in the individuals used has previously been determined in Cerca et al. (2020b) and Cerca et al. (2020a).
De novo RAD assembly
All bioinformatic work is available in https://github.com/jcerca/Papers/tree/main/Stygocapitella_PeerJ. Since no reference genome is available for Stygocapitella, we used the de novo assembly approach implemented in Stacks v2.2 to identify RAD loci (Rochette & Catchen, 2017; Rochette, Rivera-Colón & Catchen, 2019). The first module of Stacks, 'process_radtags', was executed using flags tailored to improve data quality (-clean, -quality, -rescue). To optimize Stacks' parameters, we ran the de novo pipeline repeatedly using different -M (mismatch between stacks within individuals) and -n (mismatches between stacks between individuals) values, as suggested by best practices (Paris, Stevens & Catchen, 2017). The total number of loci resulting from different -M -n values were plotted and analyzed, selecting -M 3 and -n 3 for the final dataset. Populations, as required for the population map, were defined based on the species and sampling site (total of 22 populations—Table S1).
Since we observed a considerably high level of missing data in the dataset (>90% missing data), we tested and implemented a new method to improve RADseq datasets. Missing data is especially problematic in RADseq as it can lead to erroneous inference of population-genetic parameters (Arnold et al., 2013; Gautier et al., 2013; Hodel et al., 2017). However, applying stringent filtering for missing data has been shown to prune parsimonious-informative loci, with best-practices suggesting non-conservative pruning of the data (Huang & Lacey Knowles, 2016; Lee et al., 2018; Crotti et al., 2019). To mitigate missing data while avoiding stringent filtering, we applied a novel procedure, which allowed us to retrieve more loci from our data (Cerca et al., 2021). In brief, we ran Stacks for every population present in the population map—22 times in total (Table S1)—thus lowering phylogenetic distance in the dataset. Since phylogenetic distance (biological origin) and artefacts in generating and processing data can lead to allelic dropout (O'Leary et al., 2018), lowering phylogenetic distance will isolate dropout caused by artefacts in library preparation (e.g., DNA size-selection, low DNA concentrations, poor digestion), and loss of information due to whole genome amplification (De Medeiros & Farrell, 2018). For each population, we identified samples with >45% missing loci and removed these from a final analysis (hereafter the clean dataset). To evaluate how the optimization impacted the final number of loci we compared the number of loci and missingness in the dataset before cleaning (hereafter the uncleaned dataset) and in the cleaned dataset using the values of -r 25 (a locus has to be present in at least 25% of individuals comprising a population to be considered) and -p 4 (a locus has to be present in at least 4 populations to be considered). Finally, we included a technical replicate in the dataset (individuals 222 01 and 222 01R), and checked whether it was coherently placed in all the analyses.
Population genomics and phylogenomics
From the clean dataset, we extracted a single nucleotide polymorphism-only dataset (SNPs; hereafter variant dataset) and an all-sites dataset (containing non-variant and variant positions; hereafter all-sites dataset). Separating the data in these two datasets is necessary to meet the assumptions of some statistical tests which may require the presence of non-variant positions to calculate ratios of variant and non-variant sites. The variant dataset was pruned by selecting -r 50 (a locus has to be present in at least 50% of individuals comprising a population), and -p 8 (a locus has to be part in at least 8 populations) as loci cut-offs, using the 'populations' program included in Stacks, resulting in 4,737 RAD-loci. After this initial round of cleaning, we used vcftools v0.1.13 (Danecek et al., 2011) to further prune the dataset for 5% minimum allele frequency (–maf), and for mean loci coverage values between 10–100 (–min-meanDP 10 –max-meanDP 100) and removed 12 individuals which had missingness above >90% (–missing-indv; Table S2). The combination of coverage filters together with the -M -m optimization procedure mentioned above optimizes the generation of RADseq loci by removing loci which may artificially come together (i.e., repetitive regions). Finally, to decrease the effect of physical linkage in the data, we used a custom BASH script which kept only one polymorphism (SNP) per RAD locus, resulting in a final dataset of 3,428 SNPs. Using this dataset, we assessed genetic variation by means of a principal component analysis (PCA), a multi-dimensional scaling (MDS) analysis and an ADMIXTURE analysis. PCA and MDS are model-free approaches to estimate population structure, being complementary as PCA assumes 'mean values' for missing data (i.e., dragging individuals with high missingness to the center) whereas MDS does not. PCA was computed using the R package Adegenet (Jombart & Ahmed, 2011) and MDS with plink v1.9 (Chang et al., 2015). ADMIXTURE is a model-oriented approach to determine population structure based on the presence/absence of heterozygotes (Alexander, Novembre & Lange, 2009). We ran ADMIXTURE assuming 1-6 clusters (K), running a total of 5 replicates for each K, and determined the best K by estimating the cross-validation error (Fig. S1). Considering the potential for admixture of individuals in sympatry (Fig. 1), we used f3 statistics, included as part of the Admixtools package, as a direct test for detecting hybridization (Patterson et al., 2012; Peter, 2016). These statistics consists of a 3 populations test where a focal population is derived from admixture between the other two populations. When this score is negative, it suggests that admixture likely has occurred. We estimated errors and confidence intervals on the f3 statistics by partitioning the dataset into blocks and applying a jackknife bootstrapping. Finally, we inferred species-level divergence by estimating Weir and Cockerham's FST using vcftools (Weir & Cockerham, 1984; Danecek et al., 2011).
The all-sites dataset was obtained by extracting FASTA sequences from Stacks. To run the phylogenomic analysis, we wrote a Perl script to reorganize the data into loci, concatenated all loci in a supermatrix using FasConCat-G (Kück & Longo, 2014) and ran a partitioned-tree using IQ-tree v1.6.10 (Nguyen et al., 2015) specifying 1,000 fast bootstrap replications (Chernomor, Von Haeseler & Minh, 2016; Hoang et al., 2017), and locus-specific models which were determined as part of the run (Kalyaanamoorthy et al., 2017). To explore the effect of missing data on the tree topology, we ran BaCoCa (Kück & Struck, 2014), a pipeline which provides summary-level statistics on the concatenation matrix and tree, such as the % of positions with missing data shared by a pair of individuals. Pairwise positive overlap values were plotted to the tree topology using the R package ape (Paradis & Schliep, 2018). Additionally, we ran an Unweighted Pair Group Method with Arithmetic mean (UPGMA) tree using only the average % of pairwise shared data per individual (i.e., pairwise percentage of shared data between taxa which do not have an indel, ambiguous character state, or a missing character state). The UPGMA tree was run to understand whether taxa were grouped based on the overall pattern of missing data. Additionally, since RADseq loci (represented by allele 0 and allele 1) are not phased and since the labelling of 0 and 1 are arbitrary, we obtained a consensus sequence for each individual. This was done by running the consambig (consensus ambiguous) module included in the EMBOSS pipeline (Rice, Longden & Bleasby, 2000). We did a species network analysis using SPLITSTREE v4 (Huson & Bryant, 2006) to complement phylogenetic inference since the network does not enforce dichotomous branching at each node.
To gauge population-level patterns and diversity, we selected loci from the all-sites dataset without missing-data at the population-level and estimated summary statistics including nucleotide diversity (π), Waterson's estimator of genetic diversity (S) and Tajima's D using DNAsp v6 (Rozas et al., 2017). This dataset was not pruned for minimum allele frequency. The selection of sites without missing data is grounded on best-practices as missing data can lead to the under- or overestimation of some of these parameters (Arnold et al., 2013). Importantly, we selected only populations where 3 or more individuals (i.e., >5 'loci') had data available (Table S2).
Finally, we evaluated various demographic scenarios using fastsimcoal2, using the same dataset for the previous analysis which included running fastsimcoal2 (Excoffier et al., 2013). Fastsimcoal2 uses the site-frequency spectrum (SFS) and a coalescent-simulation framework based on an arbitrary user-defined scenario to infer population sizes, strength of gene flow and times of coalescence. To assess these models we calculated AIC and likelihood. Likelihood is calculated by running the 'best parameters' for each specified scenario multiple times and obtaining the distribution of likelihood estimates. AIC was calculated using a script available in https://speciationgenomics.github.io/fastsimcoal2/. To implement these simulations, we used the phylogeny obtained with Stygocapitella subterranea and S. westheidei as sister species, and S. josemariobrancoi as sister to the remaining two. We defined the following models: no gene flow, ancient gene flow (i.e., between Stygocapitella josemariobrancoi and the stem lineage of S. subterranea and S. westheidei), geographic gene flow (i.e., similar as the ancient gene flow, but also with modern gene flow between the sympatric Stygocapitella subterranea and S. josemariobrancoi; note we refer to 'modern' as opposed to 'ancient', that is, in existing lineages), modern gene flow (gene flow between all three modern species), all gene flow (gene flow between all three species and the two ancestral lineages), modern gene flow only between S. josemariobrancoi and S. subterranea, modern gene flow only between S. josemariobrancoi and S. westheidei, modern gene flow only between S. westheidei and S. subterranea, gene flow in ancestral times and between S. subterranea and S. westheidei, and ancient gene flow and modern gene flow between S. josemariobrancoi and S. westheidei. When included in the model, gene flow was moduled as asymmetric. Each model was run 10,000 times with an assumed mutation rate of 1.2e−8, and the best fitting scenario was evaluated using likelihood, by running it 100 times.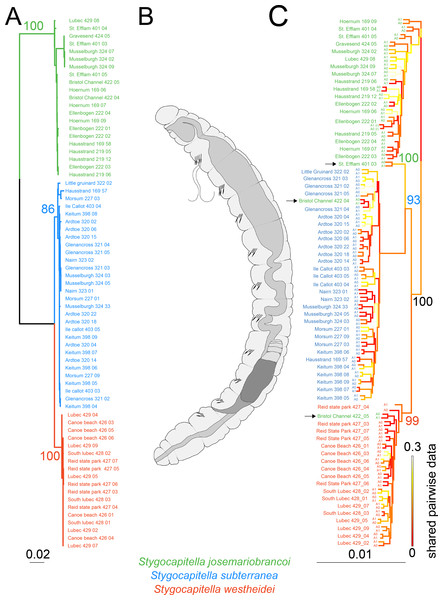 Discussion
Morphological similarity through extended periods of times, or stasis, has been hypothesized to occur under three possible scenarios underlied by genetics: homogenous genetic variation (due to e.g., ILS, hybridization), genetic constraints (e.g., pleiotropy), and lack of genetic variation (e.g., bottlenecks and founder effects) (Futuyma, 2010). While our sampling design does not account for genetic constraints, we study the evolutionary history of Stygocapitella species seeking to determine signals of loss of genetic variation or shared genetic variance. We find that the three morphologically similar Stygocapitella species herein studied share genetic variation and exclude the possibility of recent bottlenecks or recent admixture. Demographic and admixture analysis reveal signatures of ancestral admixture and incomplete lineage sorting during the divergence of these three species. We discuss the possible implications of these processes to the genomic underpinnings of indistinguishable morphology among cryptic species.
Conclusions
The increasing discovery of cryptic species has led to heated debates in systematics, mostly lacking an integration in an evolutionary framework. Here, we tested the hypotheses that morphological similarity may own to reduced genetic variation (bottlenecks, founder effects), recent admixture (shared genetic variation), or incomplete lineage sorting and ancient admixture. We found that morphological similarity in the three morphologically similar Stygocapitella species may own to incomplete lineage sorting or ancient admixture underlying shared genetic variation. Future works should focus on understanding whether reduced genetic variation or shared genetic variation underlies morphological similarity in other systems.