The effect of ethanol concentration on the morphological and molecular preservation of insects for biodiversity studies
1
Department of Bioinformatics and Genetics, Swedish Museum of Natural History

,

Stockholm

,

Sweden
2
Department of Zoology, Stockholm University

,

Stockholm

,

Sweden
3
Institute of Environmental Sciences, Faculty of Biology, Jagiellonian University

,

Krakow

,

Poland
Published

Accepted

Received
Academic Editor
Subject Areas

Keywords

Insects

,

Ethanol

,

DNA preservation

,

Morphology

,

Collection
Copyright

©

2021

Marquina et al.

Licence

This is an open access article distributed under the terms of the Creative Commons Attribution License, which permits unrestricted use, distribution, reproduction and adaptation in any medium and for any purpose provided that it is properly attributed. For attribution, the original author(s), title, publication source (PeerJ) and either DOI or URL of the article must be cited.
Cite this article

2021

.

The effect of ethanol concentration on the morphological and molecular preservation of insects for biodiversity studies

.

PeerJ

9

:

e10799

https://doi.org/10.7717/peerj.10799
Abstract
Traditionally, insects collected for scientific purposes have been dried and pinned, or preserved in 70% ethanol. Both methods preserve taxonomically informative exoskeletal structures well but are suboptimal for preserving DNA for molecular biology. Highly concentrated ethanol (95–100%), preferred as a DNA preservative, has generally been assumed to make specimens brittle and prone to breaking. However, systematic studies on the correlation between ethanol concentration and specimen preservation are lacking. Here, we tested how preservative ethanol concentration in combination with different sample handling regimes affect the integrity of seven insect species representing four orders, and differing substantially in the level of sclerotization. After preservation and treatments (various levels of disturbance), we counted the number of appendages (legs, wings, antennae, or heads) that each specimen had lost. Additionally, we assessed the preservation of DNA after long-term storage by comparing the ratio of PCR amplicon copy numbers to an added artificial standard. We found that high ethanol concentrations indeed induce brittleness in insects. However, the magnitude and nature of the effect varied strikingly among species. In general, ethanol concentrations at or above 90% made the insects more brittle, but for species with robust, thicker exoskeletons, this did not translate to an increased loss of appendages. Neither freezing the samples nor drying the insects after immersion in ethanol had a negative effect on the retention of appendages. However, the morphology of the insects was severely damaged if they were allowed to dry. We also found that DNA preserves less well at lower ethanol concentrations when stored at room temperature for an extended period. However, the magnitude of the effect varies among species; the concentrations at which the number of COI amplicon copies relative to the standard was significantly decreased compared to 95% ethanol ranged from 90% to as low as 50%. While higher ethanol concentrations positively affect long-term DNA preservation, there is a clear trade-off between preserving insects for morphological examination and genetic analysis. The optimal ethanol concentration for the latter is detrimental for the former, and vice versa. These trade-offs need to be considered in large insect biodiversity surveys and other projects aiming to combine molecular work with traditional morphology-based characterization of collected specimens.
Introduction
The first records of the use of ethanol for the preservation of animal tissue date back to the mid 1600s, when Robert Boyle mentions that he successfully used the "Spirit of Wine" to preserve blood and soft parts of a human body, as well as a fish, for many months (Boyle, 1664). The knowledge of the preservative properties of ethanol, in combination with the discovery of cheap and effective ways of producing ethanol in high concentration, led to widespread adoption among naturalists. Consequently, ethanol has been the fixative most widely used in museum and private natural history collections since the 18th century. The attractiveness of ethanol for other human uses has sometimes caused challenges, however. For instance, Carl Linnæus, the father of modern taxonomy, needed to apply for a special permission to import ethanol for preserving his collections after home distilling was temporarily banned in Sweden (Von Linné, 1764).
During the last two decades, as the research focus has shifted from the analysis of morphological features to molecular work, including DNA sequencing and amplification, ethanol has remained the preferred preservative liquid. Ethanol is an excellent fixative for DNA for three reasons: it kills decomposing microorganisms; it removes water from the tissues, slowing down enzymatic processes; and it denatures both the DNA and DNA-degrading enzymes, preventing further enzymatic degradation (Srinivasan, Sedmak & Jewell, 2002). For insects, other preservative liquids, for example acetone (Fukatsu, 1999), or fundamentally different approaches such as silica-drying or ultrafreezing (<-70°C), preserve the DNA as well as ethanol (Carvalho & Vieira, 2000; Post, Flook, & Millest, 1993). These methods, nonetheless, are not always a viable alternative, especially during long and remote collection campaigns, and ethanol does remain the standard preservative in biodiversity research.
The typical ethanol concentration employed for preserving insects for morphological examination used to be 70% (Martin, 1977). However, a higher concentration (95% or higher) has been recommended for the optimal preservation of DNA (Nagy, 2010). Although 70% or 80% ethanol is known to suffice as a DNA preservative for PCR and sequencing purposes during short-term storage (Carew, Coleman & Hoffmann, 2018; Stein et al., 2013), it has been shown that DNA degradation occurs in the longer term, resulting in the molecule getting increasingly fragmented over time (Baird et al., 2011; Carew et al., 2017). Thus, it would appear advantageous to change the standard practice and preserve insects in higher ethanol concentrations. This idea has not been universally adopted, however, because of the common assumption that high grade ethanol makes the insects brittle and prone to damage during manipulation, most likely due to excessive tissue dehydration. However, to our knowledge, there is only one published study that has directly addressed the effect of high ethanol concentrations on insect preservation for morphological study: King & Porter (2004) used three species of ants to test the effects of ethanol concentration on the mounting of specimens, concluding that 95% ethanol made the ants hard to mount and prone to breaking. Our own experience with other insect groups is similar. For instance, we noted that cicadas (Hemiptera) become very brittle when preserved in 95% ethanol (repeatedly replaced to prevent its dilution by insect body fluids) and subsequently mounted. Preserving them in 90% ethanol made cicadas much more suitable for mounting and taxonomic characterization (K Nazario and P Łukasik, 2016, pers. obs).
Increasingly, insect biodiversity inventories and ecological assessments are accompanied by or solely rely on DNA sequencing (e.g., Janzen et al., 2009; Shokralla et al., 2014; see Matos-Maraví et al. (2019)) for a comprehensive review on insect genomics applied to biodiversity study). This leads researchers to collect samples in the field in higher concentrations of ethanol, which could be detrimental for the morphological integrity of the insects collected, potentially causing the loss of morphological characters and decreasing the value of the specimens for taxonomic description or further anatomical or ecological study. When the purpose is to store specimens for both DNA sequencing and morphological study, researchers seem to be using a variety of approaches: from standardizing ethanol concentrations to 80%, through opting for concentrations closer to 95%, to starting with a high concentration and not measuring it again after insects are preserved, or relying on sub-zero temperatures as the primary means of preservation. There appears to be no hard evidence or consensus on which approach is optimal.
While it may be challenging to find a sweet spot that is acceptable for all intended uses, there is a clear need for experimental studies of the nature of the trade-offs between the preservation of insects for DNA sequencing and morphological study. Here, we take a few steps towards filling this knowledge gap. Specifically, we examined the effects of increasing ethanol concentrations on specimen fragility and DNA preservation in seven species of insects, spanning four orders and representing different sizes and levels of sclerotization.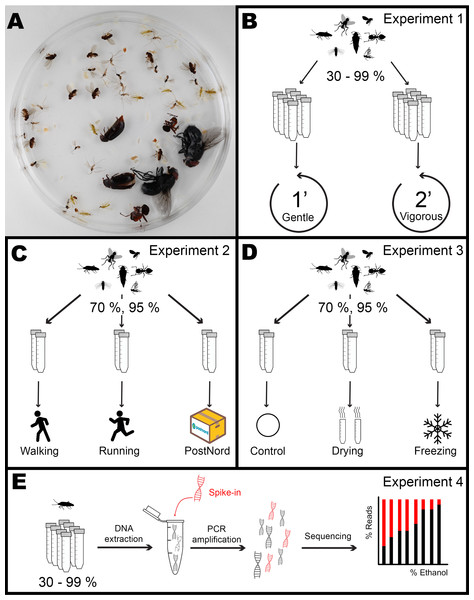 Discussion
It is surprising that there are so few quantitative studies of the effect of ethanol concentration on the preservation of insects for morphological and molecular study. One possible reason for this is the difficulty of quantifying morphological preservation, but also the preservation of DNA for diverse sequencing-based applications. Our approaches allowed us to address both of these challenges.
The criterion we used here to evaluate morphological preservation, the number of lost appendages, has the major advantage that it is fast and easy to measure. However, it captures only one aspect of morphological preservation, namely brittleness. Brittleness is important in many contexts, for instance, when handling, examining or mounting specimens, but it is not an ideal measure of the preservation of fine morphological details, or the status of internal anatomy. For instance, we noted a clear discrepancy between brittleness and morphological preservation with the drying pre-treatment. Nevertheless, we believe our approach is a good starting point for further enquiry into the effect of ethanol concentration on the preservation of insects. Undoubtedly, it would be valuable to keep exploring more sophisticated measures of morphological conservation.
To assess DNA preservation, we used a quick measure of one simple aspect of DNA degradation: the absolute abundance of a certain 458-base long DNA fragment, part of the mitochondrial genome. It is clearly not a perfect measure of the overall DNA preservation. However, as DNA degradation happens primarily by the accumulation of random breaks within the DNA strands (although other processes play a role, for example, deamination of cytosines), it is unlikely that many longer fragments would remain once the abundance of 458-base targets decreases significantly. Thus, our results are of direct relevance to sequencing approaches that do not require high-molecular-weight DNA, but also informative to researchers that sequence long DNA fragments (e.g., PacBio or Oxford Nanopore sequencing).
The use of spike-in plasmids with artificial targets in amplicon sequencing experiments has been gaining popularity as a method for the quantification of microbiomes (Tkacz, Hortala & Poole, 2018; Tourlousse et al., 2017), while spike-in standards consisting of sequences of actual species have been used for abundance estimation in eukaryotic metagenomic studies (Ji et al., 2020). However, to our knowledge, they have not been used to assess DNA degradation. We found the absolute quantification of COI targets using spike-ins to be a quick, inexpensive, and, in our opinion, accurate and biologically informative way of gathering DNA preservation data.
In general, our results agree with expectations. They clearly show that ethanol concentration does have an impact on the fragility of insect specimens, even though the effects vary among taxonomic groups. High concentrations tend to increase brittleness, especially in weakly sclerotized insects. We also noted a tendency of more disruptive treatments to have a stronger effect on specimens preserved in high ethanol concentrations. Regarding DNA preservation, the expectations are also met, as we observed a lower proportion of suitable PCR-template DNA fragments in the DNA extracts of those individuals stored at lower ethanol concentrations after only one year.
The effect of ethanol concentrations on morphological preservation was most pronounced in the most weakly sclerotized species (Aphidoletes and Calliphora in particular). As the connective and muscular tissues are dried and made brittle by high ethanol concentrations, it is reasonable that insects with less exoskeletal anchorage in their joints will be more severely affected. However, interestingly, the negative effect of low ethanol concentrations was noticeable also in Dermestes. These beetles were very robust to damage at high ethanol concentrations, but tended to lose elytra –abdomen and head too –at low concentrations. The effect was not significant, but likely primarily because of lower numbers of Dermestes individuals (two per tube) compared to other species. Had we included more specimens, we suspect that this effect would have been significant. It would be interesting to test whether the increased fragility at lower ethanol concentrations is associated with the cuticle hardness that prevents preservative penetration into tissues, or perhaps decomposing microorganisms likely harbored by these carcass-feeding beetles (they were obtained from the dermestarium at the Swedish Museum of Natural History, where they clean off the soft tissue of vertebrate carcasses before the skeletal parts are included in the collections).
Our transport experiment clearly shows that the concentration of preservative ethanol has a strong effect on how fragile insect specimens are. Fragile specimens survive transport much better if stored in 70% ethanol than if stored in 95% ethanol (Fig. 3). The experiment also demonstrates that it is important to handle samples carefully. A careless technician can cause considerably more damage than shipping the specimens more than 400 km by a much-criticized national mail service. It should be noted, however, that all tubes were filled with liquid to nearly maximum capacity before being shipped, as generally recommended for safe transport (Martin, 1977). The results might have been different if the tubes had been half-empty.
Subjecting preserved specimens to repeated freezing and thawing cycles did not significantly affect their tendency to lose appendages. Similarly, drying the specimens and then reimmersing them in ethanol had no noticeable negative effect. In fact, drying had a slight positive effect on Macrolophus specimens, which lost fewer appendages after drying than in the control treatment. However, these results do not mean that the morphology is preserved intact through these treatments. For instance, we observed that many individuals from most species that had been dried had shrunken heads and abdomens that could complicate their taxonomic examination. It seems likely that also internal anatomy was affected both by the freezing-thawing cycles and by the drying-reimmersion treatment. Thus, it would be valuable to reinvestigate the effects of these treatments using other criteria for morphological preservation than the simple measure of appendage loss that we used.
As remarked previously, the effect of ethanol concentration varied strikingly among the different insect species we examined. Although a small set of species cannot be regarded as a comprehensive sample of insect diversity or fragility levels, some results may indicate patterns that apply more broadly to particular taxonomic groups of insects. For instance, it is notable that both hymenopterans we examined, Dacnusa and Formica, were quite robust regardless of treatment, despite the fact that Dacnusa is a small species of relatively delicate build. These results seem to be in concordance with previous studies that show that hymenopteran bodies resist the entrance of ethanol to the point that sometimes small holes must be carved in their exoskeleton to allow DNA preservation (Dillon, Austin & Bartowsky, 1996; Mandrioli, 2008). However, long-term storage in absolute ethanol can nevertheless make ants brittle (King & Porter, 2004). The three dipterans we examined (Drosophila, Calliphora and Aphidoletes) were all quite sensitive to the ethanol concentration, regardless of striking differences in size, body shape, and level of sclerotization. They were also consistently among the insects most affected by the different treatments we exposed them to. Coleoptera was represented by only one taxon in our study (Dermestes), but beetles are generally more sclerotized than other insects, and it is no surprise that Dermestes ranked among the most robust of the insects we studied. Hemiptera were similarly represented by a single taxon in our study (Macrolophus). This species was among the most fragile we studied, but the order does present a wide variety of body types, and future studies will have to show to what extent Macrolophus is representative. Our study did not include any representative of the order Lepidoptera, as these are rarely if ever preserved in ethanol when collected for morphological examination, and thus, the trade-off between morphological and molecular preservation in different concentrations of ethanol is of little relevance.
In general, the opposite pattern to the preservation of morphology was observed for the preservation of the DNA: the higher the ethanol concentration, the better preserved the DNA was. For most species, individuals preserved at concentrations of 80% ethanol or lower produced significantly fewer copies of the targeted PCR fragment than those preserved at 95%. This shows that, even when an amplification product can be obtained through PCR, there is, indeed, DNA degradation at these ethanol concentrations. Interestingly, concentrations of 97 and 99% ethanol never differ significantly from 95%, albeit in some species like Dermestes the average number of COI template copies was visibly higher at both of these concentrations. The concentration at which significant degradation of DNA was first observed varied among species. For four of the seven species, the preservation of the DNA was significantly worse from 70–80% and down, while for Macrolophus, even a concentration as high as 90% underperformed compared to 95%. On the other hand, the DNA of Dacnusa and Calliphora was not significantly degraded until the concentration was lowered to 50 or 30%. The mechanisms underlying these differences are unknown to us. One of the possible explanations offered above for the good morphological preservation of hymenopterans (namely, the resistance of their bodies to the entrance of ethanol) is directly at odds with the good preservation of DNA (extremely good in Dacnusa, quite good also in Formica). This suggests that the morphological solidity of hymenopterans is due to other causes. For instance, the body is more distinctly divided into hard sclerites in Hymenoptera than is the case for many other insect orders, like Diptera. Potentially, this could be associated with an decreased tendency to lose appendages.
Regardless of the causes, the variation among taxa in the effects of ethanol concentration on DNA preservation is highly relevant for metabarcoding studies. Metabarcoding involves the amplification of a barcoding gene sequence from DNA templates of many species simultaneously, so differences in the preservation of DNA among taxa could potentially result in significant biases, with the poorly preserved species contributing less than others to the pool of accessible template DNA copies. Minimally, this will cause problems with abundance estimation from metabarcoding data; in the worst case, poorly preserved species might go completely undetected, especially if they are rare.
Our study may be the first systematic study of the effect of ethanol concentration on morphological and molecular preservation of insects, albeit limited to only a handful of species. Our results largely confirm the commonly held belief that intermediate concentrations of ethanol, around 70–80%, are generally the best for morphological preservation, as high concentrations (above 90%) tend to make specimens fragile, whereas lower concentration in many cases allow some level of degradation. In contrast, the optimal DNA preservation is achieved at ethanol concentrations of >90%. Unfortunately this means that there is a conflict between preserving insects for morphological and for molecular work, as the ethanol concentrations that are ideal for the former purposes result in higher degradation rates of DNA. Is it possible to find a treatment that is ideal for both purposes? Stein et al. (2013) showed that if initial preservation is made in 95% ethanol, good PCR results can be obtained even after storing the insects in 70% ethanol for an extended period of time. However, this is the exact contrary of what is recommended for morphological study, where a gradual increase in the ethanol concentration is recommended to avoid fast desiccation of the tissues. However, whether initial preservation in 95% and subsequent transfer to 70% for storage reduces the brittleness is unknown. The same could be said of the opposite procedure, also recommended by some experts: to maintain the specimens in ≥ 95 % ethanol for long-term storage, but to use lower concentrations (70 - 80 %) initially, or later for transport or manipulation; how these transferences impact DNA and morphological preservation should also be studied in the future. Recently, researchers have directed their attention towards preservatives based on propylene glycol (Nakamura et al., 2020; Moreau et al., 2013; Robinson et al., 2020). Lower flammability, evaporation, and cost make propylene glycol an attractive alternative to ethanol for trapping, transporting, and storing insect samples. Nevertheless, although these results look promising, more studies are needed to determine the quality of DNA and morphological preservation for different insect groups, under a range of conditions, for these preservatives.
For now, we do not have a preservation regimen that is ideal for both morphology and molecules. This must be taken into account when planning large collecting campaigns that aim to preserve material for both morphological and molecular work. For instance, we note that catches from Malaise traps, which are frequently used in insect inventories, contain a large portion of Diptera specimens (Hebert et al., 2016; Karlsson et al., 2020; Ronquist et al., 2020), a group whose morphology is often heavily affected by high ethanol concentrations. Hymenoptera, on the other hand, is abundant as well in Malaise traps, and not as prone to morphological damage. These differences need to be considered at the stage of experimental design: the relative importance of morphological against DNA data, or perhaps the focus on certain taxonomic groups, should guide the selection of preservative composition and preservation conditions. In any case, if Malaise trap inventory projects intend to preserve material for molecular and morphological study, it may be necessary to store the material at ethanol concentrations that are not ideal either for molecular or for morphological work.
Supplemental Information
Spike-in plasmid, amplicon data analysis pipeline, and Supplemental Tables
Methods for spike-in plasmid relative abundance quantification and bioinformatic processing of the sequencing data. Tables S1–S4, significance tables of the statistical analysis of the appendages experiments.
Supplemental Tables and Raw data
Tables S5-S8. Raw data of the appendages experiments and sequencing read numbers.