A validation of Illumina EPIC array system with bisulfite-based amplicon sequencing
Published

Accepted

Received
Academic Editor
Subject Areas

Keywords

DNA methylation

,

Illumina EPIC array

,

Bisulfite based amplicon sequencing
Copyright

©

2021

Noble et al.

Licence

This is an open access article distributed under the terms of the Creative Commons Attribution License, which permits unrestricted use, distribution, reproduction and adaptation in any medium and for any purpose provided that it is properly attributed. For attribution, the original author(s), title, publication source (PeerJ) and either DOI or URL of the article must be cited.
Cite this article

2021

.

A validation of Illumina EPIC array system with bisulfite-based amplicon sequencing

.

PeerJ

9

:

e10762

https://doi.org/10.7717/peerj.10762
Abstract
The Illumina Infinium® MethylationEPIC BeadChip system (hereafter EPIC array) is considered to be the current gold standard detection method for assessing DNA methylation at the genome-wide level. EPIC arrays are often used for hypothesis generation or pilot studies, the natural conclusion to which is to validate methylation candidates and expand these in a larger cohort, in a targeted manner. As such, an accurate smaller-scale, targeted technique, that generates data at the individual CpG level that is equivalent to the EPIC array, is needed. Here, we tested an alternative DNA methylation detection technique, known as bisulfite-based amplicon sequencing (BSAS), to determine its ability to validate CpG sites detected in EPIC array studies. BSAS was able to detect differential DNA methylation at CpG sites to a degree which correlates highly with the EPIC array system at some loci. However, BSAS correlated less well with EPIC array data in some instances, and most notably, when the magnitude of change via EPIC array was greater than 5%. Therefore, our data suggests that BSAS can be used to validate EPIC array data, but each locus must be compared on an individual basis, before being taken forward into large scale screening. Further, BSAS does offer advantages compared to the probe-based EPIC array; BSAS amplifies a region of the genome (∼500 bp) around a CpG of interest, allowing analyses of other CpGs in the region that may not be present on the EPIC array, aiding discovery of novel CpG sites and differentially methylated regions of interest. We conclude that BSAS offers a valid investigative tool for specific regions of the genome that are currently not contained on the array system.
Introduction
Epigenetic modifications, such as DNA methylation, play a vital role in regulating gene expression (Hackett & Surani, 2013) and have the potential to induce phenotypic changes (Dolinoy, Huang & Jirtle, 2007; Sinclair et al., 2007; Kucharski et al., 2008; Gertz et al., 2012; Wang et al., 2012). DNA methylation occurs when a methyl group is covalently transferred to the C5 position of the cytosine ring of a DNA molecule by a methyltransferase enzyme, with the resulting modified cytosine then termed 5-methylcytosine (5mC) (Mitchell, Schneper & Notterman, 2016). In mammals, most DNA methylation occurs at CpG dinucleotides. CpG sites themselves can be defined as a singular modified cytosine residue which are found throughout the genome, but are particularly dense in promoter regions (Takai & Jones, 2002).
DNA methylation is heavily influenced by the surrounding environment; factors such as tobacco smoking (Breton et al., 2009; Zeilinger et al., 2013; Ambatipudi et al., 2016a; Ambatipudi et al., 2016b; Osborne et al., 2020), alcohol (Philibert et al., 2012; Liu et al., 2016), nutrition (Rampersaud et al., 2000; Delgado-Cruzata et al., 2015), stress (Murgatroyd et al., 2009) and aging (Horvath et al., 2012; Marioni et al., 2015) can all impact on DNA methylation at CpG sites. Alterations to DNA methylation are associated with changes in phenotype and also, in some instances, methylation changes contribute to disease pathology (Kim et al., 2010; Mastroeni et al., 2010; Rakyan et al., 2011; De Jager et al., 2014).
As a result of these relatively recent observations, the assessment of differential DNA methylation in humans, and in particular, epigenome-wide association studies (EWAS), is a burgeoning field. High-throughput array technologies are a popular choice for EWAS, due to their robustness and accuracy (Pidsley et al., 2016). The Illumina Infinium® MethylationEPIC array (hereafter 'EPIC array') quantifies methylation at 850,000 different CpG sites (Zhou, Laird & Shen, 2017), and although this is still a small proportion of the total number of CpG sites in the genome (∼28 million Lövkvist et al., 2016) it represents a broad distribution of sites that give a specific and robust measurement of methylation at those sites.
Further, the goal of many whole-genome studies of DNA methylation is often a pilot or scoping study to capture a range of targets that may be associating with, e.g., a particular environmental exposure. As such, once the genome has been investigated in a number of samples, a whole-genome approach is not always necessary if the user simply requires follow up and/or validation of identified loci in a larger cohort. To undertake further analyses and to validate methylation array-based experiments, several different methods exist that that rely on bisulfite treatment of DNA: bisulfite-based amplicon sequencing (BSAS), bisulfite pyrosequencing and methylation-specific PCR (MS-PCR) are methods which can specifically target a predetermined area of interest in the genome at a low cost and higher sample throughput, compared to arrays. An informative study conducted by the BLUEPRINT consortium evaluated 27 predefined genomic regions, across 32 reference samples amongst 18 laboratories using six assays (Bock et al., 2016). Good agreement was observed across methods, with amplicon bisulfite sequencing, and bisulfite pyrosequencing showing the best concordance (Bock et al., 2016). A similar study also assessed bisulfite pyrosequencing, observing congruence to EPIC array analysis (Roessler et al., 2012). However, pyrosequencing is known to have quantitative flaws due to the output of sequences generated through fluorescence methods (França, Carrilho & Kist, 2002). MS-PCR is a method often used in clinical settings (Herman et al., 1996), however it has a high false positive rate (Claus et al., 2012). By contrast, BSAS detects cytosine methylation to base-pair scale resolution without reliance on light detection methods for sequencing (Masser, Stanford & Freeman, 2015). BSAS is a multiplex procedure that can quantitatively assess each CpG site within numerous target regions at the same time (Masser, Berg & Freeman, 2013).
Thus, given the limitations of pyrosequencing and MS-PCR, here we examine whether BSAS can also accurately validate EPIC array data, and be used as a replication, and/or expansion tool for targeted DNA methylation analyses, similar to what has been shown using pyrosequencing. Further, we wish to assess the multiple other CpG sites residing within the targeted amplicon region, to investigate differential methylated regions, which would not be able to be explored via EPIC array.
To answer the question, we used EPIC array data generated from individuals from the Christchurch Health and Development Study (CHDS) which evaluated differential DNA methylation in response to regular cannabis use (Osborne et al., 2020). The CHDS is a longitudinal study of a birth cohort of 1265 children born in 1977 in Christchurch, New Zealand, who have been studied on 24 occasions from birth to the age of 40 (n = 904 at age 40). Of this, a total 96 individuals were selected, and arrays were performed in two separate batches in consecutive years (n = 48 per year).
For validation analysis we selected individuals with EPIC array data (n = 14), as well as new individuals (n = 82), to serve as a validation and expansion cohort for the differential DNA methylation identified via EPIC array (Osborne et al., 2020). Specifically, we asked whether BSAS, after determination of the most appropriate normalisation method, produced the same average methylation values as EPIC arrays, when comparing case data to control data.
While both EPIC array and BSAS are readily used as standalone experiments, they would provide robust evidence if carried out together. Thus, given the rising popularity of studies investigating DNA methylation, establishing a better understanding of how differential DNA methylation differs between regions within the genome, such as evaluating concordance between methods and then further assessing resultant CpG sites within a designated region, is valuable to the scientific community.
Results
Validation and replication of EPIC array data using BSAS
The differences between average methylation (β values) of cannabis plus tobacco users (cases) and controls were calculated for each method (EPIC array and BSAS, Table 1).
When comparing case vs control data from EPIC and BSAS individually, no significant difference in average methylation between case and control was observed for either detection method, with the exception of cg05575921 in AHRR and the site cg09078959. AHRR was significant in both BSAS and EPIC (P = 0.006, P = 5.33 ×10−12), and cg05575921 was found to only be significant under BSAS (P = 0.001, P = 0.665).
Correlations between BSAS and EPIC were plotted individually for cases and controls. BSAS versus EPIC cases resulted in an adjusted R2 of 0.8878 and BSAS versus EPIC controls gave an adjusted R2 of 0.8683 (Fig. S1).
Bland Altman correlation
A Bland Altman analysis was carried out on the loci investigated by BSAS and compared to data for the same loci produced using the Illumina EPIC array. Figure 1A shows cannabis users (cases) measured by BSAS and the EPIC array on the X axis, while the Y axis represents the log differences between the measurements. The observed differences between loci in cannabis cases (EPIC and BSAS) fall within the lines of agreement. Figure 1B shows the control group differences plotted for the same loci for BSAS and the EPIC array methods. Similar to above, all data points fall within the lower and upper lines of agreement.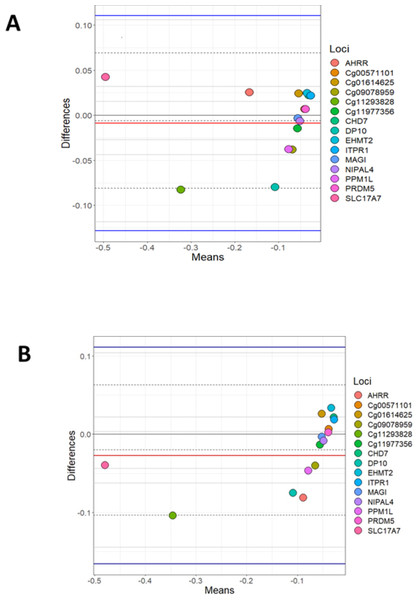 Mean methylation values for each individual were plotted for each of the 15 loci, and these were then compared between BSAS and EPIC, for cases (Fig. 2) and controls (Fig. 3). Loci displaying a significant shift in average methylation between the methods of detection are indicated with an * when using a Welsh two sample comparison. The following loci were found to display differences between BSAS and EPIC array for cases were: AHRR, cg09078959, cg11293828, CHD7, DP10, EHMT2 and ITPR1, and for controls: AHRR, cg09078959, cg11293828, CHD7, DP10, EHMT2, ITPR1, NIPAL4 and PPM1L.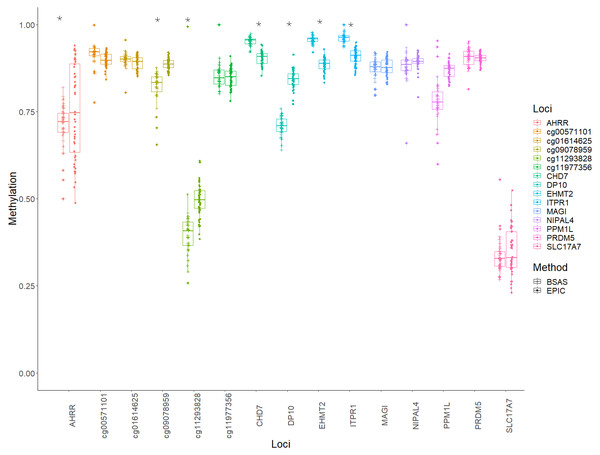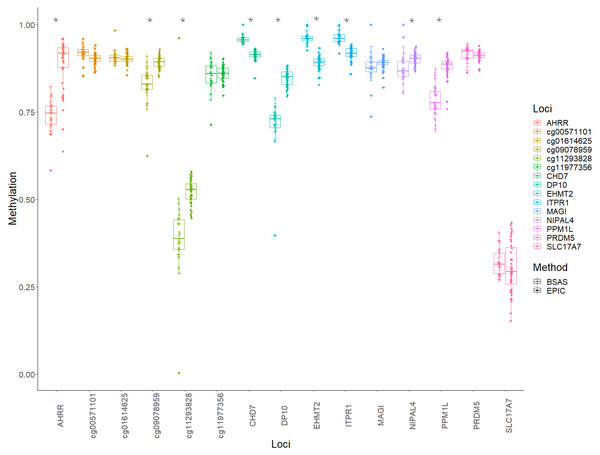 Assessing amplicon regions
Multiple CpG sites residing within an amplicon can be sequenced using BSAS, providing information about a larger region of interest, rather than just a single CpG site. Fig. S2 displays the multiple CpG sites found across each of the 15 amplicons in this study. A total of 9 of the 15 amplicons contained more than one CpG site. All CpG sites within the amplicons remained non-differentially methylated between cases and controls, except one site in AHRR. The amplicon from SLC17A7 sequenced here contained a total of 15 CpG sites within the 250 base pairs.
Discussion
High throughput array technologies have facilitated the next step in assessing associations between DNA methylation changes in response to a known environmental exposure at a genome-wide level. The EPIC array (as well as the predecessor 27k and 450k arrays) is one such platform that allows for the characterisation of these DNA methylation changes. Through these approaches, various studies have furthered our understanding of how DNA methylation can play a role in response to different environmental exposures.
We selected the orthogonal method BSAS to determine its applicability as a validation, replication and/or expansion tool for EPIC array. BSAS is often used as a standalone method for assessing differential DNA methylation at specific CpG sites, usually because it is more cost-effective than EPIC arrays, and allows analysis of many samples at once, in multiplex. It returns data for all CpGs within a targeted region of interest (∼250 base pairs) with results providing base pair-level specificity (Masser, Stanford & Freeman, 2015). Overall, when considering average methylation between cases and controls as determined via BSAS or EPIC individually, we did not detect significant differences in average methylation for each detection method; the biological results are discussed elsewhere (Osborne et al., 2020), however, it was expected that the smaller sample set used here would not have the statistical power to detect effects found in the larger cohort. The intent of this study was to compare average methylation as determined via BSAS, to that determined by EPIC array. We show here that the estimation of differential DNA methylation observed using BSAS correlated with differential methylation determined via EPIC array. However, although the data correlates between the methods (adjusted R2 cases, 0.8878 and adjusted R2 controls, 0.8683), we urge caution when interpreting this correlation as proof that BSAS will be a suitable independent validation of EPIC array data in every experiment. This is because while the data presented here correlated between BSAS and EPIC array as a whole dataset, some sites showed larger differences between average methylation estimated using BSAS vs. EPIC array. Most notably, where the differential methylation on EPIC array was greater than 5% between cases and controls, BSAS was unable to detect this differential DNA methylation to the same magnitude as EPIC array. Further, a total of 9/15 loci had observed P value significance when carrying out a Welch two sample t-test on control data, and 7/15 on case data, implying there were differences between the methylation values for the methods. For instance, AHRR exhibited a 4% difference in methylation between cases and controls when assessed using BSAS (the highest value detected in using BSAS in this study), compared to 23% using EPIC array. Thus, while a strong correlation between EPIC array data and BSAS data was found across the 15 CpG sites investigated, which itself implies an association between the average methylation at each CpG for the two techniques, each locus must be validated on a case by case basis before being taken forward into high-throughput or large scale screening, to ensure it produces results that are equivalent to EPIC. In addition, further work on CpG sites with higher magnitude changes is needed to determine whether BSAS is limited by the magnitude of differential methylation it is able to detect. However, it is worth noting that most studies of differential methylation report modest (<5%) significant differential methylation observations, suggesting that BSAS may prove useful, given inclusion of rigorous controls of known differential methylation to ensure accuracy of results.
Due to the sequence-based nature of BSAS data (compared to the probe-based nature of EPIC arrays) BSAS, as a standalone method, offers some advantages that are not applicable to EPIC arrays. For instance, BSAS has the potential to determine novel differentially methylated CpGs which may be near (in the same targeted region) but not the initial pre-determined CpG site of interest. This is possible because all CpGs within an, e.g., 500bp region are returned using BSAS data, only one of which may be on an EPIC array. Further, via this targeted sequencing process, BSAS may reveal novel differentially methylated regions (DMRs). DMRs are described as areas which exhibit multiple successive methylated CpG sites which may have biological impact within the genome. For example, they have been implicated in the development and progression of disease (Hotta et al., 2018). Therefore targeting more than a single CpG site may provide further insight into genes and regions of interest. Consequently, while here we have used BSAS technology to replicate/validate differential methylation identified via EPIC array, given that BSAS outputs can correlate with EPIC data, equally, BSAS could be used as a "discovery-based tool"; if significantly differentially methylated CpGs are identified via BSAS, this would serve to justify further investigation using a robust and more expensive high throughout method.
The EPIC array still remains the most reproducible way to measure DNA methylation (Bibikova et al., 2009). This is because the probe-based nature of the method frequently produces comparable results across research groups and arrays. For example, detection of differential methylation using the EPIC array found a difference of 23% in cannabis plus tobacco users, compared to controls, at AHRR (cg05575921, Table 1), a result that is supported by other studies in tobacco smokers using EPIC array (Zeilinger et al., 2013; Guida et al., 2015; Ambatipudi et al., 2016a; Ambatipudi et al., 2016b; Su et al., 2016; Li et al., 2018). AHRR has an important role in controlling a range of different physiological functions; it contributes to regulation of cell growth, regulation of apoptosis and contributes to vascular and immune responses (Trombino et al., 2000; Allan & Sherr, 2005; Lahvis et al., 2005; Marlowe et al., 2008).
BSAS and EPIC array rely upon different chemistries and methods to detect DNA methylation. This may account for the majority of the variation found between the two methods. BSAS relies upon PCR amplification of DNA that is treated with sodium bisulfite. When DNA is treated, unmethylated cytosine residues are converted into uracil via hydrolytic deamination. Amplification of uracil nucleotides during this process are replaced by thymine during replication and the 5-methylcytosines are left unreactive throughout the deamination process and then are amplified as cytosines. It then becomes possible to 'read' values of methylation for each cytosine in an amplicon via DNA sequencing (Booth et al., 2013). The ability to treat DNA with sodium bisulfite has led to the expansion of research undertaken within this field (Frommer et al., 1992). However, it is important that we ensure the validity of the results are not limited by the manner in which the data was produced. Ensuring that we limit these discrepancies between technologies will allow for better validation of data. There is potential for errors to occur at this step, because incomplete bisulfite conversion cannot be distinguished from 5-methylcytosine, this can possibly introduce false positive methylation calls at this point (Richards et al., 2018; Krueger et al., 2012). Although both techniques rely upon bisulfite treatment, it is this source of error followed by the PCR amplification that might explain the differences in results we have observed. Refining these sources of error may provide much more comparable results between the two methods.
Conclusions
In conclusion, we chose to validate EPIC array data by using the alternative method, BSAS, to detect differential methylation at CpG sites. While BSAS validated EPIC array data at some loci, and correlated across all loci as a whole, some individual loci did not validate. This implies that each locus must be investigated individually before determining its utility in a large-scale analysis. Further, it is possible that BSAS may be unable to reproduce the magnitude of changes that are shown in the EPIC array system, which may be a consequence of lack of specificity and addition error rate through PCR amplification. It does however, have the ability to assess differentially methylated regions, rather than individual CpG sites. As some regions of the genome are more susceptible to methylation change than others, BSAS could detect swathes of correlated differential methylation at neighbouring CpG sites in certain areas of the genome. From the results shown here, BSAS has the potential to be able to detect methylation marks which maybe hallmarks for disease later on in life. Finally, although BSAS does not generate the same significance level as the EPIC array in some instances, we demonstrate that BSAS can be used as an investigative tool for specific regions of the genome.