Comparing cestode infections and their consequences for host fitness in two sexual branchiopods: alien Artemia franciscana and native A. salina from syntopic-populations
1
Instituto de Acuicultura de Torre de la Sal (IATS-CSIC), Ribera de Cabanes s/n

,

Castellón

,

Spain
2
Department of Wetland Ecology, Estación Biológica de Doñana (EBD-CSIC)

,

Américo Vespucio s/n, Sevilla

,

Spain
Published

Accepted

Received
Academic Editor
Subject Areas

Keywords

Cestodes

, Sexual Artemia,

Syntopic populations

,

Invasive species

,

Host impact

,

Coevolution

,

Mediterranean salterns
Copyright

©

2015

Redón et al.

Licence

This is an open access article distributed under the terms of the Creative Commons Attribution License, which permits unrestricted use, distribution, reproduction and adaptation in any medium and for any purpose provided that it is properly attributed. For attribution, the original author(s), title, publication source (PeerJ) and either DOI or URL of the article must be cited.
Cite this article

2015

. Comparing cestode infections and their consequences for host fitness in two sexual branchiopods: alien Artemia franciscana and native A. salina from syntopic-populations.

PeerJ

3

:

e1073

https://doi.org/10.7717/peerj.1073
Abstract
The American brine shrimp Artemia franciscana is invasive in the Mediterranean region where it has displaced native species (the sexual A. salina, and the clonal A. parthenogenetica) from many salt pond complexes. Artemia populations are parasitized by numerous avian cestodes whose effects have been studied in native species. We present a study from the Ebro Delta salterns (NE Spain), in a salt pond where both A. franciscana and native A. salina populations coexist, providing a unique opportunity to compare the parasite loads of the two sexual species in syntopy. The native species had consistently higher infection parameters, largely because the dominant cestode in A. salina adults and juveniles (Flamingolepis liguloides) was much rarer in A. franciscana. The most abundant cestodes in the alien species were Eurycestus avoceti (in adults) and Flamingolepis flamingo (in juveniles). The abundance of E. avoceti and F. liguloides was higher in the A. franciscana population syntopic with A. salina than in a population sampled at the same time in another pond where the native brine shrimp was absent, possibly because the native shrimp provides a better reservoir for parasite circulation. Infection by cestodes caused red colouration in adult and juvenile A. salina, and also led to castration in a high proportion of adult females. Both these effects were significantly stronger in the native host than in A. franciscana with the same parasite loads. However, for the first time, significant castration effects (for E. avoceti and F. liguloides) and colour change (for six cestode species) were observed in infected A. franciscana. Avian cestodes are likely to help A. franciscana outcompete native species. At the same time, they are likely to reduce the production of A. franciscana cysts in areas where they are harvested commercially.
Introduction
The American brine shrimp Artemia franciscana Kellog, 1906 is a key species for the aquaculture industry and a model organism for laboratory research (e.g., in toxicology, genetics or physiology). A. franciscana cysts, particularly originating from Great Salt Lake (USA), have been exported worldwide for aquaculture, the improvement of salt extraction in salt ponds and the pet trade market, facilitating the arrival and spread of A. franciscana outside its natural range (Amat et al., 2005; Ruebhart, Cock & Shaw, 2008; Vikas et al., 2012). In the Western Mediterranean, the introduction of this exotic species is provoking the extinction of native A. salina (Linnaeus, 1758) and A. parthenogenetica Bowen & Sterling, 1978 populations (Amat et al., 2005; Amat et al., 2007; Muñoz et al., 2014). The ability of A. franciscana to outcompete other Artemia species rapidly in the field may be largely explained by a higher reproductive rate that often allows it to eliminate native congeners within a few generations in the laboratory (Browne, 1980; Browne & Halanych, 1989; Amat et al., 2007). However, parasites can also influence biological invasions, depending on their relative impacts on native and alien species (Hatcher, Dick & Dunn, 2006; Prenter et al., 2004; Dunn et al., 2012).
Artemia spp. are intermediate hosts of avian cestodes that can have a major influence on their fitness. In the Mediterranean, native brine shrimps are parasitized by 12 species of avian tapeworms whose final hosts are flamingos, waders, grebes, ducks or gulls (Georgiev et al., 2005; Georgiev et al., 2007; Vasileva et al., 2009). To elucidate the role of parasites in an invasion it is important to study parasite infections in populations of native and alien host species co-ocurring in the same habitat (syntopic populations), but this is difficult because native Artemia have already disappeared from most sites where A. franciscana is detected. Comparisons of allopatric Artemia populations from the southern Iberian Peninsula suggest that A. franciscana populations have lower levels of infections by cestodes than the native sexual A. salina and the clonal A. parthenogenetica (Georgiev et al., 2007; Georgiev et al., 2014; Sánchez et al., 2013). In the present study, we take advantage of a unique opportunity to compare the parasitism of A. franciscana and A. salina in the only site where these two sexual species are known to coexist: the Ebro Delta salterns in north-east Spain.
Sánchez et al. (2012) compared parasitism in syntopic host populations of A. franciscana and A. parthenogenetica in southern France, and found lower cestode diversity and abundance in the invasive host. This could potentially be because the sexual invasive species can resist parasites better than the clonal native one, owing to the importance of genetic recombination in resisting parasites (Red Queen hypothesis: Van Valen, 1973; Moritz et al., 1991; Mee & Rowe, 2006). However, in the case of two sexual species, the relative effects of parasites may be more similar. Given the lack of preexisting data, comparing parasite impacts in two bisexual hosts (A. franciscana and A. salina) is of considerable interest in the context of the biological invasion.
Trophically transmitted parasites such as larval helminths with complex life cycles often induce changes in the physiology, behaviour or appearance of intermediate hosts ("host manipulation"), rendering them more vulnerable to predation and facilitating transmission to final hosts (Barber, Hoare & Krause, 2000; Moore, 2002; Poulin, 2006). In native Mediterranean Artemia populations, cestode infections are associated with a reddish colour, positive phototaxis, gigantism, longer life span, reduced fecundity and higher levels of lipids and glycogen (Thiéry, Robert & Gabrion, 1990; Amat et al., 1991; Robert & Gabrion, 1991; Sánchez et al., 2006; Sánchez, Georgiev & Green, 2007; Amarouayache, Derbal & Kara, 2009; Sánchez et al., 2009a). The pathogenic impact of endemic cestodes on the alien A. franciscana remains unclear, particularly when it co-occurs with native congeners. If A. franciscana is less affected by cestodes, this may help explain its invasion success by aiding it to outcompete native hosts.
In the present study, we compared the cestode infections between A. franciscana and A. salina in a salt pond where they coexisted. We tested the hypothesis that A. franciscana is less susceptible to native cestodes than A. salina, leading to a competitive advantage. Secondly, we compared the infections between this A. franciscana population that is coexisting with a native host (A. franciscana-syntopic population), and an A. franciscana population from a neighbouring pond where there are no congeners, in order to explore if there is a negative relationship between community diversity and disease risk (Schmidt & Ostfeld, 2001; Keesing, Holt & Ostfeld, 2006; Johnson & Thieltges, 2010). Thirdly, we analyzed the consequences of infection by different cestode species for colour change and reproductive activity in both Artemia species. We predicted fewer consequences for the alien host, owing to weaker host–parasite coevolution.
Materials and Methods
Study system and field samples
The Ebro Delta (Province of Tarragona, NE Spain) is the largest wetland area (320 km2) along the Mediterranean coast of Spain and is protected as a Natural Park, Ramsar site and an EU Special Protection Area for birds. Artemia franciscana was first detected in our study area (La Trinitat coastal salterns, 40°35′N, 00°41′E, Fig. 1) in 2007 (Amat et al., 2007). Previously, these salterns supported a tetraploid parthenogenetic population of Artemia (Amat et al., 1995), but this native taxon has not been recorded since.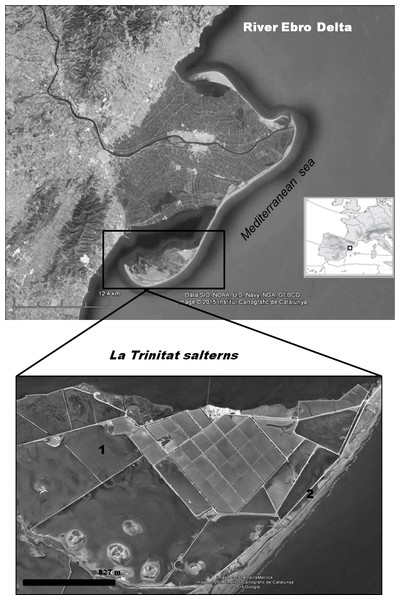 Repeated sampling visits were carried out from 2007 to 2010 inclusive. The present study focuses on samples collected at the following two ponds during a 12 month period from January 2009 to January 2010, when the native A. salina was in coexistence with A. franciscana. Pond CX, a large pond situated between other salt ponds and the sea, isolated from the brine circulation system (Fig. 1), was the only pond in which A. franciscana coexisted with A. salina. Samples were collected monthly from January 2009 to January 2010 (salinity S range = 45–260 g/L, mean ± s.e. = 114.6 ± 18.35; temperature T range = 5–32 °C, mean ± s.e. = 18.1 ± 2.37). Pond 4 was sampled monthly from January to March 2009, then again in January 2010 (S range = 125–150 g/L, mean ± s.e. = 132.5 ± 5.95; T range = 8.5–12 °C, mean ± s.e. = 10.9 ± 0.83). In order to increase the sample size for infected shrimps, additional samples of A. franciscana collected on other dates and in other ponds (S Redón, AJ Green, BB Georgiev, GP Vasileva, F Amat, 2015, unpublished data) were used when considering the influence of cestodes on colouration and reproductive activity of this host species.
Artemia samples were collected from each pond with 160 µm and 500 µm mesh hand-nets and transported alive to the laboratory. Living Artemia individuals, anaesthetized with a few drops of distilled water saturated with chloroform, were examined under a stereomicroscope and juveniles and adults were separated. Juveniles are immature specimens with sexual segments (ovisac or hemipenis) that are not completely developed. Juveniles and adults were identified to species after Amat (1985), Hontoria & Amat (1992a) and Hontoria & Amat (1992b). The proportion of juveniles varied over time (Fig. S1) confirming that both species had multiple generations per year (Amat et al., 2007). Both juveniles and adults were sexed (Amat, 1985). Adult females with empty ovisac and no signs of functional ovaries were classified as castrated and those with embryos, naupliae, or cysts filling the ovisac, or ovulating (oocites moving along the ovaries or filling the oviducts) were classified as ovigerous (Fig. S3). The colour of adults and juveniles was assigned to three categories: dark-red, light-red and not-red (Fig. S2). This research was conducted under a permit from the Ebro Delta Natural Park office provided to FA.
Parasite identification
Juvenile and adults were examined, while lightly anaesthetized, under a stereomicroscope for cestode cysticercoids, until a total of approximately 400 individual shrimps (when available) was reached, including juveniles and adults. After observations of the cysticercoids in situ, each infected specimen was prepared in a temporary glycerol mount and examined under a compound microscope. Identification was based on Georgiev et al. (2005) and Vasileva et al. (2009). More details of sampling protocols are provided by S Redón, AJ Green, BB Georgiev, GP Vasileva, F Amat (2015, unpublished data).
Quantitative analysis of cestode infection and statistics
Several descriptors were applied to the cestode infections in Artemia. Prevalence (P%: proportion of infected individuals in the host population), abundance (MA: mean number of cysticercoids for the total number of shrimps examined) and intensity (MI: mean number of cysticercoids in infected shrimps) were calculated for the overall infection and for each parasite species (terminology following Bush et al., 1997). Also, we quantified species richness (SR: mean number of cestode species present in each Artemia individual) and the species richness in infected specimens (SRinfected).
(i) Host species: invader vs. native
To compare cestode infections between host species, we used monthly samples from pond CX in which a total of 2,150 shrimps were examined (1,252 A. franciscana and 898 A. salina). On a month by month basis, Mann–Whitney U tests were employed to compare the abundance of parasites, the infection intensity and SR between host species, separately for adults and juveniles. Differences in the prevalence of cestodes between host species were analyzed with Fisher Exact tests.
(ii) Influence of coexistence with A. salina on parasitism in A. franciscana
We compared the parasite infections in A. franciscana in a syntopic population (presence of A. salina, pond CX) with those in a single species population sampled simultaneously (pond 4). Using Fisher Exact and Mann–Whitney U tests, we compared the cestode infections in A. franciscana between ponds on the same sampling day during three months (January, February and March 2009), separately for adults and juveniles.
Parasite castration effects
Taking advantage of all A. franciscana samples available (including those from other dates and ponds; S. Redón, AJ Green, BB Georgiev, GP Vasileva, F Amat, 2015, unpublished data), we compared the proportion of infected and uninfected females that were castrated. The castration effect of cestodes in A. franciscana was evaluated by Wilcoxon tests for paired samples, comparing the proportions of castrated shrimps within a given sample, thus avoiding any non-independence of observations of different individuals within the same sample. In contrast, Fisher Exact tests were applied for A. salina, because the small number of samples with this species obliged us to pool them and treat each individual shrimp as an independent observation. Since castration was never recorded in uninfected female A. salina, this pooling was unlikely to bias the observed levels of castration.
Effects of parasites on colour
In order to assess the effects of parasites on the colour of Artemia individuals, we compared the proportion of red individuals (summing the "dark-red" and "light-red" categories, Fig. S2) between infected and non-infected specimens with Fisher Exact tests. The same test was employed to analyze colour-effects between host sexes and host species for both adults and juveniles. In addition, to test the influence of infection intensity on colour, Mann–Whitney U tests were applied to compare the cestode intensity between infected individuals that were red and those that were not. All statistical analyses were carried out using SPSS 15.0 for Windows (SPSS Inc., Chicago, IL, USA).
Discussion
We present a unique study comparing the cestode infections and their consequences for two closely related branchiopod crustaceans. The native A. salina generally had more cestodes than the alien A. franciscana. When coexisting with the native, the alien had higher rates of infection than when alone. Although the cestodes were shown to have important effects on the fecundity and colour of both host species, these effects were stronger in the native species.
Conclusions
Cestodes have a greater impact on native A. salina than on invasive A. franciscana in several ways, suggesting that native cestodes are poorly adapted to these novel hosts. They cause infections of higher prevalence and species richness in the native host. For a given infection intensity, they cause a greater impact on host fecundity, and a greater change in colouration, likely to translate into a higher predation rate by birds. Therefore, cestodes can influence competition between Artemia species and are likely to help A. franciscana to outcompete native species in the Mediterranean region and other parts of the world. In turn, the viability of these cestode populations across broad scales, where waterbird populations interact with different hypersaline ecosystems, is threatened by the loss of native Artemia which may act as a "source" for cestodes whereas A. franciscana populations may act as a "sink".