KEYLINK: towards a more integrative soil representation for inclusion in ecosystem scale models—II: model description, implementation and testing
Published

Accepted

Received
Academic Editor
Subject Areas

Keywords

Ecosystem models

,

Soil food web

,

Soil matrix

,

Ecosystem engineering

,

Hydrology

,

Soil organic matter

,

Soil structure

,

Predator exclusion

,

Trophic cascades

,

Growth rates
Copyright

©

2021

Flores et al.

Licence

This is an open access article distributed under the terms of the Creative Commons Attribution License, which permits unrestricted use, distribution, reproduction and adaptation in any medium and for any purpose provided that it is properly attributed. For attribution, the original author(s), title, publication source (PeerJ) and either DOI or URL of the article must be cited.
Cite this article

2021

.

KEYLINK: towards a more integrative soil representation for inclusion in ecosystem scale models—II: model description, implementation and testing

.

PeerJ

9

:

e10707

https://doi.org/10.7717/peerj.10707
Abstract
New knowledge on soil structure highlights its importance for hydrology and soil organic matter (SOM) stabilization, which however remains neglected in many wide used models. We present here a new model, KEYLINK, in which soil structure is integrated with the existing concepts on SOM pools, and elements from food web models, that is, those from direct trophic interactions among soil organisms. KEYLINK is, therefore, an attempt to integrate soil functional diversity and food webs in predictions of soil carbon (C) and soil water balances. We present a selection of equations that can be used for most models as well as basic parameter intervals, for example, key pools, functional groups' biomasses and growth rates. Parameter distributions can be determined with Bayesian calibration, and here an example is presented for food web growth rate parameters for a pine forest in Belgium. We show how these added equations can improve the functioning of the model in describing known phenomena. For this, five test cases are given as simulation examples: changing the input litter quality (recalcitrance and carbon to nitrogen ratio), excluding predators, increasing pH and changing initial soil porosity. These results overall show how KEYLINK is able to simulate the known effects of these parameters and can simulate the linked effects of biopore formation, hydrology and aggregation on soil functioning. Furthermore, the results show an important trophic cascade effect of predation on the complete C cycle with repercussions on the soil structure as ecosystem engineers are predated, and on SOM turnover when predation on fungivore and bacterivore populations are reduced. In summary, KEYLINK shows how soil functional diversity and trophic organization and their role in C and water cycling in soils should be considered in order to improve our predictions on C sequestration and C emissions from soils.
Introduction
Soil models used in ecosystem-scale modelling need to be relatively simple and fast at performing calculations. Nonetheless, carbon (C) and nutrient turnover and hydrology are extremely important for determining ecosystem productivity and C sequestration in the ecosystem. The most widely used soil models (Century, RothC) emphasize the C flow from easily degradable to stable organic compounds using first-order kinetics to describe their decay rates (Campbell & Paustian, 2015). The relevance of chemical recalcitrance, used in those models, is accepted in the early stages of litter decomposition, but that approach has been questioned on the long term soil organic matter (SOM) stabilization (Schmidt et al., 2011), highlighting the relevance of other processes in the physical protection of SOM within soil matrix (Deckmyn et al., 2020). This has led to the development of models including an explicit representation of structural effects on SOM (Kuka, Franko & Rühlmann, 2007). Furthermore, recent studies have shown that microbial products from the transformation of plant litter are the largest contributors to stable SOM (Mambelli et al., 2011; Cotrufo et al., 2013).
The insights concerning the role of the microbial biomass in C turnover has been introduced in models such as MIcrobial-MIneral Carbon Stabilization (MIMICS) model (Wieder et al., 2014, 2015) and Litter Decomposition and Leaching (LIDEL) model (Campbell et al., 2016). However, soil fauna and especially ecosystem engineers, that is, organisms that create, modify or maintain habitats by changing the physical structure of the ecosystem (Jones, Lawton & Shachack, 1994), have also been shown to play a key role in determining C and nutrient turnover and hydrology of soils through their impact on aggregation, pore formation and bioturbation as well as their direct contribution to litter and SOM turnover (Filser et al., 2016; Lavelle et al., 2016). Several authors have highlighted the need to include soil fauna contributions to SOM dynamics into soil modelling (see review by Vereecken et al. (2016)). This information has been used in detailed and small-scale soil models (Chertov et al., 2017a; Geisen et al., 2019), but is not incorporated into larger-scale ecosystem models. The main difficulty is the lack of data concerning the soil, either physical, chemical or biological, and the different methods used, making parameterization of any model unsure. The goal of the KEYLINK model is to consider the soil including the main mechanisms concerning the effects of soil biota on litter and SOM transformations and hydrology through structural modifications, without increasing the number of parameters beyond what is currently available on most well-measured ecosystems (Deckmyn et al., 2020). We show how this model has been parameterized for a forest stand where soil fauna was never studied in detail, but many other soil and stand characteristics are well established.
The core model concept is the strong link between soil biota, soil structure and turnover (Fig. 1). The decay of fresh litter is dependent on the recalcitrance and carbon to nitrogen (N) ratio (C:N) of the litter, although different soil biota groups have specific sensibilities to recalcitrance and C:N ratio. For SOM, the turnover depends on the accessibility, linked to the pore size distribution, the aeration and H2O in the pores and the aggregation (based on the model by Kuka, Franko & Rühlmann (2007)). Both SOM and litter turnover depend on temperature and humidity. Soil fauna, specifically ecosystem engineers, directly affect pore distribution besides an important effect on bioturbation. Pore distribution affects hydrology which again affects all soil processes.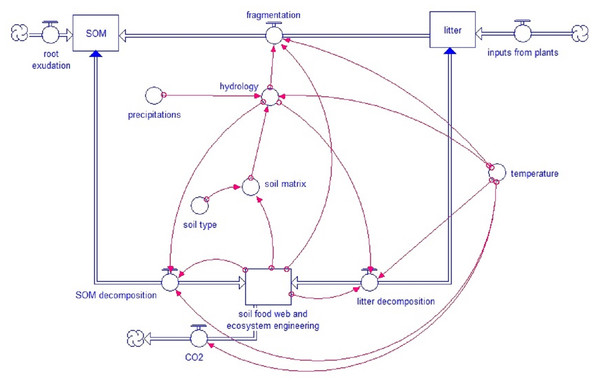 The scientific background for the model is fully described in Deckmyn et al. (2020). Here, the related processes are formulated mathematically. Finally, we show how the model can simulate several known mechanisms of soil faunal effects such as changes in litter recalcitrance affecting fungal/bacterial ratio, changes in pH affecting earthworm populations, effects of ecosystem engineers on bioturbation and hydrology, and importance of microbivores and predators in the soil fauna food web.
Methodology
The KEYLINK model has been conceptually designed integrating the structure of the soil by its porosity, the hydrology and the C cycle through the soil food web. Those key parts of the soil interact (Fig. 1) determining the rates of SOM stabilization and CO2 emissions from soil. The functions developed to represent and simulate those processes are presented here.
Results
Calibration
The model was run ca. 100,000 times with different parameter settings sampled from the prior parameter distribution. A sample of the posterior distribution was taken with the last 100 accepted parameter vectors for gmax (Table 4).
| | Sample gmax |
| --- | --- |
| Bacteria | 1.970 ± 0.424 |
| Fungi | 0.295 ± 0.134 |
| Mycorrhiza | 2.208 ± 0.302 |
| Bacterivores | 0.205 ± 0.098 |
| Fungivores | 0.095 ± 0.050 |
| Detritivores | 0.091 ± 0.050 |
| Engineers | 0.292 ± 0.062 |
| Herbivores | 0.028 ± 0.018 |
| Predators | 0.408 ± 0.060 |
The optimization showed the link between the different groups of soil biota, for example, a high gmax for bacteria was coupled to a high gmax for bacterivores. The alternative five scenarios compared to the basal one can show very different results concerning specific C pools (Table 5). Running the model 100 times using the sample of the gmax values resulted in predictions with a quite wide range (Table 6).
| C pools | Basal | Rec 20% | CNlit 40 | pH 5.9 | Bpred 0 | Clay 15% |
| --- | --- | --- | --- | --- | --- | --- |
| Bacteria (g C/m3) | 5.98 | 6.94 | 6.35 | 5.90 | 2.67 | 4.75 |
| Fungi (g C/m3) | 210.14 | 224.83 | 231.33 | 158.06 | 30.70 | 141.83 |
| Mycorrhiza (g C/m3) | 39.83 | 40.20 | 40.03 | 38.70 | 29.75 | 39.27 |
| Bacterivores (g C/m3) | 0.00 | 0.00 | 0.00 | 0.00 | 0.03 | 0.00 |
| Fungivores (g C/m3) | 030 | 0.31 | 0.39 | 0.18 | 0.90 | 0.40 |
| Detritivores (g C/m3) | 2.49 | 2.12 | 2.01 | 3.83 | 145.39 | 0.87 |
| Engineers (g C/m3) | 0.04 | 0.04 | 0.04 | 0.51 | 1.54 | 0.05 |
| Herbivores (g C/m3) | 0.12 | 0.12 | 0.13 | 0.02 | 5.48 | 0.16 |
| Predators (g C/m3) | 3.33 | 2.86 | 2.87 | 6.41 | 0.00 | 1.36 |
| Litter (g C/m3) | 3,695.08 | 3,262.71 | 3,481.79 | 3,728.85 | 2,727.81 | 4,245.54 |
| SOM (g C/m3) | 10,825.04 | 10,941.01 | 10,742.97 | 9,347.23 | 3,175.08 | 11,655.70 |
C pools
Basal
Rec 20%
CNlit 40
pH 5.9
Bpred 0
Clay 15%
(g C/m3)
Min
Max
Min
Max
Min
Max
Min
Max
Min
Max
Min
Max
Bb
9.61E−42
670.64
3.41E−43
676.40
8.48E−38
683.87
0.00
669.74
0.00
547.97
8.06E−43
788.31
Bf
2.63E−25
4,660.93
3.87E−25
4,587.16
3.74E−25
4,677.78
0.00
4,656.39
0.00
4,038.09
2.56E−25
4,763.21
Bmyc
4.18
649.45
5.11
684.88
5.79
652.73
0.00
648.45
0.00
592.13
5.87
515.60
Bbvores
6.89E−110
0.10
4.91E−105
0.10
1.17E−108
0.10
0.00
0.10
0.00
44.07
1.13E−96
0.10
Bfvores
4.47E−84
194.08
5.82E−84
169.06
5.28E−83
204.50
0.00
141.68
0.00
351.94
1.27E−74
244.39
Bdet
1.13E−67
1,720.93
3.76E−67
1,524.58
3.02E−68
1,567.73
0.00
6,898.50
0.00
5,997.90
7.56E−79
431.85
Beng
7.13E−178
61.50
6.54E−176
33.87
5.45E−172
74.46
0.00
396.62
0,00
88.62
7.18E−140
43.86
Bhvores
1.11E−68
49.65
5.23E−65
49.75
1.78E−65
49.64
3.78E−89
34.32
7.95E−22
85.00
1.12E−56
51.33
Bpred
4.72E−21
1,616.28
4.73E−21
1,409.80
4.72E−21
1,466.09
0.00
5,512.93
0.00
0.28
4.60E−21
452.07
Litter
6.0E+01
9,056.63
42.89
8,850.72
53.95
8,996.91
60.08
8,749.61
63.63
7,409.28
75.00
9,257.38
SOM
2.35E+3
15,687.97
2,356.64
16,027.49
2,350.89
15,751.56
921.46
15,687.44
1,340.66
11,589.4
3,919.25
15,842.39
Basic results
Mycorrhiza, herbivores and detritivores are relatively uncoupled, though influenced by predators, and follow the yearly climate curves. The bacterial and fungal biomasses are very strongly linked. The high gmax of bacteria allows steep peaks, which are generally followed by peaks in bacterivore biomass. As we used constant litter input into the soil and used a calculated constant fraction of potential evapotranspiration as water uptake from the soil, it cannot be expected that these results follow the normal annual trends in fluctuations of those fluxes. This can, at least partially, explain the relatively low bacterial biomass found in our results, since the bacteria would profit most from a rapidly changing environment, but under some unrealistic simulated conditions fungi could be displacing bacteria by competitive exclusion. For more realistic simulations the model can be coupled with other models that give that information as outputs, or with measured datasets.
All C pools tend to reach some stability after the first years, suggesting the model is well-balanced; however, stability values seem to be more sensitive to changes in gmax parameters for some pools (e.g., SOM). The set-up of the model, where we only calibrate the faunal gmax, does not allow calibration towards different ratio of litter and SOM decay. This depends on the uncalibrated parameter fragmentation, the sensitivity to recalcitrance, but also the temperature used for the litter and SOM. Here we used the same temperature, while in reality it would be expected that there would be certain differences in mean temperatures or their variability at different depths.
There was a high variability within the 100 simulations of each scenario, for example, basal scenario (Fig. 3), calling into question the reliability of predictions. We suggest here some theoretical predictions based on this example, but it is clear that for a realistic application it will be necessary to improve the calibration, by using more detailed data or by linking the model to a vegetation model. This highlights the relevance of developing databases including enough details for the key parameters of the different parts of the soil system (i.e., soil structure, hydrology, food webs).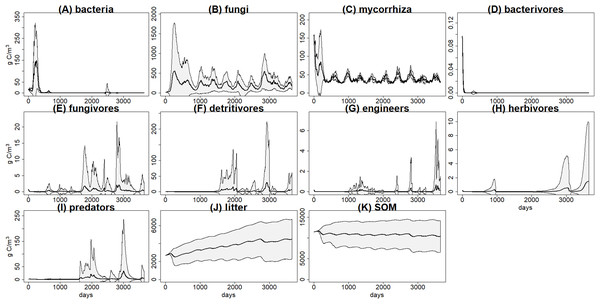 An overview of all C pools under the different simulation scenarios (Fig. 4) shows how changing one input parameter at a time influences the results. It must be taken into account that KEYLINK was run as a stand-alone model, which can explain why some of the resulting outputs seem not very realistic; linking it to a model or more detailed data of the aboveground ecosystem would greatly influence the results, but would not allow clear interpretation of the model functioning due to feedbacks. Since our goal here was to introduce the belowground model itself rather than a realistic application to a particular case, we chose to avoid those feedbacks with other parts of the ecosystem that are required for more realistic simulations. To further elucidate these effects and to show some of the potential outputs the model can give, we show a few of the most interesting fluxes (Table 7).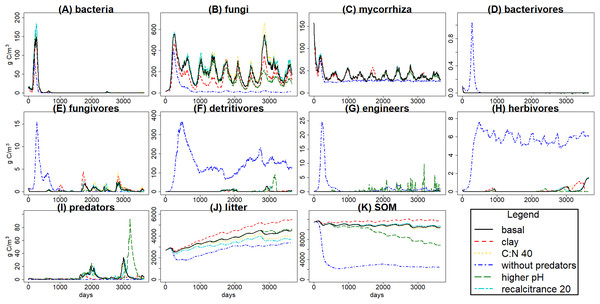 | | Units | Basal | Rec 20% | C:Nlit 40 | pH 5.9 | Bpred 0 | Clay 15% |
| --- | --- | --- | --- | --- | --- | --- | --- |
| Rbact | g C m−3 | 250.2 ± 222.8 | 293.6 ± 227.2 | 262.3 ± 225.7 | 248.9 ± 222.4 | 119.3 ± 149.9 | 204.5 ± 225.9 |
| Rfun | g C m−3 | 3,924.8 ± 5,043.6 | 4,190.0 ± 5,035.6 | 4,215.4 ± 5,166.1 | 3,400.6 ± 4,776.3 | 963.6 ± 2,669.4 | 2,638.5 ± 4,270.7 |
| Rmyc | g C m−3 | 773.9 ± 443.7 | 785.3 ± 447.3 | 779.1 ± 445.9 | 760.4 ± 431.3 | 560.3 ± 335.5 | 760.5 ± 447.5 |
| Bact SOM turnover | g C m−3 | 995.6 ± 758.2 | 1,100.2 ± 716.3 | 1,036.5 ± 757.7 | 985.4 ± 752.6 | 438.6 ± 524.2 | 780.2 ± 741.7 |
| Bact litter turnover | g C m−3 | 258.6 ± 264.1 | 367.7 ± 328.6 | 280.2 ± 276.2 | 257.6 ± 263.9 | 119.6 ± 170.6 | 223.5 ± 279.7 |
| Eng litter turnover | g C m−3 | 1.5 ± 5.3 | 1.3 ± 4.5 | 1.3 ± 4.4 | 43.8 ± 104.4 | 97.3 ± 72.1 | 2.0 ± 5.8 |
| Bfungi/Bbact | – | 35.2 | 32.4 | 36.4 | 26.8 | 11.5 | 29.9 |
| SWC | l m−3 | 147.9 ± 32.7 | 149.2 ± 32.4 | 150.3 ± 33.7 | 144.2 ± 31.1 | 134.2 ± 21.8 | 321.6 ± 27.2 |
The simulated scenarios showed that increasing clay content (i.e., changing initial soil structure) resulted in an increase in water content (Fig. 5) and a decrease in litter and SOM decay while fungal/bacterial ratio decreased. In fact, this scenario caused the largest change in soil water content, showing the sensitivity of the system to initial soil structure and its crucial role for soil hydrology. On the other hand, lowering litter recalcitrance or C:N ratio resulted in an increase in microbial biomass, mainly fungi, which caused an increase in litter decay, while SOM decay did not show a clear change. The scenario with higher pH allowed engineer species (and predators with them) to increase in biomass, altering the soil structure with an increase in macroporosity, which caused a clear decrease in SOM stabilization. Finally, the exclusion of predators totally changed the soil porosity and the trophic interactions along the food web, causing the largest increase in the decay of SOM and litter, which highlights the crucial role of predators in the regulation of the soil C cycle.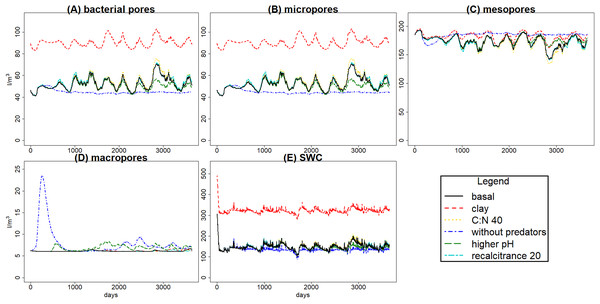 Discussion
The Brasschaat forest is sandy, with low pH and recalcitrant litter; as expected, this is an environment not suited to earthworms. The model correctly simulated extremely low values of engineer biomass. Increasing the pH increased the engineers pool, for example, earthworms population, but this remained too low to have a significant impact on the system. This is quite realistic as neither litter quality nor soil quality are ideal for earthworms. Obviously, to calibrate the specific parameters concerning earthworms the Brasschaat forest is not an ideal site.
The high variability observed in some populations could make them appear more unstable than what can be expected in reality, and it is indeed expectable that a more realistic application of the model will yield different results. However, there are also empirical evidences that some populations, for example, microbial biomasses, can be very unstable depending on hydrology (Blackwell et al., 2010; Zhao et al., 2010), showing short-term spikes in biomass as those observed in the presented simulations, in response to predicted changes in water availability.
Changes in litter quality (i.e., in C:N ratio and recalcitrance) caused small differences between scenarios, being the simulations from those two alternative scenarios quite similar to the basal scenario. Despite the apparent increase in litter decay for lower litter recalcitrance and for lower C:N ratio, as mentioned before, the high variability among simulations (Fig. 3) suggests that differences between scenarios caused by changes in litter quality are negligible. It is well known that litter quality is one of the main factors controlling litter decomposition rates (Zhang et al., 2008; García-Palacios et al., 2013), and the observed trend fits with experimental evidence, but clearer effects of changes in litter quality are expected. Therefore, these simulations should be tested again, particularly with the model linked to a vegetation model, and, if necessary, improvements should be added.
Changes in textural porosity, on the other hand, showed clearer effects on soil processes. The scenario changing clay content to increase textural porosity caused the highest impact on hydrology, increasing soil water content (Fig. 5E), which led to a decrease in SOM availability, decreasing microbial community biomasses and, therefore, decreasing the decomposition of SOM and litter. However, changes in C pools were not as clear as in hydrology, mainly due to the high uncertainty in calibration results.
The scenario without predators showed the most interesting results because the interactions between the different food web parts are apparent, and it showed a high contrast with the basal scenario. Exclusion of predators, setting the starting biomass of that pool at 0, showed how the model tracks its crucial role in the ecosystem (Fig. 4). Predators produce a top-down trophic cascade on the food web, for example, on herbivores and roots. Microbial decay is reduced as fungi and bacteria are consumed by the increased populations of bacterivores and fungivores. Despite of the decrease in bacteria and fungi, SOM and litter were also lower without predators. This could be explained by an increase in engineer populations with implications also on the soil matrix. Overall the model successfully tracked soil food web dynamics and also their interactions with soil porosity. The effect of larger soil predators (e.g., Araneae, Carabidae, Formicidae) slowing down SOM decomposition and enhancing its stabilization has been previously found in experiments (Kajak, 1995), as well as mycorrhiza effect on porosity by making aggregates (Siddiky et al., 2012). Those trophic cascade effects over SOM stabilization depends on environmental conditions such as rainfall, with predation on microbivores reducing litter decomposition rates in more humid sites, while reductions in rainfall could lead to a shift in that trend with predation on microbivores indirectly increasing litter decomposition rates (Lensing & Wise, 2006). The predicted effects of predator exclusion increasing SOM and litter decay have been found in different ecosystems, for example, grasslands (Kajak, 1997) and forests (Lawrence & Wise, 2000), but contrasting results (e.g., Kajak, 1995; Lawrence & Wise, 2004) suggest that it is not a general pattern. Considering the high rainfall conditions at the modelled Belgian forest, and according to the suggested trends based on experimental research, soil predators feeding on microbivores at Brasschaat forest could promote SOM stabilization, which would fit with the simulated scenarios. Therefore, KEYLINK model seems to fit with the expected food web and C dynamics, and could serve to improve the biogeochemical cycles modelling, as is needed for larger scale predictions (Grandy et al., 2016), by coupling it with other ecosystem models.
Hydrology is influenced by aggregation and by macropore formation by ecosystem engineers. The increased macroporosity increases infiltration rate with reduced water-logging and runoff. Predators have a clear indirect effect on soil porosity by consuming engineer species, and also microbivore species, which leads to changes in soil hydrology (Fig. 5). Variations in bacterial pore and micropore volume are positively correlated, while mesopore variations are negatively correlated with both; the higher volume in mesopores, the lower in the two other classes, and the faster the water drains from the soil layer. That is what we can expect to happen in real soils, so the model seems to simulate appropriately those dynamics. The increase in macro and mesoporosity volumes without predators, so with higher engineers, resulted in a decrease of soil water content of 9.26% (increasing the pore aeration), and under those conditions the availability of SOM and litter for bacteria and fungi could be increased, explaining why SOM and litter are lower even with lower bacteria and fungi. This highlights the role of hydrology on trophic cascade processes, which can be enhanced or reduced by water distribution through the soil matrix (Erktan, Or & Scheu, 2020), and also the relevance of considering how climate change effects on soil structure, hydrology and food web interactions (particularly trophic cascades) can affect microbial communities (Thakur & Geisen, 2019) and, therefore, litter and SOM decomposition.
The aim of this study was to present a first version of a new concept model that hopefully will serve to challenge current state-of-the-art soil modelling. But we are aware that to do that we will need to improve the calibration of the model in the future, using more complete databases that take into account all the elements needed to calibrate KEYLINK, which, on the other hand, are currently extremely scarce. By presenting this concept model that challenges the current way of simulating soil biochemical cycling, we hope to stimulate that future studies will also be designed to take into account the pools and functional groups needed to calibrate KEYLINK.
Conclusions
KEYLINK is a relatively simple, fast and easy to modify soil model that can be used as a stand-alone model to understand soil systems, or linked to detailed aboveground data/models to predict SOM turnover. Model evaluation showed that KEYLINK is capable of simulating properly not only the soil food web and C pools dynamics, but also how they interact with soil porosity and hydrology, which is one of the main goals of this new model. The results from the evaluation scenarios showed that SOM turnover is driven not only by microbial biomass, but also by soil structure and hydrology. Moreover, microbial biomass is strongly regulated by the presence/absence of the other soil fauna. Especially the effects of the predators and the ecosystem engineers are extremely significant for our understanding of soil functioning. Furthermore, since management can differentially affect the larger soil fauna, KEYLINK can be of great use to investigate potential effects of management changes on soil SOM, nutrient turnover and hydrology.
This model shows degradability of SOM can be adequately simulated from accessibility in relation to pore space instead of the existing concepts of slow and fast pools. This allows a closer link to the soil structure and soil fauna which we consider closer to the actual, and follows the concepts as first described by Kuka, Franko & Rühlmann (2007), but applied here in a wider framework and including the hydrology.
For a full validation or better calibration of the model, datasets are required including basic data on the aboveground, for example, litter input, water uptake, root growth and turnover, in combination with relatively detailed data on soil structure, that is, pore size distribution, and hydrology and soil biota, for example, biomass of bacteria, fungi, mycorrhizal fungi and main meso-and macrofauna. All these data are available, but very seldom at one site as most studies are focused on one or other aspect of soil science.
In conclusion, KEYLINK is a step towards a new generation of ecosystems models that include functional diversity, trophic structures and ecological processes as important factors shaping soil/ecosystem carbon and water cycling. Future versions, fed by more detailed data, will need to be developed in order to improve our current predictive capacity.
Supplemental Information
Review of input parameters and carbon pools.
Input parameters for Brasschaat run.
Precipitation and temperature in Brasschaat forest during 10 years.