Digital Cell Sorter (DCS): a cell type identification, anomaly detection, and Hopfield landscapes toolkit for single-cell transcriptomics
1
Department of Physics and Astronomy, Michigan State University

,

East Lansing, MI

,

USA
2
Sanford Burnham Prebys Medical Discovery Institute

,

La Jolla, CA

,

USA
Published

Accepted

Received
Academic Editor
Subject Areas

Keywords

Transcriptome analysis software

,

Single cell RNA sequencing

,

Hopfield classifier

,

Hopfield landscapes visualization

,

Automatic cell type identification

,

Consensus annotation

,

Anomaly detection
Copyright

©

2021

Domanskyi et al.

Licence

This is an open access article distributed under the terms of the Creative Commons Attribution License, which permits unrestricted use, distribution, reproduction and adaptation in any medium and for any purpose provided that it is properly attributed. For attribution, the original author(s), title, publication source (PeerJ) and either DOI or URL of the article must be cited.
Cite this article

2021

.

Digital Cell Sorter (DCS): a cell type identification, anomaly detection, and Hopfield landscapes toolkit for single-cell transcriptomics

.

PeerJ

9

:

e10670

https://doi.org/10.7717/peerj.10670
Abstract
Motivation
Analysis of singe cell RNA sequencing (scRNA-seq) typically consists of different steps including quality control, batch correction, clustering, cell identification and characterization, and visualization. The amount of scRNA-seq data is growing extremely fast, and novel algorithmic approaches improving these steps are key to extract more biological information. Here, we introduce: (i) two methods for automatic cell type identification (i.e., without expert curator) based on a voting algorithm and a Hopfield classifier, (ii) a method for cell anomaly quantification based on isolation forest, and (iii) a tool for the visualization of cell phenotypic landscapes based on Hopfield energy-like functions. These new approaches are integrated in a software platform that includes many other state-of-the-art methodologies and provides a self-contained toolkit for scRNA-seq analysis.
Results
We present a suite of software elements for the analysis of scRNA-seq data. This Python-based open source software, Digital Cell Sorter (DCS), consists in an extensive toolkit of methods for scRNA-seq analysis. We illustrate the capability of the software using data from large datasets of peripheral blood mononuclear cells (PBMC), as well as plasma cells of bone marrow samples from healthy donors and multiple myeloma patients. We test the novel algorithms by evaluating their ability to deconvolve cell mixtures and detect small numbers of anomalous cells in PBMC data.
Availability
The DCS toolkit is available for download and installation through the Python Package Index (PyPI). The software can be deployed using the Python import function following installation. Source code is also available for download on Zenodo: DOI 10.5281/zenodo.2533377.
Introduction
Several platforms have emerged over the last decade for high-throughput RNA sequencing at the single-cell resolution (Zheng et al., 2020). Obtaining biological insights from single-cell data, however, requires complex computational analysis. Generally, the first part of the analysis includes quality control (QC) of raw base call (BCL) files and alignment of reads with the reference genome, followed by their quantification at the gene-level. The second part of the analysis starts with additional QC procedures to filter out cells with low library size and low number of unique genes sequenced, detect multiples (i.e., two or more cells are captured instead of one), and remove cells with high content of mitochondrial genes, which indicates broken cells (Ilicic et al., 2016). Data is then normalized to ensure that the gene expression levels are comparable between individual cells. Existing normalization methods (Ding, Zheng & Wang, 2017) have different strengths and weaknesses. It is therefore important that scRNA-seq software provides the flexibility to choose the best normalization strategy for a given dataset. After normalization, the most variable genes' largest principal components from Principal Component Analysis (PCA) are often used for clustering and two-dimensional visualization. After clustering, biological insight is obtained using different methods, including differential expression, network analysis, enrichment analysis and cell type annotation.
For users, it is most desirable to have an extensive toolkit in one software package. Existing packages for scRNA-seq data include Cell ranger (Zheng et al., 2017), edgeR (Robinson, McCarthy & Smyth, 2010), DESeg2 (Love, Huber & Anders, 2014), Seurat (Stuart et al., 2019), Scanpy (Wolf, Angerer & Theis, 2018), but many others are available. The advantages of an extensive set of methods under one open-source software umbrella are smooth integration of the processing steps and control of the workflow. For example, Seurat is a powerful package implemented in R with large data integration capability and visualization, Scanpy is a Python-based software specifically designed for efficient processing of large single-cell transcriptomics datasets. In addition, commercial providers of single-cell platforms have developed software tools for low-level processing and visualization (Eisenstein, 2020), focusing on the first part of the analysis, that is, to generating the gene counts matrix.
Here, we join the ongoing effort to provide the community with user-friendly tools for the second part of single-cell transcriptomics analysis, starting with pre-processing and quality control and ending with cell type annotation, visualization, and analysis of the annotated clusters. In addition to state-of-the-art methods, our Digital Cell Sorter (DCS) platform introduces three new algorithms: (1) An enhanced version of our recently-developed algorithm for the automatic annotation of cell types, polled DCS (pDCS) (Domanskyi et al., 2019b), which uses a predefined set of markers to calculate a voting score and annotate cell clusters with cell type information and its statistical significance. The enhanced version of pDCS uses a marker-cell type matrix normalization method to account for markers that are known to be unexpressed in certain cell types. Also, in the new version, low quality scores are set to zero to reduce noise in cell type assignment. (2) A tool that provides a cell anomaly score using isolation forest, an algorithm (Liu, Ting & Zhou, 2008) for anomaly detection. While clustering is based on similarity, our cell anomaly score detects and quantifies the degree of heterogeneity within each cluster and is important, for instance, in the analysis of scRNA-seq from cancer samples. We also use this score to detect cells that are different than the majority of the other cells in a dataset, like in the case of anomalous circulating cells in blood. (3) A second algorithm for cell type identification based on Hopfield networks (Hopfield, 1982). Hopfield networks allows for a direct mapping of associative memory patterns, in this case patterns of gene expression, into dynamic attractor states of a recurrent neural network. This method has been successfully used in the classification of cancer subtypes (Szedlak, Paternostro & Piermarocchi, 2014; Maetschke & Ragan, 2014; Cantini & Caselle, 2019; Udyavar et al., 2017; Conforte et al., 2020). In our algorithm, we use cell type markers to define Hopfield attractors, and we let clusters of cells evolve to align with these attractors. The Hopfield network is integrated with an underlying biological gene–gene network, the Parsimonious Gene Correlation Network (PCN) (Care, Westhead & Tooze, 2019), to retain only biologically significant edges. This allows us to obtain interpretable information on the role of specific markers and their local connectivity in defining the different cell types. The method also defines an energy-like function that permits the visualization of the gene expression landscape and represents cell types as valleys associated to the different cell type attractors.
The different tools in the DCS platform can be combined for improved performance. For instance, we show how to combine the methods in (1) (pDCS) and (2) (Hopfield classifier) into a consensus annotation methodology that is more accurate compared to the methods used separately. Finally, we provide examples of the capabilities of DCS and its performance using data from large single cell transcriptomics datasets of peripheral blood mononuclear cells (PBMC), and bone marrow samples from healthy and multiple myeloma patients. Note that our cell annotation methods are knowledge-based classifiers, since they rely on pre-existing knowledge from cell type markers and do not require training data.
Results
Cell identification in mixtures
We compared the performance of our previous pDCS method (Domanskyi et al., 2019b), with the new Hopfield classifier and the consensus annotation classifier described in Voting algorithm. To evaluate the algorithms' performance, we randomly generated 100 mixtures of pure cell types, representing a gold standard, and evaluated the algorithms based on their automatic annotation. As gold standard, we used data from CD14 monocytes, CD19 B cells, CD34 cells, CD4 memory T cells, CD4 naive T cells, CD4 regulatory T cells, CD4 helper T cells, CD8 cytotoxic T cells, CD8 naive cytotoxic T cells and CD56 NK cells from a FACS-sorted PBMC dataset (Zheng et al., 2017), in addition to endothelial (SRS2397417, SRS4181127, SRS4181128, SRS4181129, SRS4181130) and epithelial cells (SRS2769050, SRS2769051) annotated in the PanglaoDB database (Franzén, Gan & Björkegren, 2019). The total number of cells used was 98,752, 53% of which are T cells. Each independent synthetic mixture contains on average 5,000 cells, chosen randomly from the 16 cell types listed above in random fractions. As the algorithms uses prior knowledge in the form of marker genes, we tested the algorithms using two marker genes tables: (i) CD Marker Handbook containing 11 main cell types and covering all 16 cell-types and sub-types present in the gold standard set (BD Biosciences, 2020), and (ii) CIBERSORT LM22 (Newman et al., 2015), modified to merge subsets of B cells, T cells, NK cells, Macrophages, Dendritic cells and Granulocytes. Marker table (ii) does not have marker information for CD34 cells, Endothelial cells or Epithelial cells, which are 25.6% of all the cells. To quantify each method's performance we calculated a multi-class weighted F1 score, excluding unassigned cells, and took the median value over 100 independent random mixtures. We also calculated the median of the fraction of cells that had cell type unassigned for the same random mixtures. The results are shown in Table 1. Note how, for both marker tables, the new Hopfield classifier performed better than the original pDCS method and that the consensus annotation outperformed all other methods.
Method
pDCS
Hopfield
Consensus
Metric
F1
U (%)
F1
U (%)
F1
U (%)
CD Marker
0.836
6.0
0.867
16.7
0.947
21.6
CIBERSORT
0.740
6.6
0.942
22.3
0.944
22.6
A particular case of cell identification in a mixture is shown in Fig. 3. This figure shows how the platform can be used to analyze complex mixtures involving different tissues. Here we combined scRNA-seq data from: (1) CD138+/CD38+ cells from bone marrow samples obtained from hip replacement surgery (Ledergor et al., 2018) and (2) PBMC (Zheng et al., 2017). The samples from (1) are dominated by plasma cells due to the CD138+/CD38+ pre-selection by flow cytometry, while plasma cells should be relatively rare in the PBMC sample. We therefore expect our algorithm to label most of the cells from (1) as plasma cells, and identify other cell types in the cells coming from (2). Figure 3A shows the t-SNE layout of the mixture of 8,448 CD138/+CD38+ cells and 1,000 PBMCs randomly selected cells from the PBMC dataset, after QC and batch effect correction. Clusters annotated with cell type information are shown in Fig. 3B and the relative size of the clusters are shown in Fig. 3C, including cells that did not pass QC. Annotation was obtained using the CIBERSORT LM22 list as knowledge-base. Note how in this particular case the algorithm correctly identified 96% of the cells from (1) that passed QC as "Plasma cells", while most of the remaining was assigned to "Monocytes". Cells from (2) were mostly identified as T cells, which is the dominant cell type expected in dataset (2). The Sankey plot in panel (D) shows on the left side the clusters with their label and on the right side the batches from datasets (1) (labeled by "hip") and (2). The thickness of the lines is proportional to the number of cells in the corresponding cluster-batch pair. Note how most of the cells from dataset (1) are linked to clusters labeled either as plasma cells or failed QC.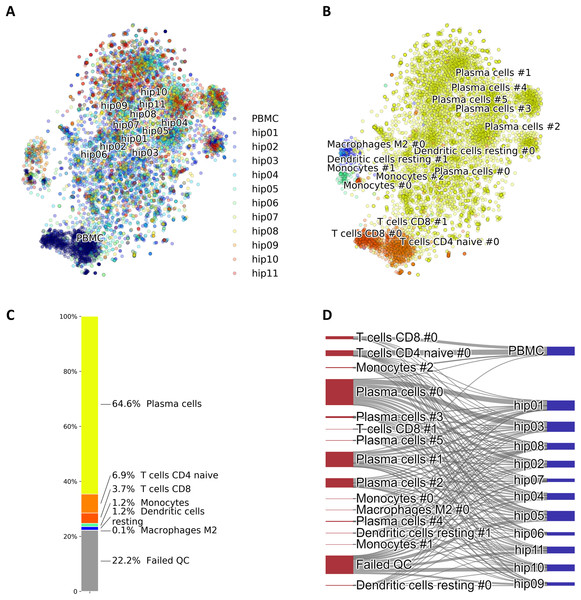 Performance with different marker lists
Since our voting and Hopfield-based algorithms depend on a list of marker genes, we have studied the dependance of cell type assignment on different lists of markers by comparing the labels assigned to a gold standard. In addition to the CIBERSORT and the CD Marker Handbook introduced above, we created a new list of markers obtained by differential expression analysis of data from a large recently-published single-cell study (Han et al., 2020), and we also used a manually-curated list of cell-type markers from PanglaoDB (Franzén, Gan & Björkegren, 2019). These cell marker lists differ in the number of markers per cell type, presence/absence of negative markers, and overlap of markers across cell types. More importantly, these lists are based on different labels, often corresponding to different degrees of type/subtype refinement. As a gold standard we used a set of 68,579 PBMC cells from Zheng et al. (2017). Figure 4 shows Sankey plots connecting cells annotated using the consensus annotation and one of the markers list (on the left side of each plot) with the annotation in the gold standard (right side of each plot). This visualization allows for a direct comparison of cells labeled using different degrees of type/sub-type refinement. The plot also explicitly indicates cells that were labeled as "Unassigned" and cells that did not pass QC. Overall, a comparison among these four plots indicates that the annotation is quite consistent.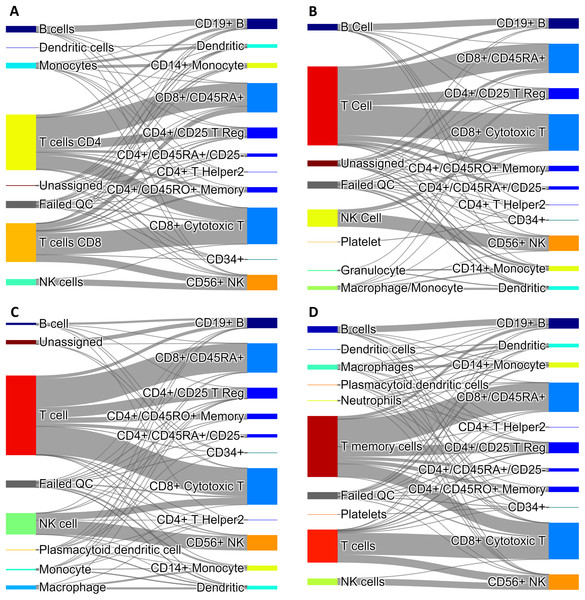 Validation of anomaly detection
We have designed an in silico experiment to validate and demonstrate the utility of the cell anomaly score introduced in Cell anomaly quantification. The experiment mimics a scenario in which a small number of circulating endothelial cells are present in peripheral blood, and evaluates the algorithm on its ability to detect these cells using their anomaly score. We selected 1,637 cells (T cells and Monocytes of PBMC) from SRS3363004 (GSM3169075) and 70 endothelial cells from SRS3822686 (GSM3402081) to mimic the presence of cells that are rare in blood. Both datasets were annotated in PanglaoDB and have been sequenced using Illumina HiSeq 2500 and 10× Chromium. The two datasets have similar sequencing depth, median number of expressed genes per cell and fraction of good quality cells, as detailed in Table S1.
We combined 1,637 PBMC and 20 endothelial cells randomly chosen out of the total 70. We then calculated the anomaly score of each cell after DCS normalization. The normalization and anomaly score calculation was repeated 100 times, each time with new randomly chosen 20 cells out of the 70 available cells. Receiver operating characteristic (ROC) curves were calculated for each of the 100 realizations with the cell anomaly rank as threshold. The average ROC curve is shown in Fig. 5A. The AUC is 0.929, indicating that the anomaly score can efficiently identify cells of a phenotype different than the majority of the other cells in the dataset. Next, instead of normal endothelial cells we used Merkel cell carcinoma cells (from SRA749327, SRS3693909) resulting in AUC of 100-fold average ROC 0.951, Fig. 5B, and Kaposi's sarcoma cells (from SRA843432, SRS4322341) resulting in AUC of 100-fold average ROC 0.844, Fig. 5C. As a negative control, we replaced the 70 endothelial cells with 928 T cells from a bone marrow sample (from SRS3805245, GSM3396161) sequenced using Illumina HiSeq 3000 and 10× chromium, but otherwise very similar to the endothelial cells in sequencing depth and median number of expressed genes per cell. As before, we chose 20 out of the 928 T cells and combined them with 1637 blood cells. The ROC curve averaged over 100 random realizations average is shown in Fig. 5, curve (D). The AUC is 0.594, indicating that cells of similar phenotype get similar score despite being sequenced in different experiments. We have also used 5 and 10 cells instead of 20 in a set of additional in silico experiments to verify that the resulting AUC values are similar to the experiments with 20 cells detailed above.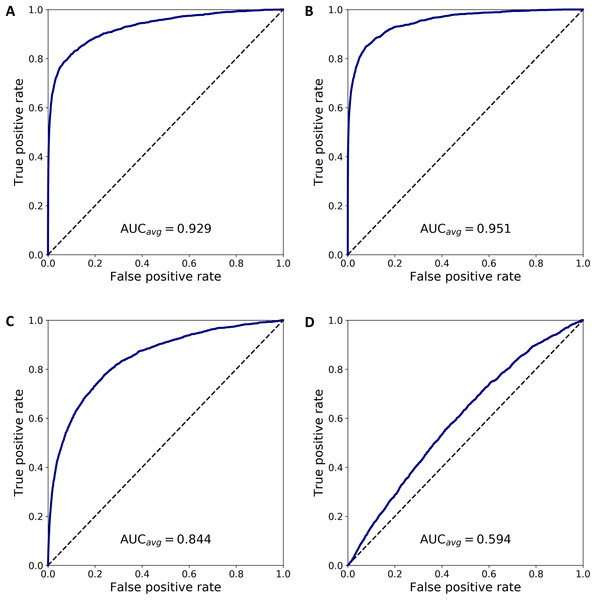 To emphasize the difference between anomaly detection and clustering, we have quantified how close anomalous cells are to clusters of other cells. First we analyzed the normal PBMC cells to identify two clusters, L and M, with 1,231 lymphoid cells and 407 myeloid cells, respectively. Then, we combined the PBMC cells with 20 randomly chosen endothelial cells, hereon denoted as cluster O, and we normalized and projected the expression data on the principal components. Next, we calculated the inter- and intra-cluster euclidean distance for the clusters L, M and O, and derived the Silhouette scores for each of the clusters (defined as the difference between the nearest inter-cluster distance and intra-cluster distance, divided by the larger of the two) and the average Silhouette score across all cell in clusters L, M and O. Repeating this procedure 100 times, each time selecting a new set of cells O, we calculated the average measures, summarized in Table S2. The table has four sections where the small cluster O corresponds to the four cases in Fig. 5. The analysis shows that the O clusters always have to lowest silhouette score, indicating that clustering algorithms based on an euclidean distance will not separate the cells in O from the L and M cells.
Discussion
We have introduced DCS, a platform for the analysis of single cells transcriptomics that includes new methodologies for cell type identification, anomaly quantification, and visualization. The platform incorporates numerous state-of-the-art algorithms and provides a user-friendly pipeline, starting with pre-processing and quality control, and ending with cell type annotation and downstream analysis of the annotated data. DCS is an open source software that leverages on scikit-learn, scipy, numpy, pandas and other powerful python libraries and is optimized for an efficient processing of large data sets. We have provided examples showing implementations and functionalities, and more technical details are included in the software documentation. Overall, we expect that this platform will be highly valuable for the bioinformatics research community.
More specifically, the novel methodologies introduced in the platform are: (1) an enhanced version of our method for the automatic annotation of hematological cell types (pDCS). This new version uses a normalization method that accounts for markers that are known to be always unexpressed in certain cell types. (2) A tool to quantify the anomaly of cells based on isolation forest, a machine learning algorithm for anomaly detection. This algorithm detects cells that are different than the majority of other cells in a dataset, but that do not cluster together. (3) A new method for cell type identification based on a Hopfield network classifier. This method represents different cell types as attractors of the signaling dynamics in a gene network. A measured cell's expression evolves according to this model, and its label is assigned by the attractor is converging into. We have shown how to combine different algorithms in our toolkit to obtain a consensus score for the cell annotation. DCS includes extensive visualization tools, including a tool for visualizing Hopfield's landscapes, in which cell types are represented as minima of an energy-like function representing the cellular phenotypic landscape.
The automatic identification of cell types is an important component in the analysis of single cell data (Abdelaal et al., 2019). The performance of cell type annotation on FACS-sorted single cell was significantly improved when the enhanced pDCS algorithm was combined with the Hopfield classifier. This improvement is due to the fact that the Hopfield classifier labels as "unknown" all the gene expression patterns that do not converge to any of the attractors, reducing the chance of mislabeling. We have also found that a pre-existing biological network can be used to improve cell type identification. The network was integrated in our approach by retaining only edges in the Hopfield network that are present in a non-specific biological network (Care, Westhead & Tooze, 2019). We have demonstrated that different marker lists result in a consistent cell type annotation. Negative markers in addition to positive markers leads to better performance in the cell classification.
The anomaly detection module of DCS ranks cells from more anomalous to less anomalous and visualizes the results. To validate and demonstrate the utility of the cell anomaly score, we have presented in silico experiments that mimic a scenario in which a small number of anomalous cells are present in peripheral blood. We evaluated the algorithm on its ability to detect these cells from single cell transcriptomics data using their anomaly score. As anomalous cells we used normal endothelial cells, carcinoma cells, and sarcoma cells, mixed into PBMCs. We combined all PBMC and a small number of anomalous cells, normalized the mixed dataset and calculated the cell anomaly score. The AUC of the average ROC (cell anomaly rank used as threshold) curve for all three synthetic mixtures was high, indicating that the anomaly score could be useful to detect these unexpected cells in single cell transcriptomics datasets.
Future extensions of the platform will include the integration of markers lists for more cell types, and pre-existing networks that are tissue or disease specific. For instance, in the case of single cell data from cancer samples, the number of mutations can be so large that signaling networks can undergo significant rewiring, modifying the attractor landscape.
Supplemental Information
Digital Cell Sorter Supplementary Materials.
Digital Cell Sorter Documentation.