Repurposing FDA-approved phytomedicines, natural products, antivirals and cell protectives against SARS-CoV-2 (COVID-19) RNA-dependent RNA polymerase
Published

Accepted

Received
Academic Editor
Subject Areas

Keywords

SARS-CoV-2

,

COVID-19

,

Polymerase

,

Virtual screening
Copyright

©

2020

Kandeel et al.

Licence

This is an open access article distributed under the terms of the Creative Commons Attribution License, which permits unrestricted use, distribution, reproduction and adaptation in any medium and for any purpose provided that it is properly attributed. For attribution, the original author(s), title, publication source (PeerJ) and either DOI or URL of the article must be cited.
Cite this article

2020

.

Repurposing FDA-approved phytomedicines, natural products, antivirals and cell protectives against SARS-CoV-2 (COVID-19) RNA-dependent RNA polymerase

.

PeerJ

8

:

e10480

https://doi.org/10.7717/peerj.10480
Abstract
Following the recent emergence of SARS-CoV-2 or coronavirus disease 2019 (COVID-19), drug discovery and vaccine design to combat this fatal infection are critical. In this study, an essential enzyme in the SARS-CoV-2 replication machinery, RNA-dependent RNA polymerase (RDRP), is targeted in a virtual screening assay using a set of 1,664 FDA-approved drugs, including sets of botanical and synthetic derivatives. A set of 22 drugs showed a high docking score of >−7. Notably, approximately one-third of the top hits were either from natural products or biological molecules. The FDA-approved phytochemicals were sennosides, digoxin, asiaticoside, glycyrrhizin, neohesperidin, taxifolin, quercetin and aloin. These approved natural products and phytochemicals are used as general tonics, antioxidants, cell protectives, and immune stimulants (nadid, thymopentin, asiaticoside, glycyrrhizin) and in other miscellaneous systemic or topical applications. A comprehensive analysis was conducted on standard precision and extra precision docking, two-step molecular dynamics simulations, binding energy calculations and a post dynamics analysis. The results reveal that two drugs, docetaxel and neohesperidin, showed strong binding profiles with SARS CoV-2 RdRP. These results can be used as a primer for further drug discovery studies in the treatment of COVID-19. This initiative repurposes safe FDA-approved drugs against COVID-19 RdRP, providing a rapid channel for the discovery and application of new anti-CoV therapeutics.
Introduction
Coronavirus disease 2019 (COVID-19) appeared in the Hubei prefecture of China in December 2019 and spread widely within a month, with cases recorded in more than two countries (WHO 2020, https://www.who.int/emergencies/diseases/novel-coronavirus-2019). The causative agent was determined to be a new coronavirus, SARS-CoV-2.
SARS-CoV-2 is a member of the Betacoronavirus genus (Liu et al., 2020), a group of RNA viruses characterized by the presence of a polyprotein and a relatively large genome (~30 kb) that codes for multiple structural and nonstructural proteins. The four structural proteins include spike (S), envelope (E), membrane (M) and nucleocapsid (N) (Shi et al., 2015). Approximately 14–16 nonstructural proteins are encoded at the 5′-terminal of the polyprotein. The proteins are essential for virus replication, mRNA synthesis, and processing of viral proteins (Brian & Baric, 2005). Coronaviruses have recently evolved from a causative agent of mild respiratory symptoms to severely pathogenic forms. Three major pathogenic and fatal CoVs have emerged in the last two decades: SARS CoV, MERS CoV, and lastly, SARS-CoV-2 (Guarner, 2020).
RNA-dependent RNA polymerase (RdRP) is a nonstructural protein that is crucial for SARS-CoV-2 replication (Gaurav & Al-Nema, 2019). RdRP is a significant drug target against CoVs, implemented for the discovery of new antivirals against MERS CoV (Gordon et al., 2020), dengue (Shimizu et al., 2019), Zika (Ahmad et al., 2020), influenza A (Niazi et al., 2019) and hepatitis C viruses (Dash, Aydin & Stephens, 2019).
In this study, SARS-CoV-2 RdRP was used to virtually screen a dataset of safe, non-toxic and FDA-approved pharmacological compounds. The drugs with a high score can be repurposed to treat SARS-CoV-2, taking advantage of its safety and direct applicability without further toxicity or preclinical testing. In addition, the phylogenetic relationships between SARS-CoV-2 RdRP and those of the viruses responsible for other recent coronavirus epidemics, SARS and MERS CoV, were investigated. Full molecular and dynamics profiles of drugs binding to RdRP were evaluated by combining docking and Molecular Dynamics (MD) simulations.
Materials and Methods
Construction of FDA approved drugs dataset
A total of 1,664 FDA approved drugs were retrieved from commercial compounds databases at Selleck Inc., USA. All compounds were imported to Ligprep software, desalted and 3D optimized using OPLS2005 force field at physiological pH. The compounds dataset are provided in Supplemental Files 1.
SARS-CoV-2 RdRP optimization and structure preparation
The protein preparation module in Maestro software package (Schrodinger LLC, NY, USA) was used to optimize the protein structure for docking. The protein (PDB ID 7BV2) was protonated, optimized at cellular pH conditions, and energy minimized using OPLS2005 force field. All ions, except the active site magnesium, and non-relevant crystallographic materials were removed. During preparation, two structural files were prepared comprising RdRP in the presence or absence of magnesium ions. The docking grid was generated by the selection of active site residues. The docking box was centered around the active site residues ASP255 and ASP256 with a size of 20 Å. For comparative purpose, the sequence similarity between SARS CoV, SARS CoV-2 and MERS CoV RdRPs were retrieved and aligned (Supplemental Methods File). The reliability of docking procedures were assigned by redocking of the co-crystalized inhibitor (remdesivir). The obtained poses were comparable to the co-crystalized structure (Fig. 1).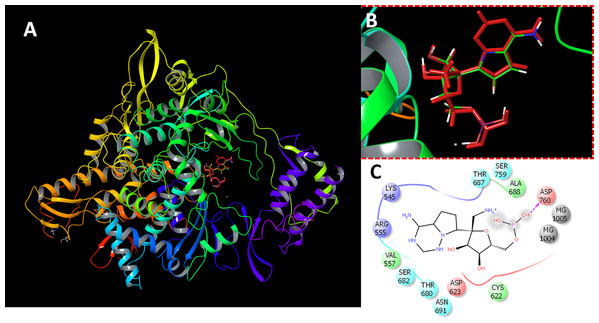 Virtual screening
The glide docking module of Schrodinger maestro package was used for virtual screening. Two-step docking protocol was carried out. At first, the docking was set to run under the standard precision (SP docking) (Friesner et al., 2004; Halgren et al., 2004). The results were ranked by the docking score. Remdesivir was used as standard RdRP inhibitor. It is a broad-spectrum antiviral with potent inhibition of MERS CoV RdRP (Gordon et al., 2020). Compounds with a docking score of −7.00 or higher were retrieved and reanalyzed by extra-precision docking protocol (XP-docking). Magnesium ions are important in coordinating the polymerase actions of RdRP. Therefore, the two docking interactions were run comprising the presence and absence of Mg ions in their binding sites.
Molecular dynamics simulations
Groningen Machine for Chemical Simulations (GROMACS) 5.1.4. software was used in all molecular dynamics (MD) simulations (Abraham et al., 2015; Van Der Spoel et al., 2005). The ligand parameter, topology and restraint and the protein were handled by AMBERFF14SB force field and general AMBER force field (GAFF), respectively. The RdRP-ligand complexes were solvated in a cubic box with 1.0 nm from protein to box edge. The box was filled with a single point charge (SPC) water model. The solvated complexes were minimized for 5,000 steps. During water and ions coupling, the heavy atoms of protein and ligand were restrained. Two-step system equilibration was adopted comprising 50 ps NVT at 300 K followed by 1 ns NPT ensemble at 300 K. Production stages were done over simulation times of 20 and 100 ns with NPT ensemble. Parrinello–Rahman algorithm maintain constant pressure at 1 bar and V-rescale thermostat algorithmfor temperature coupling at 300 K. Long-range electrostatics under periodic conditions with a direct space cut-off 12 Å were restrained by Particle Mesh Ewald (PME) method. Time step was set to 2 fs. Coordinates and output values were collected every 10 ps.
Trajectory analysis
GROMACS MD simulation toolkits were used in the trajectory analysis. The g_rms and g_rmsf were used to calculate the root mean square deviation (RMSD) of the starting structure to the end of the simulation time and the per-residue root mean square fluctuation (RMSF) of the protein residues.
Binding energy calculations
The molecular mechanics–generalized Born surface area (MM/GBSA) was calculated by the g_mmpbsa tool.
Statistical analysis
Multiple correlation comparisons were performed between the obtained docking score and the properties and interactions of the compounds with SARS-CoV-2, including the molecular weight, the hydrogen bonding and the lipophilic interaction parameters. The analysis was carried out with the Pearson's correlation coefficient, implemented in GraphPad Prism version 7 (GraphPad Software, La Jolla, CA, USA).
Discussion
This work covers a knowledge gap about the SARS-CoV-2 RdRP and its relation to the two previous fatal CoVs, SARS-CoV and MERS-CoV. Additionally, the structure of RdRP was targeted by a set of FDA-approved drugs for the purpose of relocating already approved and safe drugs for SARS-CoV-2 treatment.
Based on their pharmacokinetic aspects, some of these top hits are not appropriate for systemic application due to their low levels of absorption for example, sennosides (Leng-Peschlow, 1986) and pyrantel pamoate (Ryan, 2018). Others have specific applications with an impact on specific body systems or disorders, such as digoxin (cardiovascular system), acarbose (antidiabetic), venetoclax and taxifolin (anticancer drugs), and chlorhexidine (a drug for topical application).
Ritonavir is the only antiviral predicted to bind with SARS-CoV-2 RdRP. It is approved for HIV treatment and acts by inhibition of the virus protease (Croxtall & Perry, 2010). Ritonavir was in the 6th rank of the top hits. A recent clinical report showed the improvement of an index case with pneumonia with a significant decrease in the virus load after ritonavir/lopinavir treatment (Lim et al., 2020). The drugs with higher docking scores, such as nadid or thymopentin, are general body and immune stimulants that might be of value in COVID-19 treatment.
Remdesivir was used as a reference drug for binding with RdRP. It successfully inhibited MERS-CoV RdRP. The docking output of remdesivir had a score of −5.98, which was lower than the scores of the 26 drugs selected that had a high affinity for RdRP.
Docetaxel complex with SARS-CoV-2 RdRP showed high stability and free binding energy. This interaction is driven by favorable van der Waals and electrostatic interactions, and includes the formation of about six hydrogen bonds with RdRP active site residues. By MD simulation for 100 ns, docetaxel formed an average of 4.3 hydrogen bonds. Docetaxel has large mw (807.9 g/mol). However, this drug obeys the Lipiniski's rule of five in LogP and favorable hydrogen donor count (5 or lower). In addition, docetaxel is a cytotoxic agent with clinical approval in the treatment of different types of cancers, for example, breast and prostate cancers (Lyseng-Williamson & Fenton, 2005; Tannock et al., 2004).
Neohesperidin is a flavanone glycoside from citrus fruits with wide applicability in vascular diseases and cancer treatment trials (Walker, Janda & Mollace, 2014). Similar to docetaxel, a favorable hydrogen bonding profile and electrostatic and van der Waals interactions support the potent binding of neohesperidin with SARS CoV-2 RdRP. By MD simulation for 100 ns, neohesperidin formed an average of 4.3 hydrogen bonds.
Taking the docking and MD simulation results together, the two compounds exhibited favorable binding features comprising low RMSD, high binding free energy, low radius of gyration, formation of several hydrogen bonds, strong electrostatic interactions, and the presence of polar and hydrophobic components in the interaction with RdRP. Based on these findings, docetaxel and neohesperidin are most likely to be strong inhibitors of SARS CoV-2 RdRP.
Conclusions
After the molecular modeling and virtual screening of approximately 1,664 FDA-approved drugs, a set that interact strongly with SARS CoV-2 RdRP has been formed and is provided. These are suggested for use as an addition to the standard treatment. The superiority of obtained values over a known MERS-CoV inhibitor further supports the merit of repurposing these compounds against SARS CoV-2 RdRP. Furthermore, the binding potency and molecular dynamics of docetaxel and neohesperidin in particular recommends them for such use. However, further assessment by antiviral assays is required.