Cytological and molecular characterizations of a novel 2A nullisomic line derived from a widely-grown wheat cultivar Zhoumai 18 conferring male sterility
1
Henan Agricultural University, National Centre of Engineering and Technological Research for Wheat / National Key Laboratory of Wheat and Maize Crop Science

,

Zhengzhou

,

Henan

,

China
2
Nanjing Agricultural University, State key Laboratory of Crop Genetics and Germplasm Enhancement

,

Nanjing

,

Jiangsu

,

China
3
Sichuan Academy of Agricultural Sciences, Crop Research Institue

,

Chengdu

,

Sichuan

,

China
Published

Accepted

Received
Academic Editor
Subject Areas

Keywords

Wheat (Triticum aestivum L.), dms,

Chromosome

,

Nullisomic line

,

Pollen development
Copyright

©

2020

Jiao et al.

Licence

This is an open access article distributed under the terms of the Creative Commons Attribution License, which permits unrestricted use, distribution, reproduction and adaptation in any medium and for any purpose provided that it is properly attributed. For attribution, the original author(s), title, publication source (PeerJ) and either DOI or URL of the article must be cited.
Cite this article

2020

.

Cytological and molecular characterizations of a novel 2A nullisomic line derived from a widely-grown wheat cultivar Zhoumai 18 conferring male sterility

.

PeerJ

8

:

e10275

https://doi.org/10.7717/peerj.10275
Abstract
A dwarf, multi-pistil and male sterile dms mutant was previously reported by us. However, the genetic changes in this dms are unclear. To examine the genetic changes, single nucleotide polymorphism (SNP) association, chromosome counting, and high-resolution chromosome fluorescence in situ hybridization (FISH) techniques were employed. By comparing tall plants (T) with dwarf plants (D) in the offspring of dms mutant plants, SNP association analysis indicated that most SNPs were on chromosome 2A. There were three types in offspring of dms plants, with 42, 41 and 40 chromosomes respectively. High-resolution chromosome painting analysis demonstrated that T plants had all 42 wheat chromosomes; the medium plants (M) had 41 chromosomes, lacking one chromosome 2A; while D plants had 40 wheat chromosomes, and lacked both 2A chromosomes. These data demonstrated that dms resulted from a loss of chromosome 2A. We identified 23 genes on chromosome 2A which might be involved in the development of stamens or pollen grains. These results lay a solid foundation for further analysis of the molecular mechanisms of wheat male sterility. Because D plants can be used as a female parent to cross with other wheat genotypes, dms is a unique germplasm for any functional study of chromosome 2A and wheat breeding specifically targeting genes on 2A.
Introduction
Allohexaploid wheat (Triticum aestivum L., 2n = 6x = 42, genomic constitution AABBDD) has a genome from three diploid species: Triticum urartu Thum. (the source of the A genome), Aegilops speltoides (Tausch) Gren. or a closely related species (the source of the B genome), and Aegilops tauschii Coss. (the source of the D genome) (Huang et al., 2002). Because allohexaploid wheat has high level of functional redundancy, it can host a range of diverse whole-chromosome aneuploids (Zhang et al., 2013; Zhang et al., 2017). There are various types aneuploid variations available in wheat, such as nulli-tetrasomic lines, nullisomic lines, monosomic lines, ditelosomic lines, as well as chromosome fragmental deletion lines (Endo & Gill, 1996; Qi et al., 2003). The aneuploid stocks are useful in wheat gene mapping, and especially, genes can be located to a small segment using a series of chromosome fragmental deletion lines (Endo & Gill, 1996; Qi et al., 2003). A set of homozygous chromosome deletion lines were obtained in cv. Chinese Spring (Endo & Gill, 1996). Most of the homozygous chromosome 2A short arm deletion lines are sterile; genes involved in male development are located on the chromosome 2A short arm (Endo & Gill, 1996).
Presently, at least five stable genic male sterility (GMS) genes are known in bread wheat. They are ms1 on 4BS (Wang et al., 2017), Ms2 on 4DS (Xia et al., 2017), Ms3 on 5AS (Maan et al., 1987), Ms4 on 4DS (Maan & Kianian, 2001) and ms5 on 3AL (Pallotta et al., 2019), but the molecular regulation mechanisms of the male sterility lines are largely unknown.
Anther and pollen developments are complex biological processes, determining wheat male fertility. Pollen development starts from a single cell layer, which undergoes a series of cell divisions and differentiation to form the innermost meiocytes encased within four somatic anther cell layers; from inner to outer these are the tapetum, middle layer, endothecium and epidermis (Zhang & Yang, 2014). The tapetum serves as a nutritive tissue, providing metabolites, nutrients, and cell wall precursors for the development of pollen grains (Goldberg, Beals & Sanders, 1993). The regulatory genes involved in pollen exine patterning are known in Arabidopsis and rice (Pearce et al., 2015; Lin et al., 2017). For example, AtMS1 (Male Sterility 1) (Wilson et al., 2001), AtDRL1 (Dihydroflavonol 4-Reductase-Like 1) (Tang et al., 2009), AtLAP3 (Less Adherent Pollen 3) (Dobritsa et al., 2009), AtLAP5 (Less Adherent Pollen 5) (Dobritsa et al., 2010) in Arabidopsis, and OsGAMYB (GA, gibberellin; MYB, v-myb avian myeloblastosis viral oncogene homolog) (Aya et al., 2009), OsNP1 (No Pollen 1) (Liu et al., 2017), OsDPW2 (Defective Pollen Wall 2) (Xu et al., 2017) in rice are involved in the biosynthesis of sporopollenin, which is a major constituent of exine in the outer pollen wall. However, pollen developmental studies in wheat have lagged behind these plants.
Previously, we reported a mutant of dwarf, multi-pistil and male sterile dms in wheat (Duan et al., 2015; Zhu et al., 2016). Pollen vigor and hybridization tests demonstrated that dms mutant was male sterile. Male sterility and male fertility followed a segregation ratio of 1:3 [D:(T +M) = 1:3] (Duan et al., 2015). However, the genetic basis of this mutant is unknown. The present study is to discover the genetic basis at the cytological and molecular levels. We also identified a set of genes playing potential key roles accounting for male sterility on chromosome 2A.
Discussion
Aneuploids are large scale mutations greatly affect cellular physiology and have significant phenotypic consequences (Zhang et al., 2017). The typical phenotype of dms was significantly different from its parent Zhoumai 18 at three traits, plant height, pistil number and male fertility. Preliminary, this mutant was considered as a SNP mutation. Till the SNP association analysis showed that a large amount of SNPs between T and D plants, we thought their chromosomes should be clarified. High resolution chromosome painting is a new and efficient method for distinguishing chromosomes, which has many advantages including high sensitivity and resolution (Du et al., 2017). Using this method, we successfully distinguished the karyotypes of D, M and T plants derived from M plants of mutant dms, and their phenotypes were corresponded with their chromosome constitutions. Now it was clear that the mutant dms was resulted from the absence of chromosome 2A. Our data showed that there were 23 2A-specific genes were highly expressed in stamen. However, it can't exclude other genes on 2A involved in pollen development also. In the case of wheat Ms1 gene on 4BS, it has homoeologs on 4A and 4D. Mutant ms1 is responsible for male sterile phenotype due to that homoeologous Ms1 on 4A and 4D were not expressed (due to methylation) (Wang et al., 2017). Some genes in the list of 23 2A-specific genes could be candidates of key genes responsible for the male sterility, but not exclude other possibilities. The molecular regulatory network can be elucidated well till the key gene/genes have been investigated.
Endo and Gill reported a set of nullisomic, monosomic, trisomic and tetrasomic lines from Chinese Spring (CS) (Endo & Gill, 1996). Among them, the 2A nullisomic line could not be maintained for they were sterile in both sexes. However, a stable self-fertile 2A nullisomic line was obtained from common wheat 'Abbondanza'. Although the pistils and stamens of the 2A nullisomic line were fertile, its female flower organ developed unwell (Xue et al., 1991). Different genetic backgrounds lead to nullisomic lines of 'Abbondanza' are greater vigor and fertility than those of Chinese spring (Ji, Xue & Wang, 1992). Our 2A nullisomic line dms is multi-pistil and male sterile, that is different from the other 2A nullisomic lines from 'Abbondanza' and CS (Endo & Gill, 1996). A set of chromosome deletion stocks from CS are reported, five out of the nine chromosome 2AS deletion lines have irregular meioses with many univalents at metaphase I, and they are highly sterile in both sexes, the seed settings of the four chromosome 2AL deletion lines are reduced after selfing. In our study, the meiosis of the pollen development is normal in dms mutant, which is different from the 2A nullisomic lines from CS (Endo & Gill, 1996).
MYB TFs play pivotal roles in plant development and stress response (Verma, 2019; Zheng et al., 2018). Many MYB TFs have been functionally characterized in pollen development of Arabidopsis and rice, such as AtMYB32 (Preston et al., 2004), OsGAMYB (Aya et al., 2009) and OsTDF1 (Cai et al., 2015). In dms, three homologs of OsGAMYB, TraesCS7A01G458700, TraesCS7B01G357900 and TraesCS7D01G446700, expressed less. In rice, GAMYB is essential for pollen development, and it directly binds to promoter of β-KETOACYL REDUCTASE (KAR), a key enzyme essential for fatty acid synthesis. GAMYB activates the expression of KAR and other genes involved in the synthesis of sporopollenin, and are involved in the formation of exine and Ubisch bodies (Aya et al., 2009). Reduced expression of GAMYB might lead to the shriveled and atrophied pollen grains of D plants. Change in the levels of AtMYB32 expression influence pollen development by affecting the composition of the pollen wall in Arabidopsis (Preston et al., 2004). Knocking out OsTDF1 impaired tapetum development, leading to male sterility in rice (Cai et al., 2015). Similarly, some MYB TF genes expressed less in dms, their functions involved in exine formation in wheat needs further research.
Pollen germination is critical for double fertilization in angiosperms (Zhang, He & McCormick, 2009). The polarity of tip-growing pollen tubes is maintained through dynamic association of active Rho GTPases in plants (ROP-GTP) (Li et al., 2018a). Guanine nucleotide exchange factors for ROPs (RopGEFs) catalyze the activation of ROPs and thereby affect spatiotemporal ROP signaling (Gu et al., 2006). Deletion RopGEF mutant has the defects in pollen tube polar growth (Gu et al., 2006). AGC1.5 and AGC1.7 kinases phosphorylate RopGEFs to control pollen tube growth. Loss functions of AGC1.5 and AGC1.7 in pollen tubes results in meandering and depolarized growth morphology (Zhang, He & McCormick, 2009). In summary, the AGC1.5/1.7-RopGEFs-ROPs signaling pathway is involved in pollen germination and tip growth in Arabodopsis (Li et al., 2018a; Huang et al., 2019). In our research, the homologs of AtAGC1.5, AtAGC1.7 and AtRopGEF8 involved in ROP signaling expressed less in dms. Similarly, all the DEGs associated with various aspects of pollen germination related biological processes, such as pollen tube growth, regulation of pollen tube growth, pollen tube development and pollination, expressed less in dms. These data demonstrated that pollen germination and pollen tube growth might be suppressed in dms. Further experiments should be carried out to test the hypothesis.
In our study, all the six chromosome 2As from different cultivars and the genetic backgrounds of the six heterozygotes of the crosses had similar functions. These indicated that the interactions among 2A, 2B and 2D were similar to that in dms. Wheat chromosome 2A has many important agronomy trait genes such as powdery mildew resistance gene PmLK906 (Niu et al., 2008), photoperiod response locus Ppd-A1 (Beales et al., 2007), reduced height (Rht) genes Rht7 (Worland, Law & Shakoor, 1980). Some quantitative trait loci (QTL) for thousand grain weight (Quan, Sean & Sparkes, 2015), floret primordia development (Guo et al., 2017) and grain protein-content (Groos et al., 2003) are also mapped on chromosome 2A. Because the 2A nullisomic line dms derived from Zhoumai 18 is male sterile but female fertile, it can be used as a female parent to cross with other wheat genotypes, so as to construct inter-cultivar chromosome 2A substitution lines. Backcross to dms can construct series lines with highly similar genetic backgrounds but different 2As (Fig. 10), which can be used to evaluate the functions of different 2As and wheat design breeding targeting 2As.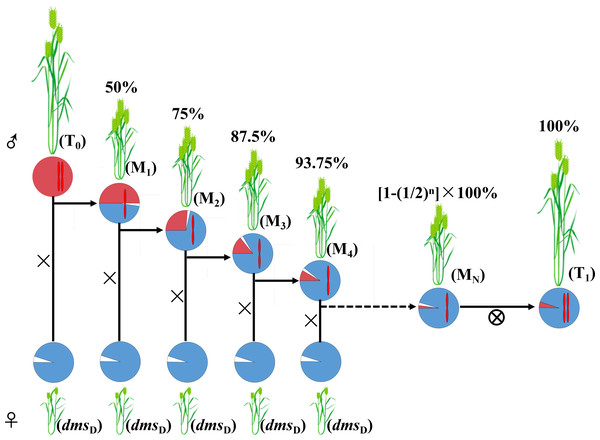 Conclusions
We characterized a dwarf, multi-pistil and male sterile mutant dms derived from a widely-grown wheat cultivar Zhoumai 18. Cytological and molecular analyses demonstrated that mutant dms was a novel wheat 2A nullisomic line. Twenty-three stamen and pollen development related genes are identified specifically on chromosome 2A. We put forward a hypothesis on the molecular regulatory network of the sterility trait in dms. dms is a unique germplasm for gene functional study about chromosome 2A and wheat design breeding targeting 2A.