Musculoskeletal modelling of an ostrich (Struthio camelus) pelvic limb: influence of limb orientation on muscular capacity during locomotion
Published

Accepted

Received
Academic Editor
Subject Areas

Keywords

Paleognathae

,

Ratite

,

Moment arm

,

Gait

,

Biomechanics

,

Posture

,

Muscle

,

Bird
Copyright

©

2015

Hutchinson et al.

Licence

This is an open access article distributed under the terms of the Creative Commons Attribution License, which permits unrestricted use, distribution, reproduction and adaptation in any medium and for any purpose provided that it is properly attributed. For attribution, the original author(s), title, publication source (PeerJ) and either DOI or URL of the article must be cited.
Cite this article

2015

. Musculoskeletal modelling of an ostrich (Struthio camelus) pelvic limb: influence of limb orientation on muscular capacity during locomotion.

PeerJ

3

:

e1001

https://doi.org/10.7717/peerj.1001
Abstract
We developed a three-dimensional, biomechanical computer model of the 36 major pelvic limb muscle groups in an ostrich (Struthio camelus) to investigate muscle function in this, the largest of extant birds and model organism for many studies of locomotor mechanics, body size, anatomy and evolution. Combined with experimental data, we use this model to test two main hypotheses. We first query whether ostriches use limb orientations (joint angles) that optimize the moment-generating capacities of their muscles during walking or running. Next, we test whether ostriches use limb orientations at mid-stance that keep their extensor muscles near maximal, and flexor muscles near minimal, moment arms. Our two hypotheses relate to the control priorities that a large bipedal animal might evolve under biomechanical constraints to achieve more effective static weight support. We find that ostriches do not use limb orientations to optimize the moment-generating capacities or moment arms of their muscles. We infer that dynamic properties of muscles or tendons might be better candidates for locomotor optimization. Regardless, general principles explaining why species choose particular joint orientations during locomotion are lacking, raising the question of whether such general principles exist or if clades evolve different patterns (e.g., weighting of muscle force–length or force–velocity properties in selecting postures). This leaves theoretical studies of muscle moment arms estimated for extinct animals at an impasse until studies of extant taxa answer these questions. Finally, we compare our model's results against those of two prior studies of ostrich limb muscle moment arms, finding general agreement for many muscles. Some flexor and extensor muscles exhibit self-stabilization patterns (posture-dependent switches between flexor/extensor action) that ostriches may use to coordinate their locomotion. However, some conspicuous areas of disagreement in our results illustrate some cautionary principles. Importantly, tendon-travel empirical measurements of muscle moment arms must be carefully designed to preserve 3D muscle geometry lest their accuracy suffer relative to that of anatomically realistic models. The dearth of accurate experimental measurements of 3D moment arms of muscles in birds leaves uncertainty regarding the relative accuracy of different modelling or experimental datasets such as in ostriches. Our model, however, provides a comprehensive set of 3D estimates of muscle actions in ostriches for the first time, emphasizing that avian limb mechanics are highly three-dimensional and complex, and how no muscles act purely in the sagittal plane. A comparative synthesis of experiments and models such as ours could provide powerful synthesis into how anatomy, mechanics and control interact during locomotion and how these interactions evolve. Such a framework could remove obstacles impeding the analysis of muscle function in extinct taxa.
Introduction
As the largest living avian bipeds, ostriches (Struthio camelus Linnaeus 1758) are important for understanding how body mass influences locomotor mechanics in birds. In addition, ostriches are among the fastest of living terrestrial animals, and are the fastest living (perhaps even the fastest ever) bipedal runners. These birds can reach maximum speeds >15 ms−1 (Alexander et al., 1979); similar to another biped that is coincidentally of similar size: red kangaroos (Macropus rufus) (Bennett & Taylor, 1995). Examination of their locomotor dynamics may reveal some of the complex factors that determine maximum running speed in land animals and guide the development of fast running machines. Ostriches are also of similar body size to humans, which other than birds are the only obligate striding bipeds today, making comparisons of bipedal locomotor function in these two species possible (e.g., Gatesy & Biewener, 1991; Rubenson et al., 2011). Additionally, as the largest extant birds, ostriches are important "endpoints" for studies of body size effects on locomotion (e.g., Maloiy et al., 1979; Gatesy, Bäker & Hutchinson, 2009; Brassey et al., 2013a; Brassey et al., 2013b; Kilbourne, 2013). Furthermore, ostriches are members of the ratite bird clade, whose evolution from basal flying birds into large cursorial flightless animals has been of longstanding scientific interest. However, the evolutionary patterns and processes that produced the diversity of living ratites and their unusual locomotor mechanisms remain uncertain (Baker et al., in press and references therein). In turn, ratite birds including ostriches occupy relatively basal positions in extant avian phylogeny (e.g., Cracraft & Clarke, 2001; Baker et al., in press). Despite their remarkable cursorial specializations and evolutionarily increased body size, ostriches can offer clues to the structure and function of earliest crown clade birds, and thereby about the evolution of avian locomotion from their theropod dinosaur forebears (e.g., Gatesy, 1990). Ostriches have also often been employed as analogues for dinosaur locomotion (e.g., Russell, 1972; Paul, 1998) despite some major anatomical differences (Gatesy, 1990; Gatesy, 1995; Hutchinson & Gatesy, 2000; Hutchinson, 2002; Gatesy, Bäker & Hutchinson, 2009; Hutchinson & Allen, 2009), so ostriches and extinct dinosaurs may be reciprocally informative.
A general problem facing those interested in examining the above questions in detail is that ostrich locomotion, including pelvic limb structure-function relationships during movement, remains incompletely understood. Numerous studies have empirically investigated the locomotor kinematics and kinetics of ostriches (e.g., Alexander et al., 1979; Gatesy & Biewener, 1991; Abourachid, 2001; Abourachid & Renous, 2000; Rubenson et al., 2004; Rubenson et al., 2007; Rubenson et al., 2011; Smith et al., 2006; Smith et al., 2007; Smith, Jespers & Wilson, 2010; Smith & Wilson, 2013; Jindrich et al., 2007; Schaller et al., 2009; Schaller et al., 2011) and much focus has been given to the whole-body mechanics and energetics of ostriches (e.g., Fedak & Seeherman, 1979; Fedak, Heglund & Taylor, 1982; Rubenson et al., 2004; Watson et al., 2011). However, detailed understanding of the interactions between the various components of the musculoskeletal system and the environment during these movements remain poorly understood. Due to the complex, non-linear dynamics of the musculoskeletal system, correlating whole-body level measures of locomotion to specific muscle function-structure relationships cannot yet be adequately performed.
Furthermore, ostrich myology was not carefully described until recently (Weissengruber, Forstenpointner & Gangl, 2003; Gangletal, 2004; Zinoviev, 2006; also knee joint functional morphology by Fuss, 1996; foot/ankle function by Schaller et al., 2009, Schaller et al., 2011). Previous myological studies were marred by errors in interpreting ostrich anatomy and by confusing application of mammalian anatomy to ostriches (e.g., Haughton, 1864; Macalister, 1864) or provided only a superficial treatment of proximal pelvic limb anatomy (e.g., Mellett, 1994). Even Gadow (1880), a classic comparative reference, contains antiquated concepts of homology (Rowe, 1986). These prior studies of ostrich myology augment comparative work on the pelvic limb myology of other ratites (e.g., Haughton, 1867a; Haughton, 1867b; Gadow, 1880; McGowan, 1979; Vanden Berge, 1982; Patak & Baldwin, 1998; Picasso, 2010; Picasso, 2012; Chadwick et al., 2014; Lamas, Main & Hutchinson, 2014; Regnault, Pitsillides & Hutchinson, 2014). Additionally, data are available on muscle physiology in ostriches (Velotto & Crasto, 2004) and other ratites (e.g., McGowan, 1979; Patak & Baldwin, 1993), although biomechanical data characterizing muscle force–velocity and force–length relationships for avian pelvic limb muscles are scant (e.g., Nelson, Gabaldón & Roberts, 2004).
This body of prior research provides the strong foundation necessary for detailed examination of ostrich limb muscle function using anatomically-realistic biomechanical modelling in order to advance understanding of how the largest living bird supports its body weight and moves itself with its pelvic limb muscles. Here, to provide new insight into ostrich locomotor structure-function relationships, we investigate how pelvic limb muscle functions relate to limb orientation (i.e., posture/pose or joint angles; Gatesy, 1995; Gatesy, Bäker & Hutchinson, 2009) in ostriches. To do this, we integrate data from experimentally measured joint kinematics and ground reaction forces with a biomechanical computer model that was constructed by digitizing the bones, muscles, and tendons of an adult ostrich. By replicating ostrich structure and behaviour, the musculoskeletal model provides estimates of individual muscle moment arms (Pandy, 1999) and maximum capacity for moment generation during those behaviours: quantities that are otherwise difficult or impossible to accurately measure non-invasively, especially for all thirty-six major pelvic limb muscles simultaneously. Here we use this model to address some fundamental mysteries about locomotion in ostriches as well as birds, non-avian dinosaurs and bipeds.
Larger mammalian species tend to have straighter limbs than smaller species to improve their effective mechanical advantage during movement (Biewener, 1989; Biewener, 1990). Yet it remains unclear how much of this improvement is achieved by reducing the moment arms of ground reaction forces about the limb joints using less flexed limb joint orientations or by increasing muscle moment arms via increased anatomical leverage (e.g., relatively larger trochanters) or straightened limb orientation (i.e., which shifts muscles further away from joint centres; Hutchinson et al., 2005). Our ostrich musculoskeletal model will facilitate discerning this relationship in birds, for whom it seems a similar pattern to mammals of having improved mechanical advantage in larger species holds (Gatesy & Biewener, 1991; Hutchinson, 2004; Günther et al., 2004; Brassey et al., 2013a; Kilbourne, 2013).
Previous studies (e.g., Hutchinson et al., 2005; and references therein) suggested that limb antigravity muscle moment arms (or moment-generating capacity; Full & Ahn, 1995) may peak in very upright limb orientations, which intimates that smaller animals with more crouched poses (e.g., birds) employ sub-optimal joint angles for supporting their body weight (Biewener, 1989; Günther et al., 2004), presumably as a tradeoff to provide other benefits such as increased manoeuvrability (e.g., Daley & Usherwood, 2010). As the largest living birds, ostriches stand and move with straighter limbs than smaller birds (Gatesy & Biewener, 1991). However, ostriches are bipeds that still habitually support themselves with markedly flexed hip and knee joints, which make them a useful case study of this mechanical relationship between posture and antigravity muscle capacity. Understanding this relationship impacts the broader question of why animals choose certain postures—do they select postures that favour larger moment arms for economical force production (e.g., Fujiwara, 2009; Fujiwara, Endo & Hutchinson, 2011; Fujiwara & Hutchinson, 2012) or other factors such as muscle force–length properties (e.g., McClearn, 1985; Lieber & Boakes, 1988a; Lieber & Boakes, 1988b; Lieber & Brown, 1992; Lieber & Shoemaker, 1992; Lieber, 1997)?
The moment arms of ostrich pelvic limb muscles have been studied before with two different methodologies: two-dimensional (2D) experimental ("tendon travel") measurements of de-fleshed limbs (Smith et al., 2007) and 3D musculoskeletal computer models constructed from literature data, dissections and scanned skeletons (Bates & Schachner, 2012). The question remains open: how accurate are these experimental measurements and models, and how consistently can different researchers construct such models given the inherent subjectivity involved? This methodological question impacts many of the questions above; a weak model impairs the ability to test hypotheses. Here, we use our 3D musculoskeletal model and previously collected experimental data to address three main questions related to the issues described above: (1) Do ostriches adopt limb orientations during walking or running that optimize their capacity to generate maximal moments about the pelvic limb joints? (2) Are the moment arms of limb muscles maximized (for antigravity/extensor muscles; or minimized in the case of antagonistic flexor muscles) at mid-stance of locomotion (optimizing weight support), or at highly extended limb orientations, as prior studies of dinosaurs inferred (e.g., Hutchinson et al., 2005)? Finally, (3) how accurate or repeatable are estimates of limb muscle moment arms in ostriches using different methods?
We also integrate our results with previous studies of ostriches and other large birds (cited above) to infer how the pelvic limb muscles function in locomotion. This provides a three-dimensional perspective on avian musculoskeletal function, a necessary shift away from past planar (2D) simplifications of this system (e.g., Alexander et al., 1979; Abourachid, 2001; Hutchinson, 2004; Gatesy, Bäker & Hutchinson, 2009) because recent studies have shown complex 3D limb dynamics during avian movement (Gatesy, 1994; Hutchinson & Gatesy, 2000; Rubenson et al., 2007; Rubenson et al., 2011; Goetz et al., 2008; Abourachid et al., 2011; Andrada et al., 2013; Kambic, Roberts & Gatesy, 2014). Finally, we synthesize our results with similar data from other bipeds, including humans and Tyrannosaurus rex, to infer how limb muscle moment-generating capacity more generally relates to limb orientation and body size.
Results
Here we present our data for addressing our main questions, proceeding in order with maximal muscular moments, maximal/minimal moment arms, and then general moment arm patterns compared with other studies.' The model is downloadable from the repositories at https://simtk.org/home/opensim and Figshare (Hutchinson et al., 2015) and can be manipulated in open source software OpenSim. Movie S1 shows the model animated through the representative running stride (from Rubenson et al. (2007)). Figure S5 shows the kinematic data for the walking trial vs. a larger dataset (not shown in Rubenson et al. (2007), but obtained from the same methods and experiment). In that representative trial, the pelvic pitch angle is ∼10° more tilted (pitched upward) than the mean—reasons for this isolated deviation are unclear but also very unlikely to influence our findings here. Both individual walking and running trials' data are supplied in the repository (Hutchinson et al., 2015).
Maximal muscular moments
Our 3D ostrich limb model predicted how the maximal capacity to generate muscle moments should vary with limb orientation during walking and running (Figs. 6 and 7). Maximal flexor moments increase if force–length properties are ignored (treating all muscles as isometric). This indicates that most muscles in the model are at disadvantageously short fibre lengths during locomotion, with walking having a generally greater capacity for flexor moment generation (especially about the hip) than running. These curves do not change much across the gait cycle. The pattern for extensor moments is more complex. Peak capacity tends to be in late swing phase (reasonably consistent across all joints). Force-length properties here provide an advantage, presumably because the muscles are lengthened. Data during the stance phase do not support the hypothesis, regardless of assumptions about muscle-force length states, that postures used around mid-stance of walking or running optimize the moment-generating capacity of pelvic limb muscles in ostriches: the maximal moments early or late in stance phase, and late in swing phase, are of similar or greater magnitudes. The relatively flattened shapes of most moment curves without force–length properties enforced ("Fmax"; dotted lines in Figs. 6 and 7) indicate that muscle moment arm variation across postures used in vivo during locomotion is a smaller contributor to moment generation than force–length properties ("F–L"; solid lines) in Struthio.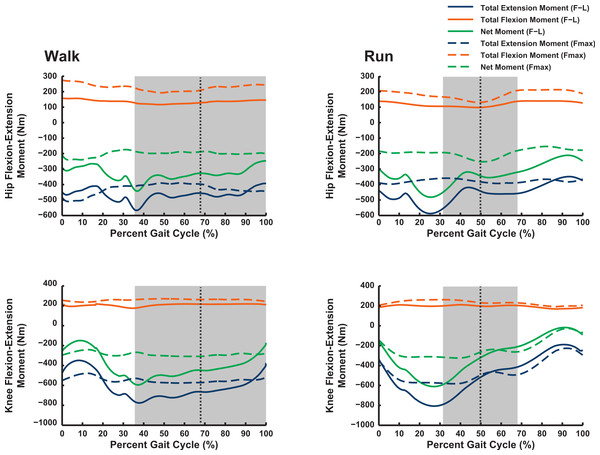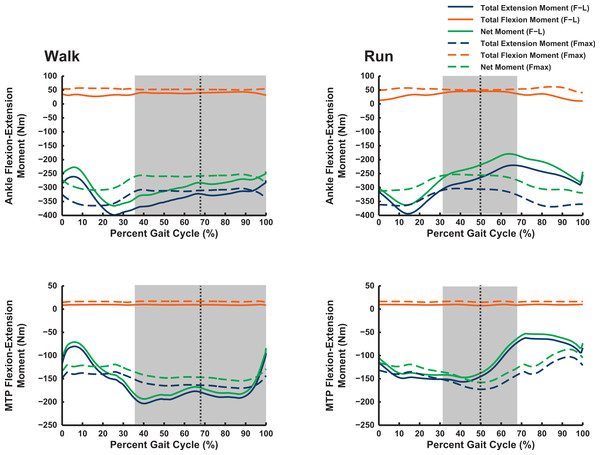 Maximal/minimal muscle moment arms and limb orientation
Do ostriches' limb muscle moment arms peak at very extended limb orientations or at mid-stance of walking/running (Fig. 8)? We find that the mean hip extensor moment arms decrease from a peak at full extension as hip joint flexion increases, and the hip flexors behave similarly. However, knee and ankle moment arms each exhibit different patterns. The knee extensor and flexor moment arms tend to peak at moderate knee flexion angles (∼60–90°), as do the ankle extensors (plantarflexors), but the ankle flexors have a near-plateau for most angles, quickly decreasing with extreme dorsiflexion (>100° ankle angle).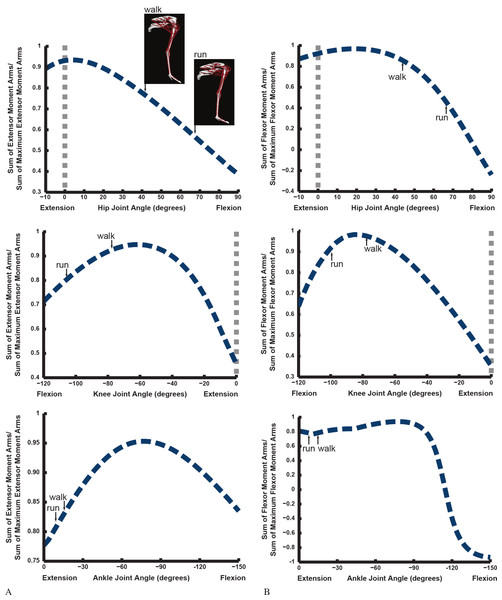 When the poses that ostriches use during periods of peak limb loading (near mid-stance of walking and running; Rubenson et al., 2007) are compared against these patterns (Fig. 8), it becomes evident that there is no clear optimization of muscle moment arms for supportive (large extensor or small flexor values) roles during these periods of potential biomechanical constraints. This is in agreement with the maximal moment data from Figs. 6 and 7. Hip extensors and flexors as well as ankle extensors are relatively far (∼60–85% of maximal mean moment arms) from optimal values at mid-stance of walking and running. Knee extensor/flexor moment arms are closer to maximal values, especially for walking. However, the co-contraction of multiarticular hip extensor/knee flexors (e.g., ILFB, FCLP) against knee extensors would eliminate associated benefits—i.e., the ratio of peak knee extensor to peak knee flexor moment arms would have not have minimized the net knee extensor moments required at mid-stance of either walking or running. At moderate knee flexion values, both the capacity of muscles to extend and to flex the knee are near-maximal (Fig. 8).
Moment arms: general trends and comparisons with prior studies
Figures 9–11 show our results for hip flexion/extension moment arms of ostrich muscles, with comparable data from Smith et al. (2007) and Bates & Schachner (2012) also plotted if available (abbreviated in this section as S.E.A. and B.A.S. respectively). Here we focus on the major findings. The two AMB muscles (Fig. 9) compare reasonably well among all three studies, showing a decrease of hip flexion moment arms at strongly flexed limb poses and in some cases (our AMB1,2 and the AMB of B.A.S.) a switch from flexor to extensor action with flexion (∼30–90°). The IC muscles likewise have reasonably comparable results, but only our IC muscle switches action at extreme flexion. Our model agrees well with the data of S.E.A. and especially B.A.S. for the IL muscle, including its decreasing hip extensor moment arm with increasing hip flexion and a switch from hip extensor to flexor action at typical in vivo positions (∼40–70°). We have similar findings for the ILFB muscle, although no switch to hip flexor moment arms is observed in either of the two parts of this muscle in our model (S.E.A. and B.A.S. represented it as one part) (Fig. 9).
Uniarticular muscles acting about the hip joint consistently display flexor action for the IFE, IFI, ISF and OM muscles (Fig. 10). We find fair agreement among studies for the IFE (note confusion caused by misidentification of muscles in prior studies—see Appendix ; the "IFE-Smith" in Fig. 10 is equivalent to our IFE and ITC), ITC, IFI, ITM and ITCR muscles' general changes of moment arms. Our IFE moment arm values are smaller than for S.E.A. and B.A.S. apparently because of the aforementioned identification issue (Fig. 10A shows our IFE plotted against S.E.A.'s IFE + ITC combined). Notably, the curves for the two parts of ITC in our data and those of B.A.S. are remarkably similar (and consistent with S.E.A.'s experimental data for their "IFE-Smith" as well as "ITC-Smith") despite the subjectivity inherent in partitioning this large muscle into two paths. These moment arms grade from flexor to extensor action with strong flexion (∼40–70°). A similar trend is evident for the ITM and ITCR muscles (but note the identification issues outlined in Appendix ; S.E.A.'s "ITC" is actually the ITM, which their data otherwise lacks, so Fig. 10B compares their actual ITM ["ITC-Smith"] vs. our ITM). The antagonistic OM and ISF muscles concur less closely between the latter two studies, however, displaying more convex curves tending to indicate hip flexor action in our data, with more concave, flattened arcs favouring hip extensor action in B.A.S. (Fig. 10).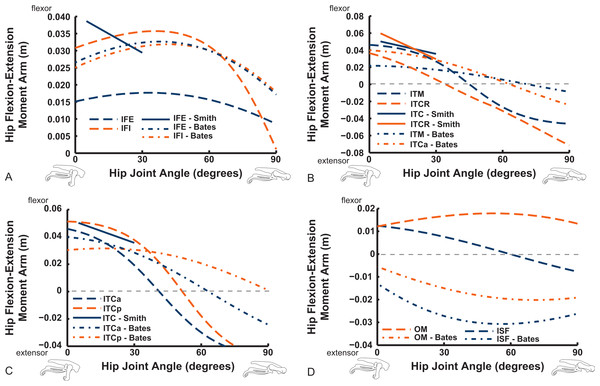 The "hamstring," caudofemoral and adductor hip muscles uniformly display extensor action, befitting their more caudal paths relative to the hip, but agree less well among studies than the prior muscles (Fig. 11). Our data for the FCM, FCLP, CFP and PIFML muscles portray peak moment arms at low hip extension angles (∼0–30°), decreasing with flexion away from these ranges. These trends qualitatively agree with the S.E.A. and B.A.S. data, but moment arm values tend to be substantially smaller in those data, especially for the FCLP and FCM muscles. Our PIFML data show less variation with joint angle than the S.E.A. and B.A.S. data because we had to constrain this muscle's path in 3D to avoid it cutting through bones or other obstacles in some poses. Note also how the S.E.A. results in general show strong changes with joint angles, whereas the more constrained muscle geometry of our model and B.A.S.'s results in more modest changes (Fig. 11).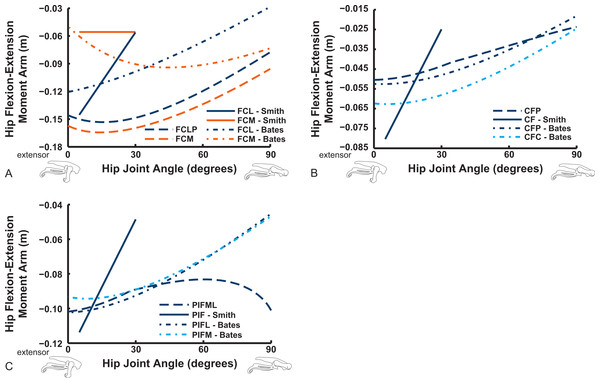 Long-axis rotation (LAR; in Figs. 12 and 13) moment arms for hip muscles only allow comparisons between our data and those of B.A.S . Furthermore, considering that B.A.S. plotted these moment arms against hip flexion/extension joint angle (modified data shown; Karl T. Bates, pers. comm., 2015), we show them that way here but also plot them against hip LAR joint angle in the Supporting Information (Figs. S1 and S2); however, we do not discuss the latter results here. For the AMB1,2 muscles we find consistently weak, near-zero LAR action (lateral/external rotation), whereas B.A.S. showed a steeply decreasing hip medial/internal LAR moment arm as the hip is flexed (Fig. 12). In contrast, our IC and IL muscle data agree well with B.A.S.'s in having a shallow increase of the medial/internal LAR moment arm with hip flexion, although B.A.S.'s data much more strongly favour a medial rotator function for the IC muscle. Our results for the two parts of the ILFB muscle are very different from B.A.S.'s in trending toward stronger medial/internal rotation function as the hip is flexed, whereas B.A.S.'s favour lateral/external rotation. The results for the OM muscle have better matching between studies, indicating a lateral/external rotation action for this large muscle. Likewise, our ISF data and those of B.A.S. match fairly closely, with consistent lateral/external rotator action. The FCM and FCLP muscles have among the largest LAR moment arms for all muscles (∼0.08 m; also observed for our ILp muscle) in our data, but both muscles reduce their lateral rotator action with increasing hip flexion. In B.A.S.'s data a weaker, opposite (medial/internal rotator) trend with hip flexion was found for the FCM, whereas the FCL muscle maintained a small lateral/external rotator action (Fig. 12).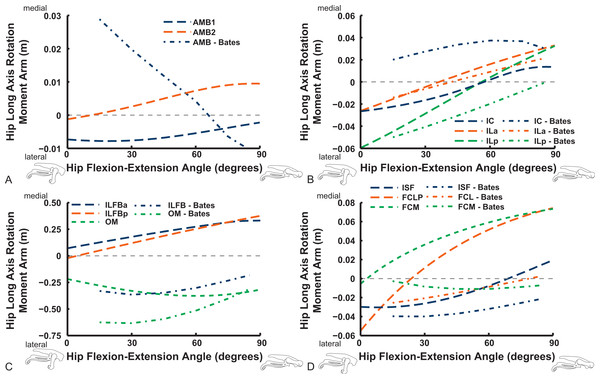 The uniarticular hip muscles' LAR moment arms of our model tend to switch less often (at in vivo hip joint angles ∼30–60°; e.g., Fig. S5) from medial to lateral rotation or vice versa (Fig. 13). The IFI, however, remains mainly as a weak medial rotator except at extreme hip flexion (>60°). B.A.S.'s data favoured stronger medial/internal rotation moment arms for the IFI but otherwise had a similar pattern. Our IFE muscle's data indicate a switch from lateral rotation into medial rotation near a 30° hip flexion angle, matched fairly closely by B.A.S.'s data. Our results for the two-part ITC muscle concur qualitatively with B.A.S.,' consistently having a strong medial/internal rotator action but smaller at more extended joint angles. As in B.A.S.'s data, but featuring smaller moment arms, our data show that the CFP and PIFML muscles have consistent lateral/external rotation action in ostriches; decreasing with increased hip flexion. The ITM and ITCR's medial rotator moment arms peak at hip angles of 30–60°, then decrease; a pattern qualitatively matched by B.A.S.'s data. (Fig. 13).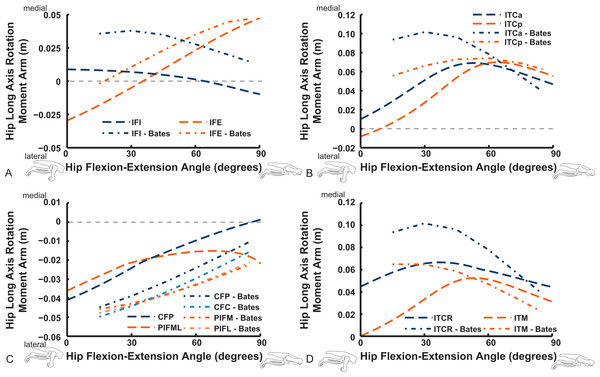 Abduction and abduction moment arms for the hip muscles show strong postural dependency like the LAR moment arms do (Figs. 14 and 15). Again, as for the LAR data above, we supply these data plotted against abduction/adduction hip joint angle in the Supporting Information (Figs. S3 and S4), , but we do not discuss those results here. The PIFML muscle has a discontinuity in its hip abductor moment arm (Fig. S4) in our model at extreme hip abduction angles (>−40°) but this is well outside normal in vivo abduction angles used (<25°; Rubenson et al., 2007). The two AMB muscles in our model have peak adductor moment arms at different flexion angles (∼30°and 80°), then decrease. B.A.S.'s data (modified data shown; Karl T. Bates, pers. comm., 2015) generally follow our AMB1 muscle's. Our IC muscle has a similar adductor moment arm curve as our AMB2, and a similar divergence from B.A.S.'s results, which remain close to a zero moment arm. Our IL muscle parts (ILa,p) agree well with B.A.S.'s, showing them to act as abductors. Both our ILFB muscle parts (ILFBa,p) have little variation in their hip abductor actions, whereas B.A.S.'s representation had a ∼100% larger moment arm but otherwise was similar. The OM muscle, which runs very close to the plane of the acetabulum, is an adductor at extended joint angles and an abductor at flexed angles in both our model and in B.A.S.'s data. Whilst the ISF muscle is almost exclusively a hip abductor in our model, it was exclusively an adductor in the B.A.S. model. The FCL and FCM muscles compare only qualitatively between our data and B.A.S.'s, remaining as hip abductors. It is noteworthy that throughout the full ranges of hip motion we examined, most muscles would act as hip abductors; the dorsal AMB2 and IC muscles are the only consistently strong hip adductors (Fig. 14; Figs. S3 and S4).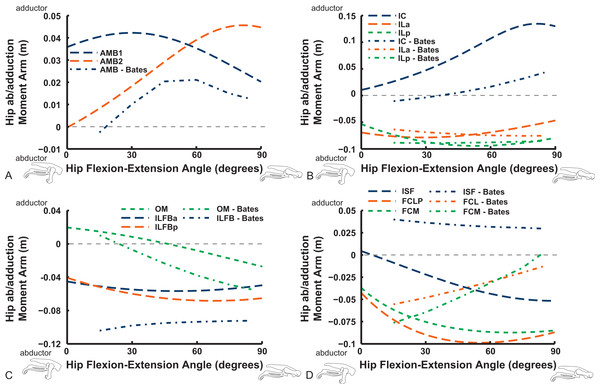 Uniarticular "deep dorsal" and antagonistic muscles show similar trends as the above muscles for adduction/abduction capacities (Fig. 15). The IFI has weak adductor action, vs. a smaller, near-zero value (but similar trend) in B.A.S.'s data, whereas our data and B.A.S.'s agree well on the hip abductor moment arm of the IFE. Our representations of the ITCa/p muscle parts switch from abduction to adduction function as hip flexion surpasses 45–60°; B.A.S.'s model did this switch to a stronger degree. Postacetabular muscles such as the CFP and PIFML in our model are almost exclusively hip abductors, much as in B.AS.'s model. Finally, our results also generally have a good match to B.A.S.'s in the case of the ITM and ITCR muscles, which convert from abductor to adductor action at 10–40° hip angles (Fig. 15).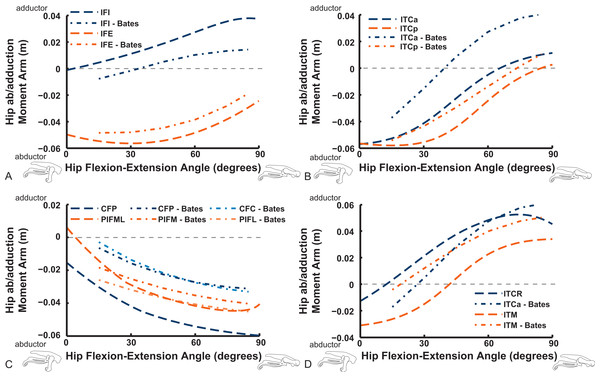 We only focused on flexion/extension moment arms for more distal joints, starting with the knee (Figs. 16 and 17). Good agreement between knee extensor moment arms for the AMB2 (dorsal) muscle is evident with the two other studies. The AMB1 (ventral) component only has data from our model (mainly a weak knee flexor), as does the IC (very weak knee flexor/extensor at flexed/extended angles). We estimate a larger knee extensor moment arm for the FMTL muscle but this is because of misidentification of part of that muscle in the S.E.A. and B.A.S. data (only a distal head was included in this muscle; see Appendix ). Similar differences of anatomical representation are likely explanations for the deviation between our result (weak knee flexor) and S.E.A.'s (strong knee extensor) for the FMTM (see 'Discussion'). Our model presents slightly different moment arms for its two IL muscle heads, peaking in extensor values at 30–90° flexion, whereas B.A.S. had identical moment arms increasing throughout extension.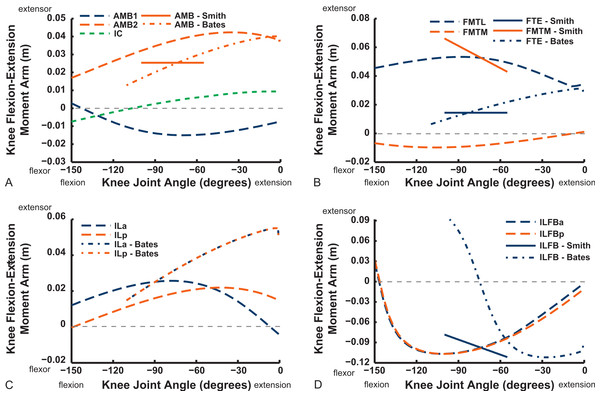 We estimate the knee flexor moment arms as identical (peaking at 90–120° flexion) for the two parts of the ILFB muscle in our model, which match S.E.A.'s data well, whereas B.A.S. had moment arms switching from extensor to flexor at 70° of knee flexion, peaking at quite extended knee poses (Fig. 16) (see 'Discussion'). Other "hamstring" muscles (no comparable data for S.E.A. or B.A.S.) include the FCM and FCLP, which shift steeply from knee extensor to flexor moment arms at high flexion angles and then peak near 90° in its flexor moment arm value (Fig. 16). The FL muscle shows an almost mirror image pattern, acting as a knee extensor. Muscles running past the ankle joint (Fig. 17), such as the FPD3 and FPD4 groups, have a similar pattern to the FCM and FCLP at the knee, but the TCf muscle has almost no knee moment arm; consistently acting as a very weak extensor. Finally, parts of the gastrocnemius muscle group (e.g., GIM) reach peak knee flexor moment arms of about 0.07 m at intermediate knee flexion angles (60–90°). The data for S.E.A. and B.A.S. and for our GL muscle remain(ed) near smaller knee flexor values, with less postural variation (Fig. 17).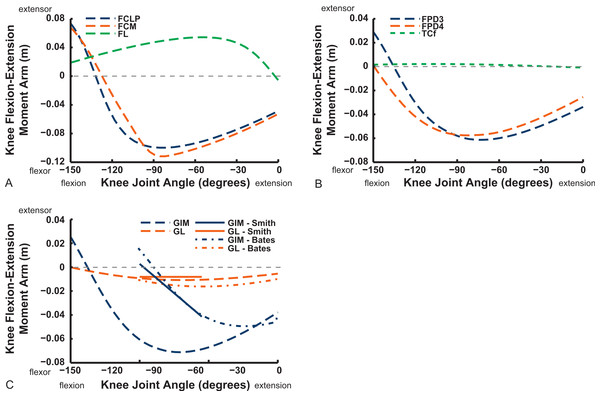 Ankle musculature displays fairly congruent patterns in our model and S.E.A. and B.A.S.'s data (Figs. 18 and 19). The TCf and TCt heads generally have an ankle extensor action, like the EDL muscle group does, albeit with some switches to extensor action with extreme (dorsi)flexion in the B.A.S. dataset (and our TCf). Surprisingly, ankle extensors reveal more variation: our FDL's ankle extensor moment arm is almost twice as large of that in the S.E.A. and B.A.S. data, showing little change with ankle posture, whereas the B.A.S. dataset exhibited a decreased moment arm with flexion. Our other digital flexor muscles (FPD3, FPD4) and those of S.E.A. display roughly similar values but opposite trends, increasing their moment arms with ankle flexion in our model. Our FL muscle's extensor moment arm is smaller than those of S.E.A. and B.A.S. The model of B.A.S. had a M. fibularis brevis (FB) muscle (Fig. 18), which is reduced to a ligament in Struthio and thus not included in our model; no studies have data for the ligamentous M. plantaris (Zinoviev, 2006). The extensor moment arms for our gastrocnemius muscles are all identical and fairly constant with ankle flexion, whereas the curves for the data of S.E.A. and B.A.S. increased steadily and tended to be larger (Fig. 19).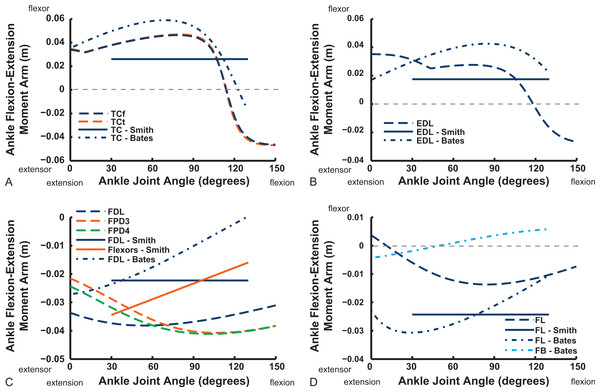 Digital flexor muscle moment arms all stay fairly constant (slight increase with extension of the MTP joint) in our model whereas they showed a stronger decrease in S.E.A.'s experiment (Fig. 20). Our EDL muscle has stronger moment arms than in S.E.A.'s data but a similarly shallow curve. Finally, our FL muscle exhibits digital flexor moment arms similar to those of the other digital flexors.
Discussion
The results of our combined experimental and theoretical approach show first that, while ostrich limb muscles are capable of generating large flexor and extensor moments about their limb joints during locomotion (Figs. 6 and 7), they do not seem to match maximal muscle moment-generating capacity with instants of peak loading in walking or slow running. Second, the moment arms of ostrich flexor/extensor muscles often change greatly with limb orientation, but they are not consistently matched to minimize the former and maximize the latter during key periods of weight support in locomotion (Fig. 8). Third, there is mostly reasonable consistency in three different studies of ostrich muscle moment arms (Figs 9–20), indicating at least fair repeatability with distinct methods, but still some striking disagreements, especially in the little-explored area of non-flexor/extensor muscle mechanics. We explore these topics in more detail below and then consider broader issues related to our findings.