Definition and review on a category of long non-coding RNA: Atherosclerosis-associated circulating lncRNA (ASCLncRNA)
1
Department of Histology and Embryology, School of Basic Medical Science, Central South University

,

Changsha

,

Hunan Province

,

China
2
Department of Parasitology, School of Basic Medical Science, Central South University

,

Changsha

,

Hunan Province

,

China
3
China-Africa Research Center of Infectious Diseases, School of Basic Medical Sciences, Central South University

,

Changsha

,

Hunan Province

,

China
Published

Accepted

Received
Academic Editor
Subject Areas

Keywords

Atherosclerosis

,

Biomarker

,

Circulating lncRNAs

,

Non-invasive diagnosis
Copyright

©

2020

Lu et al.

Licence

This is an open access article distributed under the terms of the Creative Commons Attribution License, which permits unrestricted use, distribution, reproduction and adaptation in any medium and for any purpose provided that it is properly attributed. For attribution, the original author(s), title, publication source (PeerJ) and either DOI or URL of the article must be cited.
Cite this article

2020

.

Definition and review on a category of long non-coding RNA: Atherosclerosis-associated circulating lncRNA (ASCLncRNA)

PeerJ

8

:

e10001

https://doi.org/10.7717/peerj.10001
Abstract
Atherosclerosis (AS) is one of the most common cardiovascular system diseases which seriously affects public health in modern society. Finding potential biomarkers in the complicated pathological progression of AS is of great significance for the prevention and treatment of AS. Studies have shown that long noncoding RNAs (lncRNAs) can be widely involved in the regulation of many physiological processes, and have important roles in different stages of AS formation. LncRNAs can be secreted into the circulatory system through exosomes, microvesicles, and apoptotic bodies. Recently, increasing studies have been focused on the relationships between circulating lncRNAs and AS development. The lncRNAs in circulating blood are expected to be new non-invasive diagnostic markers for monitoring the progression of AS. We briefly reviewed the previously reported lncRNA transcripts which related to AS development and detectable in circulating blood, including ANRIL, SENCR, CoroMarker, LIPCAR, HIF1α-AS1, LncRNA H19, APPAT, KCNQ1OT1, LncPPARδ, LincRNA-p21, MALAT1, MIAT, and UCA1. Further researches and a definition of atherosclerosis-associated circulating lncRNA (ASCLncRNA) were also discussed.
Introduction
Cardiovascular diseases (CVDs) seriously endanger human health around the world, taking the lives of around 17.9 million each year (WHO, 2017), which place a heavy financial burden on society and families. Atherosclerosis (AS) is the most common cause of CVDs (Sanada et al., 2018). Although it is an asymptomatic condition, the accumulation and rupture of atheromatous plaques in arteries can lead to serious consequences, such as coronary artery diseases (CADs), acute myocardial infarction (AMI), and heart failure (HF), etc (Harada et al., 2014; Libby, Ridker & Hansson, 2011). Plaque rupture is responsible for 75% of AMI with highest incidence occurs in male beyond age 45 and female beyond age 50 (Pahwa & Jialal, 2019). The AS progression involves dynamic changes in the vessel wall, such as endothelial dysfunction, macrophage activation, and phenotypic changes of vascular smooth muscle cells (VSMCs) (Xi et al., 2013).
Compared with other morbid states, AS is characterized by small lesions and insidious onset. At present, the diagnosis of AS is based on a combination of multiple detection methods, such as echocardiography, electrocardiogram, computed tomography scan, blood test, and angiography (NHLBI, 2020). However, the confirmed diagnosis of AS depends on surgery and pathological examination (like carotid endarterectomy), which can be traumatic and risky for patients. Considering the difficulty of detection on such subtle changes in vivo, identifying potential biomarkers associated with the complex pathological progress of AS is essential for the prevention and treatment of AS.
Long noncoding RNAs (lncRNAs) are defined as transcripts > 200 bp without protein-coding potential. It was previously considered to be the "noise" or "junk" of the genome and have no substantive function (Palazzo & Lee, 2015). Recent researches, however, found that lncRNAs functions in various kinds of cellular activities, which are related to many serious human diseases (Wapinski & Chang, 2011). LncRNAs can target microRNAs (miRNAs) to form the competing endogenous RNA (ceRNA) axes and then function in different stages of AS development (Li, Zhu & Ge, 2016; Salmena et al., 2011). They not only exist in cells but can also be detected in plasma or serum samples, which are called circulating lncRNAs (Cao et al., 2019; Wang et al., 2017). Circulating lncRNAs show great resistance to endogenous RNase, which makes them more stable in blood samples (Tong et al., 2015). All of these provide the necessary basis for finding circulating lncRNA as potential biomarkers in AS prevention and treatment.
In this review, we briefly discuss current advances of circulating lncRNAs in AS, which aim to facilitate our understanding of the relationships between them and promote the development of circulating lncRNAs as predicting AS biomarkers for clinical applications.
Survey Methodology
Our team put the focus on advances in the relationship between epigenetics and CVDs. We performed the literature search mainly using the PubMed database (https://www.ncbi.nlm.nih.gov/pubmed/), Web Of Science (http://www.webofknowledge.com), and Google scholar (scholar.google.cn). Based on the main keywords-"atherosclerosis", "coronary artery disease (or CAD)", "heart failure" and "stroke" combined with "lncRNA", "blood", "serum", or "plasma", "exosome", "microvesicle", "apoptotic body", relevant articles are extracted to classify and summarize the potential atherosclerosis-associated circulating lncRNAs. According to the search strategy, a total of 285 literatures were identified, including 55 reviews and 6 clinical trials. 282 of them have the full text. After reading the abstract and screening, 109 were then included which satisfied our goal. We did not refine factors such as journal, publishing date, or journal impact factors during our search. Ultimately, the time span of references in this review is from 1993 to 2020.
Circulating lncRNAs
Ideal biomarker refers to those molecules that can be used in non-invasive detection with relative stability, detection sensitivity, and specificity (Qi, Zhou & Du, 2016; Shi & Yang, 2016). But so far, lncRNAs used in scientific researches were usually derived from atherosclerotic plaques based on interventional methods (Roth & Diederichs, 2016). With the rapid improvements of detection methods, recent studies show that lncRNAs can be stably detected from body fluids (Panzitt et al., 2007; Reis & Verjovski-Almeida, 2012; Tinzl et al., 2004). LncRNAs can be secreted from tumor cells, then move into the circulatory system through exosomes, microvesicles, and apoptotic bodies, thus becoming a novel non-invasive diagnostic marker for monitoring the progression of cancers (Wang et al., 2019a). The variation of cellular components in blood-vessel cells during the development of AS make it possible for lncRNAs to migrate into the circulatory system (Monteiro et al., 2019).
Blood is the most widely distributed body fluid, carrying oxygen, nutrients, and signaling molecules to tissues and organs throughout the body. The circulating blood emphasizes a state of blood fluid distributing in the circulatory system of human body. Dynamic changes of particular substance in the blood may be closely related to specific disease states, such as cancers, CVDs, and nervous system diseases (Chen et al., 2017; Fridman et al., 2017; Wang et al., 2018). Such biomarkers can provide the following information: (1) identifying and classifying patient's condition; (2) diagnosing and monitoring disease states; and (3) guiding doctors to make appropriate therapeutic schedules and prognosis observations (Heil & Tang, 2015). The properties of lncRNAs determine their potential as biomarkers, such as lncRNA PCA3 in prostate cancer, and lncRNAs UCA1 in bladder cancer. Both of them can be easily detected in urine samples, and even have special discriminations for cancer types (Hessels et al., 2003; Wang et al., 2006). Later, lncRNAs with biomarker function in circulating blood were found in gastric cancer, lung cancer and breast cancer (Dong et al., 2015; Liang et al., 2016; Zhang et al., 2016).
AS is one of the most common diseases in the world. Studies on the correlation between circulating lncRNAs and AS development have been reported in recent years (Chi et al., 2017; Pan et al., 2019; Wang et al., 2017). If pathological changes of vessel can be found in the early stage based on the detection of circulating lncRNAs, it will be shade light on the initial intervention and treatment to reducing the morbidity and mortality of patients.
ASCLncRNA: atherosclerosis-associated circulating lncRNA
Conclusion
As a hotspot of non-coding RNAs, lncRNAs have attracted the attention of scholars because of their unique structural characteristics and functions. LncRNAs widely distribute in various organs, tissues, and cells, and have important roles in different types of CVDs, such as CAD, AMI, and so on (Huang, 2018). At present, the researches on lncRNAs in the occurrence and development of AS mainly focus on their effects on the lipid metabolism, aberrant proteolysis and cell activities such as impaired function of ECs, modulation of VSMCs' phenotype, recruitment of inflammatory cells, the polarization of macrophages and formation of foam cell (Fasolo et al., 2019; Li, Zhu & Ge, 2016; Zhou et al., 2016). In the last several years, the advance of high throughput sequencing technology brought about abundant novel transcripts with or without function annotation. Researchers have classified lncRNAs into different types according to their sequence characteristics, locations on chromosomes, or functions. These classifications could provide brief information on their physical and chemical property. Besides, classification based on its role in biological or pathological processes could facilitate their further researches, especially for those correlated with a specific disease (Jarroux, Morillon & Pinskaya, 2017). For example, SAL-RNAs was classified as Senescence-associated lncRNAs (Abdelmohsen et al., 2013), and PCA3/PCAT1 as Prostate cancer-associated transcripts (PCATs) (Mitobe et al., 2018). We suggest clustering the lncRNAs reviewed in the present paper into a category of Atherosclerosis-associated circulating lncRNA (ASCL ncRNA). Accordingly, the ASCL ncRNA should meet the following features: (1) human-sourced long non-coding RNA transcript, (2) detectable in circulating blood, (3) expression level changes with disease development. This definition was limited in human beings because most lncRNAs sequence evolved rapidly and can't be detected as homologues in the different animal models (Necsulea et al., 2014). Further, lncRNA transcripts in this classification have a potentially predictive value for monitoring AS progression. Because of the high incidence and severity of AS in human beings, looking for potential non-invasive diagnostic methods and detectable markers for disease prevention, early diagnosis, and treatment, as well as providing a reliable reference for prognosis and follow-up observations has become an urgent task. Due to the chronic progression of AS, it is also necessary to screen out markers at different stages of disease progression. And the ASCLnRNA transcripts would be candidates. A summary on the characteristics of these ASCLnRNAs is collated in Table 1. Their function, potential mechanisms in human AS-related cells and dynamic changes in the circulating blood was provided here (Figs. 1 and 2).
| ASCLncRNA | Official Full Name | Gene ID (NCBI/Ensembl) | Category | Location | Atherogenic/ atheroprotective | Disease type | sensitivitya | specificitya | PMID |
| --- | --- | --- | --- | --- | --- | --- | --- | --- | --- |
| ANRIL | CDmfKN2B antisense RNA 1 | 100048912/ ENSG00000240498 | antisense | 9p21.3 | atherogenic | AMI/AS | 81.6%-90.2% | 59.7%-65.7% | 30234067; 31411246; 23861667 |
| SENCR | Smooth muscle and endothelial cell enriched migration/differentiation-associated lncRNA | 100507392/ ENSG00000254703 | antisense | 11q24.3 | atheroprotective | AS | – | – | 30584103 |
| CoroMarker | Aldo-keto reductase family 1 member B1 pseudogene 3 | 729347/ENSG00000213785 | intergenic | 11p15.2 | atherogenic | CAD | 76% | 92.5% | 26857419 |
| LIPCAR | Mitochondrially encoded long non-coding cardiac associated RNA | – | antisense | – | atherogenic | CAD/HF | 72.2% | 62.3% | 31603865; 28790415 |
| HIF1A-AS1 | HIF1A antisense RNA 1 | – | antisense | 14q23.2 | unknown | AS | – | | 24875884 |
| LncRNA H19 | H19 imprinted maternally expressed transcript | 283120/ ENSG00000130600 | intergenic | 11p15.5 | atherogenic | AS | 53.6% | 73% | 30778327; 28165553; 28790415 |
| APPAT | – | ENST00000620272 | intergenic | | unknown | AMI | 78.72% | 93.02% | 29372117 |
| KCNQ1OT1 | KCNQ1 opposite strand/antisense transcript 1 | 10984/ ENSG00000269821 | antisense | 11p15.5 | unknown | AMI/CAD/AS | 100% | 60% | 30941792 |
| LncPPAR δ | – | – | intergenic | – | unknown | CAD | 70%–82% | 78%–94% | 26871769 |
| LincRNA-p21 | Tumor protein p53 pathway corepressor 1 | 102800311 | intergenic | 6p21.2 | atheroprotective | AS | – | – | 25156994 |
| MALAT1 | Metastasis associated lung adenocarcinoma transcript 1 | 378938/ ENSG00000251562 | intergenic | 11q13.1 | atheroprotective | AS | 50% | 63.6% | 30586743; 31188931 |
| MIAT | Myocardial infarction associated transcript | 440823/ ENSG00000225783 | intergenic | 22q12.1 | atherogenic | AS | 0.955 | 0.727 | 31237148; 31188931 |
| UCA1 | Urothelial cancer associated 1 | 652995/ ENSG00000214049 | intergenic | 19p13.12 | atherogenic | AMI | – | – | 30633352 |
a
The data of specificity/sensitivity percentages were derived directly from the ROC analysis of the original text.
AMI

acute myocardial infarction

AS

atherosclerosis

CAD

coronary artery disease

HF

heart failure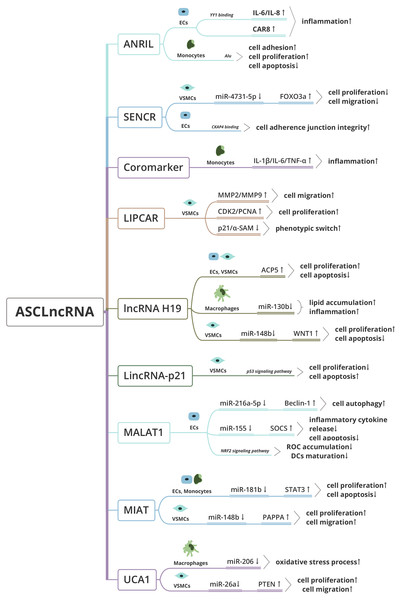 The researches on ASCLnRNAs in circulating blood are limited because previous studies just describe the occurrence and variation characteristics of ASCLnRNAs in AS (Chi et al., 2017; Zhang et al., 2019). Before further application of lncRNAs as biomarkers, some questions should be explored and answered. First, current testing methods are still limited, laying the challenges for exploring the origin of lncRNAs in circulating blood. Second, research methods are lacking standardization, and the sample size is often small (Moldovan et al., 2014). Third, some ASCLnRNAs do not only exists in cells related to CVDs but also in some cancer cells, which reduces their potential as independent biomarkers. Last but not least, the expression level of lncRNAs is generally lower than protein-encoding genes, which poses a challenge to the large-scale screening for biomarkers with repeatability and reliability. A key factor for future research work is the standardization, including standardized sample extracting and processing methods. Through this way, we could easily compare the different researchers' data and draw reliable conclusions (Kumar et al., 2019). The advent of the latest third-generation full-length transcriptome sequencing technology makes it possible to screen a large number of lncRNAs in different diseases (Mercer et al., 2011). Fortunately, we have seen similar work in cancer-related clinical practice. For example, lncRNA-PCA3 has been widely recognized as a non-invasive diagnostic marker for prostate cancer (Sanda et al., 2017). Such work provides guidance and reference for finding AS-related biomarkers. The transcripts that meet the criterion of ASCLnRNA could form a candidate repository for further screening and validating researches on biomarkers for AS and could even become new therapeutic targets (Skuratovskaia et al., 2019).