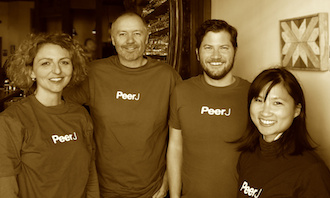 Open positions
Why work at PeerJ?
Everyone should have free access to research...
That is not happening today, as most tax-payer funded research is locked up behind expensive paywalls. PeerJ is changing that and we are particularly looking for people who have experienced that paywall frustration in the past.
We're on a mission to make publishing affordable...
The business mission is simple: ensure sustainability of the organization while also lowering the cost to publish Open Access for researchers and institutions. While originally funded in 2012 with a seed investment led by Tim O'Reilly, PeerJ is now self-sustaining and remains an independent organization.
Work with very smart and creative people...
PhD and MS degrees are a dime a dozen at PeerJ. You also have access to the top scientists in the world.
We push & test code continuously...
More importantly, whether a developer or editor, you'll be working at an industry-leading organization known and respected for its in-house publishing platform.
We also offer...
Top salary, a "take-what-you-need" holiday/vacation policy, and the tools and training needed to improve your own skills.
PeerJ has locations in both California, US and the UK.