Your institution has a plan with PeerJ, so that you don't have to pay to publish Open Access.
See if you qualify
Peer

J

Careers

Change 300 years of how science has been communicated

Our mission is to efficiently publish the world's knowledge. Help us build the next set of tools that will advance the current state of scientific communication. If you have an interest in ensuring that academic research remains free to anyone to read, download, and reuse then consider PeerJ.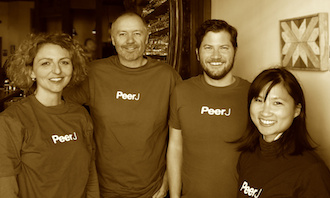 Open positions
---
Why work at PeerJ?
Everyone should have free access to research. That is not happening today, as most tax-payer funded research is locked up behind expensive paywalls. PeerJ is changing that and we are particularly looking for people who have experienced that paywall frustration in the past.
Publishing needs a shakeup. What better way to do that than by taking a Silicon Valley approach. We are funded by investors led by O'Reilly AlphaTech Ventures and count Tim O'Reilly as not just a board member, but a vocal advocate for Open Access in tech and government. This means our approach has never been tried before and is open for you to directly lead.
Work with very smart and creative people. PhD and MS degrees are a dime a dozen at PeerJ. You also have access to the top scientists in the world.
We push code constantly. And if it's not good enough to push on a Friday right before beer-o-clock, then it's probably not good enough to push any other day either.
We offer top salary, stock options, a "take-what-you-need" holiday/vacation policy, and minimum $2,500 (£1,500) for your dev setup to be spent however you want every other year.
PeerJ has locations in both San Francisco, US and London, UK.